General Information
Fast Facts
Location: Eastern Romania (County: Constanta)
Size: 22.4 sq. miles (58 sq. kilometers)
Elevation: 0 -190 ft. (0-60 meters)
Population: 298,000
Inhabited since: 700 BC
First documented: 300 BC (Tomis)
City Highlights
Situated at the crossroads of several commercial routes, Constanta lies on the western coast of the Black Sea, 185 miles from the Bosphorus Strait. An ancient metropolis and Romania's largest sea port, Constanta traces its history some 2,500 years. Originally called Tomis, legend has it that Jason landed here with the Argonauts after finding the Golden Fleece.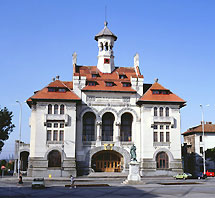 Founded by Greek colonists from Miletos in the 6th century BC, Tomis was conquered by the Romans in 71 BC and renamed Constantiana by Roman Emperor Constantine the Great in honor of his sister. The name was shortened to Constanta during the Ottoman era. During the 13th century, Italy, especially Genoese merchants, dominated the Black Sea and Constanta flourished, only to decline two centuries later under Turkish rule.
Fine mansions and hotels were built in the 19th century when King Carol I decided to revive Constanta as a port and seaside resort.
The third largest city in Romania, Constanta is now an important cultural and economic centre, worth exploring for its archaeological treasures and the atmosphere of the old town centre. Its historical monuments, ancient ruins, grand Casino, museums and shops, and proximity to beach resorts make it the focal point of Black Sea coast tourism. Open-air restaurants, nightclubs and cabarets offer a wide variety of entertainment.
Constanta is the fourth largest port in Europe, ranked just after Rotterdam, Antwerp and Marseille.
While in the area, you can visit traditional villages, vineyards, ancient monuments and the Danube Delta, a bird-lover's paradise.
Landmarks
Constanta is more than just the entry point to the Black Sea coast. It is a place with a long and interesting past, attested by its many Roman vestiges, historic buildings, facades and mosques that color the Old City Centre.
Ovidiu's Square (Piata Ovidiu)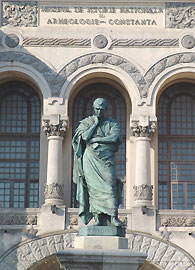 Designed by the sculptor Ettore Ferrari in 1887, the statue dedicated to the Roman poet, Ovidius Publius Naso, gives name to this square. Emperor Augustus exiled Ovid to Tomis in 8 AD.
The Roman Mosaics (Edificul Roman cu Mozaic)
Address:Piata Ovidiu 12 (next to the National History & Archeology Museum)
Open: Tue. - Sun. 10:00am - 6:00pm;
Closed Mon.
A vast complex on three levels once linked the upper town to the harbor. Today, only about a third of the original edifice remains, including more than 9,150 sq ft of colorful mosaics. Built toward the end of the 4th century AD and developed over the centuries, it was the city's commercial centre until the 7th century. Archeological vestiges point to the existence of workshops, warehouses and shops in the area. Remains of the Roman public baths can still be seen nearby. Aqueducts brought water six miles to the town.
The Genoese Lighthouse(Farul Genovez)
Address: Str. Remus Opreanu
Soaring 26 feet, this lighthouse was built in 1860 by the Danubius and Black Sea Company to honor Genoese merchants who established a flourishing sea trade community here in the 13th century.
The Casino (Cazinoul)
Address: Blvd. Carpati 2
Tel: 0241 617.416
During the 1914 visit of the Russian Imperial Family, the casino was host to a royal gala. Despite diplomatic negotiations, Grand Duchess Olga refused the proposed marriage to Prince Carol of Romania and the Russians sailed away. The Grand Duchess was later killed by the Bolsheviks along with the rest of her family.
Completed between the two World Wars in art nouveau style according to the plans of the architects, Daniel Renard and Petre Antonescu, the Casino features sumptuous architecture and a wonderful view of the sea. The pedestrian area around the Casino is a sought-after destination for couples and families, especially at sunset.
The House with Lions(Casa cu Lei)
Address: Str. Nicolae Titulescu 9
Blending pre-Romantic and Genovese architectural styles, this late 19th century building features four columns adorned with imposing sculptured lions. During the 1930s, its elegant salons hosted the Constanta Masonic Lodge.
The Archaeology Park (Parcul Arheologic)
Address: Blvd. Republicii
The park houses columns and fragments of 3rd and 4th century buildings and a 6th century tower.
St. Peter & Paul Orthodox Cathedral(Catedrala Sf. Apostol Petru si Pavel)
Address: Strada Arhiepiscopiei 25
Tel: 0241 611.408
Constructed in Greco-Roman style between 1883 and 1885, the church was severely damaged during WWII and was restored in 1951. The interior murals display a neo-Byzantine style combined with Romanian elements best observed in the iconostasis and pews, chandeliers and candlesticks (bronze and brass alloy), all designed by Ion Mincu and completed in Paris.
The Great Mahmudiye Mosque (Moscheea Mare Mahmoud II)
Address: Strada Arhiepiscopiei 5 (Ovidiu Square)
Built in 1910 by King Carol I, the mosque is the seat of the Mufti, the spiritual leader of the 55,000 Muslims (Turks and Tatars by origin) who live along the coast of the Dobrogea region. The building combines Byzantine and Romanian architectural elements, making it one of the most distinctive mosques in the area. The centerpiece of the interior is a large Persian carpet, a gift from Sultan Abdul Hamid. Woven at the Hereche Handicraft Centre in Turkey, it is one of the largest carpets in Europe, weighing 1,080 pounds. The main attraction of the mosque is the 164-ft minaret (tower) which offers a stunning view of the old downtown and harbor. Five times a day, the muezzin climbs 140 steps to the top of the minaret to call the faithful to prayer.
The Hunchiar Mosque (Geamia Hunchiar)
Address: Bulevardul Tomis 39
This mosque was the first reinforced concrete building in Romania. In time, the steel-concrete rusted; restoration of the tower and cupola was completed in 1959.
Built in 1867 - 1868 by order of Sultan Abdul Azis, the mosque was constructed of sandstone taken from an Ottoman bridge which had been destroyed in 1828. Its architecture reflects Moorish style and the interior still preserves original Oriental ornaments.
Historic Churches
St. Mina Orthodox Church (Biserica Ortodoxa Sf. Mina)
Address: Parcul Tabacarie
Built by master carpenters from the Maramures region in authentic Romanian style, this is the biggest wooden church in Romania, 85 ft long and 40 ft wide topped by a 140-ft tower.
St. Anthony Roman-Catholic Church (Biserica Romano-Catolica Sf. Anton)
Address: Str. Titulescu 11
Dating from 1937, this church was built after architect Romano de Simon's plans. The structure is shaped like a Roman basilica, specific to the northern part of Italy. The buttress and geometrical motifs are reminiscent of the 13th century Romanic style.
Museums
Art Museum (Muzeul de Arta)
Address: Blvd. Tomis 82-84
Tel: 0241 617.012
Open: Wed. - Sun. 9:00am - 8:00pm (October - May, 9:00am - 5:00pm);
Closed Mon. & Tue.
Admission charge
Established in 1961, the Art Museum exhibits more than 7,300 Romanian contemporary art masterpieces - paintings, sculptures, ceramics, china, upholstery and furniture. A century of Romanian art is on display, ranging from the works of Theodor Aman and Nicolae Grigorescu to those of Ion Jalea and Corneliu Baba. Here, you will have the opportunity to view the Black Sea and Constanta through the eyes of the artists who portrayed them.
Folk Art Museum (Muzeul de Arta Populara)
Address: Blvd. Tomis 32
Tel: 0241 616.133
Open: Mon. - Sun. 9:00am - 7:30pm (October - May, 9:00am - 5:00pm)
Admission charge (English tour guide available)
Some 16,000 exhibits from all ethnographic regions of Romania are on display here. Folk costumes, jewelry, interiors of traditional peasant homes and household items illustrate the traditional way of life in various parts of the country. On the ground floor, a valuable collection of icons painted on glass dates from the 18th and 19th centuries. Folk arts and crafts are available at the museum gift shop.
Ion Jalea Museum (Muzeul Ion Jalea)
Address: Str. Arhiepiscopiei 26
Tel: 0241 618.602
Open: Wed. - Sun. 10:00am - 6:00pm; Closed Mon. & Tue.
Admission charge
The museum features works in bronze, marble, stone and gypsum by Ion Jalea, one of the forefathers of modern and contemporary sculpture.
National History & Archeology Museum (Muzeul de Istorie Nationala si Arheologie)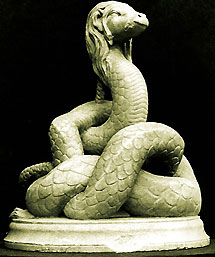 Address: Piata Ovidiu 12
Tel: 0241 618.763
Open: Mon. - Sun. 9:00am - 8:00pm (October - May, 9:00am - 5:00pm)
Admission charge
An impressive collection of artifacts from Greek, Roman, and Daco-Roman civilizations is on display illustrating the history of Dobrogea from the Stone Age to modern days. Greek and Roman objects can be found on the main floor. Two statues, one of the "Glykon - The Fantastic Snake," dating from the 3rd century BC, and the other of "Goddess Fortuna and Pontos," god of the Black Sea, are considered protectors of the city and port and are the highlights of the collection.
Romanian Navy Museum (Muzeul Marinei Romane)
Address: Str. Traian 53
Tel: 0241 619.035
Open: Tue. - Sun. 9:00am - 5:00pm; Closed Mon.
Admission charge (English tour guide available)
Organized chronologically in four sections, the museum features charts, moldings, ancient and modern boat models, navigation instruments, documents and photographs. You can find a dug-out canoe made from a single tree trunk, a navigation case from the 16th century, a mid-17th century celestial globe made in Venice and models of Greek triremes. The open-air exhibition, displaying life-size anchors, propellers, engines, surface and anti-aircraft gun mounts, offers a wonderful panorama of the Constanta harbor.
Aquarium (Acvariul)
Address: Blvd. Elizabeta 2
Tel: 0241 611.277
Open: Mon. - Sun. 9:00am - 8:00pm
Admission charge
Opened in 1958, the Constanta Aquarium houses representatives of 60 species of fish from the Black Sea and the Danube Delta, as well as from the seaside lake. The most significant is the collection of sturgeons, one of the largest in the world.
Dolphinarium (Delfinariul)
Address: Blvd. Mamaia 255
Tel: 0241 831.553
Open: daily with 30-minute shows at 10:00am and 2:00pm
Admission charge
Two sea lions, John and Lorry, and the veteran star dolphin, Mark, will put on their best "moves" for you.
Tours - Walking / Bus
Constanta - Sightseeing Bus Tours
Constanta sightseeing bus tours
will be operated daily from June 21 until September 15, 2013
on a fleet of double-decker buses.

Please note that this is not a hop on / off tour,
tickets are valid for one boarding only,
no matter the distance traveled.
Fast Facts
Hours of operation: 9 am - 9 pm
Frequency: every 30 minutes
Total length of the route: 9.5 miles
Number of stops: 17
Sights and major attractions include: downtown Constanta, Genoese Lighthouse, Ovidiu Square, The Vacation Village, Dolphinarium, Mamaia Casino.
Day ticket (card):
Adults: 4 lei (about $1.20)
Children (up to 7 years old): free
Route and stops:
Constanta train Station (Gara Constanta) - City Hall / Archeology Park - Constanta Theater (Teatrul Constanta) -
Dolphinarium (Delfinariu) - Vacation Village (Sat de Vacanta) - Aqua Magic Park -
Mamaia Casino (Cazino Mamaia) - Caraiman Hotel (Mamaia Nord).
Return to Constanta train Station (Gara Constanta) will be on the same route.
Additional information:
office@asociatia-litoral.ro
Telephone: +4 0241 831.321
Nearby Attractions
The Romanian Black Sea Resorts
The Romanian Black Sea coast is home to a wide range of summer resorts tailored to suit most tastes and ages, from small children to those seeking health-spa treatments. The sandy sea bottom slopes gently away from the shore, there are no dangerous currents and the sea is almost tideless. In the summer, days are warm and long with an average of 11 hours of sunshine. A swath of gold-sand beaches stretches from Constanta to the Bulgarian border, and visitors will encounter resorts named after mythological gods and goddesses, such as Eforie, Jupiter, Neptun, Olimp, Saturn, Venus and Mangalia.
Mamaia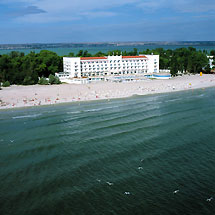 Where: 3 miles north of Constanta
Access: car, taxi, public transportation
A favorite weekend get-away for locals, Mamaia is one of the most sought-after resorts on the Black Sea coast. A narrow stretch of fine-sand beach between the Black Sea and Lake Siutghiol ("Lake of Milk" in Turkish), Mamaia boasts numerous hotels, a casino, sporting facilities (water sports, biking, tennis, beach games), and hip nightclubs and restaurants located within 100 feet of the sea. You can spend the mornings cooling down at the beach or at the Aqua Magic Park, located at the very entrance of the resort, and the afternoons taking in the view of the Black Sea by riding the Telegondola (Cable Car). Between Mamaia and Constanta, you can stroll through Satul de Vacanta amusement park, featuring rides, a bowling alley, an open-air bazaar and several restaurants. At times crowded, the park is a local come-together with a charm of its own. The Summer Theatre of Mamaia is the venue for the annual Romanian Pop Music Festival and various other shows.
Day Trips
Mangalia
Where: 25 miles south of Constanta
Access: car, bus, train
Built on the site where the city of Callatis stood 2,400 years ago and where ancient stone tombs, statues of gods and other artifacts have been found, Mangalia provides treatments for afflictions related to the kidneys, digestive and nervous systems, skin and liver. Its name comes from the Byzantine word Pangalia, meaning "the most beautiful," and it developed as a spa resort after the Second World War.
While in Mangalia, you can visit the Callatis Archeological Museum, the ruins of the Callatis Fortress (7th century BC), the Syrian Basilica and the 16th century Esmahan Sultan Mosque, the oldest mosque in Romania.
Histria Fortress & Lake Sinoe (Cetatea Histria & Lacul Sinoe)
Where: 32 miles north of Constanta
Access: car, maxi taxis from Constanta
Tel: 0241 618.763
Open: Wed. - Sun. 8:00am - 8:00pm
(October - May, 9:00am - 5:00pm); Closed Mon. & Tue.
Admission charge for the museum and the site.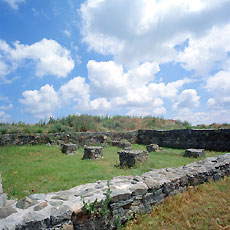 Heading north from Constanta towards Tulcea, you'll pass through Istria. Four miles east of the village, on the shores of Lake Sinoe, is the ruined Greek-Roman city of Histria. Histria Fortress, the Pompeii of Romania, was the oldest Greek settlement in Romania. Founded in the 7th Century BC by Greeks from Miletos, the richest city in Ionia (Asia Minor), this trading post soon became the main Greek port on the Black Sea. The city thrived for fourteen centuries, prospering under Roman and Byzantine occupation until invading forces wiped it off the map in the 7th century AD.
The lost city features remains of Aphrodite's Temple, the Temple of Zeus, Roman baths and other public buildings from the Roman-Byzantine period. The nearby museum (Open: Tue. - Sun 9:00am - 8:00pm; Closed Mon.) houses a collection of coins, ceramic items and other vestiges of the great civilizations that thrived on the Black Sea coast, or Pontus Euxin's, at it was called in ancient times.
Near Histria Fortress, you can visit one of the most beautiful lagoons in the country, Lake Sinoe, an extension of Lake Razim. The lake makes for an excellent bird watching site; 267 species have been recorded. The area is a stretch of marshy land and reedbeds between the freshwater Lake Nuntasi and the brackish lagoon of Lake Sinoe (the last one was open to the sea until 1960). Lake Razim is popular for bird-watching, especially in November when thousands of Red-Breasted Geese arrive from the Arctic.
Jurilovca
Where: 47 miles north of Constanta (7 miles southeast of Babdag)
Access: car, maxi taxis from Constanta
A quaint fishing village, Jurilovca was established by the Lipovani fishermen in the 18th century.
At Capul Dolosman, to the east of Jurilovca, you can admire vestiges of a 6th century BC Greek colony, the oldest antique habitat on Romanian territory, mentioned for the first time by Hecateus from Millet (6th -5th centuries BC). "Capul Dolosman" is one of the strictly protected areas of the Delta Biosphere Reserve. This is popular spot for bird-watching, especially in November when thousands of Red-Breasted Geese arrive from the Arctic Circle. Nearby you can explore Lake Razim, once a bay on the Black Sea knows as the Gulf of Halmyris. A thin coastal strop of land encloses the lake from the open waters. In Jurilovca you can rent a boat to take you across to Gura Portitei (1 ½ hours away) on the shores of Lake Golovita.
Enisala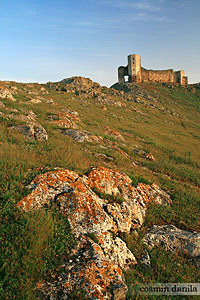 Where: 51 miles south of Constanta
(3 miles east of Babadag)
Access: car, maxi taxis from Constanta
Former Roman, then Byzantine and Genoese fortress, Enisala is today a village stretching between lakes Babadag and Razim. Here you can visit a traditional fisherman's house converted into a museum displaying colorful tapestries and folk art.
Enisala Peasant Museum (Gospodaria Taraneasca)
Open: Wed. - Mon. 10:00am - 6:00pm;
Closed Tue.
Admission charge
About 1 mile north, overlooking Lake Razim,
are the vestiges of the Heracleea citadel (Cetatea Heracleea), built by Genoese merchants in late 13th century, conquered by Sultan Mehmet I in 1417 (who renamed it "o Yeni Sale") and finally abandoned by the 16th century.
This is Europe's prime birdwatching area and you are likely to spot white-fronted and red-breasted geese, terns, waders, pelicans, herons and warblers.
Babadag
Where: 57 miles south of Constanta on DN 22
Access: car, bus, maxi taxis from Constanta
The town of Babadag, known during the Roman rule as Vicus Novium, was first documented in 1263. Between 1262 and 1264 some 12,000 Turks, led by Sara Saltuk Baba, settled around Babadag at the request of Byzantine emperor Michael III. Between 1677 and 1678, the residence of Pasha of Silistra was established here to better observe the troop movements of the Russians, with whom Turkey was at war.
The name of the town comes from Baba (meaning father in Arabic) and Dagh (meaning mountain). Legend has it that a few centuries ago, here lived a shepherd called Korun Baba. One day, while leading his flock, he met some Turkish monks who asked him of Sari Saltuk's tomb. The shepherd answered that he knows nothing of this tomb, but that he noticed that on the mountain's peak, his sheep avoid a place covered with stones. The monks started digging that place, and at sunset found the bones of the saint. Then the monks raised the mausoleum that can still be seen standing today. Upon the shepherd's death, the locals buried him close to the Muslim saint. Legend also has it that the very place where the shepherd rested, the earth split in two, in order to mark the tomb.
The Museum of Oriental Art in Babadag is worth paying a visit. Its collections feature wooden, ivory and mother-of-pearl artifacts, religious items, daggers, tea services, a splendid bridal gown sawn with gold thread, Turkish dolls, Siraz, Sirme , and Anatolia carpets, and Kashmir shawls said to have taken a quarter of century to make.
Other places of interest here include the Ali-Gazi-Pasha Mosque, the oldest in Romania (1522), and the nearby Kalaigi water spring, in which the pilgrims from all over the Balkans come to bathe their feet. Visitors are also shown the ruined tomb of Ali-Gazi-Pasha, who long ago, was the terror of the region and possessed a harem of eight hundred captive women.
Tulcea & the Danube Delta (UNESCO Heritage Site)
Where: 78 miles northwest of Constanta
Access: car, bus, train (with transfer in Medgidia)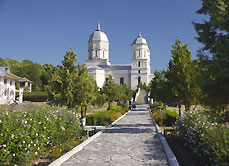 Visit Tulcea, one of the oldest cities in Romania, and continue with an exploration of the Danube Delta, one of Europe's leading wildlife sanctuaries. The Delta is a 2,200-square-mile wildlife reserve designated by UNESCO as a 'Reservation of the Biosphere'. Its tree-fringed lakes, reed islands, marshes and oak forests are home to more than 3,400 animal species, along with over a thousand varieties of plant life. The Delta's waters teem with some 160 species of fresh- and salt-water fish. Bird-watchers will be especially enthralled here, with opportunities to spot more than 300 species of migratory and permanent birds including eagles, egrets, vultures, geese, cranes, ibises, cormorants, swans and pelicans.
Murfatlar Vineyards
Where: 15 miles west of Constanta
Access: car
More than 300 days of sunshine a year, long and warm autumns and cool winds from the Black Sea make this region ideal for the production of sweet dessert wines such as late harvest Chardonnay and Pinot Gris. At the Murfatlar Vineyard, you can enjoy traditional dishes from the Dobrogea region and sample some of the finest wines, such as the award-winning Lacrima lui Ovidiu, 3 Hectare Limited Edition, Sec de Murfatlar and Rai de Murfatlar, while taking in the picturesque landscape from the wine cellar's terrace. Complete the tour with a visit to the Vine and Wine Museum, located near the wine cellar. On display, you will find ancient Greek and Roman amphorae and an impressive collection of wine presses, proof of Dobrogea's noble wine-making tradition.
Adamclisi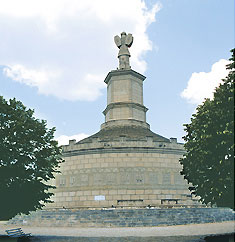 Where: 35 miles southwest of Constanta
Access: car, bus
Open: Wed. - Sun. 8:00am - 8:00pm (October - May, 9:00am - 5:00pm);
Closed Mon. & Tue.
Admission charge
Of great significance to the birth of the Romanian nation, the Roman complex of Tropaeun Traiani in Adamclisi was built in AD 109 by the well-known architect, Apollodor of Damascus, to celebrate the victory of Rome over Dacia. Similar to Trajan's Column in Rome, the monument features scenes of battle between the Roman and Dacian armies. The monument itself has been completely renovated and all the old elements forming the complex were moved inside a nearby museum for preservation.
Performing Arts
Opera & Symphonic Music
Constanta Opera House (Teatrul Liric Constanta)
Address: Str. Mircea cel Batran 97
Tel. 0241 611.536
E-mail: operaconstanta@acasa.ro
Oleg Danovski Classical Ballet Theatre
(Teatrul de Balet Clasic Oleg Danovski Oleg)
Address: Str. Rascoala din 1907 Nr.1
Tel: 0241 519.045 or 519.058
Black Sea Philharmonic (Filarmonica Marea Neagra)
Str. Mircea cel Batran 97
Tel: 0241 618.028
Theatre
Elpis Puppet Theatre (Teatrul De Papusi Elpis)
Address: Str. Karatzali 16
Tel: 0241 618.992
Fantasio Theatre (Teatrul de Revista Fantasio)
Address: Blvd. Ferdinand 11
Tel: 0241 616.036
Fantasio Summer Theatre (Teatrul de Vara Fantasio)
Address: Parcul Tabacariei
Tel: 0241 642.187
Ovidius Drama Theatre (Teatrul Dramatic Ovidius)
Address: Str. Mircea cel Batran 97
Tel: 0241 708.612 or 708.613
Email: teatrul.ovidiu@rdsct.ro
CITY ESSENTIALS
Transportation
Constanta is easily accessible from Bucharest (Bucuresti)
by plane (approximately 35 minutes),
by train (approximately 2 hours amd 20 minutes) and
by car or bus (approximately 3 hours).
By Air
Constanta "Mihail Kogalniceanu" International Airport (CND)
Address: Str. Tudor Vladimirescu 4
Tel: 0241 255.100
The airport is located about 15 miles north of Constanta city centre.
Taxis are readily available outside the arrivals area.
There is (hourly) bus service connecting Constanta Airport with Constanta train station.
Bus service is offered by local company Transevren.
The bus stop is located next to the car parking lot,
a few yards away from Autonom and Hermann car rental.
Airlines with service to Constanta - regular scheduled flights:
Blue Air
non-stop flights from/to: Milano
Turkish Airlines
non-stop flights from/to: Istanbul
Wizz Air
non-stop flights from/to: London
By Car
The recommended route from Bucharest to Constanta is on the Sun Highway (Autostrada Soarelui) DN A2/DN A3:
Bucharest - Fundulea - Lehliu - Drajna - Fetesti - Cernavoda - Constanta
From Tulcea, follow E87 south:
Tulcea - Babadag - Mihai Viteazul - Constanta
Distance from Constanta to:
| City | Distance (Miles) |
| --- | --- |
| Bucharest | 135 |
| Arad | 470 |
| Belgrade | 502 |
| Brasov | 213 |
| Budapest | 624 |
| Cluj-Napoca | 392 |
| Iasi | 260 |
| Oradea | 464 |
| Prague | 980 |
| Satu Mare | 490 |
| Sibiu | 290 |
| Sighisoara | 300 |
| Suceava | 329 |
| Timisoara | 457 |
| Tulcea | 78 |
| Vienna | 812 |
By Train
Constanta Train Station (Gara Constanta)
Address: Blvd. Ferdinand 45
Tel: 0241 614.960
There are daily trains from/to Bucharest, Iasi, and Suceava. Trains from/to other major cities in Romania and destinations in Europe connect in Bucharest.
There is daily INTERCITY (Express) service between Bucharest and Constanta (approximate journey time: 2 hours and 20 minutes).
In the summertime, there are several daily trains with service every half-hour between Constanta and Mangalia, stopping at all the Black Sea resorts along the way.
For Tulcea, change trains in Medgidia.
To check train and bus schedules for domestic routes please visit our:
Romania Domestic Transportation section
SNCFR's advance booking office (Agentia de Voiaj SNCFR Constanta)
Address: Str. Vasile Carnache 4, Constanta
Tel: 0241 614.960
Open: Mon. - Fri. 7:30am - 7:00pm; Sat. 8:00am - 12:00pm; Closed Sun.
You can obtain train schedule information and make reservations up to 24 hours in advance here. Tickets for same-day travel can only be purchased at the station.
By Boat
Constanta's port is the terminus for cruise ships and private boats via the Bosphorus Strait or the Danube River. Private boats can be chartered at many of the marinas on the east coast.
Danube River cruises stop at various places of interest along the Danube, including Vienna, Bratislava, Budapest, Bazias, Giurgiu, Calafat, Tulcea and Constanta. The cruises incorporate varied itineraries: historic towns, museums, art collections, monasteries, spas, archaeological sites, folk evenings, nature reserves and of course, the dramatic scenery of Eastern Europe, including the Iron Gates (Portile de Fier) through the Carpathian Mountains.
List of upcoming Danube River/Black Sea Cruises:
www.RomaniaTourism.com/Upcoming-Tours-Romania-USA.html#Danube
Public Transportation
Buses (autobus), trams (tramvai) and trolley buses (troilebuz) operate as one system, running from 5 am to 11:30 pm. Tickets are interchangeable for all three forms of transport. Route maps are available at yellow kiosks near bus, tram, and trolley bus stops. Tickets can be purchased at kiosks displaying the RATC logo. Be sure to stamp your ticket on boarding.
Buses # 2, 5, 40, 41 42, 44, 49, 51 and trolleybus # 48 make stops in the
downtown area
Buses # 23 E and 41 connect Constanta to Mamaia resort
Taxi companies
General - 953 or 0241 617.844
Mondial - 0241 693.333
Romaris - 0241 690.000
Sageata - 0241 638.000
Car rental
Autonom
Address: Str. Cuza Voda 90 & Constanta Airport
Tel: 0241 550.177 or 0745 900.600
Email: constanta@autonom.ro
Web: www.autonom.com
Avis Car Rental Constanta Airport (Mihail Kogalniceanu)
Address: Str. Tudor Vladimirescu nr. 4
Tel: 0724 364.830
Email: reservations@avis.ro
Web: http://avis.ro/avisonline/...
Avis Car Rental Constanta Centre
Address: Blvd. Stefan Cel Mare 15, Constanta
Tel: 0241 616.733
Email: reservations@avis.ro
Web: http://avis.ro/avisonline/...
Budget
Address: Str. Ferdinand 70, Constanta
Tel: 0241 639.713
Email: budget@pcnet.ro
Web: www.budget.com
EuroCars Romania
Address: 4 Strada Tudor Vladimirescu 4 (Constanta Airport), Constanta
Tel: 0727 373.799
Email: office@eurocars.ro
Web: www.eurocars.ro
Europcar
Address: Mihail Kogalniceanu International Airport
Tel: 0241 543.311
Email: constanta@europcar.com.ro
Web: www.europcar.com.ro
Hertz
Address: Blvd. Tomis 65, Constanta
Tel: 0241 661.100
Email: rocnd61@hertz.com.ro
Web: www.hertz.com.ro
Promotor Car Rental
Strada Garii 2
Tel: 0743 403.403
E-mail: office@auto-rent.ro
Web: www.auto-rent.ro/rent-a-car/constanta.html

Sixt
Address: Str. Tudor Vladimirescu 4, Constanta
Tel: 021 94.00 (this is valid short phone #)
Email: reservation@sixt.ro
Web: www.sixt.ro
Accommodation
For a list of available accommodations in Constanta please
click here or search our on-line Accommodations guide.
Shopping
Tomis Mall
Address: Str. Stefan cel Mare 36-40, Constanta
Web: www.tomis.ro
City Park Mall
Address: Blvd. Al. Lapusneanu 116 C, Constanta

Tom Mall
Address: Blvd. Tomis 391, Constanta

Maritimo Shopping Center
Address: Blvd. Aurel Vlaicu 220, Constanta

Art Galleries
Galeria Art & Craft
Address: Str. Ion Lahovari 16, Constanta
Galeriile de Arta
Address: Str. Stefan cel Mare 115, Constanta
Studiourile de Creatie
Address: Blvd. Mamaia 298 - 300, Constanta
Antiques (Antichitati)
Antiques
Address: Str. Stefan cel Mare 38-40, Constanta (part of Tomis Mall)
Artizanat - Antichitati
Address: Blvd. Mamaia 71, Constanta
Galeria Mica
Address: Blvd. Tomis 82, Constanta
Tourist Info
Tourist Information Centre
Bd. Alexandru Lapusneanu nr. 185 A
Tel: 0241 555.000
E-mail: expo@infolitoral.ro, info@infolitoral.ro,
Web: www.ccina.ro
Romanian Riviera Events and Tourism Board
Email: office@romanianriviera.ro
Web: www.romanianriviera.ro
Weather
Constanta has a continental climate with harsh winters and hot, dry summers. June, July and August are the hottest months.
Located on the same latitude as San Remo, Monaco, Nice and Rimini, the Black Sea coast averages 72 degrees Fahrenheit in July. In September and October, you can still enjoy warm, sunny days while taking a stroll along the beach or the downtown area of the city.
Constanta Weather Forecast
www.weather.com
Postal Services & Telephone
Post offices display a postal horn symbol and the word Posta.
Main Post Office
Address: Blvd. Mamaia 156, Constanta
Tel: 0241 614.493
Open: Mon. - Fri. 7:00am - 8:00pm; Sat. 8:00am - 2:00pm; Closed Sun.
Telephoning Constanta from Abroad
International Access Code +40 (country code) + 241 or 341 (area code) + telephone number (six digit number)
Pharmacies & Hospitals
There are several pharmacies (farmacie) open 24 hours a day in the city.
Emergency Clinic Hospital (Spitalul Clinic Judetean Constanta)
Address: Blvd. Tomis 145, Constanta
Tel: 0241 516.800 or 616.784
Constanta - Useful Telephone Numbers
Constanta Area Code (Prefix Constanta) — 0241 or 0341
Ambulance (Ambulanta) — 112
Police (Politia) — 112
Fire Department (Pompierii) — 112
Local & County Archives (Arhivele locale) — 0241 665.463
City Hall (Primaria) — 0241 488.100
Train Station (Gara Constanta) — 0241 666.952
Consumer Protection Agency — 0241 550.550
Maps
- City Map (Harta orasului Constanta)