Authentic Experiences
Stay Authentic ! Unique accommodations in Romania
A number of century-old manor houses and residences, as well as unique hotels
that stand out due to their long and interesting history, beautiful architecture,
unique/ traditional decorations, modern design, rooms with spectacular view,
character and great value are presented in our section dedicated to
distinctive, authentic accommodations in Romania.
Narrow Gauge Train Trips in Maramures - Romania
The narrow-gauge railway and the steam powered locomotives (Mocanita) in Viseu de Sus are one of the most remarkable railway heritage attractions in Romania and in Eastern Europe. It is the only remaining, working narrow gauge forestry railway of many that were constructed -in 1932 - to transport timber from the vast, remote forests of the Carpathian Mountains and their foothills.
Starting from Viseu de Sus - a small logging town in Maramures - the railway climbs the beautiful roadless Vaser valley for 31 miles, deep into the forests of the Maramures mountains to the tiny hamlet of Coman. Today, four steam-powered locomotives (the oldest one was built in 1910) are transporting logs, down, and lumberjacks and visitors up and down the valley.
The train is the only access to settlements up the valley, other than on foot. During the relaxing journey, travelers can enjoy the views of woodland and rushing rivers. After a picnic and / or a walk in the forest while the train is loaded at the terminus travelers will return to Viseu de Sus. On the trip back in the afternoon, the engine driver whistles for brakemen to stop the train - sometimes for passengers, or even to pick mushrooms.
The local people are friendly with fascinating stories to tell. In short, this is a remarkable survival from an earlier age, well worth a visit, and one that will benefit from more tourist traffic in its efforts to survive in this fast modern age (not that speed and modernity have penetrated far into the Maramures region).
The train operates:
May through June: selected weekdays and weekend
July through Mid-September: daily
Mid-September through beginning of November: selected weekdays and weekend
March, April, December, January: selected dates
Schedules and fares:
www.cffviseu.ro/content/en/timetable
Tickets can be purchased at Mocanita - Steam Train Station in the Viseu de Sus.
Ticket booth opens at 7:00 am.
Note: Large groups need to reserve tickets in advance (due to limited seating) or book a Charter train (www.cffviseu.ro/en/forestry_railway_charter.html)
Valea Vaserului Area Map - Mocanita route map stating from Viseu de Sus
More information and reservations:
Web: www.cffviseu.ro/en/index.html
Email: info@cffviseu.com
Telephone: (011 4) 0262 353.381 or (011 40) 744 686.716 

Weekly Produce Markets Are Part of Village Life in Romania
Slow-paced villages and gentle, welcoming people may be the words that best describe the Maramures region, situated in northwestern Romania.
Centuries-old traditions are still alive in the rural areas of Maramures.
In late afternoon, old women sit outside their gates coaxing coarse wool onto spindles. Many still favor traditional dress, meaning white frounced blouses, striped woven panels covering full black skirts, headscarves and opinci, a sort of leather ballet slipper from which heavy yarn criss-crosses over thick socks. On Sunday, such dress is practically de rigueur, even for little girls.
Although there are quite a few superstores and shopping malls in Romania's larger cities, people in the countryside still meet regularly to trade livestock, tools, seeds, grains and other agricultural products, as their ancestors did for hundreds of years.
Deals are sealed with a handshake, a sip of home-made plum brandy and cash payments.
Although children will easily find a can of Pepsi, they may be tempted by locally produced sweets such as nicely decorated gingerbread (turta dulce) in various forms and shapes and huge doughnuts (gogosi), made on the spot.
Weekly fairs and produce markets take place in many villages in Maramures. Below is a schedule of such events:
Day of the week/ frequency 
Name of the village 
Local information 
Every Monday
Somcuta Mare
Ulmeni
Arinis
0742 972.120
First and second
Monday of each month:
Bogdan Voda
0262  330.602
Every Tuesday
Rozavlea
0262  330.602
Every Friday
Stramtura
Podul Slatioarei
0262  330.602
Every Saturday
Botiza
0262  330.602
Maramures Info
Str. Gheorghe Sincai 46
430311   Baia Mare
Telephone: (011 4) 0262 206.113 
E-mail: office@visitmaramures.ro
www.visitmaramures.ro

UNESCO-designated "Living Human Treasures" - gateway to
Romania's cultures and traditions
"Living Human Treasures" are persons who possess to a very high degree the knowledge and skills required for performing or creating specific elements of the intangible cultural heritage that the Member States have selected as a testimony to their living cultural traditions and to the creative genius of groups, communities and individuals present in their territory. 
Working within the guidelines established in 1989 by UNESCO, the Museum of Folk Culture "ASTRA" in Sibiu, established a Living Human Treasures Program. For exceptional cultural contribution of selected individuals in traditional folk arts, more than 220 individuals have been so recognized. In 2001, Romania was one of six countries recognized by UNESCO as having fulfilled the goals of the Living Human Treasures initiative.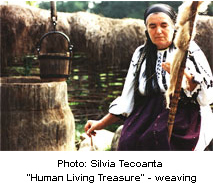 The Romanian Living Human Treasures are spread throughout the country, and their skills and area of expertise is as wide as it is diverse. From wood carving to egg painting or embroidery, these people have inherited their skills from their parents and grandparents. Their art, their skills and their stories are genuine and give a first hand introduction into the local culture.
Meeting people like Mr. Teodor Barsan - an expert in wood carving from Romania's Maramures region - or Mr. Sorin Apan - an expert on the symbolic meaning of costume designs in Brasov - in their home communities is a unique opportunity to experience a way of life and a set of values that has been long gone in the rest of Europe. Axis Mundi Travel now offers you the opportunity to meet these Ambassadors of Romanian culture while enjoying the best of Romania in terms of lodging, food and local wines. This cultural immersion is led by the most knowledgeable and hospitable hosts, some of them true Ambassadors of Romanian culture themselves.
For more information and availability schedules, please contact:
Andrei Roth
sales@romaniandiscovery.com
61 Moraga Way, Suite 1
Orinda, CA 94563 USA
Phone: +1 (408) 674 4681
URL: www.romaniandiscovery.com/Pages/Descr/Itineraries/LvngTrs.html

Learn about Romania's rural life and traditional crafts at Palmari's Centre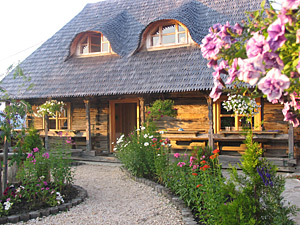 Just seven miles south of Bran Castle, Palamari's Cultural Centre re-creates the atmosphere of a traditional rural household and it offers visitors a glimpse into Romania's rural life and culture. This traditional architectural complex - comprising two wooden houses and an Orthodox church brought from Maramures and rebuilt in Transylvania - offers stunning views of the Carpathian Mountains, the nearby terraced hills and the evergreen forests.
Workshops and activities offered at Palmari's include: traditional jewelry making, (painted) eggs decoration, painting on glass, Romanian traditional dances,
clay / pottery modeling, nature walks, traditional cooking classes, photography.
Contact information:
Palmari's Cultural Centre
Str. Principala 39 C
Drumul Carului - Moeciu de Jos
Telephone: + 4 0723 656.024
Email: contact@palamaris.ro
www.palamaris.ro

Hutul Horses of the Romanian Carpathians
Photographer Manuela Stefan takes us to meet the Hutul horses in the
Northern Carpathians in Romania.
I was born and grew up in Romania. I often travel back to visit my family
and friends.
Romanian Hutul Stallion: 'Molid'. The Hutuls are native
to the region northeast of the Carpathians.
Last December was
a bit different.
I went home with the intention of finding and photographing some horses roaming free in the Southern Romanian forests.
I was detoured.
Prior to my arrival,
my dear mother watched a documentary on the Hutul horses from the Northern Carpathians, and she felt the subject might interest me.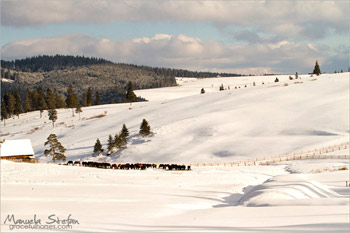 Lucina Stables in the Romanian Carpathians.
The Hutul horses are called an ideal mountain breed,
known for being strong, sensible, and sure-footed.
I did my research, discovered Lucina Stables and decided to travel to the other end of the country, close to the Ukrainian border.
The adventure exceeded my expectations.
Horses have always been a big part of the Romanian people's lives.
In many areas of the country, men and their four legged partners are intimately connected, and the animals are indispensable in most households.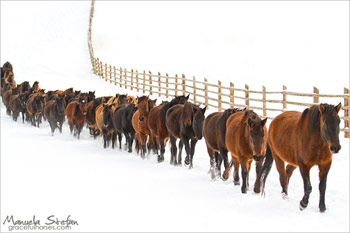 Hutul mares at Lucina Stables. The Hutul breed
is also called the Carpathian Pony.
I mention this while staying faithful to the threads that tie my equine stories and photographs together–– depicting horses' vibrant spirit
and reflecting their desire to run free, regardless of their circumstances.
The locals in Bucovina (notheastern Romania) are extremely proud of these horses, which are so relevant to their existence in the area.
Lucina Stables' crew makes sustained efforts to preserve the breed by carefully and selectively working with the blood lines.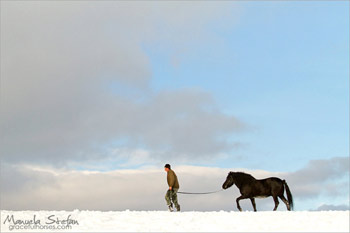 Lucina Stables were first opened in the 1850′s by the Austrian Colonel Martin Von Hermman for the equine needs of the Austrian army.
The Hutul horses are still raised there to this day and are known for their exceptional adaptability, strength and agility.
With the exception of the breeding stallions, the horses at Lucina roam free in very large paddocks with creeks flowing through.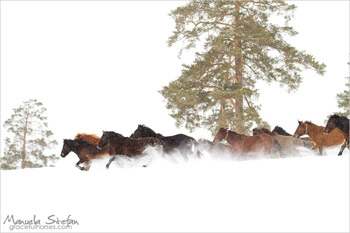 Lucina Stables mares running free.
They seem to be more aware of their free nature and they are connected with each other in a herd context, while exploring their natural environment.
It is quite refreshing to witness.
I was able to enjoy the company of almost 60 horses, most of which were gestating mares expected to foal this spring.
The energy around the group was simply extraordinary.
During my stay, one mare kept following me around to the point where I could not even take photos as she was beside me all the time.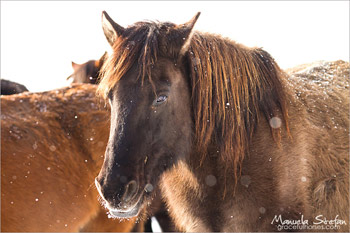 A gorgeous Hutul mare.
Before leaving, I went to say goodbye to my four-legged friends.
She came to me, and while I was caressing her face, more of her friends joined and it all turned into a strange, beautiful, emotional procession.
I was overwhelmed and had tears rolling down my face. I did not want to go!
The experience truly brought my artistic vision to a new level. It shifted the way I look at my equine work and is already helping me imagine new adventures.
About the Author and Photographer:
Manuela Stefan is a Toronto based lifestyle and equine photographer with a keen eye for capturing the spirit of the horse in interesting locations worldwide.
Her love for travel and horses has brought her to spectacular locations in France, Romania, Canada and the U.S.
She has exhibited her large format equine images in Toronto and Collingwood, Ontario and Montana. Her adventures continue.
Check out her Equine Blog and find her on Facebook and Twitter @GracefulHorses.