Castles & Fortresses of Romania
Romania's collection of castles and fortresses perhaps best illustrates the rich medieval heritage of the country. While castles built from the 14th to the 18th centuries are strong and austere fortresses built mainly for defense against invaders, those erected beginning in the late 1800s are imposing and luxurious. The most popular include the 14th century Corvin Castle, built on the site of a former Roman camp, the elegant 19th century Peles Castle with its 160 rooms filled with priceless European art and, of course, the Bran Castle, built in the mid-1300s and legendary home to Bram Stoker's Count Dracula.
Universal literature found valuable sources of inspiration in some of Romania's castles, with the most famous novels written about them being "The Castle in the Carpathians" by Jules Verne and "Dracula" by Bram Stoker.
As a result of almost nine centuries of Saxon presence, Transylvania, located in central Romania, claims a cultural and architectural heritage unique in Europe. This region is home to nearly 200 Saxon villages, churches and fortifications built between the 13th and 15th centuries. Seven of the fortified Saxon churches (in Biertan, Calnic, Darjiu, Prejmer, Saschiz, Valea Viilor, and Viscri) were designated by UNESCO as World Heritage Sites. A visit to these quaint villages, placed amidst lush farmland and green rolling hills, will give you a taste of the long-gone medieval times.

Explore some of Romania's best-known castles and fortresses:
Biertan Fortified Church - ( UNESCO World Heritage Site )

Location: Biertan, Transylvania – Central Romania
Address: Piata 1 Decembrie 1918
Nearest large town: Sighisoara (18 miles east), Medias (16 miles west)
Nearest train station: Dumbraveni
Telephone: 0269 806.699
E-mail
Hours: Monday - Saturday: 9:00 a.m. - 5:00 p.m.
Admission: 8 Lei
Note: During the 'low-season' the gates to the church may be locked.
If the gates are locked just ask for assistance at the cafe which is next to the entrance into the fortress.
The village of Biertan (German:
Birthalm
), first mentioned in an official document in 1283, is home to one of the largest and most impressive medieval strongholds in Transylvania.
Surrounded by quaint streets and vineyards, the 15th century fortified church at Biertan is perched high on a hill in the middle of the village. Three tiers of 35-foot-high defensive walls, connected by towers and gates, encircled the complex, making the church impossible to conquer during medieval times.
Featuring late-gothic architecture with heavy doors and double exterior walls, the church boasts the largest Transylvanian multi-paneled wooden altar and a remarkable wooden door which once protected the treasures in the sacristy. The altar was built by artisans from Vienna (Austria) and Nurenberg (Germany) between 1483 and 1513. The door, a true marvel of engineering, has a particularly ingenious locking mechanism with 15 bolts that can be simultaneously activated by a key. The mechanism stirred quite an interest at the Paris World Expo in 1900.
Couples seeking divorce were locked in the Prison Tower for two weeks. Sharing one set of cutlery and one bed, the couple had to make their final decision. In 400 years, only one couple decided afterwards to go through with the divorce!
The church's organ features some 1,290 pipes, as well as 25 registers, and was built in 1869 by the Hessian Company in Vienna.
Visitors can also admire the towers surrounding the church, namely the Clock Tower, the Bell Tower, the Gate Tower and the Bacon Tower. Within the grounds are several other interesting buildings, including the Prison Tower - which once served marital counseling purposes.
From 1572 to 1867, Biertan was the seat of the Saxon Evangelical bishops of Transylvania; their fine gravestones can be seen inside the Bishops' Tower.

Bran Castle

Location: Bran, Transylvania – Central Romania
Address: Str. Traian Mosoiu 24, Bran
Nearest large towns: Brasov (16 miles NE), Predeal (20 miles E), SInaia (32 miles SE)


Nearest train stations

: Predeal and Brasov
Telephone: 0268 237.700
Email
Bran Castle Hours & Admission
Surrounded by an aura of mystery and legend and perched high atop a 200-foot-high rock, Bran Castle owes its fame to its imposing towers and turrets as well as to the myth created around Bram Stocker's Dracula.
Built on the site of a Teutonic Knights stronghold dating from 1212, the castle was first documented in an act issued by Louis I of Hungary on November 19, 1377, giving the Saxons of Kronstadt (Brasov) the privilege to build the Citadel.
Although Stoker never visited Transylvania, the Irish author relied on research and his vivid imagination to create the dark and intimidating stomping ground of Count Dracula, leading to persistent myths that it was once the home of Vlad Tepes, ruler of Walachia. While the association with Dracula is sketchy at best, the castle continues to hold a strong attraction for all fans of the Count.
From 1920 to 1957 Bran served as royal residence, a gift of the people of Brasov to Queen Marie of Romania. The castle is now a museum open to tourists, displaying art and furniture collected by Queen Marie.
Narrow winding stairways lead through some 60 timbered rooms, many connected by underground passages, which house collections of furniture, weapons and armor dating from the 14th to the 19th centuries. The castle overlooks the picturesque village of Bran, which offers an open-air Ethnographic Museum consisting of old local-style village houses complete with furniture, household objects and costumes.
Nearby attractions: Rasnov Fortress (7 miles); Brasov (16 miles); Peles Castle in Sinaia (35 miles); the ski resorts in Poiana Brasov (10 miles) and Predeal (15 miles); the medieval cities of Sighisoara (88 miles) and Sibiu (96 miles); Bucharest (110 miles).

Accommodations near Bran Castle



Calnic Fortified Church - ( UNESCO World Heritage Site )

Location: Calnic, Transylvania – Central Romania
Address: Calnic, Alba county
Nearest large towns: Sebes (9 miles N), Alba Iulia (20 miles N), Sibiu (30 miles SE)
Nearest train station: Miercurea Sibiului
Website
Hours: Monday - Sunday: 9:00 a.m. - 6:00 p.m.
Admission: 5 Lei , Camera/ Photo fee: 7 Lei
Built in the 13th century by Count Chyl de Kelling, the Fortified Church at Calnic (German:
Kelling
) is one of the most imposing defensive structures in Transylvania. First documented in 1269, the fortress served as a residence for Saxon nobility until 1430, when it was sold to the peasant community of Calnic.
Enclosed by one and a half rings of high walls fortified with a defensive tower to the south and a gate tower to the north, the fortress withstood several Ottoman sieges. Its defense system was completed in the 16th century when a small Romanesque chapel, surrounding walls and a water ditch were added by the Calnic community.
The five-story-high Siegfried Tower, the landmark of the fortress, is endowed with defensive corridors and firing windows. An on-site medieval art museum displays various artifacts.

Jidvei (Bethlen-Haller) Castle

Location: Cetatea de Balta, Transylvania – Central Romania
Address: Str. Libertăţii FN, Cetatea de Balta, Alba county
Nearest large town: Blaj (15 miles W), Medias (15 miles SE), Alba Iulia (38 miles W)
Email
Website
The Bethlen Castle was built in the 16th century in the French Renaissance style and restored in the 17th and 18th centuries when Baroque elements were added.
The Reformed Church, situated next to the Castle, is a 13th century structure.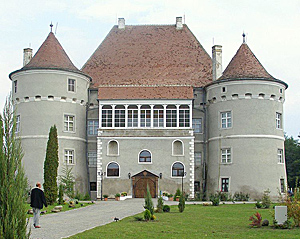 The Jidvei (Bethlen-Haller) castle, with its eclectic combination of architectural styles, is located on the outskirts of Cetatea de Balta and it ofers its guests with quaint views of the village.
Jidvei, one of Romania's premier white wines wineries is a five-minute drive from Cetatea de Balta.
Jidvei ((Bethlen-Haller) features 14 guest rooms and four luxurious suites decorated in a variety of styles, several meeting and event spaces and a beautiful garden with panoramic views.
EVENTS & DINING: The Jidei (Bethlen-Haller) castle can host business meetings, conferences, private dinners or wedding receptions.
Various exquisite local wines and original menus, that include traditional dishes prepared by local chefs, will, most likely, please even the most discerning palates.
Transport to / from the Castle can be arranged by the castle's concierge.
For reservations please call +4 0722 458.987.

Cisnadie Fortified Church

Location: Cisnadie, Transylvania
Address: Str. Cetatii 1 - 3, Cisnadie
Nearest large town: Sibiu (6 miles north)
Nearest train station: Sibiu
Telephone: 0269 564.597
Email
Website
Originally built in the 12th century as a Romanesque basilica, the church was fortified during the 15th century to protect the local Saxon population against repeated Ottoman raids. The fortification process included the construction of fortified towers over the two side entrances and the choir, the building of a double structure of defense walls, a moat and several defensive towers along the walls.
The clock installed in the 195-feet high (bell and clock) tower has been working since 1868; no repairs were ever needed!
The tower of Cisnadie fortress also features the first thunder road installed in Transylvania (1795).

Corvin Castle

During the 14th and 15th centuries, Hunedoara was one of the main iron extraction and processing centers in Transylvania. Swords and spears manufactured here during this period were renowned across Europe.

Location:
Hunedoara, Transylvania
Address: Str. Castelului 1 - 3,
Nearest train station: Hunedoara
Telephone: 0254 711.4230
E-mail

Hours & Admission
The greatest Gothic-style castle in Romania, Corvin was built by the Anjou family on the site of a former Roman camp. The castle served as a fortress until the mid-14th century when it became the residence of Transylvania's ruler, Iancu de Hunedoara. Iancu upgraded the fortress transforming it into the most stunning castle in Transylvania.
The beautifully preserved structure features a sumptuous Knights' Hall, an impressive drawbridge, high buttresses, inner courtyards, a chapel and some 50 rooms resplendent with medieval art.
The castle's courtyard features a 100-ft. well dug into stone, in the 15th Century.
Legend says that the wheel was dug by three Turkish prisoners. It took them 15 years and 28 days to reach water.


Cristian Fortified Church

Location: Cristian, Transylvania – Central Romania
Address: Cristian, Brasov county
Nearest large town: Brasov (9 miles east)
Nearest train station: Brasov
One of the fortress towers was called the Bacon Tower. It initially served as a chapel, but later was used for food storage (especially bacon, hence the name). Villagers would fill the tower's cellar with ice, keeping supplies cool throughout the summer. To keep heat out, entry to the tower was only allowed on Sundays.
The gothic-style Evangelical Church (1495) in the village of Cristian stands on the site
of a 13th century Roman basilica. Built in the 16th century,
the church is enclosed by two
rows of walls guarded by towers.
Two underground tunnels
allowed villagers to flee
from the fortress to the forest or to an old monastery in times of siege.

Darjiu Fortified Church (UNESCO World Heritage Site)

Location: Darjiu, Transylvania – Central Romania
Address: Darju, Harghita county
Nearest large town: Sighisoara (20 miles W), Odorheiu Secuiesc (15 miles N)
Nearest train stations: Sighisoara and Vanatori (19 miles W)
Telephone: 0266 222.002
E-mail
The fortified church at Darjiu was initially built in Roman style in the 14th century, and later rebuilt in gothic style. It was fortified in the 16th century when locals drew inspiration from the fortified churches of neighboring Saxon villages. The Gate Tower preserves its initial form, with openings for shooting missiles; wooden shutters provided protection against incoming projectiles. The original interior frescoes, some of the most impressive Transylvanian medieval works, have been preserved.
The wall around the church, which served as defense against Ottoman attacks, was not as high as those surrounding most Saxon fortified churches since the village, itself, was situated high on a hill. Today, only a small section of the wall built in 1520 remains.
Residents still keep their grain in barns inside the fortress, whereas bacon and ham are kept in the fortress towers. Grain may be picked up every morning, but bacon only once a week.

Fagaras Fortress

Location: Fagaras, Transylvania – Central Romania
Address: Str. Mihai Viteazul 1, Fagaras - Brasov county
Nearest cities: Sibiu (44 miles west) and Brasov (45 miles east)
Nearest train station: Fagaras
Telephone: 0268 211.862
E-mail
Website
Hours: June 1 – September 30
Monday – closed
Tuesday – Friday: 8 a.m. - 7 p.m.
Saturday - Sunday: 10 a.m. - 6 p.m.

October 1 – May 31
Monday: 12 p.m. – 4 p.m.
Tuesday – Friday: 8 a.m. - 5 p.m.
Saturday - Sunday: 9 a.m. - 5 p.m.

Admission: 15 Lei


Built in 1310 on the site of a former 12th century wooden fortress (burned by the Tartars in 1241), Fagaras was enlarged between the 15th and 17th centuries and was considered one of the strongest fortifications in Transylvania. The fortress was surrounded by a deep moat which, in times of war or social unrest, could easily be filled with water from a nearby mountain brook. A bridge over the moat provided the only access point. The fortress boasts three floors and five towers.
Throughout the years, Fagaras Fortress functioned mainly as a residence for various princes and their families. Transylvanian Prince Gabriel Bethlen (1613-1629), strongly influenced by the Italian Renaissance, brought architects and glassmakers from Italy who rebuilt the fortress, bestowing elegance and beauty to the construction. During the rule of Georg Rákóczi (1630-1649), the castle's fortifications were doubled and the moat was enlarged. Ráckózi had the bastions bridged and covered, the moat paved with stones, the bridge and the casemates repaired and a guardhouse built.
In 1948, Fagaras Fortress was taken over by the communists and functioned as a political prison until it was turned into a museum.
Records show that the interior must have been luxurious in the 17th century; unfortunately, little of its former grandeur has been preserved. The castle was deprived of its decorations and fancy furniture when it was turned into a military garrison in the 18th century.

Today, the beautifully preserved fortress houses the Fagaras County Museum, displaying Roman artifacts, a collection of medieval weapons and traditional folk crafts. The museum also hosts a beautiful collection of icons painted on glass.

Harman Fortified Church

Location: Harman, Transylvania – Central Romania
Address: Str. Mihai Viteazul 1, Harman - Brasov county
Nearest large towns: Brasov (5 miles S)
Nearest train station: Brasov, Prejmer
Telephone: 0726 601.933
E-mail
Website
Harman Fortress Video

Hours:
April 15 – October 15
Monday – closed
Tuesday – Saturday: 9 a.m. - 12 p.m. and 1 p.m. – 5 p.m.
Sunday: 10 a.m. - 12 p.m. and 1 p.m. – 5 p.m.

October 16 – April 14
Monday – closed
Tuesday – Sunday: 10 a.m. - 12 p.m. and 1 p.m. – 4 p.m.

Admission charge: 7 Lei

Note:
The manager lives in the house next to the fortress.
Just ring the bell and she will open the gates.
Located in the heart of Harman (
Honigburg
in German, meaning
Honey Castle
) village, this fortified church dates back to the 13th century when Saxons built the original structure. Strong walls and bulwarks surrounded the church and on its sides, massive towers were added.
The choir was built in a square shape with a vault resembling a cross. It was surrounded by two chapels, indicating the influence of the Cistercian style. This influence can also be observed in the still-standing original round windows with four lobes in the upper part of the church. The fortified church boasts two chapels.
The south chapel has been preserved in its initial state while the north chapel was rebuilt in the 15th century. The exterior vaults of the chapel are sculptured in stone and have a human face at each end.

Peles Castle
Location: Sinaia, Walachia – Southern Romania
Address: Str. Pelesului 2, Sinaia
Nearest large towns: Brasov (40 miles north), Bucuresti (80 miles south)
Nearby main attractions: Bran (Dracula's) castle (30 miles north-west),
Brasov (40 miles north)
Nearest train station: Sinaia
Telephone: 0244 310.918
E-mail
Peles Castle Hours & Admission
Nestled at the foot of the Bucegi Mountains in the picturesque town of Sinaia, Peles Castle is a masterpiece of German new-Renaissance architecture, considered by many one of the most stunning castles in Europe.
Commissioned by King Carol I in 1873 and completed in 1883, the castle served as the summer residence of the royal family until 1947. Its 160 rooms are adorned with the finest examples of European art, Murano crystal chandeliers, German stained-glass windows and Cordoba leather-covered walls.
Peles Castle was the first European castle entirely lit by electrical current. The electricity was produced by the castle's own plant.

The castle draws its name from neighboring Peles Creek, which passes right through the courtyard.

The first movie projection in Romania took place in 1906 in the castle's Theater Room.
The furniture in the Music Room is carved of teak, a gift to King Carol I from the Maharajah of Kapurtala in India, while handmade silk embroideries adorn the ceiling and walls of the Turkish Salon. The ceiling paintings and decorative frescoes in the Theater Hall were designed by the renowned Austrian artists Gustav Klimt and Frantz Matsch.
Over 4,000 European and Oriental pieces dating from the 15th to the 19th centuries are on display in the armories.
King Ferdinand, who succeeded Carol I, commissioned the smaller, art nouveau-style Pelisor Castle nearby. Pelisor's 70 rooms feature a unique collection of turn-of-the century Viennese furniture and Tiffany and Lalique glassware.
Also worth exploring in town is Sinaia Monastery, founded by Prince Mihai Cantacuzino in 1695, and named after the great Sinai Monastery on Mount Sinai. The monastery served as the residence of the royal family until Peles Castle was built, and now is home to a monastic establishment.
Sinaia, a well-known ski resort, and the surrounding towns of Busteni, Azuga and Predeal provide many facilities for an active vacation – from ski and hiking trails to wildlife viewing.
Attractions not far from Peles Castle: Rasnov Fortress (28 miles); Bran Castle (35 miles); Brasov (40 miles); ski towns of Predeal (14 miles) and Poiana Brasov (35 miles); Bucharest (78 miles); medieval towns of Sighisoara (88 miles) and Sibiu (105 miles).

Prejmer (Tartlau) Fortified Church - ( UNESCO World Heritage Site )

Location: Prejmer, Transylvania – Central Romania
Address: Str. Pietei 2, Prejmer - Brasov county
Nearest city: Brasov (11 miles southwest)
Nearest train stations: Prejmer, Brasov
Prejmer Fortified Church Video

Hours:
May 1 – October 31
Tuesday – Friday: 9 a.m. - 12 p.m. and 1 p.m. – 5 p.m.
Saturday: 9 a.m. - 3 p.m.
Sunday and Monday – closed

November 1 – April 30
Tuesday – Saturday: 9 a.m. - 3 p.m.
Saturday, Sunday and Monday – closed

Admission: 8 Lei

Note:
The manager lives in an apartment in the fortress
and he can also be found after-hours.
The largest fortified church in southeastern Europe, Prejmer
(Tartlau
in German) was built by Teutonic knights in 1212-1213.
The powerful surrounding walls are 40 feet high and 10-15 feet thick. Historical records attest that in its 500 years of existence, the fortress was besieged 50 times. However, it was only captured once, in 1611 by Gabriel Báthori, Prince of Transylvania; the fighters defending the fortress have surrendered after not having no drinking water available for several days.
Endowed with bastions, drawbridges and a secret, subterranean passage through which food supplies could be transported, the church's most famed war device was the "death machine," made of several weapons that could shoot simultaneously, causing the enemy severe losses.
Access to the building was through a 100-foot-long arched passage fortified with two rows of gates. Each village family had a designated room for shelter in case of attack. The red-roofed wall accommodated 272 rooms, stacked over four stories and linked by wooden staircases.
The church, built in a cross-like plan, was completed in 1225 and later adapted to the Cistercian style. The nave features late-gothic vaulting.

Rasnov Fortress

Location: Rasnov, Transylvania – Central Romania
Address: Rasnov, Brasov county
Nearest city: Brasov (9 miles northeast)
Nearest train station: Brasov
Telephone: 0744 101.036
E-mail
Rasnov Fortress Hours & Admisson
Rasnov Fortress (
Rosenau
in German), is located on a rocky hilltop in the Carpathian Mountains, 650 ft. above the town of Rasnov. First mentioned in an official document in 1331, the fortress was built by Teutonic Knights as protection against invading Tartars and was later enlarged by the local Saxon population. Strategically located on the commercial route linking the provinces of Transylvania and Walachia, Rasnov differs from other Saxon fortresses in that it was designed as a place of refuge over extended periods of time. As such, it had at least 30 houses, a school, a chapel and other buildings more commonly associated with a village.
The defensive system included nine towers, two bastions and a drawbridge. Surrounded by 500-foot-slopes on the north, south and west sides, the fortress was obliged to surrender only once, in the year 1612 when invaders managed to find the secret route that supplied the people inside the fortress with water. With the location of their water supply no longer a secret, the need for a well inside the fortress became a must.
According to local legend, two Turkish prisoners were put to the task of digging a well through solid rock in the center of the fortress. They were promised their freedom once the well was finished.

Work on the 470-foot-deep well began in 1623 and took 17 years to complete. The well provided extra security as it meant the people didn't have to go outside the gates at all during a siege. It was in use until 1850 when the wheel broke.
The last siege of Rasnov Fortress took place in 1690 during the final Ottoman invasion of Transylvania. Damaged by fire in 1718, it was rebuilt the following year. The next major damage occurred as the result of an earthquake in 1802. The fortress was last used as a place of refuge during the revolution of 1848 and was abandoned after that.

Recently, the old fortress has been restored to its former glory and today, you can visit the impressive remains. There is also a museum here, hidden behind the ancient walls, where you can find a skeleton buried beneath a glass floor, as well as some other interesting artifacts.
The inner rooms are maze-like, with several wooden ladders linking them and a few so-called secret passages which should keep you busy for quite awhile.

Saschiz Fortified Church - ( UNESCO World Heritage Site )

Location: Saschiz, Transylvania – Central Romania
Address: Saschiz, Mures county
Nearest large town: Sighisoara (10 miles west)
Nearest train station: Saschiz h
Telephone: 0744 020.337
Website
Video

Hours:
May 1 – October 31
Tuesday – Friday: 9 a.m. - 5 p.m.
Saturday: 9 a.m. - 1 p.m.
Sunday and Monday: closed

November 1 – April 30
Tuesday – Saturday: 9 a.m. - 3 p.m.
Sunday and Monday – closed

Admission:
Saschiz is renowned not only as home to one of Transylvania's finest fortified churches but also as a carpentry and wood-painting center. It was here that Saschiz blue pottery was born in 1702.
The Evangelical Church of Saschiz was built between 1493 and 1496 by Saxon colonists. The monument is very impressive due to its sheer size and the way the fortifying elements have been adapted to the shape of a church building. From the outside, the church appears to be a bulwark, but its defensive role is surpassed by the beauty of its gothic elements: huge arches, massive buttresses and decorative stone and brick aspects. Due to the significant distance between the center of the village and the hill on which a Saxon fortress was built in 1496, the fortified Evangelical church became the main refuge for the inhabitants of Saschiz during invading raids.

Valea Viilor (Wurmloch) Fortified Church - (UNESCO World Heritage Site)

Location: Valea Viilor, Transylvania – Central Romania
Address: DJ 142 G Valea Viilor, Sibiu county
Nearest large town: Medias (8.5 miles northwest)
Nearest train station: Copsa Mica
Telephone: 0269 515.266
E-mail

Hours:
Summer
Monday – Sunday: 9 a.m. – 12 p.m. and 2 p.m. - 5 p.m.

Cold season
Please call to announce / schedule your visit.

Admission: 5 Lei
Located in the Vineyards Valley, this fortified church was built in 1263 in gothic style and was enlarged and fortified in the 15th and 16th centuries by adding a range of 26-foot-tall and five-foot- wide walls. A unique element is the well in the center of the church choir that provided water for the locals during sieges. Inside, you can admire Saxon furniture and decorations dating from the 16th century.

Viscri Fortified Church - ( UNESCO World Heritage Site )

Location: Viscri, Transylvania – Central Romania
Address: Viscri, Brasov county
Nearest large town: Sighisoara (25 miles NW)
Nearest train station: Rupea
E-mail
Website
Video

Hours: 10 a.m. – 1 p.m. and 3 p.m. - 6 p.m., Monday through Sunday

Admission: 5 Lei
Note: The superintendent lives in the house # 141, accross the street from the gate of the fortress. She will be glad to offer a tour even during off-hours.
One of the most interesting Saxon fortified churches is located in the village of Viscri (W
eisskirch
in German). The name comes from the German
Weisse Khirche
, meaning
white
church
.
Unlike other Transylvanian fortified churches, Viscri was built around 1100 by the Szekler population and taken over by Saxon colonists in 1185. This explains why this unique gothic church displays a plain straight ceiling rather than a traditional vaulted one. In the 14th century, the eastern section was rebuilt and around 1525, the first fortification walls with towers were added. In the 18th century, the church was endowed with a second defensive wall. Inside, you can admire a classic 19th century altar featuring a Blessing of the Children centerpiece by the painter J. Paukratz from Rupea. During 1970-1971, the fortified church underwent major renovations.