General Information
Fast Facts
Location: Northwestern Romania
County: Satu Mare
Size: 58 sq. miles (150.3 sq. kilometers)
Elevation: 410 ft. (126 m.)
Population: 109,000
First documented: 1181
City Highlights
Located just 20-minutes from the border with Hungary, Satu Mare is the gateway to rural Maramures for travelers coming from Central and Western Europe. Archaeological evidence shows settlements in the area dating to the Stone Age and the Bronze Age; there is also proof that the Geto-Dacian communities continued to inhabit this region after the Roman conquest in 105-106 A.D.. The city was first mentioned in 1181 as Castrum Zotmar, a fortified stronghold from which the town derives its name.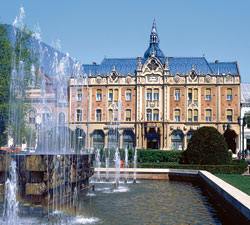 In 1543, the Báthory family took possession of the citadel, proceeding to divert the Somes' waters in order to defend the southern part of the fortress; thus, the fortress remained on an island linked to the main roads by three bridges over the Somes River. In 1562 the citadel was besieged by Ottoman armies. Later it was besieged by the Habsburgs and set on fire. The Austrian general Lazar Schwendi ordered the citadel to be rebuilt after the plans of Italian architect Ottavio Baldigara; using an Italian system of fortifications, the new structure would be pentagonal with five towers. During the Middle Ages, Satu Mare and Mintiu were two distinct entities, but between 1712 and 1715 the two gradually united under one administration. On 2 January 1721 Emperor Charles VI recognized the union, at the same time granting Satu Mare the status of free royal city.
Satu means village and Mare means big.

Satu Mare has a tradition in fencing dating to 1885, being the European city that has supplied the most world and Olympic champions.
The 18th century marked the beginning of an intense urbanization process of Satu Mare, some of the main attractions in the city dating from this period: the old city hall, the military barracks, the Catholic and Reformed churches. The first park was established in 1844. This was also the time when the first industrial companies were founded: the steam mill, the brick factory, the Neuschloss wood-processing factory, the lumber factory. Located at the crossroads of commercial routes, Satu Mare became an important railway center. The railway to Carei was built in 1871, the one to Sighet in 1872, and the one to Baia Mare in 1894.
Landmarks
The old town, which stretches north of the river Somes, contains some of the major attractions in the city. Unfortunately, during the reign of Ceausescu, a large part of the historic district was destroyed. Traian Boulevard (Bulevardul Traian) leads right to the central Piata Libertatii (Freedom Square). Around the square, you will find several churches, museums and hotels.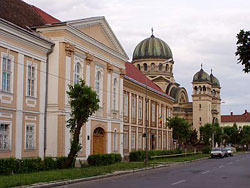 On '1 Decembrie 1918' street you will find the large Orthodox Church of the Archangels Gabriel & Michael. Other buildings on the same street show some of the old glamour of Satu Mare. In the centre, facing the eastern part of Piata Libertatii, you will notice the large domes of the Roman-Catholic Cathedral. The church was built around the year 1800, but it was heavily damaged during the Second World War. The shape is rather unusual and the dimensions inside are impressive. North of the centre there's the small and nice Piata Pacii (Peace Square). Right in the middle of this square stands the small 19th century Hungarian Reformed Church, also known as the Church with Chains (Biserica cu Lanturi), one of the oldest churches in the city. Built between 1793 and 1802, the church has a valuable collection of plates, disks and glasses dating from 1657-1679, as well as the oldest bell in Satu Mare, dating to 1633. The furniture inside the church was made between 1799-1807, from oak, by a master craftsman named Frits Iosif.
Jewish Heritage: Satu Mare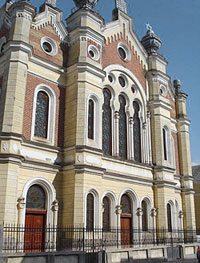 During the 19th and 20th centuries Satu Mare was the seat of the Teitelbaum and Gruenwald Hasidic Jews, who lived there until World War II and now reside in New York City, Jerusalem, London, and other places.
Jews first settled in this northwestern Romanian town, bordering Maramures County, around 1700. During the 19th and 20th centuries, the population grew, reaching approximately 13,000 before World War II. Back then, the community was served by some eight synagogues, a yeshiva, and a Hebrew painting house. In May 1944, the Nazis deported most of the local Jewish population to death camps. A memorial to the 18,000 Jews from around Satu Mare murdered in the Holocaust stands between the two remaining synagogues. Tombstones in the Orthodox Jewish Cemetery (address: Str. 9 Mai) still show bullet holes and damage from World War II.
Nearby there is also a Neolog Cemetery.
Great Synagogue
Address: Str. Decebal 4-6
Built in 1890s, in similar design to the synagogue in Oradea, it remained closed for decades until the community reopened it as a concert hall and cultural venue.
Saar Ha Torah Synagogue
Address: Str. Decebal 4-6
Built in the 1920 and located next to the Great Synagogue, it is the only remaining working synagogue. A small prayer room is used for regular services.
Satu Mare Jewish Community
Address: Str. Decebal 4A
Telephone: 0261 713.703
For more information on Jewish Heritage in Romania please visit:
www.RomaniaTourism.com/Jewish-Heritage.html
Museums
Art Collections Museum(Sectia de Arta)
Address: Piata Libertatii 21
Tel: 0261 710.114
Open: Tue. – Sun. 9 a.m. – 5 p.m.; Closed Mon.
Admission charge
Satu Mare County Museum (Muzeul Judetean Satu Mare)
Address: Str. Lucaciu 21
Telephone: 0261 737.526
Open: Tue. – Sun; Closed Mon.
Admission charge
Nearby Attractions
Land of Oas (Tara Oasului)
Sheep Owners Gathering (Sambra Oilor)
When: 1st Sunday in May
Where: 30 miles northeast of Satu Mare
Access: car, bus
Each spring village people and farmers in the Oas region gather on a hillside overlooking Huta-Certeze to celebrate Sambra Oilor. This centuries-old traditional festival marks the time of the year when shepherds leave for the mountains with their sheep. To help them get through the lonely months ahead of them, they celebrate one last time with folk music, dances and a rich meal. Since 1970 the event has been transformed into a major folk festival.
Day Trips
Merry Cemetery in Sapanta (Cimitirul Vesel)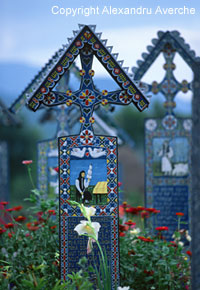 Where: 48 miles northeast of Satu Mare
Access: car, train
(nearest train station: Sighetu Marmatiei)
Colorful, five-foot, carved oak crosses, featuring carved portraits or scenes from the deceased's life, are inscribed with witty epitaphs that capture essential elements – both the good and the imperfections – of the villagers who rest here. Words and images were chosen by the sculptor as he saw fit at this unique cemetery located just 15 minutes outside of Sighetu Marmatiei.
The crosses also feature geometric designs in symbolic colors: yellow for fertility (the subject had many children), red for passion, green for life, black for early death. The townsfolk's ancestors considered death as a beginning, not the end. Therefore, the background is always blue, the color of hope and freedom.

Even without benefit of translation, visitors will appreciate the handiwork of sculptor Stan Ion Patras (1907-1977), who began carving these epitaphs in 1935. Patras' house in the village is now a fascinating museum. Vasile Stan, one of Patras' apprentices, continues the work of his master.
The wooden Churches of Maramures
Where: 60-90 miles west of Satu Mare
www.RomaniaTourism.com/Sighetu-Marmatiei.html#DayTrips
The city of Baia Mare
Where: 41 miles west of Satu Mare
www.RomaniaTourism.com/Baia-Mare.html
The city of Oradea
Where: 81 miles south of Satu Mare
www.RomaniaTourism.com/Oradea.html
City Essentials
Transportation
By air
Satu Mare Airport (SUJ)
Tel: 0261 712.795
Email: office@aeroportulsm.ro
www.aeroportulsm.ro/en_informatii.html
Satu Mare is served by weekly direct flights from/to Bucharest. The airport is located about 7 miles south of the city centre on the main Oradea-Satu Mare road. Bus # 9 links the airport with Piata Libertatii in the city centre.
Airlines with service to Satu Mare: Tarom - www.tarom.ro
By bus
Satu Mare Main Bus Station (Autogara Satu Mare)
www.autogari.ro/Localitati/504.aspx
Daily domestic bus service from/to:
Alba Iulia, Arad, Baia Mare, Bistrita, Carei, Cluj, Constanta, Iasi, Oradea, Sebes, Sibiu, Sighetu Marmatiei, Sighisoara, Timisoara, Targu Mures
A shuttle service from Baia Mare - Satu Mare to Budapest (Hungary)Nepliget bus terminal
(with a stop at Budapest Airport)
is operated by Efi Travel / EFI Bus
For more information and reservations please E-mail EFI Travel or call (+4) 0745 600.796
By car
Driving route from Bucharest to Satu Mare via A1 - E81:
Bucuresti – Pitesti – Sibiu – Alba Iulia – Cluj – Zalau – Satu Mare
Driving route from Budapest to Satu Mare via E71 – E671:
Budapest – Debrecen – Satu Mare
Distance from Satu Mare to:
| City | Distance (Miles) |
| --- | --- |
| Bucharest | 365 |
| Arad | 155 |
| Baia Mare | 40 |
| Belgrade (Serbia) | 290 |
| Bistrita | 110 |
| Brasov | 260 |
| Budapest (Hungary) | 210 |
| Cluj Napoca | 90 |
| Constanta | 480 |
| Gura Humorului | 175 |
| Iasi | 280 |
| Oradea | 80 |
| Piatra Neamt | 240 |
| Prague (Czech Republic) | 530 |
| Sibiu | 195 |
| Sighetu Marmatiei | 60 |
| Sighisoara | 180 |
| Suceava | 200 |
| Timisoara | 190 |
| Tulcea | 440 |
| Vatra Dornei | 150 |
| Vienna (Austria) | 360 |
By train
Satu Mare train station (Gara Satu Mare)
Address: Str. Grivitei 1
The train station is located ½ mile east of the city centre.
There are daily trains connecting Satu Mare to Baia Mare, Bucharest, Brasov, Cluj, Constanta (summer time only), Sighisoara, Timisoara and several other cities in Romania.


To check train and bus schedules for domestic routes please visit our:
Romania Domestic Transportation section
SNCFR's Advance Booking Office (Agentia de Voiaj SNCFR)
Address: Piata 25 Octombrie 9
Tel: 0261 711.002
You can get train schedule information and make reservations up to 24 hours in advance at this office. Tickets for same-day travel can only be purchased at the station.
Public Transportation
Several bus, trolleybus and maxi taxi routes connect Satu Mare's main areas and tourist attractions.
Taxi companies
Galant - 942 or 947
Nova - 946 or 0261 768.560
Cielo - 944 or 0261 761.861
Accommodations
For a list of available accommodations in Satu Mare, please check our Satu Mare Hotel List or the Accommodation Guide.
Tourist Info
Genealogy searches
Satu Mare County Archives (Directia Judeteana a Arhivelor Nationale Satu Mare)
Address: Str. 1 Decembrie 1918, nr.13
Telephone: 0261 711.102
E-mail: salastudiu.satumare@arhivelenationale.ro
Postal services & Telephone
Post offices display a postal horn symbol and the word Posta.
Main Post Office
Address: Str. Mihai Viteazu 2,
Tel: 0261 712.222
Telephoning Satu Mare from Abroad
International Access Code +40 (country code) + 261 or 361 (area code) + telephone number
Weather Forecast
www.accuweather.com/en/ro/satu-mare/...
Maps
- Satu Mare - City Map (harta Orasului Satu-Mare)
- Romania Physical Map (Romania - Harta Fizica)
- Romania Detailed Road Map (Romania - Harta Detaliata)
- Romania Road Map (Romania - Harta Drumurilor, Sosele)
- Romania Rail Map (Romania - Harta Cailor Ferate)