General Information
Fast Facts
Location: Western Romania (County: Bihor)
Size: 13.5 sq. miles (35 sq. kilometers)
Elevation: 492 ft. (150 meters)
Population: 204,000
Inhabited since: 300 BC
First documented: 1113 AD
City Highlights
Located just 8 miles from the Hungarian border and spanning both shores of the Crisu Repede River, the elegant city of Oradea is a great starting point for exploring Romania.
First documented in 1113, under the Latin name Varadinum, the city was administered at various times by the Principality of Transylvania, the Ottoman Empire, and the Habsburg Monarchy. In 1598, the Oradea fortress was besieged and, on August 27, 1660, it fell to the Ottoman raids, only to be seized in 1692 by the Austrians.
Until the construction of flood-banks along the length of the Crisu Repede River, Oradea was facing constant flooding threats. In 1836 a large part of the town was destroyed by fire. The picturesque town of present-day Oradea was rebuilt in the 18th century to the plans of Viennese engineer Franz Anton Hillebrandt following the then-trendy Austrian architectural style called Secession with its richly decorated facades of pale pink, blue, green and white. In addition to the many Baroque buildings, Oradea is remarkable for its particularly rich collection of Art Nouveau architecture.
Oradea University, one of the largest in Eastern Europe, is an excellent educational center in literature, as well as in medicine and sciences.
Baile Felix, a spa resort located only 5 miles south of the city, is home to several thermal springs and medical centers offering treatments that alleviate rheumatism, arthritis, and neurological problems.
There are over 100 religious sites of different denomination in Oradea,
including three synagogues, the biggest Baptist Church in Eastern Europe and the Church of the Moon (Biserica cu Luna) – featuring an astronomical clock depicting the phases of the moon.
Austrian mathematician Georg von Peuerbach (1423 – 1461) worked at the Observatory of Varadinum (present-day Oradea), using it as the reference or prime meridian of Earth in his Tabula Varadiensis, published posthumously in 1464.
Landmarks
The town is crossed by the main road linking the Hungarian border with Cluj Napoca and Deva. On opposite sides of the Crisu Repede River are the Union Square (Piata Unirii) and King Fedinand Square (Piata Regele Ferdinand), off which runs strada Republicii, a central pedestrian-only shopping street in Oradea, displaying an incredible number of Secession buildings. In the summertime, the café terraces lining the banks of the Crisu Repede afford some great views of the town's lavish landmarks.
The Bishop's Palace (Palatul Episcopal), one of Oradea's most splendid edifices, was modeled on drawings by Italian architect Giovanni Battista Ricca and completed in 1770 by Austrian architect Franz Anton Hillerbrandt. Today the three-story, U-shaped mansion featuring 100 fresco-adorned rooms, 365 windows, and a facade punctuated with ionic capitals is home to the Museum of the Crisana Region (Muzeul Tarii Crisurilor).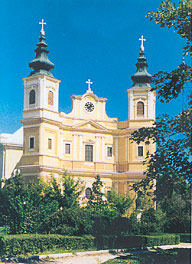 The Roman Catholic Cathedral (Catedrala Romano-Catolica) in Oradea, built between 1752 and 1780, is Romania's largest Baroque religious edifice. Drawing on plans for the Church of the Gesu in Roma, the cathedral forms part of the architectural ensemble that Hillerbrandt designed, which includes the Bishop's Palace.
The Black Eagle Palace (Palatul Vulturul Negru), located in Piata Unirii, was built between 1907 and 1909 by Hungarian architects Marcell Komor and DezsoJakab. A glass-roofed art nouveau shopping arcade (Pasajul Vulturul Negru) runs through the two main buildings of the palace. Inside you will find shops, a four-star hotel, cafes and a cinema.
The late Baroque Church of the Moon (Biserica cu Luna), was completed in 1790. The clock mechanism, installed in 1793, features a half-gold, half-black sphere, maintained in perpetual motion, reproducing the phases of the moon and lending the church its name.
The The Greek Catholic Bishopric Palace, located opposite the Church of the Moon, was designed by local architect Kalman Rimanoczy Jr. Built in 1903, the edifice features a sophisticated eclectic combination of decorative elements: Neo-Romanesque, Neo- Gothic, Neoclassical and Neo-Byzantine.
The robust, asymmetrical, City Hall (Primaria) was designed, in 1903, by architect Kalman Rimanoczy Jr. as well.
The building features a 170 feet-tall tower with four clocks – one on each of its sides - and three observation decks.
Local watchmaker Mezey Dezső built the main mechanism of the clocks, called the "mother clock", in 1904.
At the top of the hour the clock plays a fragment from Iancu's March (Marsul lui Iancu), a 1849 revolutionary song.
Oradea City Hall Tower is open to visitors Tuesday through Sunday.
Piata Unirii (Union Square or the Little Square), took shape at the beginning of the 18th century when the areas became the centre of Oradea New Town. Beginning with 1753, the square underwent a series of transformations: monumental buildings in various architectural styles were erected, street lighting was introduced and the city's first tram line – connecting the area with the railway station – was built. Seven architectural styles: Baroque, Classical, Eclectic, Historicist, Secession, Romantic and neo- Romanian can be admired while visiting Oradea's most popular promenade area: the Union Square.
The State Theater (Teatrul de Stat), a neoclassical structure that dominates the King Ferdinand Square (Piata Regele Fedinand), was designed in 1900 by Austrian architects Fellner and Hellmer, who also designed the Vienna Opera House.
Along one side of the King Ferdinand Square visitors can admire the undulating festoons and floral decorations of the Adorjan row of houses (Casele Adorjan), built between 1907 and 1908 by Jakab and Komor, architects of the Black Eagle Palace.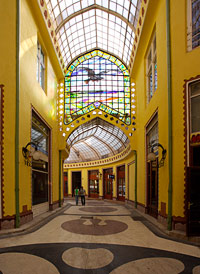 Another exuberant art nouveau structure is the Moskovits building (Cladirea Moskovits), located at the corner of str. Independentei and str. Vasile Alecsandri. Designed by Kalman Rimanoczy Jr, the architect of the City Library and the Town Hall, it was completed in 1905.
Oradea's most imposing sight is the spectacular Oradea Fortress (Cetatea Oradea).The present shape of the five-point-star fortress was given in 1569, when Italian military architect Domenico da Bologna was commission with rebuilding it after repeated invader attacks. One of its interesting elements is a network of underground channels that were supplied by ducts of warm water during the winter. Throughout the year the citadel is host to several art exhibitions and craft fairs.
Jewish Heritage in Oradea
The first Jews settled in Oradea as early as the 15th century, making Oradea the site of one of the oldest and most important Jewish communities. Jewish people helped establish the city's chemical and milling industries as well as its transportation, communications and banking infrastructure. They also played important roles in the medical, academic and artistic institutions. By the 1940s, Oradea had 27 synagogues and a population of around 30,000 Jews. Annexed by Hungary during World War II, Oradea became the site of two ghettos, with the majority of the members deported to Auschwitz-Birkenau. Oradea has two large Neolog and Orthodox Jewish cemeteries.

Zion Synagogue
Address: Str. Independentei 22, Oradea
A grandiose Neolog temple, it was designed by David Busch, the town's chief municipal architect at the time, and constructed in 1878.
Great Temple
Address: Str. Mihai Viteazu 4, Oradea
The Moorish-style red brick and stucco design of the synagogue, built in 1890, is similar to that of the synagogue in Satu Mare.
Chevra Sas Synagogue
Address: Str. Crinului 2, Oradea
The smaller, built in 1882, still serves the local Jewish community, which currently numbers around 500 members and is one of the most active in the country. Nearby is the 1920s Teleki Synagogue, the last to be built in Oradea (Address: Str. Tudor Vladimirescu 18, Oradea).
Oradea Jewish Community
Address: Str. Mihai Viteazul 4, Oradea
Telephone: 0259 434.843
Web: www.oradeajc.com
Museums
Museum of Crisana Region(Muzeul Tarii Crisurilor)
Address: Blvd. Dacia 1-3, Oradea
Tel: 0259 412.724
E-mail: contact@mtariicrisurilor.ro
Web: www.mtariicrisurilor.ro
Open: Tue. – Sun. 9:30 a.m. – 4:00 p.m.;
Closed on Mondays. (Closed Dec. 24 – Ian. 3)
Darvas – La Roche House
An exquisite Art Nouveau monument inspired directly by Viennese art.
Address: Str. Iosif Vulcan 11, Oradea
Open: Tue. – Sun. noon – 7 p.m.;
Closed on Mondays and public holidays
Treasury and Library of Roman - Catholic Diocese
10,000 books printed before 1800 and an impressive collection of objects of worship.
Address: Sirul Canonicilor 2, Oradea
Ady Endre Museum
Address: Parcul Traian 1, Oradea
Tel: 0259 463.755
Open: Tue., Thu. & Sun. 10:00 a.m. – 3:00 p.m.;
Wed., Fri. & Sat. 10:00 a.m. – 2:00 p.m. & 2:00 p.m. – 6:00 p.m.;
Closed on Mon. (Closed Dec. 24 – Ian. 3)
Iosif Vulcan Museum
Address: Str. Iosif Vulcan 14, Oradea
Tel: 0259 463.755
Open: Tue., Thu. & Sun. 10:00 a.m. – 3:00 p.m.;
Wed., Fri. & Sat. 10:00 a.m. – 2:00 p.m. & 2:00 p.m. – 6:00 p.m.;
Closed on Mon. (Closed Dec. 24 – Ian. 3)
Aurel Lazăr Memorial House
An exquisite Art Nouveau monument inspired directly by Viennese art.
Address: Str. Aurel Lazar 13, Oradea
Open:
Tue, Thu and Sat: 10 a.m. – 3 p.m.
Wed, Fri and Sun: 10 a.m. – 2 p.m. and 4 p.m. – 6 p.m.
Closed on Mondays and public holidays
Nearby Attractions
Ciuperca Public Garden - Oradea
Best views of Oradea are, perhaps, from Gradina Publica Ciuperca (Ciuperca Hill Public Garden). The area has five observation decks and is popular with locals and visitors who want to see the city panorama, to take a walk or to have a picnic not far from the city center.
Nymphaea Aqua Park & Spa - Oradea
Six pools (indoor and outdoor) of various sizes, five saunas, Turkish bath, water slides, whirpools, beauty salons, spa and two restaurants are available to Oradea visitors and locals to relax and regain strength and energy at the Nymphaea Aqua Park & Spa. The spa is open every day from 10 a.m. to 10 p.m.
Website.
Baile Felix
Where:
5 miles south of Oradea
Access:
car, bus
www.RomaniaTourism.com/Spas.html#Felix
Established in the 18th century, Baile Felix is currently Romania's largest health resort, open year-round. The thermal waters found here, very rich in oligominerals, are supplemented by sapropelic mud. This natural combination has proven helpful in easing the effects of rheumatism and some paralysis, as well as gynecological affections and nervous disorders.
Day Trips
Apuseni Mountains (Muntii Apuseni)
Where: 64 miles southwest of Oradea
Access: car
www.RomaniaTourism.com/The-Carpathian-Mountains.html#ApuseniNaturePark
Oradea makes a great base for exploring the stunning Apuseni mountain range, located southeast of the city. The Apuseni Nature Park protects one of the most interesting cave systems in the country. Limestone underlies most of the park and is responsible for the area's impressive landforms and more then 400 caves, many of which can be explored. Sculptured mountain ridges, mysterious underground rivers and delicate cave formations will keep your camera busy.
Rent a car in Oradea and take the scenic drive to Arieseni. The Apuseni Motzi villages are ideal places to find the tranquility and timeless wisdom of traditional village life, vibrantly alive and intact here as perhaps, nowhere else in Europe.
The city of Arad
Where: 76 miles southwest of Oradea
Access: car, bus, train
www.RomaniaTourism.com/Arad.html
The city of Cluj Napoca
Where: 90 miles southeast of Oradea
Access: car, bus, train
www.RomaniaTourism.com/Cluj.html
City Essentials
Transportation
By air
Oradea International Airport (OMR)
Address: Calea Aradului 80, Oradea
Telephone: 0259 416.082
The airport is located 3.1 miles southwest of the city centre.
Airlines with service to Oradea: Tarom – www.tarom.ro
Nearby airports located in:
Arad(ARW) - www.aeroportularad.ro / 76 miles away
Satu Mare (SUJ) - www.aeroportulsm.ro / 80 miles away
By bus
Oradea Bus Stations /Autogari Oradea
www.autogari.ro/Oradea
Daily domestic bus service from/to:
Arad, Bicaz, Bistrita, Bucharest, Cluj Napoca, Deva, Horezu, Lacu Rosu, Piatra Neamt, Reghin, Satu Mare, Sibiu, Targu Mures, Timisoara, Turda
By car
The fastest route from Bucharest to Oradea is via A1 / E81 - E68 - E79 / DN76:
Bucuresti – Pitesti – Ramnicu Valcea – Sibiu – Alba Iulia – Deva - Beius – Oradea
Driving route from Budapest to Oradea via E60 - E671 / E 69: Budapest – Szolnok – Oradea
Distance from Oradea to:
City
Distance
(Miles)
Arad
76
Baia Mare
122
Bucharest
347
Brasov
269
Budapest
163
Cluj Napoca
95
Constanta
482
Iasi
327
Satu Mare
80
Sibiu
177
Sighetu Marmatiei
138
Sighisoara
189
Suceava
278
Timisoara
109
By train
Oradea Train Station (Gara Oradea)
Address: Str. Republicii 114, Oradea
Tel: 0259 414.970
The train station is located about 1.2 miles from downtown. Tram # 1 and 4 run south from Piata Bucuresti (just outside of the train station) to Piata Unirii, Oradea's main square.
There are daily trains from/to Budapest (journey time – 4 hours). Trains from/to other western European cities run via Budapest.
For a list of international trains with service to/from Romania please visit:
www.RomaniaTourism.com/...ByTrain
There are daily trains with service from Oradea to:
Arad (2 hours)
Baia Mare (3 1/2 hours)
Bucharest (12 hours)
Brasov (8 ½ to 10 hours)
Cluj Napoca (2 ½ to 4 hours)
Sighisoara (6 ½ hours)
Suceava (9 1/2 hours)
Timisoara (2 ½ to 4 hours)
To check train and bus schedules for domestic routes please visit our:
Romania Domestic Transportation section
CFR's advance booking office (Agentia CFR Oradea)
Address: Str. Madacs Imre 1-5, Oradea
Tel: 0259 416.565
Open: Mon. - Fri. 7:00 a.m. – 7:00 p.m.; closed Sat. & Sun.
You can get train schedule information and make reservations for domestic and international train tickets up to 24 hours in advance at this office. Tickets for same-day travel can only be purchased at the train station.
Car Rental Companies
Avis Car Rental - Oradea Airport
Addresss: Calea Aradului nr. 80
Tel: 0259 425.242
reservations@avis.ro
www.avis.ro
Budget
Address: Remtours Agency - Str. Mihai Viteazul, nr.2/8, Oradea
Tel: 0259 432.888
reservations@budgetro.ro
Budget - Oradea Airport
Address: Calea Aradului, nr 80
Tel: 0259 432.888
reservations@budgetro.ro

EuroCars Romania
Address: Calea Aradului E671 (Oradea Airport)
Tel: 0727 37 37 99
office@eurocars.ro
www.eurocars.ro
Promotor Rent a Car
Address: Strada Republicii 114
Tel: 0734 403.403
office@auto-rent.ro
www.auto-rent.ro/rent-a-car/oradea.html
Rent a Car Oradea
Address:Str. Libertatii 2-4, Oradea
Tel: 0359 303-106
www.rentacaroradea.ro/eng
Sixt
Oradea Airport
Tel: 0744 499.400
www.sixt.com/car-rental/romania/oradea
Accommodations
For a list of available accommodations in Oradea please click here or check our Accommodations Guide.
Tourist Info
Oradea Tourist Information Centre (Centrul de Informare Turistica)
Address: Piata Unirii 1, Oradea
Telephone: 0259 437.000
E-mail
Postal services & Telephone
Post offices display a postal horn symbol and the word Posta.
Main Post Office
Address: Str. Roman Ciorogariu 12, Oradea
Tel: 0259 431.342
Web: www.posta-romana.ro
Telephoning Oradea from Abroad
International Access Code (011 for US) + 40 (country code) + 259 or
359 (area code) + telephone number (six digit number)
Weather
Oradea Weather Forecast
www.weather.com/...
Genealogy searches
Oradea / Bihor County Archives
(Directia Judeteana Bihor a Arhivelor Nationale)
Address: Str. Traian Blajovici, cod 410076, Bihor
Telephone: 0259 413.876
E-mail: bihor@arhivelenationale.ro
Maps
- Oradea City Map (Harta Orasului Oradea)
- Romania Physical Map (Romania - Harta Fizica)
- Romania Detailed Road Map (Romania - Harta Detaliata)
- Romania Road Map (Romania - Harta Drumurilor, Sosele)
- Romania Rail Map (Romania - Harta Cailor Ferate)