BAIA MARE (By ah Mah reh)
Baia Mare - General Information
Location: Northwestern Romania
(County: Maramures)
Size: 20 sq. miles (52 sq. kilometers)
Elevation: 729 ft. (228 m.)
Population: 149,735
First documented: 1329 AD


Baia Mare on Map
City Highlights
One of the most important mining centers of Romania, Baia Mare has a history of more than 2,000 years of gold, silver, and other nonferrous metals extraction. First mentioned in 1329, Baia Mare has preserved some its medieval past around the main town square, Piata Libertatii.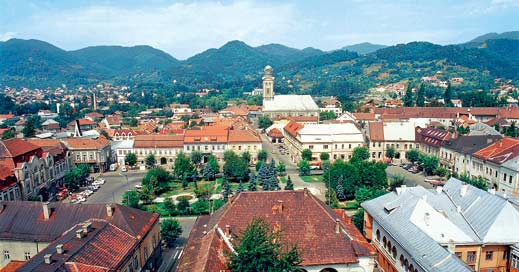 The oldest house here, dating from the 1440s, stands on the east side of the square, a lone remnant of a long-gone castle built by Transylvanian prince Iancu de Hunedoara for his wife Elisabeta. The house, appropriately named Casa Elisabeta, is used these days to house temporary art exhibits. Towering above the square is the Gothic-style 120-foot-tall watchtower, Stephen's Tower (Turnul lui Stefan), spanning six centuries of history. (Baia Mare - City Map)
A sweet chestnut reserve spans the hills overlooking Baia Mare. Baia Mare is the northernmost location of the chestnut tree Castanea sativa in Europe.
Another square, Piata Izvoarelor, houses Baia Mare's main open-air food market.
Next to it stands the only remaining part of the town's 15th century medieval fortifications, the Butchers' Tower (Turnul Macelarilor).

Museums
Baia Mare Art Museum (Muzeul Judetean de Arta)
Address: Str. 1 Mai, nr. 8
Telephone: 0262 213.964
Open: Tue. – Fri. 8:00 a.m. – 4:00 p.m.;
Sat. – Sun. 10:00 a.m. – 4:30 p.m.
Closed Mon.
Admission charge
http://muzeuldeartabaiamare.wordpress.com/
Baia Mare Art Museum Facebook page
The Art Museum, located in a landmark building dating from 1784, holds a treasure trove of art depicting life in Maramures from the late 1800s to today. The permanent painting collection features works of artists from the Baia Mare School, as well as valuable Romanian and European contemporary art.
Baia Mare History & Archaeology Museum
(Muzeul Judetean de Arheologie si Istorie)
Address: Str. Monetarie 3
Telephone: 0262 211.924
Open: Tue. – Fri. 8:00 a.m. – 4:00 p.m.;
Sat. – Sun. 10:00 a.m. – 2:00 p.m.; Closed Mon.
Admission charge
www.maramuresmuzeu.ro/
Housed in the elegant 18th century Baroque Treasury building, the museum offers an introduction to the mining history of the region, especially to the most important one, gold mining.
Baia Mare Etnographic Museum (Muzeul de Etnografie si Arta Populara)
Address: Str. Dealul Florilor 1
Telephone: 0262 276.895
Open: Tue. – Sun. 10:00 a.m. – 8:00 p.m. (May - September);
Tue. – Sun. 10:00 a.m. – 4:00 p.m. (October – April); Closed Mon.
Admission charge
Traditional Maramures wooden houses are on display.
www.etnografie-maramures.ro/eng/history.html
Baia Mare Mine Flowers Museum (Muzeul de Mineralogie)
Address: Blvd. Traian 8
Telephone: 0262 227.517
Open: Tue. – Sun. 9:00 a.m. – 5:00 p.m.; Closed Mon.
Admission charge
www.muzeuminbm.ro/wp/
Here you will find sample of local rocks and crystals, including some wonderful crystal flowers.

Nearby Attractions
Baia Mare makes an excellent starting point for the numerous cultural and natural attractions in the Maramures region, dominated by a landscape of mountains and rolling hills.
Gutai-Ignis natural reserve, the wooden churches in Surdesti and Plopis, Dan Les' potery workshop in Baia Sprie are within a 20 miles radius from Baia Mare.
The Gutai, Lapus, Tibles Maramures and Rodnei Mountains are cut by passes including the Huta, Gutai, Prislop, Setref and Botiza. Three large valleys cross the region: the Viseu, Iza and Mara.
The Rodnei Mountains National Park, a natural reserve filled with a rich diversity of flora and fauna, has been awarded biosphere status by UNESCO. Here, chamois leap between rocks, eagles' cries ring out overhead and as the snows recede in the spring, crocus and other flowers cut swaths of dazzling colors across the landscape.

Day Trips
Merry Cemetery (Cimitirul Vesel) in Sapanta
Where: 40 miles northwest of Baia Mare
Nearest train station: Sighetu Marmatiei
Colorful, five-foot carved oak crosses, featuring portraits or scenes from the deceased's life, are inscribed with witty epitaphs that capture essential elements – both the good and the imperfections – of the villagers who rest here. Words and images were chosen by the sculptor as he saw fit at this unique cemetery located just 15 minutes outside of Sighetu Marmatiei.
The crosses also feature geometric designs in symbolic colors: yellow for fertility (the subject had many children), red for passion, green for life, black for early death. The townsfolks' ancestors considered death as a beginning, not the end. Therefore, the background is always blue, the color of hope and freedom.
Even without benefit of translation, visitors will appreciate the handiwork of sculptor Stan Ion Patras (1907-1977), who began carving these epitaphs in 1935. Patras' house in the village is now a fascinating museum. Vasile Stan, one of Patras' apprentices, continues the work of his master.
Wooden Churches of Maramures
The Wooden Churches of Maramures are unique in shape and ornamentation and eight of them – in Barsana, Budesti, Desesti, Ieud, Plopis, Poienile Izei, Rogoz and Surdesti,– have been recognized by UNESCO as World Heritage Sites.
The characteristic high roofs and tall, narrow, pointed steeples are often collectively described as the Gothic Style of Maramures. The primary wood material used by the artisans was local oak, which has survived the elements with sturdy elegance until today. The interior walls of the churches were painted by local artists, with biblical scenes often juxtaposed against the familiar landscape of the village. Most of these houses of worship have stood proudly since the 17th and 18th centuries – some even longer. The oldest wooden church in Maramures is the Church on the Hill in Ieud, which dates from 1364.
To learn more about the Wooden Churches of Maramures please visit:
www.RomaniaTourism.com/World-Heritage-Sites.html#Maramures

Authentic Experiences
Viseu Valley Narrow Gauge Steam Train (Mocanita)

City Essentials
Accommodations
Transportation
Tourist Info
Maps