BRASOV [Brah' shov]
City Highlights
Fringed by the peaks of the Southern Carpathian Mountains and resplendent with gothic, baroque and renaissance architecture, as well as a wealth of historical attractions, Brasov is one of the most visited places in Romania.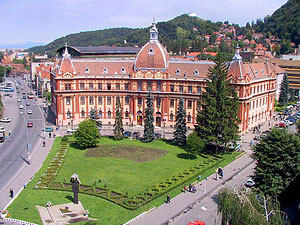 Founded by the Teutonic Knights in 1211 on an ancient Dacian site and settled by the Saxons as one of the seven walled citadels*, Brasov exudes a distinct medieval ambiance and has been used as backdrop in many recent period films.
The location of the city at the intersection of trade routes linking the Ottoman Empire and western Europe, together with certain tax exemptions, allowed Saxon merchants to obtain considerable wealth and exert a strong political influence in the region. This was reflected in the city's German name, Kronstadt, as well as in its Latin name, Corona, meaning Crown City (hence, the coat of arms of the city which is a crown with oak roots). Fortifications were erected around the city and continually expanded, with several towers maintained by different craft guilds, according to medieval custom.
Stroll around the old Town Hall Square (Piata Sfatului) where you can admire colorfully painted and ornately trimmed baroque structures. Take a peek inside the Black Church (Biserica Neagra), the largest gothic church in Romania. Its name derives from damage caused by the Great Fire of 1689, when flames and smoke blackened its walls. The interior is impressive and well-kept and houses one of the largest organs in Eastern Europe.
Nearby are towering mountains, rolling fields, thick forests and villages with fortified churches.
* The seven walled citadels populated by the Saxons of Transylvania were known in German as the Siebenbürgen.
The other Siebenbürgen citadels were: Bistrita (Bistritz), Cluj (Klausenburg), Medias (Mediasch), Sebes (Mühlbach), Sibiu (Hermannstadt), Sighisoara (Schässburg)

City Landmarks
The Council Square
The Old Town Hall
The Black Church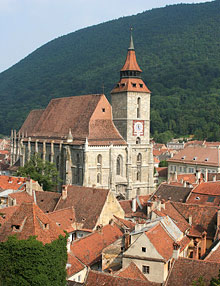 Brasov's Defensive Fortifications
Tampa Mountain
The Schei District
Saint Nicholas Orthodox Church

Historic Churches
Jewish Brasov

Museums
Art Museum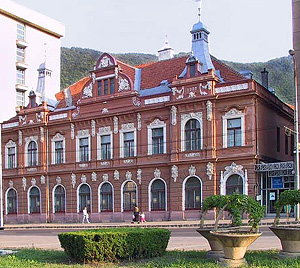 Brasov History Museum
Ethnographic Museum
First Romanian School Museum
Muresenilor Memorial Museum
Weavers' Bastion Museum

Nearby Attractions
Poiana Brasov
Rasnov Fortress
Bran (Dracula's) Castle in Bran
The Fortified Church at Harman
The Fortified Church at Prejmer

Day Trips
Medieval town of Sighisoara
Fagaras Fortress
Medieval town of Sibiu
Peles Castle in Sinaia

Performing Arts
Opera & Ballet
Symphonic Music
Theatre

Medical Travel
If interested in getting medical treatment while visiting Brasov (and Southern Transylvania) please visit: www.qdays.com/medical-treatment/
Brasov Dental Services and Tours - www.dentalwest.ro/

City Essentials
Transportation
By Air
Brasov does not have a local airport. The closest airports are located in
Sibiu (SBZ) - 85 miles west of Brasov - www.sibiuairport.ro
Targu Mures (TGM) - 105 miles north of Brasov - www.targumuresairport.ro
Bucharest (OTP) - 100 miles south of Brasov - www.otp-airport.ro/index.php
By Car
The recommended route from Bucharest to Brasov is E60:
Bucharest - Ploiesti - Sinaia - Predeal - Brasov

The recommended route from Budapest to Brasov is E75 - E68:
Budapest- Szeged - Nadlac - Arad - Deva - Alba Iulia - Sibiu - Fagaras - Brasov
Distance from Brasov to:
City
Distance (Miles)
Bucharest
100
Arad
250
Belgrade (Serbia)
330
Budapest (Hungary)
420
Cluj-Napoca
160
Constanta
213
Iasi
180
Oradea
250
Prague
760
Satu Mare
250
Sibiu
85
Sighetu Marmatiei
235
Sighisoara
72
Suceava
190
Targu Mures
105
Timisoara
240
Tulcea
195
Vienna (Austria)
590

By Train
Brasov Train Station (Gara Brasov)
Address: Blvd. Garii 5
Tel: 952 or 0268 410.233
The train station is located 2 miles from downtown. Bus # 4 runs from the train station to Piata Unirii in the city centre.

There are 3 direct international trains from/to Budapest. One of them continues to Vienna and another to Bratislava and Prague. Trains to other western European cities run via Budapest.
For the list of international trains with service to/from Romania please visit:
www.RomaniaTourism.com/Transportation.html#ByTrain

There are daily trains from/to Bucharest connecting Brasov to Arad, Cluj-Napoca, Oradea, Satu Mare, Sibiu, Sighisoara and several other cities in Romania. There is also an overnight train to Suceava.
There is daily INTERCITY (Express) service between Bucharest and Brasov (approximate journey time: 2 ½ hours).
To check the latest train schedules for domestic routes please visit the website of the Romanian Railways:
www.cfrcalatori.ro
The site has complete information about domestic train schedules and fares.
Note: For departures from /to Bucharest please select Bucuresti Nord.
SNCFR's advance booking office (Agentia de Voiaj SNCFR Brasov)
Address: Str. 15 Noiembrie nr.43
Tel: 0268 477.018 or 470.696
You can get train schedule information and make reservations up to 24 hours in advance here. Tickets for same-day travel can only be purchased at the station.

By Bus
Brasov Bus Stations (Autogari Brasov) - international & domestic bus service
Brasov Bus Station # 1 (Autogara 1 Brasov)
Address: Blvd. Garii 5 (right next to the train station)
Tel: 0268 427.267

Brasov Bus Station # 2 (Autogara 2 Brasov)
Address: Str. Avram Iancu 114
Tel: 0268 426.332

Brasov Bus Station # 3 (Autogara 3 Brasov)
Address: Str. Harmanului 47A
Tel: 0268 332.002
International Bus Companies Serving Brasov:
Anesis
Address: Str. Poterasi 20-22
Tel: 021 330.91.76
Scheduled service to Athens (Greece)

Atlassib
Address: Blvd. Gh. Duca 4
Tel: 021 222.47.35
Scheduled service to France, Germany, Italy, Sweden

DoubleT
Address: Calea Victoriei 2
Tel: 021 313.36.42
Scheduled service to Austria, Germany, Greece, Italy, Switzerland

Eurolines Touring
Address: Blvd. Al. Ioan Cuza 5A
Tel: 021 210.08.90
Scheduled service to Germany with connections to any country in Europe

Murat
Adress: Blvd. Dinicu Golescu 31
Tel: 021 336.62.15
Daily service to Istanbul (Turkey)

Toros
Adress: Calea Grivitei 136-138
Tel: 021 223.18.98
Daily service to Istanbul (Turkey)

Local Transportation
Rent a Bicycle in Brasov
Active Travel
Address: Str. Republicii 50, Brasov
Telephone: (011 4) 0268 477.112
E-mail:office@activetravel.ro
Open:
Monday - Friday, 8 am - 6 pm
Saturday, 10 am - 1 pm
Rates:
3 hours - 6 Euros
6 hours - 9 Euros
one day (24 hours) - 12 Euros
each additional day - 10 Euros
Weekend - 25 Euros
Week - 60 Euros
Helmet - 1 Euro
Security Deposit: 100 Euros / bicycle
Required documentation: valid ID (passport or identity card or drivers license).

Public Transportation
Several bus and trolleybus routes connect Brasov's main areas and tourist attractions.
Transportation between Brasov train station and city centre:
Minibus # 51
[Brasov Train Station (Gara) – Downtown (Centru) - Pe Tocile]
The minibus connects the train station with the downtown area and the
Schei historical district.
Transportation between Brasov train station and bus station for
Poiana Brasov departures:
Bus # 4
[Brasov Train Station (Gara) - Livada Postei]
The bus connects the train station with the bus terminal with departures to
Poiana Brasov and close to the downtown area.
Transportation between Brasov city centre and Poiana Brasov:
Bus # 20
[Livada Postei - Poiana Brasov]
The bus connects the city centre with the beautiful resort of Poiana Brasov.
Transportation between Brasov city centre and bus station for Bran departures:
Minibus #12
[ Livada Postei - Stadionul Tineretului ]
This line is important for travelers who want to take the bus to Bran, Moeciu, or Rasnov from Brasov 's Autogara # 2 (Bartolomeu).
Brasov public transportation fares
There are single and double trip tickets. The fare is 1.5 Lei (approx $0.50 cents) for a single trip and 3 Lei (approx $1) for a double trip ticket.
Make sure you stamp the ticket once you get on the bus.
A 1-day pass is also available.
It costs 5.0 Lei (approx $ 1.75) and you are allowed
to use it on all bus lines except bus # 20!
For bus # 20 one trip costs 3.5 Lei (approx $1.2).
Tickets can be bought from the RATBV kiosks.

Bus #4: Train station to downtown
Bus #20: Downtown to Poiana Brasov.

Taxi Companies
A.T.I. - 953
Bratax - 0268 333.232
Martax - 944 or 0268 313.040
Rey - 0268 411.111
RO Taxi - 949 or 0268 319.999
Sprinten - 0268 543.111 or 0745 545.353
TOD Taxi - 941 or 0268 321.111
Car Rrental
Autonom
Address: Str. Alexandru I Cuza 15, Brasov
Tel: 0268 415.250
E-mail
Web: www.autonom.ro
Budget
Address: Blvd. Eroilor 27 (Aro Palace Hotel), Brasov
Tel: 0268 474.564 or 722 500.220
E-mail
Web: www.budget.com
Ecoline
Address: Str. Al. Vlahuta street 10, Brasov
Tel: 0268 546.137
E-mail
Web: www.ecoline.ro
EuroCars Romania
Address: Strada Harmanului 49 A, Brasov
Tel: 0727 37 37 99
E-mail
Web: www.eurocars.ro
Promotor Services Rent a Car Brasov
Address: Blvd Iuliu Maniu 27, Brasov
Tel: 0740 031.173
Web: www.Auto-Rent.ro
Rentissimo
Address: Str. Harmanului 49A, Brasov
Tel: 0730 506.030
E-mail
Web:www.rentissimo.ro/en/
Sixt
Address: Str. Apollonia Hirscher 14
Tel: 021 94.00 (this is valid short phone #)
E-mail
Web: www.Sixt.ro
Thrifty
Address: Blvd. Eroilor 19 (Hotel Capitol / near Aro Palace Hotel), Brasov
Tel: 740 002.000
E-mail
Web: www.thrifty.ro

Accommodations
For a list of available accommodations in Brasov please click here or
check our Accommodations guide.
Festivals & Events
The Pageant of the Juni (April)
The Golden Stag Festival (August)
The International Chamber Music Festival (September)
The Beer Festival (September)
The International Opera Festival (September)
The Annual International Jazz Festival (November)
The Contemporary Drama Festival (November)

Shopping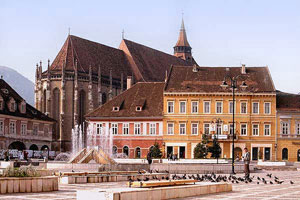 Art Galleries
Kron-Art Gallery
Address: Blvd. Republicii 38
Tel: 0268 475.971
Email:
kronartgallery@yahoo.com
Saba Art Gallery
Address: Blvd. Baritiu 4
Tel: 0268 473.438
Antiques
Dana's Art & Antiques
Address: Str. 15 Noiembrie nr.8
Tel: 0268 474.062
Handicrafts (Artizanat)
Folk crafts, such as embroidered clothing and linen, painted or beaded eggs, carpets, pottery, woodcarvings and icons, make interesting gifts and souvenirs. Romanian peasants do magnificent embroidery on cotton, wool and leather. Look for blouses, skirts, exotic coats, rugs, tablecloths and lacework. Icons, new and old, painted on glass or wood are outstanding.
Aladin
Address: Str. Michael Weiss 2
Tel: 0268 144.455
Artizana
Address: Blvd. Republicii 48
Tel: 0268 144.546
Artizanat
Address: Blvd. Republicii 35

Tourist Info
Local website: www.brasovtravelguide.ro

Brasov Tourist Information Centre (Centrul de Informare Turistica Brasov)
Address: Piata Sfatului 30 (located inside the History Museum)
Tel: 0268 419.078
E-mail: apdt@brasovtourism.eu
Web: www.brasovtourism.eu
Open: Mon. - Sun. 9:00am - 7:00pm
The centres provide maps, brochures and information on tourist attractions, events, accommodations, restaurants and transportation.
Weather
Brasov Weather Forecast
www.weather.com
Postal Services & Telephone
Post offices display a postal horn symbol and the word Posta.
Main Post Office
Address: Str. Nicolae Iorga 1
Tel: 0268 471.260
Open: Mon. - Fri. 7:00am - 8:00pm; Sat. 8:00am - 1:00pm; Closed Sun.
Telephoning Brasov from Abroad
International Access Code +40 (country code) + 268 or 368 (area code) + telephone number (six digit number)
Pharmacies & Hospitals
There are several pharmacies (farmacie) open 24 hours a day in the city.
Emergency Clinic Hospital (Spitalul Judetean Brasov)
Address: Calea Bucuresti 25-27
Tel: 0268 135.080
Local & County Archives (Arhivele locale)
Address: Str. Gh. Baritiu 34, 500025, Brasov
Tel: 0268 475.256
Email:brasov.an@mira.gov.ro
City Hall (Primaria)
Address: Bd. Eroilor 8, Brasov
Tel: 0268 416.550
Email: cic@brasovcity.ro
Bureau of Consumer Protection (Oficiul pentru Protectia Consumatorilor)
Tel: 0268 413.951
Email: brasov@opc.ro
Maps
- City Map (Harta orasului Brasov)
- Romania Maps(Harta Romaniei)