Facts about Maramures
Location: Northwest Romania (bordering Ukraine in the north, Satu Mare county in the west)
Area: 6,662 sq miles
Population: Approximately 550,000
Main cities: Baia Mare ( Baia-Mare.html ), Sighetu Marmatiei ( Sighetu-Marmatiei.html )
Climate: Temperate continental with rich precipitation in the summertime and abundant snow in the wintertime
Highlights
The northwestern Romanian region of Maramures is home to many villages where century-old traditions are still part of daily life. The inhabitants of this area have preserved, to an amazing extent, the rural culture and crafts of their Dacian ancestors.
Maramures villages are distinguished by their unique wooden churches with tall spires and shingled roofs. Woodlands still account for more than four-fifths of the land surface of Maramures.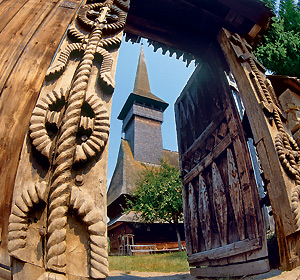 It is understandable, therefore, that wood has long been - and continues to be - the medium of expression for the region's artisans. Elaborate woodcarvings decorate the eaves, entryways and windows of houses. The local handiwork is also seen in the hand-woven carpets and intricate embroidery that adorns folk dresses still worn by the locals.
Carved Wooden Gates
The local craftsmanship can be best observed in the monumental Maramures gates, guarding the entry to the houses. Supported by three columns, they feature traditional ornamental motifs, including the sun and the twisted rope - both symbols of life and continuity. Some of the most beautiful wooden gates are found in the villages of Vadu Izei, Desesti, Giulesti, Budesti, Sarbi, Barsana and Oncesti. The villages of Barsana and Oncesti have, perhaps, the greatest number of impressive gates.
Wooden Churches
As it has for hundreds of years, social life in Maramures continues to revolve around the village church. The Wooden Churches of Maramures (www.RomaniaTourism.com/World-Heritage-Sites.html#Maramures) - in Surdesti, Plopis, Rogoz, Ieud, Poeinile Izei, Barsana, Budesti and Desesti - have been recognized by UNESCO as some of the most important sites of world heritage. Unique in shape and ornamentation, they have characteristic high roofs and tall, narrow, pointed steeples, often collectively describer as 'the Gothic style of Maramures.'
The primary wood material used by the artisans who built them was local oak, which has survived the elements with sturdy elegance until today. The interior walls of the churches were painted by local artists, with biblical scenes often juxtaposed against the familiar landscape of the village.
The 'Maramures - World Heritage Trail' brochure (6 MB) can be downloaded at the link folowing: www.visitmaramures.ro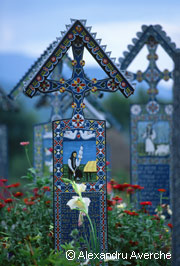 The spiritual philosophy of the people of Maramures is perhaps nowhere more apparent than in Sapanta. The town folks' ancestors considered death as a beginning, not the end, and this faith is reflected in the carvings in the town's unique Merry Cemetery . Blue wooden crosses feature a carved scene and humorous verses that endeavor to capture essential elements - both the good and the imperfections - of the deceased's life. Even without benefit of translation, visitors can appreciate the handiwork of sculptor Stan Ion Patras, who began carving these epitaphs in 1935, and his successors. Patras' house in the village is now a fascinating museum. Sapanta is also home to several wooden gates and one of the region's tallest wooden churches.
Sapanta is a 20-minute drive from Sighetu Marmatiei, an important tourist and cultural center in the region. The outdoor village museum in Sighetu Marmatiei boasts dozens of homes and farm buildings assembled from around Maramures County. Other attractions include the 16th century Reform Church, the Elie Wiesel Memorial House, and the Victims of Communism Memorial (Museum of Arrested Thought), located in a former communist prison in the center of town.
Maramures is dominated by a landscape of mountains and rolling valleys. The Gutai, Lapus, Tibles Maramures and Rodnei Mountains are cut by passes named Huta, Gutai, Prislop, Setref, and Botiza. Three large valleys cross the region: Viseu, Iza and Mara. The Rodnei Mountains National Park, a natural reserve filled with a rich diversity of flora and fauna, has been awarded biosphere status by UNESCO. Here, chamois leap between rocks, the cry of eagles' rings out overhead and as the snows recede in the spring, crocus and other flowers create swathes of dazzling colors.
Authentic Experiences
For a one-of-a-kind experience, take the narrow-gauge steam train. Starting from the small logging town of Viseu de Sus, the steam railway runs along a scenic road for about 30 miles, chugging behind an old steam engine. The train provides the only access - other than walking - to settlements higher up in the valley. During stops, you can watch workers load firewood and take on water from clear mountain streams. On the trip back down in the evening, the engine driver whistles for brakemen to stop the train - sometimes to pick up or drop off passengers, sometimes to stop to pick wild mountain mushrooms. www.cffviseu.ro/en/Forestry_Railway.html
Places to explore - Maramures Day Excursions
Maramures Day Trips with the "Tourist Bus" - Guaranteed Departure Tours
Time-starved visitors can get a glimpse of Maramures
in a day tour offered by local tour operator Kristakis Travel.
Four Maramures Tours are available as follows:
Tour # 1: Wooden Churches of Maramures
- April 1 - 30, 2017, every Saturday
- May 1 – October 1, every Tuesday and Friday
- April 1 - 30, 2017, every Saturday
Itinerary:
Baia Mare – Ocna Sugatag - Budesti – Calinesti Caeni - Poienile Izei – Ieud – Dragomiresti -
Desesti - Surdesti – Ocna Sugatag – Baia Mare.
Tour duration: eight to none hours
Departure time: 7:50 a.m. (Baia Mare train station) / 9 a.m. (Ocna Sugatag)
Tour cost:
- 90 Lei (approx. $22) – for departures from Baia Mare
- 60 Lei (approx. $15) – for departures from Ocna Sugatag

Tour # 2: Maramures' Traditions and Folk Art
- March 24 – June 19, 2017, every Thursday
- June 20 – September 18, 2017, every Thursday and Sunday
- September 22 – November 13, 2017, every Thursday
- April 1 - 30, 2017, every Sunday
Itinerary:
Baia Mare –Ocna Sugatag – Sarbi - Barsana – Sighetu Marmatiei -
– Sapanta – Sapanta Peri - Ocna Sugatag - Baia Mare
Tour duration: eight to none hours
Departure time: 7:50 a.m. (Baia Mare train station) / 9 a.m. (Ocna Sugatag)
Tour cost:
- 90 Lei (approx. $22) – for departures from Baia Mare
- 60 Lei (approx. $15) – for departures from Ocna Sugatag

Tour # 3: Maramures countryside and excursion with "Mocanita" narrow-gauge forest train.
- April 1 - 30, 2017, every Sunday
- May 1 – October 1, every Wednesday and Saturday
- April 1 - 30, 2017, every Sunday
Itinerary:
Baia Mare – Ocna Sugatag – – – Sighetu Marmatiei – Petrova – Viseu de Sus (narrow-gauge train ride) -
– Bocicoel – Rozavlea – Barsana – Valeni - Ocna Sugatag - Baia Mare.
Tour duration: nine to ten hours
Departure time: 5:45 a.m. (Baia Mare train station) / 7:15 a.m. (Ocna Sugatag) Tour cost:
- 80 Lei (approx. $19) – for departures from Baia Mare
- 50 Lei (approx. $14) – for departures from Ocna Sugatag
The cost above does not include the ticket for the narrow-gauge train ride.

Tour # 4: The Merry Cemetery & Geographical Center of Europe
- April 1 – October 1, every Monday
Itinerary:
Baia Mare – Ocna Sugatag – Sapanta – Hrusovo (SW Ukraine) – Dilovo (SW Ukraine) - Ocna Sugatag - Baia Mare.
Please note that this itinerary implies border crossing into the Ukraine and back into Romania.
A valid passport is required for all participants in tour # 4.
U.S. and Canadian citizens do not need a visa to visit the Ukraine but citizens of Australia and New Zealand do!
Visa regulation can change without advance notice.
Please check the latest visa requirements with the nearest Consulate of Ukraine,
the RomaniaTourism cannot assume any responsibility for the accuracy of entry requirements info.
Tour duration: eight to none hours
Departure time: 7:50 a.m. (Baia Mare train station) / 9 a.m. (Ocna Sugatag)
Tour cost:
- 120 Lei (approx. $28) – for departures from Baia Mare
- 100 Lei (approx. $24) – for departures from Ocna Sugatag

Maramures day-excursions fast facts:
Availability: Spring through Fall (please see exact dates above)
Tours start: Baia Mare train station (Gara Feroviara Baia Mare)
The bus will stop to board tour participants at Ocna Sugatag (Townhall) as well at most B&Bs along the route.
Tours end: Baia Mare
Touris prices includes transportation in 8-seat or 17-seat van, snack and guide services.

Notes:
Reservations must be made / confirmed at least 24-hours in advance.
For more information and reservations please contact Kristakis Travel
E-mail or phone: + 0374 999.714 .
Main Museums
Museum of Maramures - Sighetu Marmatiei
Elie Wiesel Memorial House in Sighetu Marmatiei
Victims of Communism Memorial (Museum of Arrested Thought) in Sighetu Marmatiei
Art Museum in Baia Mare
Ethnographic and Folk Museum in Baia Mare
History & Archaeology Museum in Baia Mare
Mineralogy Museum in Baia Mare - displaying rare 'mine flowers'
Performing Arts
Drama Theatre in Baia Mare
Outdoor Adventures & Parks
Rodnei Mountains National Park - featuring the highest peak in the Eastern Carpathians (Pietrosu - 7545 feet), glacier lakes, remarkable caves.
Izvoru Tausoarelor and the UNESCO biosphere reserve, Pietrosul.
Activities
Biking, Camping, Fishing, Hiking, Nature walks, Paragliding, Rafting, Skiing, Wildlife and bird watching.
Food & Wine
Traditional food
It is a Maramures custom to welcome travelers and guests with homemade breads and a small glass of horinca - a traditional double-distilled local plum or other fruit brandy. Other local specialties include smoked sausages, bacon and fresh ewe's milk cheese.
A very tasty dish in this area is balmos, oven baked and mixed with ewe's milk cheese or cheese fermented in special wooden or clay pots and served alongside warm polenta.
For Easter, baskets covered with towels adorned with flowers containing red painted eggs, 'pasca' (a sweet cheese cream cake), knot-shaped bread, pies, and braised lamb - are brought to the local churches to be blessed before the traditional Easter lunch.
On Christmas night and on New Year's Eve, all the members of the family must eat a slice of pork jelly (called piftie in Romanian).
ESSENTIALS
Transportation
By air
Major airports in northwestern Romania and Maramures: Baia Mare (BAY), Satu Mare (SUJ)

Airlines with service to the region: Tarom
Other airports located in: Cluj Napoca (CLJ) - 117 miles S of Sighetu Marmatiei, Oradea (OMR) - 140 miles SW of Sighetu Marmatiei
Travel to Maramures by train or bus
There are several daily trains and buses from/to Bucharest and other major cities in Romania to Maramures region.
Main train stations: Baia Mare, Satu Mare, Sighetu Marmatiei, Valea Viseului, Viseu de Jos
Daily trains connect Sighetu Marmatiei to Bucharest, Cluj Napoca, Arad and Timisoara. Trains also depart daily to Viseu de Jos, most continuing to Salva and Ceblean, the junctions for trains to Vatra Dornei, Campulung Moldovenesc, Gura Humorului, Suceava, Oradea and Brasov.
To check train and bus schedules for domestic routes please visit our: Romania Domestic Transportation section.
Information on international trains with service to/from Maramures are available at: www.romaniatourism.com/transportation.html#bytrain
Tourist Info
Maramures Tourist Information Center
(Centrul Judetean de Informare Turistica Maramures)
Address: Str. Gheorghe Sincai 46, Baia Mare
Telephone: 0262 206.113
office@visitmaramures.ro
www.VisitMaramures.ro
Maps
- Regions Map - Historical-Regions-Map.html
- Romania - Detail Map - Romania-Detail-Map.html
- Map of Maramures County - www.visitmaramures.ro/download.php?dn=2
Traditional Villages in Maramures
by Joyce Dalton
This section is courtesy of Travel Lady Magazine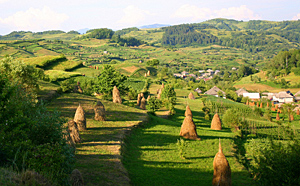 From the province of Moldavia, head westward along a good, but mountainous, road to Romania's most traditional region, Maramures. The drive takes about five hours with no stops, but this is virtually an impossibility, especially for photographers. Picturesque villages (notably Ciocanesti, whose houses covered with painted flowers and geometrics make it arguably Romania' s prettiest village), spectacular mountain scenery and a unique museum smack in the middle of nowhere The Museum of the Tree Roots (Muzeul Radacinilor) with a bizarre exhibit of figures sculpted from tree roots all beg inspection. Gawking becomes even more demanding once Maramures is reached. At Mosei, turn left toward Bistrita, then right after a few miles toward Sacel and Sighetu Marmatiei, the principal town. (Sighetu also can be reached by continuing straight at Mosei, but the lower road passes through the region' s most traditional villages.) From Sacel on, each village offers its share, and more, of wooden houses, many with sculpted designs on balconies and around entrances. Then, there are the towering carved wooden gates, attached to fences half their size, rising before even modest dwellings.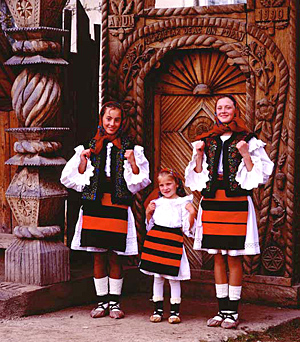 Popular motifs include grapevines, acorns, twisted rope, sun symbols, crosses and forest animals. The villages of Barsana and Oncesti have, perhaps, the greatest number of impressive gates.
Maramures is Brigadoon land where the way of life has changed little over the centuries. In late afternoon, old women sit outside their gates coaxing coarse wool onto spindles. Many still favor traditional dress, meaning white frounced blouses, striped woven panels covering full black skirts, headscarves and "opinci", a sort of leather ballet slipper from which heavy yarn criss-crosses over thick socks. On Sunday, such dress is practically de rigueur, even for little girls.
Hardly a village lacks its own small wooden church dating to the 17th and 18th centuries. These are exquisite, high-steepled jewels with multiple gabled roofs, all of a pattern yet each distinctly unique. Seeing at least a few interiors is a must as many frescoes remain in good condition. If time is limited, the interiors at Ieud, Bogdan Voda and Poenile Izei are recommended. The latter depicts some highly original torments for such sins as sleeping in church. Although churches are usually locked, ask any passerby for the key-keeper by pointing at the door and saying "cheia" (pronounced kay-ya), meaning the key. Romanians are extremely kind and friendly and will be sure to help. While the main tourist activities in Maramures are gate-church- and people-viewing, the town of Sighetu Marmatiei has a few attractions worth visiting. The outdoor village museum, on the road into town, boasts dozens of homes and farm buildings assembled from around Maramures county. Even Oncesti s wooden church has been relocated here.
For a look at Romania s more recent past, an hour spent at Sighetu' s Museum of Arrested Thought can be instructive. Though only a block or two off the main street, it is not easy to find. Ask for the "Muzeul Inchisorii" (pronounced "moo ze ool un kee swah ree"), meaning prison museum. Although built before Communist 'Revolution' the Communist regime utilized the prison to detain the political opposition leaders and intellectual dissidents. Three tiers of cells and various exhibits may be viewed; an English-speaking guide is available.
An old synagogue and the childhood home of author and Nobel Peace Prize winner Elie Wiesel also are in Sighetul Marmatiei (Sighet for short).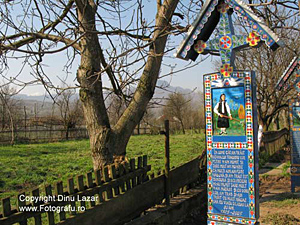 No trip to Maramures is complete without a look at the Merry Cemetery of Sapanta, a 20-minute drive from Sighet. Here, colorful folk art pictures and witty words carved into wooden headstones immortalize the deceased's foibles, occupations or family problems. No translations, but the pictures tell much of the story. An old woman bakes round loaves of bread, a young person bends in scholarly fashion over his books, one man is shot by soldiers while another tends his flock of sheep.
Beauty assumes many forms. For most travelers, the enduring traditions of Maramures and the magnificence of Bucovina's painted monasteries will define two of them.