Dobrogea
Highlights
Places to explore
Main Museums
Performing Arts
Outdoor Adventures & Parks
Activities
Food & Wine
Essentials
Transportation
Tourist info
Maps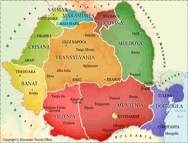 Facts about Dobrogea
About the
name
Land of Dobrotici, after prince Dobrotitsa/Dobrotici,
who in 1325 ruled over the region
Location
Southeastern Romania - between the Danube River
and the Black Sea
Area
9,631 sq miles
Population
Approximately 1 million
Main cities
Constanta, Medgidia, Mangalia, Tulcea
Climate
Torrid summers, relatively chilly winters, and little precipitation
Highlights
Dobrogea region is home to the Danube Delta, a 2,200-square-mile wildlife reserve designated by UNESCO as a "Reservation of the Biosphere;" the ancient port city of Constanta, and the seaside resorts stretching along Romania's 152-mile Black Sea coast. From the port city of Tulcea, day cruises through the Delta's waterways give travelers a glimpse of the abundant wildlife and the traditional fishing villages. Floating reed islands, sand dunes and waterways offer shelter to over 300 species of birds, countless fish and 1,150 species of plants.
South of the Delta, the historical city of Constanta serves as a major port on the Black Sea. Featuring several museums, historical monuments, fine mansions and a grand casino, the city is the focal point of Black Sea coast tourism. A strip of fine-sand beaches dotted with seaside resorts named after women and mythological gods, such as Eforie, Jupiter, Neptun, Olimp, Saturn, Venus and Mangalia, stretches from Constanta to the Bulgarian border.

Places to explore
The ruins of the ancient town of Tomis (now Constanta) - its precinct
wall, aqueducts, underground galleries, basilica, painted crypt and
Roman amphitheatre
The ruins of the ancient Greek town of Callatis - the defense wall,
the Christian basilica, the early medieval settlement in Mangalia
Histria (founded in 657 BC), the oldest Greek settlement in Romania
The beach resorts on the Black Sea coast: Mamaia, Neptun-Olimp,
Eforie Nord, Costinesti, Mangalia
The underground limestone complex and the church in chalk at Basarabi
The curative mud baths on the shores of Lake Techirghiol in Eforie Nord
Bird watching in the Danube Delta, the realm of over 300 bird species,
including the largest pelican colonies
Danube Delta tours by boat with local fishermen
The traditional fishing villages in the Danube Delta, such as Sfantu
Gheorghe, Mila 23 , Crisan, Jurilovca and Letea
Wine-tasting tours of the Murfatlar vineyard where some of Romania's
best dessert wines are produced

Main Museums
Art Museum in Constanta
Folk Art Museum in Constanta
National History and Archeological Museum in Constanta
Romanian Navy Museum in Constanta
Archaeological Museum Callatis in Mangalia
Folk Art and Ethnographic Museum in Tulcea
Fine Arts Museum in Tulcea
Natural History Museum & Aquarium in Tulcea
Museum of the Danube Delta in Tulcea

Performing Arts
Oleg Danovski Classical Ballet Theatre in Constanta
Marea Neagra (Black Sea) Philharmonic in Constanta
Fantasio Theatre in Constanta
Ovidius Drama Theatre in Constanta

Outdoor Adventures & Parks
Macinului Mountains National Park – the oldest mountain chain in Romania
Danube Delta Biosphere Reserve – third largest biodiversity in the world

Activities
Birdwatching, Camping, Fishing

Food & Wine
Traditional food
The cuisine of Dobrogea, mainly based on fish, as the region is close to the Black Sea, the Delta and the Danube River, is a mix of Romanian, Greek, Turkish, Tartar and Bulgarian flavors and receipies. One of the traditional dishes of the region is the Tripe Soup. To make this delicious soup, beef tripe is mixed with carrots, onions, pepper and garlic. It is flavored afterwards with vinegar or sour cream.
The delicious local salad, called Salata Dobrogeana, is made of fresh vegetables – pepper, cucumbers, tomatoes, onion, to which boiled eggs, grated cheese,
minced dill or parsley are added.
The Sarailie cake, with walnuts or almonds dipped in syrup, makes an excellent dessert.
The most popular dish in the Danube Delta is the Fisherman's Soup.
In a big cast-iron kettle, water is brought to a boil with vegetables and some 10 to 15 species of small fish. The liquid is then strained and the small fish discarded.
Big chunks of sturgeon, carp or pike are then boiled in the broth.
The fish soup makes two dishes: first, the broth is served with a wooden spoon
and then the big chunks of fish are sprinkled with chili pepper or garlic.
Afterwards, Saramura, prepared from big chunks of carp broiled on the stove
or on a spit, is served with polenta and garlic sauce.
Other local specialties:
Beef tripe soup - served seasoned with vinegar or sour cream
Plachia de crap - carp cooked with onions and oil
Vineyards
An entire collection of archeological objects and inscriptions speak of the importance of wine growing in the life of the ancient cities along the Romanian shore of the Black Sea.
Murfatlar, one of the most famous Romanian vineyards, is located just miles west from the Black Sea coast. Over 300 days of sunshine, along with cool breezes from the sea, make this area ideal for the production of sweet dessert wines, such as late harvest Chardonnay, Pinot Gris and Muscat Ottonel. Soft, rich red wines are also produced here - Cabernet Sauvignon and Pinot Noir being the most popular.
Sarica Niculitel, located in the northern part of Dobrogea, nearby Tulcea,
and surrounded by hills laden with vines, is well-know for the centuries-old winemaking tradition. The wormwood wine of Niculitel has a special local technique: three quarters of the barrel is filled with white and black grapes,
on top of which wormwood flowers, quinces and apples are added, after which wine or must is poured in. As it ferments, the must rises and begins to spout freely. Other highly appreciated local production includes Aligote, Riesling, Feteasca Regala, Sauvignon Blanc and Muscat Ottonel (white wines); Merlot
and Pinot Noir (red wines).
Winetasing
Murfatlar Winery
Murfatlar's wine tasting ceremony takes place either in the compound of the tourist area, or in one of two specially created rooms near the Museum of the Vine and Wine. Visitors have the opportunity to buy bottles of their favorite wines, as well as various artifacts and souvenirs.
Contact information:
Address: Str. Murfatlar 1, Murfatlar, Constanta County
Telephone: 0241 853.200
E-mail

ESSENTIALS
Transportation
Tourist Info
Maps
Transportation
Air transportation to Dobrogea region
Major airports:
Constanta International Airport (CND) and Tulcea
Nearest major international airport:
Bucharest – 142 miles west
Airlines with service to Dobrogea region:
Blue Air
non-stop flights from/to: Milano
Turkish Airlines
non-stop flights from/to: Istanbul
Wizz Air
non-stop flights from/to: London
Travel to Dobrogea by train or bus
There are several daily trains and buses from/to Bucharest and other major cities in Romania to Dobrogea region.
Main train stations: Constanta, Mangalia, Tulcea.
Daily trains connect Constanta, Mangalia and Tulcea to Bucharest.
Trains also depart daily to the resorts located on the Black Sea Coast.
To check train and bus schedules for domestic routes please visit our:
Romania Domestic Transportation section
Information on international trains with service to/from Dobrogea
are available at: www.romaniatourism.com/transportation.html#bytrain
Road access
Border crossing points in the Dobrogea region from Bulgaria into
Romania include: Vama Veche, Negru Voda, Ostrov
Tourist Info
Romanian Riviera Events and Tourism Board
Email: office@asociatia-litoral.ro
Web: www.romanianriviera.ro