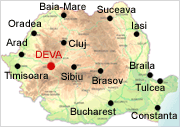 General Information
Fast Facts
Location: West-Central Romania (Hunedoara County, in Transylvania)
Size: 23.5 sq. miles (61 sq. km)
Elevation: 614 ft. (187 meters)
Population: 62,000
Inhabited since: 450 BC
First documented: 1269 AD (Castrum Deva)
Deva - City Highlights
Deva is a large town in west – central Romania, set on the left bank of Mures River, not far from Romania's main coal and mineral mining area.
Numerous artifacts dating from the Bronze Age, found in the area, indicate that Deva region has been inhabited since at least 450 BC. The name Deva may have been given to the area by the leaders of the Roman Legion Augusta II who – in early 100s AD – has been transferred from Castrum Deva (Castra Devana) in Britania (today the city of Chester in England) to the newly conquered territory of Dacia / Transylvania.
Deva is – for the members of the Universal Unitarian Church – an important place of pilgrimage. Unitarianism traces its institutional roots to Transylvania, where Unitarianism has flourished since the 1500s. The ruins of Deva fortress contain the prison where Francis Davíd (Ferenc Dávid) - the Unitarian founder of Europe's first official declaration of religious toleration - died in 1579.
Deva is also nicknamed: "Capital of Romania's Gymnastics". Since 1978, the country's best gymnasts – including Olympic, World and European champions Nadia Comaneci, Ecaterina Szabo, Lavinia Agache,Daniela Milosevici,Maria Olaru, Catalina Ponor – have trained and got their education at Deva National Gymnastics Center (Colegiul National Sportiv Cetatea Deva).
Landmarks
Deva Fortress (Cetatea Deva)
Rising some 1,000 ft. on a rocky hill-top (Dealul Cetatii), Deva fortress - the symbol of the town - had witnessed, since 1269, the town's long history and countless visitors. For centuries the fortress (nicknamed "the Key to Mures River") has guarded the access, from the western regions of Banat and Crisana and from Central Europe, to Transylvania.
The fortress is open daily and admission is free. The climb to the fortress is a 45-minute walk on a reasonable path. Those who cannot or do not wish to walk to the citadel can use the funicular to reach nearly to the top. One must still navigate a series of steps to enter the ruins of the fortress and view the memorial to Francis David.
His statement "We need not think alike to love alike" still inspires many today.
From the top of Dealul Cetatii hill visitors can view the route of the "Salt Road" the old Roman that – from the early 100s AD until late 200s AD - used to connect Rome, the capital of the Roman Empire, with Transylvania.
Magna Curia Palace
Address: Bd. 1 Decembrie 1918, nr. 39 (map)
At the foot of the Fortress Hill (Dealul Cetatii) lies the Magna Curia Palace, a Renaissance style structure built in 1621. Subsequent modifications, last one in 1746, added numerous Baroque elements that gave the final shape that can be seen today.
The palace is now home to the Museum of Dacian and Roman Civilizations.
The Art Theater
(Teatrul de Arta – Deva)
Address: Bd. 1 Decembrie 1918, nr. 15 (map)
Built in mid 1800s, the "Art Theater" is Deva's fines example of Secession Viennese architecture and the city's main cultural institution. The building was opened as a theater in 1911 after extensive renovations based on plans by Jewish architect Marcell Komor whose other major works include Targu Mures Municipality Building (Romania), Reduta concert hall in Bratislava (Slovakia) and Subotica synagogue (Serbia).
Episcopal Cathedral St. Nicholas
(Catedrala Episcopala Sfantul Nicolae)
Address: Strada Avram Iancu 2
Built in 1861 the massive cathedral features beautiful Roman-Byzantine (interior) frescoes; the exterior is adorned with base-reliefs. Twenty-one crosses are placed on the roof of the structure.
Statue of Dacian King Decebal
Deva – Central Park (Parcul Central)
A bronze statue is dedicated to the king of Dacia: Decebalus (Decebal) who ruled the Dacians between AD 87 and 106. The kingdom of Dacia stretched between the rivers Tisa, Danube, upper Dniester and Siret (a significant part of the territory of today's Romania). Decebalus translates into "strong as ten men". Decebalus fought several wars against the Roman Empire; his army was defeated in 106 AD by the Roman legions of Emperor Trajan and the king of Dacia committed suicide to avoid capture.
Statue of Roman Emperor Trajan
Piata Unirii (Union Square) (map)
The statue of Roman Emperor Trajan stands in front of Deva town hall. To increase the glory of his reign, restore the finances of Rome, and end a treaty with Dacia perceived as humiliating, Trajan resolved on the conquest of Dacia, the capture of the famous Treasure of Decebalus, and control over the Dacian gold mines of Transylvania. The result of his first campaign (101–102) was the siege of the Dacian capital Sarmizegethusa and the occupation of part of the Dacia. Emperor Trajan recommenced hostilities against Dacia and in 105 AD and in 106 gained control over a significant part of Dacia's territory.
To commemorate Emperor Trajan's victory against the Dacians, the Roman Senate commissioned the construction of a monument: a freestanding column (Trajan's Column) famous for its spiral bas relief, which artistically describes the epic wars between the Romans and Dacians (101–102 and 105–106). Its design has inspired numerous victory columns, both ancient and modern.
Museums
Museum of Dacian and Roman Civilizations
Nearby Attractions
Corvin Castle – Hunedoara
Where: 11 miles south of Deva
Access: car, bus, train
www.romaniatourism.com/castles-fortresses-romania-corvin-castle-hunedoara.html
Due to its spectacular architecture, Corvin Castle has been the setting of numerous film productions and TV advertisements.
Simeria Arboretum / Dendrological Park (Parcul Dendrologic Simeria)
Address: Str. Biscaria 1, Simeria (map)
Where: 7 miles E of Deva
Access: train or bus to Simeria
Simeria – Transylvania is home to Europes's third largest Arboretum. The 180-acres park, located on the left bank of Mures River, was created in the early eighteenth century and, intensively developed since 1953 by the local Forest Research Agency. It is believed to be the oldest, the most valuable and picturesque collection of exotic and native trees and shrubs in Romania.
The native vegetation: riparian forests, fragments of an ancient elm forest and rare oaks forest are complemented by 2,165 diverse species of (exotic) plants and rare trees brought from all over the world.
Plant enthusiast, birders, walkers and anyone who enjoys nature and fresh air can spend several hours or even a whole day at Simeria Arboretum to relax and enjoy the diverse landscapes that include lakes and streams and walking paths.
Open: daily
Admittance fee: 2.00 Lei (approx. $0.50)
Aurel Vlaicu Memorial Museum
Where: 24 miles east of Deva (comune Aurel Vlaicu)
Access: car, bus
Between 1909 and 1912, Romanian engineer and airplane pilot Aurel Vlaicu has designed and built three self-powered airplanes featuring one central aluminum tubing, flight controls (in front) two propellers (Gnome rotary engines, one mounted ahead of the nacelle, and the other to the rear of the wing) and a tricycle-landing gear with independent trailing arm suspension and brakes on the rear wheel.
Romania's 50 Lei banknote, currently in use, has a portrait of Vlaicu on the obverse, and on the reverse a drawing of one of his airplanes and a cross-section of the airplane's engine.
Roman Baths "Thermae Gemisara" (Geoagiu Bai)
Where: 23 miles north-east of Deva
Access: car, bus
Sarmizegetusa Ulpia Traiana
(Ruins of "Ulpia Traiana" Roman City & Archeology Museum)
Where: 37 miles south of Deva
Access: car, bus
Ulpia Traiana Augusta Dacica Sarmizegetusa was the first city founded in Dacia by Emperor Trajan and the political, administrative and religious centre of Roman Dacia in the 2nd and 3rd centuries. The city was destroyed by the Goths; today Ulpia Traiana remains in ruins, with a partly preserved forum, an Amphitheater, and remnants of several temples.
Day Trips
Alba Iulia
Where: 46 miles east of Deva
Access: car, bus, train
www.romaniatourism.com/alba-iulia.html
Sarmizegetusa Regia
(Ruins of the capital of Dacian Kingdom "Sarmisegetusa Regia")
Where: 43 miles south-east of Deva
Access: car
www.romaniatourism.com/world-heritage-sites.html#orastie
Retezat National Park
Where: 60 miles south of Deva
Access: car, bus
www.romaniatourism.com/the-carpathian-mountains.html#RetezatNationalPark
Medieval town of Sibiu
Where: 74 miles east of Deva
Access: car, bus, train
www.RomaniaTourism.com/Sibiu.html
Timisoara
Where: 94 miles west of Deva
Access: car, bus, train
www.romaniatourism.com/timisoara.html
Performing Arts
Deva Art Theatre
(
Teatrul de Arta Deva
)
www.teatruldeartadeva.ro
...
City Essentials
Transportation
By air
Deva does not have a local airport. The closest airports are located in:
Sibiu (SBZ) - 74 miles east of Deva - www.sibiuairport.ro
Targu Mures (TGM) - 117 miles north-east of Deva - www.targumuresairport.ro
Timisoara (TSR) - 94 miles west of Deva - www.aerotim.ro
...
By car
The fastest route from Bucharest to Deva is A1 – E81:
Bucharest – Pitesti – Ramnicu Valcea – Sibiu – Sebes - Orastie - Deva
Distance from Deva to:
| City | Distance (Miles) |
| --- | --- |
| Bucharest | 255 |
| Arad | 120 |
| Belgrade (Serbia) | 190 |
| Brasov | 195 |
| Budapest (Hungary) | 275 |
| Cluj-Napoca | 105 |
| Iasi | 305 |
| Oradea | 134 |
| Prague (Czech Republic) | 596 |
| Sibiu | 74 |
| Sighetu Marmatiei | 214 |
| Sighisoara | 118 |
| Suceava | 280 |
| Timisoara | 94 |
| Vienna (Austria) | 422 |
...
By train
Deva Train Station
(Gara Deva)
Address: Piata Garii 1
Tel: 0254 212.725
The train station is located less than 0.5 miles from downtown Deva.
There are direct trains from./ to Deva to/ from Romania's main cities
as well as international service from/to Budapest (Hungary).
For the list of international trains with service to/from Romania please visit: www.RomaniaTourism.com/Transportation.html#ByTrain
To check the train schedules for domestic and domestic routes please visit our Domestic Transportation section: www.RomaniaTourism.com/transportation.html#domestic
Note: For departures from /to Bucharest please select Bucuresti Nord.
...
By bus
Deva Bus Stations - international & domestic bus service
Atlasib Bus Station
(Autogara Atlasib)
Address: Piata Garii 1 (next to the train station)
Tel: 0254 231.519
Eurolines Bus Station
(Autogara Eurolines)
Address: Piata Garii 1 (next to the train station)
Tel: 0254 234.220
PlusCom Bus Station
(Autogara PlusCom)
Address: Piata Garii 1 (next to the train station)
Tel: 0722 238.969
International Bus Companies Serving Deva:
Atlasib
Address: Bd. Iuliu Maniu, bl. B1, ap. 23
Tel: 0741 269.756
romania.deva@atlassib.ro
Eurolines
Address: Str. Iuliu Maniu, Bl. J
Tel: 0723 322.747
deva@eurolines.ro
...
Public Transportation
Deva's public transportation network includes 11 bus and mini-bus routes.
...
Taxi companies
Astral Taxi: 0254 234.567
City Taxi: 0254 221.111
Euro Taxi: 0254 223.344
Fly Taxi: 0254 225.511
Taxi Deva: 0254 224.444
...
Car Rental
Autonom
Address: Bd.l 1 Decembrie 1918 nr. 6, Deva
Tel: 0254 232.004
www.Autonom.ro
Rent a Car Deva
Address: Piata Victoriei 2, Deva
Tel: 0726 679.034
www.rentacardeva.ro
...
Tourist Info
Deva Tourist Info Centre
(CNIPT – Deva)
Address: Piata Cetatii (next to the cablecar)
Telephone: 0254 220.288
E-mail www.DevaTurism.ro
...
Pharmacies & Hospitals
There are several pharmacies (farmacie) open 24 hours a day in the city.
Emergency Clinic Hospital
(Spitalul Judetean Deva)
Address: Str. 22 Decembrie nr. 58
Tel: 0254 227.070
...
Deva Main Post Office
Address: Bd. Decebal, bl. 16
Tel: 0254 212.222
Hours:
Mon. - Fri.: 8 a.m. - 7 p.m.
Sat.: 9 a.m. - 1 p.m.

Post offices display a postal horn symbol and the word Posta.
Telephoning Deva from Abroad
International Access Code +4 (country code) + 0254 or 0354 (area code) + six-digit telephone number
Hunedoara County Archives
(Direcţia Judeţeană Hunedoara a Arhivelor Naţionale)
Address: Str. Aurel Vlaicu 2, Deva,
Tel: 0254 213.875
E-mail
Hours
Deva City Hall
(Primaria Municipiului Deva)
Address: Piata Unirii 4, Deva
Tel: 0254 213.435
www.PrimariaDeva.ro
E-mail
Bureau of Consumer Protection
(Comisariatul Judetean pentru Protectia Consumatorilor - Hunedoara)
Address: Str. Mihai Viteazu 3,
Tel: 0254 214.971
E-mail
...
Maps