National Parks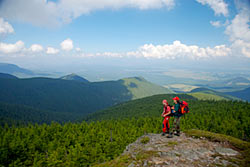 Romania's national and natural parks, displaying a unique variety of landscapes, vegetation and wildlife, protect some of the largest remaining areas of pristine forest in Europe. Grasslands, gorges, subterranean caves, volcanic lakes, and extensive river network add to the richness of the park system that also includes the Danube Delta, a UNESCO Biosphere Reserve and Europe's largest wetland. (For more information about danube Delta please visit www.RomaniaTourism.com/Danube-Delta)
Romania's diverse natural landscapes offer numerous choices for exciting outdoor experiences. Travelers can walk through serene alpine meadows covered with scores of wildflowers, trek around glacial lakes, take in the lush-green scenery while horse riding or mountain biking, climb curious rock formations, photograph fossil traces of 15,000-year old cave-bear species, track gold eagles or other rare birds, study endangered flora, wander in the countryside, picnic in the fields, try your hand at traditional crafts, - or just relax in the home of a village family and sample wholesome, country fare with home made wine and plum brandy.
The Oas – Harghita range in the Carpathian Mountains is the longest volcanic mountain chain in Europe.

The 3500-year old Scarisoara glacier, located in the Bihor Mountains – 90 miles southwest of Cluj Napoca - has a volume of 2,649,000 cubic feet (75,000 cubic metres), making it the second largest European underground glacier, after the Eisriesenwelt ice cave in Austria.
Adventurers and wildlife enthusiasts who hear the call of the wild can add these unique experiences to the top of their activities list:
» Spotting wild egrets, Dalmatian pelicans, glossy ibises or some other 300 species of birds in the Danube Delta
» Rock climbing the
unusual-shaped rocks Pietrele Doamnei in the Rarau Mountains
» Visiting the Scarisoara ice cave in the Apuseni Nature Park – the 153.6 ft. deep entrance shaft leads to some impressive ice structures, including spectacular six meters high ice stalagmites.
» Exploring the Berca mud volcanoes near Buzau – a stark lunar
landscape of erupting mud.
» Taking the Sky Highway challenge — a trek around the Capra glacier lake
in the Fagaras Mountains.
» Paddling through the frothy waves of the Crisul Repede and Bistrita rivers.
» Trekking Retezat, the rockiest mountain massif of the country,
home to more than 80 glacial lakes and over three hundred flower species.
» Watching wolves at play in the natural park of Vanatori-Neamt in the
Stanisoara Mountains, once the hunting ground of Stephen the Great.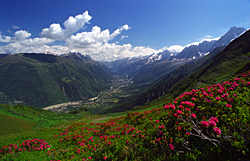 » Horse riding in the Calimani National Park, renown for its volcanic bizarre
shapes, traces of old craters, and the largest volcanic caldera in Carpathians.
» Completing an exciting multi-day
hike along the main ridge of the Fagaras Mountains - one of the longest continuous high mountain traverses
in Europe, taking you over three of Romania's highest peaks (Moldoveanu - 8,346 ft.; Negoiu - 8,317 ft.;
and Vistea Mare - 8,291 ft.).
The Carpathian Mountains are home to one of the largest undisturbed forests in Europe.

400 unique species of mammals, including the Carpathian chamois, call the Carpathian Mountains home.

60% of European brown bear population lives in the Carpathian Mountains.

The Carpathian Mountains are forming a semi-circle around Transylvania, which one of Romania's nine historical provinces.

The Western Carpathian Mountains are also called the Mountains of the Sunset (Muntii Apuseni).
National parks encompass extensive areas of particular geographical interest or outstanding natural beauty.
They have an important conservation role and offer protection to many rare species of animals and plants. In addition to nature conservation, Romania's natural parks also play an important role in preserving local customs, traditional crafts, historical settlement patterns, and regional architecture.
Most of Romania's national parks have arrangements for outdoor activities with a network of marked paths and trails and overnight accommodation in either staffed lodges or local guesthouses. In vulnerable areas where it is desirable to limit the impact of visitors, paths and accommodation are minimal.

National Parks
Cheile Bicazului (Bicazului Gorges) – Hasmas
Calimani
Ceahlau
Cozia
Domogled – Valea Cernei (Cerna Valley)
Muntii Macin (Macin Mountains)
Cheile Nerei (Nerei Gorges) – Beusnita
Piatra Craiului
Retezat
Muntii Rodnei (Rodnei Mountains)
Cheile Semenic - Carasului (Semenic – Carasului Gorges)
Buila-Vanturarita
Nature Parks
Apuseni
Balta Mica a Brailei (Small Moor of Braila)
Bucegi
Comana
Gradistea Muncelului-Cioclovina
Lunca Muresului
Muntii Maramuresului (Maramures Mountains)
Portile de Fier (Iron Gates)
Vanatori Neamt
Romania's natural areas captured scientific attention early in the 20th century. The first law on environment protection was passed in 1930; the first forest reservation (Domogled-Baile Herculane) was set up in 1932, the first National Park (Retezat) in 1935 and the first geological reservation (Detunata Goala - Apuseni Mountains) was recognized in 1938.

APUSENI NATURE PARK
Park
Highlights
Fast
Facts
Natural
Attractions
Flora
and Fauna
Nearby
Attractions
Park
Essentials

BICAZULUI GORGES - HĂȘMAȘ NATIONAL PARK
Park
Highlights
Fast
Facts
Natural
Attractions
Flora
and Fauna
Nearby
Attractions
Park
Essentials

CĂLIMANI NATIONAL PARK
Park
Highlights
Fast
Facts
Natural
Attractions
Flora
and Fauna
Nearby
Attractions
Park
Essentials

CEAHLĂU NATIONAL PARK
Park
Highlights
Fast
Facts
Natural
Attractions
Flora
and Fauna
Nearby
Attractions
Park
Essentials

PIATRA CRAIULUI NATIONAL PARK
Park
Highlights
Fast
Facts
Natural
Attractions
Flora
and Fauna
Nearby
Attractions
Park
Essentials

RETEZAT NATIONAL PARK
Park
Highlights
Fast
Facts
Natural
Attractions
Flora
and Fauna
Nearby
Attractions
Park
Essentials