Romania's Scenic Drives
Scenic Drives – amazing journeys to unique destinations!
Whether it's racing through the Carpathian Mountains or ambling along the Danube River, Romania offers countless picturesque views from the road.
Romania's national roads network cannot rival the US Interstate Highway system but the Transfagarasan and TransAlpina, two unique thoroughfares over the southern Carpathian Mountains are part of any list of the world's most amazing roads.
Other scenic drives in Romania include: the TransBucegi, Pasul Rucar – Bran, Pasul Turnu Rosu (Valea Oltului), Pasul Buzaului, Defileul Jiului, Valea Cernei, Valea Bistritei Aurii, Pasul Tihuta, Cheile Bicazului and TransSemenic.
Transfagarasan ( Route # 7 C or DN 7C )
Also labeled "the Road to the Sky", "the Road to the Clouds", "the Best Driving Road in the World" and even "A spectacular Monument to Earth-Moving Megalomania" the TransFagarasan climbs, twists and descends right through Moldoveanu and Negoiu - the highest peaks in Fagaras Mountains and in Romania. This is no pass through a gap but a frontal assault, a stark and spectacular reminder of unchecked power stamping itself on an obstreperous landscape.
Also known as the "Transylvanian Alps", the Fagaras Mountains are rich in unique wildlife and scenic hiking and biking trails.
Built for military purposes at the initiative of Romania's last communist leader Nicolae Ceausescu, this dynamite-forged road connects two of Romania's historic provinces Transylvania (the Center) and Walachia (the South) through a series of five tunnels, 27 viaducts and 831 small bridges.
The TransFagarasan ranges in elevation from 1,630 feet at Cartisoara to almost 6,700 feet at Balea Lac. The road is below the tree line until about 5,000 ft. and then it opens up and reveals itself.
No visitor should not get discouraged by the significant elevation difference; the road is a relatively easy climb even for bicyclists weighted down with all necessary equipment. The Transfagarasan was engineered to be accessible to heavy military vehicles and the gradient is never too steep, hence the many hairpin bends or switchbacks. Although it is the best-known scenic drive in Romania, because there are faster roadways that connect southern and central Romania, the Transfagarasan is still relatively unperturbed by the motoring masses.
More Transfagarasan Photos >
TransFagarasan Facts:
Begins ~~ Ends: Cartisoara ~~ Curtea de Arges

Distance: 71 miles (114 kilometers).

Gateway cities: Sibiu (30 miles W) and Brasov (65 miles E) of Cartisoara,
Pitesti (23 miles S) and Bucharest (96 miles S) of Curtea de Arges

Open end-to-end: late June through end of October(weather permitting)

Road condition: paved, good

Highest point: 6.699 ft (2042 m) - Lake Balea

Route time: 3 hours, without stops. A leisurely drive can take all day.

Points of note: Curtea de Arges Monastery, Poenari - Vlad the Impaler's fortress, Vidraru Lake and Dam, Golul Alpin nature reserve, Balea Glacial Lake, Balea waterfall.

Current road status/ traffic conditions on TransFagarasan:

Map: See TransFagarasan Route on Romania Map

TransAlpina ( Route # 67 C or DN 67C )
If adventure and Alpine scenery sound alluring, the TransAlpina road offers an ideal mix of the two. Winding its way through valleys and plateaus up to 7,038 feet – a height not reached by any other mountain passage in Romania – the TransAlpina road offers breathtaking views together with lots of driving excitement.

Arguably the oldest road over the Carpathian Mountains, TransAlpina was built at the beginning of the 2nd Century AD by the Roman legions during their war campaign to conquer Sarmizegetusa – the capital of Dacia (modern-day Romania). After the conquest of Dacia, the Romans have used the TransAlpina to transport to Rome the gold extracted from the central part of Romania (Transylvania). At the beginning of the second millennium TransAlpina has become one of the main transhumance routes over the Carpathian Mountains; it still serves this purpose, even today. Paving of the road began in 1930 and eight years later King Carol II inaugurated the new TransAlpina (also named during the monarchy period "the The King's Road").
The TransAlpina ranges in elevation from 1,476 feet at Novaci to almost 7,040 feet at Pasul Urdele; it connects central Romania (Transylvania) with Oltenia the western part of southern Romania (also called Walachia or according to some old maps "TransAlpina").
TransAlpina Facts:
Begins ~~ Ends: Saliste (Sibiu) or Sugag (Alba) ~~ Novaci

Distance: 87 miles (139 kilometers).

Gateway cities: Sibiu (14 miles E) of Saliste, Alba Iulia (27 miles N) and Deva
(55 mile W) of Sugag, Targu Jiu (28 miles SW), Ramnicu Valcea (52 miles E) of Novaci.

When to go: late May through end of October (weather permitting)

Road condition: paved, good

Highest point: 7,038 ft. (2145 m) - Urdele Pass

Route time: 2 hours and 45 minutes.

Points of note: Marginimea Sibiului Villages, Lake Oasa, Cindrel natural park,
Lake Vidra, Voineasa ski area, Horezu Monastery (UNESCO) & pottery center.

Current road status/ traffic conditions on TransAlpina:

Map: See TransAlpina Route on Romania Map

TransBucegi ( Route DJ 713 )
Sinaia is home of the stunning Peles castle but if, while in or near town, you will feel the need for higher elevation, even fresher air and sweeping landscapes you can soak in some of Romania's most breathtaking vistas without even leaving your car. Just take the TransBucegi road from Sinaia to the Bucegi Mountains Plateau.

This beautiful cul-de-sac road will lead you to Bucegi Natural Park, a land which provides colorful flower and foliage displays as well as numerous hiking trails, that will lead you straight into the heart of nature.
This road is a great driving and hiking day-trip starting in Bucharest, Brasov or Sinaia and it can also be included in a multi-day Bucharest, Valea Prahovei and Southern Transylvania itinerary.
The TransBucegi – also called Drumul Babelor (the road to the Old Dames) - ranges in elevation from 2,495 feet at Sinaia to almost 6,316 feet at Bucegi National Park.
The Bucegi Mountains Plateau is also accessible – without a car - from the town of Busteni (4 miles north of Sinaia). One can hike the mountain from the resort town of Bușteni, through meandering paths among stunning views, or simply take the cable car (telecabina) up to the top. Most hiking paths that start up in Bucegi Plateau do not require extreme fitness or determination.
TransBucegi Facts:
Begins ~~ Ends: Sinaia ~~ Cabana Dichiu ~~ Cabana Piatra Arsa

Distance: 24 miles (39 kilometers)

Gateway Cities: Sinaia (11 miles E)

Open end-to-end: year-round (weather permitting)

Highest point: 6,316 ft (1,925 m)

Road condition: paved, good

Route time: one hour, without stops

Points of note: Sinaia, Peles Castle, Bucegi Nature Park, Padina, Pestera
(acces by cable-car or hiking), hiking trails to: "The Old Dames" (Babele)
and the "Sphinx" (Sfinxul) rock formations, Caraiman Heroes Monument,
peaks Costila (8,173 ft.) and Omu(8,229 ft.).

On the Trail of Dracula - Touring Romania With Vlad On the Mind
By Peter Starr

Excerpt
There are many aspects of Transylvania that make it a popular motorcycle tourist destination; the challenge of constantly twisting roads and sparse traffic being two. Another is the availability of local motorcycle tour guides.
As interesting as towns and architecture can be, it is the people I met who provided me with the variety of character that brings it all to life. Across from the Imparatul Romanilor hotel, Zed spotted a purple Harley parked in front of the Transylvania Tattoo Parlor. Curiosity, not being the sole domain of cats, led us to introduce ourselves and that led to more tales of motorcycle culture in Transylvania courtesy of Ovidiu, master tattoo artist and Harley partisan.
A one-day round trip from Sibiu to Hunedoara rewarded us with a visit
Gothic-style Corvinilor Castle built in the 14th century, where Dracula was imprisoned for crimes against the Turks.
By now the heat was having its effect, and it felt much better to ride.
So ride we did, south to Petrosani and then east along a very narrow, twisty, mountainous road to join up with the northbound Transalpina highway back toward Sibiu. The altitude gave us a much cooler ride. Although the Transalpina highway was declared open, it is far from finished. It is not so much of a problem for cars, but the unpaved, crossroad culverts can come as a surprise to a motorcyclist, particularly if one is appreciating the wonderful scenery when you should be looking forward. Quite exhausted, we got back to Sibiu for our second night at the elegant Imparatul Romanilor hotel.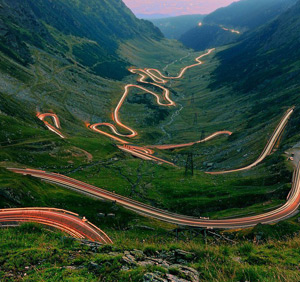 Our final day of riding was
the 56-mile Transfagarasan
pass that links Transylvania
to Walachia and climbs to
almost 7000 feet before
passing under the mountain
peak through a half-mile tunnel
and down the other side.
The BBC television show Top Gear called it the best road in the world, and the featured section on the north side of the pass is quite wonderful and exciting by any standard.
I have no idea if Dracula
ever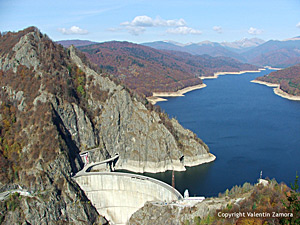 made it over this pass.
But I am glad to say that I did,
and I enjoyed every rising foot of it. The down side of the
pass is longer and travels
along the Arges River and the
6.5-mile-long Vidraru Lake
through forests, and as such
lacks the sheer vistas of the
north slope. But it is an
engaging road that will keep
you amused and, depending
on skill level, challenged.
Just as I was wishing for somewhere to stop, we arrived at a watering hole without which I might have ridden right past the last of Dracula's castles and the one that firmly established Vlad the Impaler as Eastern Europe's most feared leader.
Poenari Castle, considered to be the authentic Dracula's Castle, sits on top of a peak that is impossible to see if you are traveling south.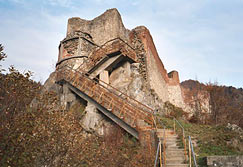 The parking lot at the base leads to a 1480-step staircase to the castle.
After six days, almost 900 miles, plenty
of memories and Poenari behind us,
our six-day quest was almost over.
All that was left was the 100-mile ride
to return to Bucharest to spend one
more day enjoying the remarkable city
that is spearheading Romania's transition
from repression to freedom. So many roads to ride and so many reasons to put riding Romania on your bucket list.