SUCEAVA (Soo cha v'ah)
Suceava - General Information
Location: Norteastern Romania (County: Suceava)
Size: 20 sq. miles (52 sq. kilometers)
Elevation: 1070 - 1120 ft. (325 - 340 meters)
Population: 105,000
First documented: 1388 AD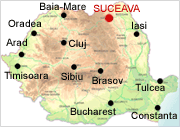 Suceava on Map
Suceava - City Highlights
Once the capital of Moldova (from 1388 until 1565), Suceava is an excellent starting point for trips to the many historical, cultural and natural attractions travelers can enjoy in the Bucovina region. Suceava is also the gateway to visiting the Painted Monasteries of Bucovina.
The town has some noteworthy attractions of its own, including Saint George's Church, a UNESCO World Heritage site, the Bucovina Ethnographic Museum, with its valuable folk costumes collection and traditional items exhibits, and Suceava's main tourist site, the remains of the Princely Court.
Other sights in Suceava include the 14th century Mirauti Church, the Zamca Monastery and the Bucovina Village Museum, dedicated to the woodcraft, ethnography, history and folk art of the region. The Bucovina History Museum displays medieval armor, coins, weaponry, tools and ancient documents. Visit these archeological and historic gems before heading to the painted monasteries area.

City Landmarks
Mirauti Church
(Biserica Mirauti)
Address: Str. Mirautilor 17
The oldest church in Suceava, Mirauti Church was founded by Petru I Musat in 1375. Until 1522 it served as the Moldavian coronation church. It was here where Stephen the Great was crowned Prince of Moldavia in 1457 after receiving the bishop's blessing. The church was restored between 1898 and 1901, preserving the original design.
Princely Court
(Cetatea de Scaun)
Address: Dealul Cetatii
Open: Mon. – Sun. 8:00 a.m. – 8:00 p.m. (summertime);
Mon. – Sun. 10:00 a.m. – 6:00 p.m. (wintertime)
Admission charge
Built by Petru Musat at the end of the 14th century, the fortress was later enlarged and strengthened by Alexandru cel Bun to hold off invading Ottoman Turks. Stephan the Great (1457 – 1504) added the moat, 105-foot-tall defensive walls, and defensive towers that enabled it to withstand the artillery of Mehmmed II, conqueror of Constantinople. The fortress was finally blown up by the Turks in 1675. Today, visitors can tour the remains of the impressive fortifications and take in a great view of the city.
Princely Inn
(Hanul Domnesc)
Address: Str. Ciprian Porumbescu 5
One of the oldest buildings in Suceava, featuring thick stonewalls and vaulted ceilings, the inn served for a long time a favorite meeting point for the noble court as they returned from hunting in the thick forests of Suceava; hence its name, the Princely Inn. The ground floor dates from the beginning of the 17th century, while the second floor dates from the 19th century when it served as a hunting lodge during the period of Hapsburg rule. Today, the Princely Inn is home to the Bucovina Ethnographic Museum.
Saint George's Church / The Monastery of Saint John the New
(Biserica Sf. Gheorghe / Manastirea Sf. Ioan cel Nou)
Address: Str. Ioan Voda Viteazul 2
Open: Mon. – Sun. 8:00 a.m. – 8:00 p.m.
Admission charge
Built by Bogdan the 3rd and his son, Stefanita Voda, between 1514 and 1552 to serve as the Metropolitan Church of Moldavia, St. John the New Monastery is nowadays the seat of the Archbishop of Suceava and Radauti.
St. George Church houses the relics of Saint John the New, brought to Moldavia by Alexandru cel Bun in 1415. The relics are placed in a silver casket, richly decorated with scenes from the saint's life. The outstanding exterior frescoes of the church, illustrating scenes from the Old and New Testament, were completed in 1534 during the reign of Petru Rares, a glorious time in the era of religious murals.
The style of St. George's frescoes resembles those at Moldovita and Humor. Although only some parts of the Hymn of the Dead, the Tree of Jesse and the legend of the Prodigal Son can still be seen on the southern wall, the church is nonetheless impressive, especially due to its mosaic roof and belfry tower.
In 1691, moats were dug around the protective walls on a star-shaped plan by the order of King Jan Sobieski of Poland, giving the complex its name. Zamca means fortified place in Polish.
Zamca Monastic Complex
Located at the west end of town, this fine architectural complex was founded by Armenians exiled in Moldavia. The church dates from the 17th century.
According to an inscription, the bell-tower was built in 1606.

Historic Churches
St. Dumitru Church
(Biserica Sf. Dumitru)
Address: Str. Stefan cel Mare 1
The belfry tower, dating from 1560, was for a while the tallest structure in the city, serving as a firefighter tower in the 19th century.
Built by Petru Rares between 1534 and 1535, this stone church displays some rather impressive dimensions. Its interior frescoes, dating from the 16th to 19th centuries, have recently been restored. The church serves as resting place for Bogdan, the son of Petru Rares, and a series of important Moldavian boyars.

Jewish Suceava
One of the earliest sites of Jewish settlement in the region, Suceava was already home to an established community at the beginning of the 16th century. Some 18 synagogues and small Hasidic prayer rooms were in use before World War II, the majority of them taken down during the 1950s' communist 'urban renewal' period. Only one synagogue still stands today, beautifully preserved, along with two Jewish cemeteries.
Impressive tombs from the late 19th and early 20th centuries can be seen in the newer Jewish Cemetery (located at Str. Parcului 6). The Old Jewish Cemetery (located on Str. Stefan Tomsa) with its elaborately carved tombs bearing traditional Jewish symbols, dates back to the 16th century, making it one of the oldest in Moldavia.
Gah Synagogue
Address: Str. Dimitrie Onciul 7
Richly decorated on the interior with symbolic representations of the Tribes of Israel and views of Jerusalem, this is the only remaining synagogue still in use.
Suceava Jewish Community
(Comunitatea Evreilor din Suceava)
Address: Str. Armeneasca 8
Telephone: 0230 213.084

Museums
Bucovina Ethnographic Museum
(Muzeul de Etnografie Hanul Domnesc)
Address: Str. Ciprian Porumbescu 5
Telephone: 0230 516.439
Open: Tue. – Sun. 9:00 a.m. – 5:00 p.m.; Closed Mon.
Admission charge
Housed in the 16th century Princely Inn (Hanul Domnesc), the museum features a comprehensive collection of folk costumes, domestic tools, crafts and other traditional items from several regions of Bucovina.
Bucovina History Museum
(Muzeul de Istorie)
Address: Str. Stefan cel Mare 33
Telephone: 0230 516.439
Open: Tue. – Sun. 10:00 a.m. – 6:00 p.m.; Closed Mon.
Admission charge
Medieval armor, coins, tools and ancient documents are on display at the museum. The Hall of the Throne is a re-creation of Stephen the Great's court with furniture, weapons and costumes.
Bucovina Village Museum
(Muzeul Satului Bucovinean)
Address: Platoul Cetatii
Open: Tue. – Sun. 9:00 a.m. – 5:00 p.m.; Closed Mon.
Admission charge
Located nearby the Royal Court, this open-air museum features a collection of 80 buildings representing the history and design of Bucovina's rural architecture, including a small 18th century church from Vama and a typical water mill from Gura Humorului.

Nearby Attractions
Patrauti Church
Location: 5 miles north of Suceava
Access: car, bus from Suceava
Nearest train stations: Darmanesti, Suceava

Patrauti was the only convent of nuns founded by Stephen the Great.
Built in 1487 and dedicated
to the Holy Cross, the monastery of Patrauti is the oldest surviving religious site founded by Stephen the Great. Murals, dating from around 1550, can still be admired on the west façade. In 1775, soon after Bucovina was annexed to the Habsburg Empire, the monastery was turned into a parish church. Today, only the church and a wooden bell tower are still standing from the original monastic complex.
(More about Patrauti Church)
Dragomirna Monastery
Location: 6 miles north of Suceava
Telephone: 0230 533.839
Email: manastirea@dragomirna.ro
Web: www.dragomirna.ro/main_en.php
Access: car, bus from Suceava to Mitocu Dragorinei
Nearest train station: Suceava
Built between 1602 and 1609 in a rather austere style, the church's exterior favored a practical stone façade rather than frescoes. Due to the increase in attacks by the Ottoman Turks, the religious architecture at the time was focused more on protection than decoration. The structure is impressive through its sheer size, featuring the tallest fortified walls in Bucovina. Visitors can choose to spend the night inside the walls of monastery.

Day Trips
The Painted Monasteries of Bucovina
www.RomaniaTourism.com/Painted-Monasteries.hml
Access: The easiest way to visit the Painted Monasteries is by car; a 30-minute drive (or less) separates one from another. Excursions and day trips are also available from Suceava and Gura Humorului.
Arbore Church
Location: 20 miles northwest of Suceava
Access: car, bus (from Gura Humorului or Radauti)
(More about Arbore Church)
Humor Monastery
Location: 25 miles west of Suceava
Access: car, bus, train
(More about Humor Monastery)
Moldovita Monastery
Location: 55 miles northwest of Suceava
Access: car, train (from Suceava to Vama, 1 ¼ hours, and from Vama to Vatra Moldovitei, 35min)
(More about Moldovita Monastery)
Probota Church
Location: 31 miles southeast of Suceava
Access: car
(More about Probota Monastery)
Sucevita Monastery
Location: 31 miles northwest of Suceava
Access: car, bus (from Radauti)
(More about Sucevita Monastery)
Voronet Monastery
Location: 20 miles west of Suceava
Access: car, bus (from Gura Humorului), 3 ½-mile walk from Gura Humorului
(More about Voronet Monastery)
Marginea Black Pottery Center
Location: 32 miles northwest of Suceava
Nearest train station: Radauti
Telephone: (744) 892538
Email: office@ceramicamarginea.ro
Web: www.ceramicamarginea.ro
The village of Marginea, located just 7 miles northeast of Sucevita Monastery, is renowned for the black clay pottery crafted here, said to preserve a centuries-old Gaeto-Dacian technique, passed on from generation to generation.
Campulung Moldovenesc
Location: 44 miles southwest of Suceava
Nearest train station: Campulung Moldovenesc
The small 14th century logging town of Campulung Moldovenesc offers good access to hiking trails in the Rarau Mountains during summertime, as well as cross-country ski trails in wintertime. Here, you can also visit the unusual Wooden Spoons Museum (Str. Gheorghe Popovici 3; Open Tue. – Sun. 9:00 a.m. – 4:00 p.m.; Admission Charge) as well as the Wood Carving Museum (Calea Transilvaniei 10; Open Tue. – Sun. 9:00 a.m. – 4:00 p.m.; Admission Charge).
Fundu Moldovei
Location: 49 miles west of Suceava
Nearest train station: Campulung Moldovenesc
The village, located just 6 miles west of Campulung Moldovenesc, is home to several woodcarving artisans and a workshop for painting icons on glass.
Vatra Dornei Resort
Location: 65 miles southwest of Suceava
Nearest train station: Vatra Dornei
Web: www.spas.ro/statiuni/Vatra_Dornei
A fashionable spa resort during Habsburg times, today Vatra Dornei is a year-round destination featuring spa treatments as well as summer and winter activities.
Cotnari Vineyards
(Podgorile Iasi)
Location: 65 miles southeast of Suceava
Nearest train station: Cotnari
Telephone: 0232 730.296
Email: office@cotnari.ro
Web: www.cotnari.ro
Located in the small village of Cotnari, the Cotnari vineyards are famous for their delicious sweet white wines made of grapes rich in sugar and harvested in late autumn following the first frost. The quality of these wines relies on a combination of rich soil, the late harvest and the presence of a special mold (Botritis cinerea). The winery's most popular wines include Francusa (dry), Catalina (semisweet) and the sweet, golden Grasa and Tamaioasa dessert wines. The most popular brand, "Grasa de Cotnari," is an excellent white wine often referred to as the "golden nectar."
Moldova is the largest wine-producing region in Romania.

Prince Stephen the Great commissioned bridges and paved roads for the transportation of wine from the Cotnari vineyards.

Grasa de Cotnari was awarded the gold medal at the 1900 World Exhibition in Paris.
Apart from wine tasting, visitors can tour Cotnari's other attractions, such as cellars dating back to the time of Stephen the Great (1457-1504), where over 6 million liters of wine are aged in oaken barrels. The winemaking plant produces 4 to 6 million bottles a year and boasts a collection of more than 800,000 bottles.
Cotnari winery offers wine-tasting sessions and tours of the cellars and factory. Every year on September 14, wine connoisseurs celebrate the harvest here.
The city of Iasi

City Essentials
Transportation
Suceava is easily accessible from Bucharest (Bucuresti) by plane (1 hour), train (approximately 6 hours) and car (6 ½ to 8 ½ hours depending on traffic conditions).
By air
By bus
By car
By train
Public Transportation
Taxi companies
Car rental
By air
Suceava Stefan cel Mare International Airport (SCV)
Telephone: 0230 529.999
Email: office@aeroportsuceava.ro
Web: www.aeroportsuceava.ro/index_en.html
The airport is located 9 miles from the city center.
Airlines with service to Suceava:
Tarom
Direct flights from/to: Bucharest (OTP)
For flight schedules and fares please visit: www.tarom.ro
By bus
Suceava Main Bus Station (Autogara Suceava)
Link: www.autogari.ro
Address: Str. Vasile Alecsandri 2, Suceava
Daily domestic bus service from/to:
Arad, Bacau, Botosani, Brasov, Bucharest, Campulung Moldovenesc, Constanta, Falticeni, Gura Humorului, Iasi, Piatra Neamt, Putna, Radauti, Siret, Solca, Timisoara
Vatra Dornei
By car
The fastest route from Bucharest to Suceava is via E85:
Bucuresti – Urziceni – Buzau – Focsani – Bacau – Roman – Falticeni - Suceava
The scenic route from Bucharest to Suceava is via E60 - E 578 – 12C – 15C:
Bucuresti –Sinaia – Brasov – Miercurea Ciuc – Gheorghieni – Piatra Neamt – Targu Neamt – Suceava
The fastest route from Cluj Napoca to Suceava is via E 576 – E 58:
Cluj Napoca – Bistrita – Vatra Dornei – Campulung Moldovenesc – Gura Humorului - Suceava
Distances
Distance from Suceava to:
City
Distance (Miles)
Bucharest
282
Arad
355
Belgrade (Serbia)
470
Bistrita
110
Brasov
190
Budapest (Hungary)
450
Cluj-Napoca
200
Constanta
329
Iasi
85
Oradea
285
Piatra Neamt
60
Prague (Czech Republic)
735
Satu Mare
190
Sibiu
214
Sighetu Marmatiei
140
Sighisoara
160
Timisoara
345
Targu Mures
220
Tulcea
370
Vatra Dornei
70
Vienna (Austria)
600
By train
Suceava Station - Burdujeni (Gara Suceava)
Address: Str. Nicoale Iorga 7
Telephone: 0230 523.987
Suceava North Station - Itcani (Gara Suceava Nord)
Address: Str. Garii 8
Telephone: 0230 517.117
There are daily trains from/to Bacau, Brasov, Campulung Moldovenesc, Cluj, Constanta, Gura Humorului, Putna, Timisoara, Vatra Dornei, Vatra Moldovitei, and several other cities in Romania.
There is daily INTERCITY (Express) service from/to Bucharest (approximate travel time: 6 hours).
To check the latest train schedules for domestic routes, please visit the website of the Romanian Railways: www.cfrcalatori.ro
The site has complete information about domestic train schedules and fares.
Note: For departures from /to Bucharest, please select Bucuresti Nord.
International trains from/to Suceava:
Please check: www.romaniatourism.com/transportation.html
SNCFR's Advance Booking Office (Agentia de Voiaj SNCFR Suceava)
Address: Str. Balcescu 8
Tel: 0230 214.335
Open: Mon. - Fri. 7:00 a.m. – 8:00 p.m.; Closed Sat. & Sun.
You can get train schedule information and make reservations up to 24 hours in advance at this office. Tickets for same-day travel can only be purchased at the station.
Public Transportation
Several bus, trolleybus and maxi taxi routes connect Suceava's main areas and tourist attractions.
Taxi companies
Alyoda: 0230 533.333
Cristaxi: 0230 522.222
Eurotaxi: 0230 511.116
Car rental
Autonom
Address: Str. Nicolae Balcescu 2 and Suceava Airport
Telephone: 0230 521.101 or 0748 295.660
Email: suceava@autonom.ro
Web: www.autonom.ro
EuroCars Romania
Address: km 12 E58, Salcea (Suceava Airport)
Tel: 0727 37 37 99
Email: office@eurocars.ro
Web: www.eurocars.ro

Icar
Address: Str. Vasile Alecsandri 10, Suceava
Telephone: 0230 523.553
Email: icar@icar.ro
Web: www.icar.ro/en/index.php
Sixt
Address: "Stefan cel Mare" International Airport
Tel: 021 94.00 (this is valid short phone #)
Email: reservation@sixt.ro
Web: www.Sixt.ro


Accommodations
Tourist Info
Maps
Accommodations
For a list of available accommodations in Suceava please click here
or check our Accommodations Guide.

Tourist Info
Suceava Tourist Information Center
(Centrul Judetean de Informare Turistica InfoTurism Suceava)
Address: Str. Stefan cel Mare 36
Telephone: 0230 551.241
Email: infoturism@cjsuceava.ro
Web: www.cni.pweb.ro
Open: Mon. – Fri. 8:00 a.m. – 4:00 p.m.; Closed Sat. & Sun.
The Tourist Information Center provides maps, brochures and information on accommodations, restaurants and transportation.
APT Bucovina Information Center (Asociatia pentru Turism Bucovina)
Address: Str. Universitatii 15-17; Room 10
Telephone: 0230 531.977
Email: contact@bucovinaturism.ro
Web: www.bucovinaturism.ro
More Information Centres in Suceava County
Gura Humorului Information Centre
Address: Complex Turistic Arinis
Telephone: 0230 230.555
E-mail: primariagh@gmail.ro
Web: www.primariagh.ro
Carlibaba Information Centre
Address: Sat Carlibaba Noua nr. 83
Telephone: 0230 575.802
E-mail: cirlibaba83@yahoo.com
Web: www.primariacirlibaba.ro
Ciocanesti Information Centre
Address: Str. Principala, nr. 374, Casa de Cultura "Florin Gheuca"
Telephone: 0755 106.194
E-mail: giosanandrei@yahoo.com, p_ciocanesti@yahoo.com
Web: www.ciocanestibucovina.eu
Ciocanesti Information Centre
Address: Str. Garii, nr.2 (Casa de Cultura)
Telephone: 0230 372.767
E-mail: salvamontdorna@yahoo.com
Web: www.vatra-dornei.ro
Suceava Weather Forecast
Please check: wwwa.accuweather.com
Postal Service & Telephone
Post offices display a postal horn symbol and the word Posta.
Main Post Office
Address: Str. Dimitrie Onciu 1
Telephone: 0230 512.222


Telephoning Suceava from Abroad
International Access Code +40 (country code) + 230 or 330 (area code) + telephone number
Suceava - Useful Telephone Numbers
Suceava Area Code (Prefix Suceava)
230 & 330
Ambulance (Ambulanta)
112
Police (Politia)
112
Fire Department (Pompierii)
112
Local & County Archives (Arhivele locale)
Address: Str. Stefan cel Mare 33
Suceava 720023
0230 203.726
City Hall (Primaria)
0230 212.696
Better Business Bureau
(Oficiul pentru Protectia Consumatorilor)
0230 530.876
Suceava Emergency Hospital
(Spitalul Judetean de Urgenta)
Address: Blvd. 1 Decembrie 1918, nr. 21
0230 222.098