George Enescu Music Festival
World's top Orchestras, Conductors and Chamber Ensembles
will perform in Romania, August 30 - September 20, 2015
The 22nd biennial George Enescu Classical Music Festival and Competition, scheduled for August 30 - September 20, 2015, will pay special tribute to Romania's most famous composer/musician.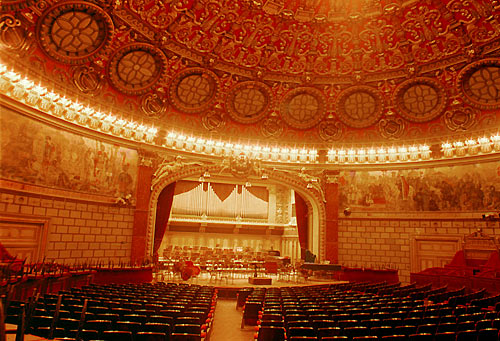 Some of the world's most famous orchestras, chamber ensembles and opera companies will perform – some premiering new works - and juried competitions
will be held for piano, violin and voice.
Already on the schedule are:
Romanian Youth Orchestra & Choir of 'George Enescu' Philharmonic (August 30), conductor: Kristyan Jarvi
Israel Philharmonic (August 31 and September 1), conductor: Zubin Mehta
Romanian National Radio Orchestra & Radio Academic Choir (September 2), conductor: Cornelius Meister
Berliner Philharmoniker (September 3), conductor: Sir Simon Rattle
Staatskapelle Dresden (September 4 and 5), conductor: Christian Thielemann
San Francisco Symphony (September 6 and 7), conductor: Michael Thilson Thomas
London Symphony Orchestra (September 8 and 9), conductor: Ion Marin
Sankt Petersburg Philharmonic Orchestra (September 10 and 11), conductor: Yuri Temirkanov
KonzertHausOrchester Berlin (September 11), conductor: Horia Andreescu
Orchestre de Chambre de Paris (September 11), conductor: Sir Roger Norrington
Bucharest Chamber Orchestra (September 12), conductor: Madalin Voicu
Bayerische Staatsoper (September 12 and 13), conductor: Constantinos Cariydis and Sebastian Weigle
Orchestra of the Age of Enlightenment (September 12 and 13), conductor: Laurence Cummings and Ivor Bolton
Choir and Orchestra of the 'George Enescu' Philharmonic (September 14), conductor: Leo Hussain
Monte Carlo Philharmonic (September 15 and 16), conductor: Gianluigi Gelmetti and Cristian Mandeal
Wiener Philharmoniker (September 15 and 16), conductor: Semyon Bychkov
MozarteumOrkester Salzburg (September 17), conductor: Thomas Dausgaard
Royal Liverpool Symphony Orchestra (September 17 and 18), conductor: Vasily Petrenko
Basel Chamber Orchestra (September 18), conductor: Heinz Holliger
Royal Concertgebouw Orchestra Amsterdam (September 19 and 20), conductor: Andris Nelsons

.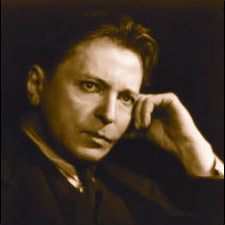 "George Enescu was one of the most prodigiously gifted musicians of the twentieth century," according to noted biographer Paul Banks, "a great violinist and composer, a distinguished conductor, an accomplished pianist, able cellist and a famous violin teacher who numbered Christian Ferras, Arthur Grumiaux and Yehudi Menuhin among his pupils. His musical memory was phenomenal, a fact that contributed to the loss of some of his own works which he composed but never wrote down."
The George Enescu Memorial Museum and headquarters of the Association of Composers in Bucharest, should be visited on any festival trip.
Built by noted architect, I.D. Berindei, in 1900 the palace is on four levels, comprising three exhibition halls, concert halls and ballroom.
Among the exhibits is Enescu's first violin, presented to him at age four.
Festival Facts:
Dates/ Duration:
August 30 - September 20, 2015 / 22 days
# of Performances/ Concerts:
150
Venues:
Romanian Athenaeum - Bucharest,
Grad Hall of the Royal Palace - Bucharest,
State Philharmonic – Arad,
Brasov Philharmonic – Brasov,
"Ateneu" Music Hall – Bacau,
State Philharmonic – Oradea,
Banatul Philharmonic – Timisoara.
Festival Packages & Tickets:
silvia.benedict@invitation-romania.ro
(011 4) 021 212.50.41
Ticket prices:
$21.00 (80 Lei) to $ 49.00 (184 Lei)