Neamt County
» Highlights
Neamt County is located in the central-eastern part of Romania.
Neighboring counties are: Suceava, Harghita, Bacau, Iasi and Vaslui.

Size:  2,276 square miles
Highest elevation: Ocolasul Mare Peak (Ceahlau Mountain) of 6,256 ft.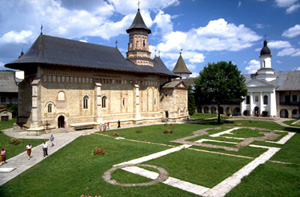 Neamt Monastery
Neamt County is an area blessed with many touristic sites: Century-old monasteries, fascinating museums, fortresses and strongholds as well as many natural parks ideal for hiking and wild-life watching. Monasteries Neamt - the oldest in eastern Romania (Moldova) and Agapia – featuring by Romania's best known painters: Nicolae Grigorescu at Agapia Monastery,  the Ceahlau Mountain - also known as The Athos of Romanian Orthodoxy - the beautiful and spectacular Cheile Bicazului (Bicaz Gorges) Vanatori natural reserve are all located in Neamt. 
» Places to explore
Ceahlau Natural Park - offers 7 well marked hiking routes for travelers to explore.  Highlights of the parc include Duruitoarea Waterfall which can be reached from the town of Durau. 
Cheile Bicazului and Hasmasu Park - an incredible place famous for its massive rock formations that guard the twisted road. The gorge is spectacular and it is accesible by car or by foot (there are 18 hiking trails).

Neamt Fortress

Neamt Fortress (Cetatea Neamtului) - a medieval stronghold located in Targu Neamt. Built in the 1400s by prince Petru Musat, Neamt reached its peak during the time of  Stefan cel Mare (Stephen the Great) Moldova's greatest leader. Today, the fortress is home to a museum where visitors can learn about life in the 15th Century.
Ion Creanga Memorial House - located in Targu Neamt, the house in which Ion Creanga – one of Romania's best known storytellers was born, is a fine example of Romanian traditional architecture.
Neamt Monastery - the oldest monastery in Neamt County that dates from the 14th Century. Here you can visit the museum of the monastery and the old church.
Dragos Voda - bison reserve – this nature reservation is located in Vanatori, a small town near Targu Neamt, on the road to Neamt Monastery.  The place is famous for being one of the few in Europe where bison (or aurochs) still live.  Other wildlife in the reserve include deer - children especially enjoy feeding them – and bears.
Sihastria, Secu and Sihla Monasteries - these three religious settlements are of special importance to the locals.  Sihla Hermitage is located near to the Cave where Saint Teodora lived and prayed for almost 40 years and built a small church made from the wood of a single tree.
Agapia, Agapia Veche and Varatec Monasteries

Agapia Monastery

– feature carpets and tapestries that are handmade by the nuns.  Homemade sweets such as 'Poale in Brau' (sweet cheese pie) and Cornuri cu Mere (apple turnover) and other sweets some of the local specialties made and offered by the nuns at these monasteries.
Bistrita Monastery - the monastery is located near Piatra Neamt and is the second oldest monastery in Neamt County (it dates from the end of the 14th century).
Cuejdel Lake - this is the largest natural dam lake in Romania; it is located near the town Garcina.

» Main Museums
Ion Creanga Memorial House (Targu Neamt) - the house where the greatest storyteller of Romania was born is located at the entrance in Targu Neamt and represents a symbol of the Romanian traditional architecture
Cucuteni Culture Museum (Piatra Neamt) - a museum that displays an impressive collection of painted ceramics.
Nicolae Popa Museum from Tarpesti village (near Targu Neamt)
Neamt Monastery Museum (Neamt Monastery)
The History and Archeology Museum (Piatra Neamt)
The Art Museum (Piatra Neamt)
The Ethnography Museum (Piatra Neamt)
The Natural Science Museum (Piatra Neamt) - famous for a unique collection of fossil fishes
Calistrat Hogas Memorial House (Piatra Neamt)
The Museum of Agapia Monastery - founded in 1927 displays religious objects, paintings, fabrics and wooden sculptures. Here you'll also see some of the paintings of painter Nicolae Grigorescu.
The Religious Collection from Varatec Moanstery
The History and Ethnography Museum (Targu Neamt)
Veronica Micle Memorial House (Targu Neamt) - the house of Veronica Micle is located in Targu Neamt, across the street from The History Museum and on the road that goes to Neamt Stronghold
The History and Ethnography Museum (Bicaz)
The History Museum (Roman)
The Art Museum (Roman)
The Natural Science Museum (Roman)
All museums in Neamt County are closed on Mondays. 
Visiting times are Tuesday through Sunday from 9 am until 5 pm (October – March) and from 10 am to 6 pm (April – September)

» Outdoor Adventures & Parks
Ceahlau Natural Park – Visitors can explore seven well marked hiking routes: three starting in Izvorul Muntelui, two in Durau, one in Stanile and one connection hiking route from Fantanele Chalet to Duruitoarea Waterfall.  Tourist attraction include: Duruitoarea Waterfall, Toaca Peak, Mt. Panaghia, Mt. Dochia and Mt. Caciula Dorobantului. Accommodations: Dochia Chalet, Fantale Chalet, Izvorul Muntelui Chalet

Bison and Wildlife Reserve

Vanatori Park - famous for its bison and Carpathian wildlife reserve and the hiking routes connecting the monasteries located in Targu Neamt area. Tourist attractions include: Neamt Monastery, Icoana Noua Refuge, Dragos Voda bison and Carpathian wildlife reserve, Sihastria Monastery, Secu Monastery, Sihla Refuge, The Cave of Saint Teodora, Agapia Monastery and Varatec Monastery.
Cheile Bicazului - Hasmasu Park - This is one of the most spectacular touristic areas in Romania.  18 hiking routes in the park offer access to the following tourist attractions: Lacul Rosu (The Red Lake), Cheile Bicajelului (Bicajel Gorge), Cheile Laposului (Lapos Gorge), Mt. "Piatra Altarului", Barnadu Village (a remote community behind the massive stone walls of the gorge), Bicajel Valley.
Cheile Sugaului - Munticelu Nature reserve, located at the entrance in Cheile Bicazului. Tourist attractions: Cheile Sugalui (Sugaului Gorge), The Tunnel Cave, Munticelu Cave, Criminisul Peak
Cozla Mountain - located in Piatra Neamt.  Access to the top of the mountain - which offers panoramic views of the city of Piatra Neamt and Ceahlau Mountain – is possible by foot and by gondola (cable car).
» Activities
Hiking, biking, skiing and wildlife watching.
» Transportation
Road access:
From the west
- DN 12C road through Gheorgheni - Lacul Rosu - Cheile Bicazului
- DN 15 road through Toplita – Borsec -
Mestecani - Campuluing Moldovenesc - Gura Humorului
- Valea Moldovei - Falticeni - Vadul Moldovei - Boroaia - Targu Neamt

From the east
- E85 road to Cristesti and continue on DN 15B 
(Cristesti - Poiana Largului - Targu Neamt)

From the south
- DN 15 road through Bacau - Buhusi - Roznov - Piatra Neamt - Bicaz - Poiana Largului
- DN 2 road Bacau - Roman - Pascani
- DJ 15D road Piatra Neamt - Roman - Vaslui
- DJ 17B road Poiana Largului - Vatra Dornei
Railway access:
You can come to Neamt County from Bacau or Pascani
Nearby airports:
Suceava Airport (40 miles from Targu Neamt) - flights Bucharest and Timisoara
Bacau International Airport – flights from Bucharest, Timisoara and several cities in Italy
Iasi International Airport – flights from Bucharest, Timisoara, Constanta, Vienna and Budapest.
» Tourist Info
www.visitneamt.com
www.viziteazaneamt.ro
Our Facebook page is
http://www.facebook.com/pages/Visit-Neamt/154027915964

Our YouTube channel is
http://www.youtube.com/user/VisitNeamt
Tourist information: Piatra Neamt Tourist Info (located in Parcul Tineretului)
» Maps
Vanatori Park Maps
www.visitneamt.com/maps-neamt-county-tourist-romania/maps-for-vanatori-park/
Museums Map
www.visitneamt.com/maps-neamt-county-tourist-romania/maps-for-museums/
Map of the Monasteries
www.visitneamt.com/maps-neamt-county-tourist-romania/maps-for-monasteries/
Touristic routes maps and brochures
www.visitneamt.com/maps-neamt-county-tourist-romania/maps-touristic-routes/