November 26 – December 26, 2011 - Great Square, Sibiu - Transylvania
Starting at the end of November and lasting till Christmas Day, the city of Sibiu - Transylvania becomes home of Romania's most authentic Christmas Market. Sibienii (the people of Sibiu) are taking great pride in their Christmas Market and visitors from all over the world as well as the locals will again have the opportunity to enjoy the wonderful Christmas atmosphere in the heart of the Old Town: Piata Mare (The Great Square).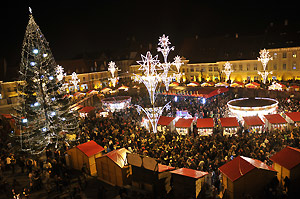 The century-old beautiful architecture which surrounds Sibiu's Great Square – now complemented with a huge Christmas tree and a natural size Nativity Scene, carved in lime wood, - provides a spectacular backdrop for an idyllic Christmas village full of the scent of fir tree, roasted chestnuts and ginger bread.
Both traditional and original handicrafts are offered for sale by artisans from all areas of Romania.  Those looking for a unique gift can visit a few or all of the sixty-five 'huts' offering potential Christmas presents.
There will be many other things to see and experience: a mini-Santa Park and the Little Gifts Shop for children, authentic Christmas delicacies (cozonac - Romania's Panettone - toasted almonds, grilled sausage, mulled wine and warm plum brandy).
And almost every day, festive concerts spread Christmas mood!
Sibiu Christmas Market is a cultural project of Austria Pro Romania Foundation and the Austrian Embassy, in partnership with Sibiu City Hall.
More info:
Mr. Andrei Dragan Radulet
Event Manager
E-mail: andrei@tlg.ro
Telephone: + 40 741 617.924
Information about Transylvania: www.romaniatourism.com/transylvania.html
Information about Sibiu: www.romaniatourism.com/sibiu.html