ROMANIA, Land of Wonders Tour
8 Day / 7 Night Romania Tour - 2019 Guaranteed Departures
Day 1
BUCHAREST – the crossroad between Orient and Occident
Arrival in Bucharest.
Transfer to your four-star hotel (Novotel city Centre or similar).
Dinner at a traditional restaurant.
Overnight in Bucharest
Day 2
Byzantine architecture and local traditionss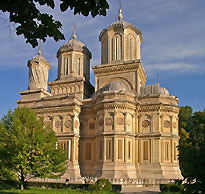 Bucharest - Curtea de Arges - Sibiu - Sibiel
After breakfast, departure to Curtea de Arges,
a former capital of Wallachia (southern Romania).
Visit the Episcopal Church, commissioned (1512) by Prince Neagoe Basarab, resting place of Romania's royalties.
Continue, on the scenic Olt Valley, to Sibiu - one of the oldest cities in Transylvania, founded by the Saxon colonists in late 1100s.
Guided walking tour of Sibiu Old Town.
Continue to Sibiel and visit the Museum of Icons painted on glass.
Dinner & overnight at "Popa Reghina" guesthouse in Sibiel
and experience century-old local traditions.
Day 3
Medieval architecture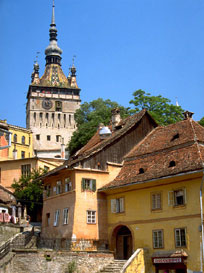 Sibiel - Biertan - Sighisoara - Targu Mures - Bistrita
Morning departure to Sighisoara, birthplace of Vlad Draculea - the Impaler,
the Romanian prince who has inspired the Novel Dracula..
En route, visit the fortified Church at Biertan.
Discover Sighisoara medieval Citadel a UNESCO World Heritage.
Lunch at the "House of Dracula" restaurant.
Continue to Targu Mures, walking tour through the elegant city centre, known for its original architecture & landmarks: the Palace of Culture, the Orthodox Churches, and the Teleki-Bolyai Library.
Continue to Bistrita and one of the seven medieval walled cities in Transylvania; visit the Gothic Cathedral (14th century) with its 200 ft. high tower dominating the city and the Gothic-style houses called "sugalete".
Bistrita is the place where Jonathan Harker, Bram Stoker's hero spent the night before arriving at Dracula's Castle.
Dinner and overnight at Hotel "Coroana de Aur".
After dinner, optional, walking tour of Bistrita.
Day 4
Hello Sweet Bucovina!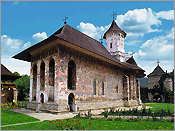 Bistrita - Moldovita - Voronet - Gura Humorului
Departure to Bucovina – the land of the unique Painted Monasteries.
Stop in Campulung Moldovenesc, visit the Museum of Wood Art and lunch.
In the afternoon, visit the Moldovita Monastery – a treasure of Byzantine art.
Continue with visits to Lucia Condrea's workshop, local creator of painted eggs, village of Vatra Moldovitei, with its traditional houses and narrow-gauge steam train.
Visit to Voronet Monastery, aka "the Sistine Chapel of the East".
Dinner and overnight in Gura Humorului at "Popas Turistic Bucovina" or similar.
Day 5
Rural Romania and her Artisans
Gura Humorului - Lacul Rosu - Miercurea Ciuc - Brasov
In the morning, we will discover more of rural Romania
Stop in village of Tarpesti and visit the unique "Neculai Popa" Museum,
where colourful masks and folk costumes are displayed.
Continue to monastery Agapia.
Lunch in lacul Rosu
Continue to Brasov along Lake Bicaz, crossing the fabulous Bicaz Gorges.
Arrive Brasov (formerly Kronstadt) founded by Saxon colonists.
Dinner and overnight at "Coroana Brasovului" Hotel (three-star) or similar.
Day 6
Brasov - the Saxon Gem of Transylvania
Brasov - Prejmer - Bran - Brasov
After breakfast, travel to Prejmer and visit the fortified Saxon church
Continue to Bran for lunch and visit to the Bran castle ("Dracula's" Castle).
In 1922, Queen Maria of Romania made the castle her Royal residence. Return to Brasov,
walking tour in the Old Town.
Time at leisure / dinner on your own.
Overnight at "Coroana Brasovului" Hotel (three-star) or similar.
Day 7
Along the Royal Way
Brasov - Sinaia - Bucharest.
In the morning, we cross the Carpathian Mountains again and stop in Sinaia, "The Pearl of the Carpathians".
Visit the fabulous Peles Castle, an exquisite piece of architecture - one of the most spectacular castles in Europe.
Peles served as the summer residence of Romania's Royal family.
Continue to Bucharest.
Lunch and panoramic tour of Bucharest, a city that features a unique mix of architectural styles.
Visit the House of Parliament
- the largest building in Europe and 2nd largest in the world -
or the residence of Romania's Communist leader Nicolae Ceausescu.
Farewell dinner at "Caru cu Bere" one of the most popular restaurants in Bucharest.
Overnight at the Novotel city Centre or similar
Day 8 - BUCHAREST
After breakfast, transfer to Bucharest airport
or start the, optional, four-day Danube Delta trip.
More information and Reservations
Optional Danube Delta Extension
Day 8
Bucharest - Tulcea - Crisoan / Sulina
After breakfast, meet your guide and depart for the Danube Delta.
Travel from Bucharest to Tulcea.
Visit the Danube Delta Museum in Tulcea.
Continue, by boat, to Crisan.
Danube Delta presentation. Two-hour excursion - by small boat – in the Danube Delta.
Dinner and overnight at a three-star hotel Crisan / Danube Delta.
Day 9
Crisan - Letea - Crisan
Sightseeing trip to the Danube Delta.
Discover Danube Delta's lakes, channels, marshes and wildlife.
Explore Europe's northernmost sub-tropical forest: Letea
A traditional Fishermen's lunch in Crisan.
Wildlife watching in the Danube Delta.
Dinner and overnight in a three-star hotel in Crisan.
Day 10
Crisan - Sulina - Crisan
After breakfast (8:30), depart to Sulina to visit the town of Sulina, its museum and the picturesque Sulina beach.
In the afternoon, explore the lakes surrounding Sulina.
Traditional farewell dinner featuring local fresh fish dishes.
Dinner and overnight in a three-star hotel in Crisan.

Day 11
Early departure to Bucharest (6:30 am).
Estimated arrival time in Bucharest is 1 pm.
Services included:
Transportation with air-conditioned vehicle / boat
English-speaking guide
Three-nights' accommodations and full board
Two Danube Delta day-trips.