Epoque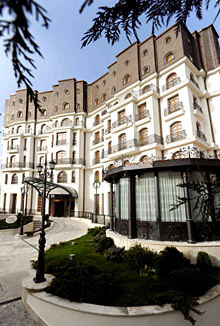 Location:
Bucharest (Bucuresti)

Year opened:
2011

Number of rooms: 45 luxury suites
The Époque is an elegant 5-star boutique
hotel located in the central area of
Bucharest, just two-minutes away
on foot from the city's oldest and most
romantic park: Gradina Cismigiu.            
The contemporary architecture of the
hotel is in complete harmony with the
neighboring historic buildings.  
The interior design features neutral colors
and carefully chosen touches inspired
by the Neo-Romanian architectural style.
The Époque is a member of WorldHotels,
a collection of accommodations
that 'uniquely reflect the culture
and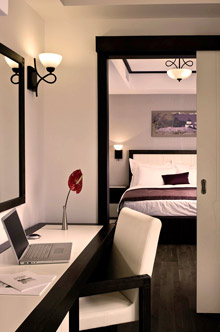 environment of their surroundings
- without exception'.
Room features:
The hotel's large suites (400 to 1,200 sq.
feet) have generous living/ working and
sleeping areas as well as a terrace or
French balcony and they offer all the
comforts of an upper-upscale hotel including
air conditioning, 24-hours maid service,
several types of pillows, free Wi-Fi Internet
access, direct international phone line,
satellite TV, safe-deposit box. 
The Époque hotel has non-smoking
and ADA accessible rooms.
Hotel Amenities:
Bistro Époque – a gourmet restaurant
featuring French cuisine reinterpreted
by its French executive chef, Lounge,
Piano Bar, summer terrace, Swisscom
business center, meeting/ function rooms,
SPA (with indoor heated pool, therapeutic
water-falls, steam/ dry sauna,  relaxation

area, facial and body treatments)
and fitness center.
Guest services:
Concierge, non-stop room service,
international newspapers, laundry /
dry-cleaning services, limousine
transportation, free valet or self parking,
free bicycle rental.
Nearby attractions:
The Époque is situated just 250-feet from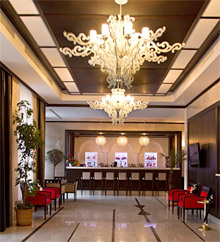 the Cismigiu Gardens and a 15-minute walk
to both the Romanian Athenaeum –
Romania's most prestigious classical music
venue - and the National Opera House.
Other attractions near to the Epoque hotel
include: the Royal Palace – Romania's
National Art Museum, the Palace of
Parliament, the Museum of Art Collections
and Bucharest's Historic District. 

Hotel website:
www.epoque.ro
Reservations: 
info@epoque.ro  or call  +4  021  312.32.32 
Address:
Intrarea Aurora  17C
010213   Bucharest 1,   Romania