Arad General Information
Fast Facts
Location: Western Romania
County: Arad
Size: 15.5 sq. miles (39.8 sq. kilometers)
Elevation: 352 ft. (110 meters)
Population: 163,000
First documented: 1459 AD
City Highlights
Straddling the Mures River and occupying parts of both Crisana province and Banat, Arad traces its history back to the 11th century. Arad developed as a major trading post during the Turkish occupation, between 1551 and 1699. After 1699, the city was ruled by the Habsburg Monarchy and in 1834 Arad was declared a 'free royal town' by Emperor Francis I of Austria.
On April 10, 1913 the first electric railroad in Eastern Europe was inaugurated (Arad - Podgoria route).
Today, Arad is an important industrial center and transportation hub, as well as home to two universities, a Romanian Orthodox theological seminary, a training school for teachers, and a music conservatory.
Churches and cathedrals in the city span four centuries, several denominations, and architectural styles ranging from baroque to neoclassic.
Arad County is also home to some important Orthodox monasteries, such as the ones from Hodos-Bodrog (dating from 1177), Bezdin (dating from 1334), Gai (built in 1760-1762), the Sf. Maria – Radna Franciscan Monastery (built in 1727 – 1826), the Princely Orthodox Church from Halmagiu (dating back to the 14th century), the Roman-Catholic Church from Sânpetru German (built in 1774).
City Landmarks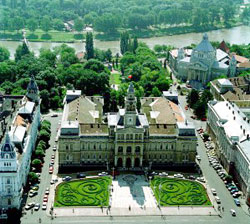 Arad is a city of impressive buildings and architecture, with many of the main sights located along the principal thoroughfare, the broad, tree-lined, Bulevardul Revolutiei with trams running along it. These include the impressive white City Hall Palace (1875), the Palace of Culture (1911-1916), the neo-gothic and secessionist-style Red Church (1906), the large, domed Roman Catholic Church (1902-1904) and the neo-classical State Theatre (1874).
There are also some delightful examples of art nouveau, in particular along Strada Closca and around Piata Avram Iancu, such as Bohus Palace. There is also an extensive open air market in the older part of the town, west of Piata Avram Iancu, overshadowed by the tall towers of the baroque Orthodox Cathedral (1865) and nearby the old water tower (1896) being restored as a museum. At the corner with Strada Mihai Eminescu you will find the Secessionist Grozavescu Pharmacy (Farmacia Grozavescu) which has preserved its original interior.
East of Piata Avram Iancu stands the Old Theatre (1817) where national poet Mihai Eminescu once worked. It became the Urania Cinema in 1903 but is now being restored as a theatre. Further south near Piatra Veche, lies the old Jewish quarter and a couple of synagogues. Beyond spans the Serbian quarter and the attractive Serbian Orthodox Church St. Petru & Pavel (1692-1702) which was rebuilt in a baroque style in 1790.
The Arad Fortress (Cetatea Aradului), boasting a Vauban-style stronghold with a six-pointed star shape, was built under the orders of Hapsburg empress Maria Theresa between 1763 and 1783.
...
Arad Jewish Heritage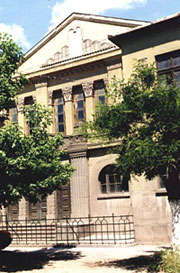 Jews have settled in Arad in the early 18th century and by the first half of the 19th century, the town became a leading center of Reform Judaism under the guidance of Rabbi Aaron Chroin who officiated from 1789 to 1844. It was he who advocated a gradual process of changes in the ritual, the use of the German language during services, and even the introduction of organ music in the synagogue.
Before World War II about 10,000 Jews lived in Arad; the community survived the Holocaust and most of them moved to Israel. At the end of the 1990s, the Jewish community in Arad was the second largest in the country (after the one on Bucharest).
The town has two synagogues, both located in the picturesque old Jewish quarter with its characteristic low houses jammed tightly together amid quiet streets and squares.
The Neolog rite (Reform) synagogue is part of the Jewish Community Center
Jewish Community of Arad
Address: Str. Tribunul Dobra 10
Tel. (+4) 0257 281.310
Website
Arad Synagogue
Address: Str. Dobra 10 (enter via Str. Cozia)
Built between 1827 and 1834 in typical Moorish style, the large Jewish Orthodox synagogue has stained glass windows and beautiful bronze doors showing Jewish symbols, including the Menorahs.
The door leads into the five-story synagogue, with a large cupola.
The Torah ark resembles a neo-classical church altar, very typical of the period.
An enormous organ, known to be one of the best in Europe, covers an entire wall.
...
Museums
Arad Art Museum
(Muzeul de Arta - Arad)
Address: Str. Gheorghe Popa 2 - 4
Tel: (+4) 0257 256.503
Open: Tue. – Sun. 10 a.m. – 6 p.m.
office@museumarad.ro
Website
Arad County History Museum
(Muzeul de Arheologie si Istorie - Arad)
Address: Piata George Enescu 1
Open:
Tue. – Sun.: 9 a.m. – 6 p.m.
E-mail
Website
Natural Sciences Museum
(Muzeul Stiintelor Naturii)
Address: Piata George Enescu 1
Open:
Tue. – Sun. 9 a.m. – 6 p.m.
E-mail
Website
...
Attractions near Arad
Eutopia Gardens - Rosarium and Dendrology Park
Where: 8 miles east of Arad
Address: Mândruloc - DN7
The largest Rosarium in SE Europe (60 acres), Eutopia Gardens is home to rare plants and over 2,000 species of roses.
Website
Telephone: (+4) 0730 101 303
E-mail
Minis Maderat Vineyard
Where: 15 miles east of Arad
www.wineprincess.ro
The vineyards of Arad stretch on the hills bordering the western part of the Zarand Mountains, between Lipova and Pancota. Star of the region is the vineyard of Minis. In 1862, at a wine contest in London, Rosu de Minis was awarded the biggest prize. More than a century before, the wines of Minis were exported to England, Sweden, the Netherlands, Germany, Switzerland and even America.
The red, native variety Cadarca, displaying a ruby-red color with a stinging taste of fresh clove, was the wine of the imperial court of Vienna during the reign of Emperor Franz Josef, in the 18th century. Pinot Noir, Merlot, Cabernet Sauvignon, Cabernet Franc and Cadarca are produced employing classical winemaking technologies, while the white wines like Italian Riesling, Traminer, Pinot Gris and Sauvignon Blanc, are obtained by using cooling zymurgy, resulting in fruity white wines of great finesse.
Website
Telephone: (+4) 0729 142 571
E-mail
Lipova Town & Spa
Where: 18 miles east of Arad
Access: car, train (Radna station)
The charming old town of Lipova served during the 17th century as a meeting point for merchants from Moldova, Muntenia, Transylvania and neighboring European countries, coming here to trade their goods at the local bazaar.
The local mineral waters have been known since the 16th century; in 1892 a natural treatments resort (Baile Lipova) was established here. The springs with mineral water are located 1.6 miles away from the centre of the city. The mineral waters are ferruginous, rich in bicarbonate, calcium, sodium and magnesium (bottled at Lipova) and they are recommended in the treatment of cardiovascular diseases, in the diseases of the digestive tract, or associated affections.
Website
Soimos Fortress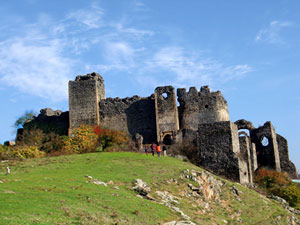 (Cetatea Soimos)
Where: 20 miles east of Arad
Website
Just east of Lipova lay the ruins of Soimos Fortress (Cetatea Soimos), once guard keeper of the trading route between Transylvania and Crisana. Dating from the 13th century, the fortress was later abandoned around the year 1790. Vestiges of the Renaissance stonework can still be admired today.
Zarand Land
(Tara Zarandului)
Where: 40-60 miles east of Arad
An interesting ethnographic area, Zarand Land is home to the traditional villages of Barsa, Barzava, Birchis and Buteni. Local handicrafts include: embroideries, sheepskin coats made by the furriers in Buteni, sleeveless jackets made in Bata, pottery molded by potters in Birchis.
Traditional peasant's households have been remarkably preserved in the villages located in the mountainous zones.
Day Trips
Oradea
Where: 76 miles north of Arad
Oradea is one of the most beautiful cities in Romania, known for its relaxed atmosphere and Secession architecture.
Oradea info
Timisoara
Where: 35 miles south of Arad
The largest city in westwern Romania, and one of the main university centres in the country,
Timisoara is known for its spectacular architecture and its vast parks.
Timisoara has been designated as a 2023 European Capital of Culture.
Timisoara info
Corvin Castle -- Hunedoara
Where: 115 miles east of Arad
A spectacula Gothic-style structure, Corvin is one of the most beautiful castle in Transylvania.
Corvin Castle info
Performing Arts
Arad State Philharmonic Orchestra
(Filarmonica de Stat Arad)
Address: Piata George Enescu 1
Tel: (+4) 0257 281.554
www.FilarmonicaArad.ro
...
CITY ESSENTIALS
Accommodations
Selected accommodations in Arad
...
Transportation
Air
Arad Airport
Address: Calea Aeroportului 4
Telephone: (+4) 0257 254.203
Website
Arad International Airport is located 2.6 mi west of Arad city centre.
Other airports, not far from Arad:
Timisoara (TSR) - 33 miles south
Oradea (OMR) - - 76 miles north
...
Travel by car to / from Arad
The fastest route from Bucharest to Arad is via A1 / E81 / E68:
Bucuresti – Pitesti – Ramnicu Valcea – Sibiu – Alba Iulia – Deva - Arad
The fastest route from Budapest to Arad is on E75 - E68:
Budapest - Szeged - Nadlac - Arad
Distance from Arad to:
City
Distance (Miles)
Bucharest
343
Baia Mare
197
Brasov
263
Cluj Napoca
171
Constanta
478
Iasi
402
Oradea
76
Satu Mare
156
Sibiu
173
Sighetu Marmatiei
214
Suceava
353
Timisoara
33
...
Arad Train Transportation
Arad Train Station
(Gara Arad)
Address: Piata Garii 8 - 9
Tel: (+4) 0257 231.777
The train station is located 1.5 miles north of the centre.
Trams # 1 and 3 connect the train station with downtown Arad.
There are daily trains connecting Arad with: Budapest, Prague, Warsaw, Berlin, Munich, Vienna, Brasov, Cluj Napoca, Sibiu, Bucharest, Oradea, Timisoara, Constanta, Iasi, Baia Mare, Suceava.
SNCFR Ticket Office
(Agentia SNCFR Arad)
Address: Str. Ioan Metianu 16
Tel: (+4) 0257 280.977
Open: Mon. - Fri.: 9 a.m. – 5 p.m.;
Closed: Sat. & Sun.
Services offered: train schedules / information and tickets for future travel.
Tickets for same-day travel are only available at the train station.
...
Bus Transportation
Arad Bus Stations
(Autogara Arad)
Address: Calea Aurel Vlaicu (near to the train station)
Daily domestic bus service from/to:
Bacau, Baia Marem, Brasov, Bucuresti, Cluj Napoca,Sebes, Fagaras, Oradea, Targu Jiu, Timisoara
...
Public Transportation
15 tramway and 18 bus routes connect Arad's main areas and tourist attractions.
...
Arad Taxi
| Taxi company | Phone # |
| --- | --- |
| Favorit | 0257 280.000 |
| Taxi Arad | 0257 940 |
| Taxi Alfa | 0257 945 |
| Europa | 0257 941 |
| Alfa Plus | 0257 949 |
| Mirco Mili | 0257 230.530 |
| Star | 0257 212.222 |
| Verbita | 0257 944 |
...
Arad Car Rental Companies
EuroCars Romania
Address: Calea Bodrogului (Arad Airport)
Tel: 0727 373.799
E-mail
Website
Promotor Rent a Car
Address: Calea Aeroportului 4 (Arad Airport)
Tel: 0734 403.403
E-mail
Website
Sixt
Address: Calea Aeroportului 4 (Arad Airport)
Tel: 021 94.00 (this is valid short phone #)
E-mail
Website
Tourist Info
Arad Tourist Information Center
(Centrul de Informare Turistica)
Address: Blvd. Revolutiei 81
Tel: 0357 731.296
E-mail
Website
Arad Tourist Information Center provides maps, brochures and
information on accommodations, restaurants and transportation.
Genealogy searches
Arad County Archives
(Directia Judetean Arad a Arhivelor Nationale)
Address: Str. Ceaikovski 2 - 6,
Arad, postal code 310052
Telephone: 0257 233.818
E-mail
Open:
Mon., Tue., Wed. & Fri.: 8:30 a.m. – 4:30 p.m.
Thu. 8:30 a.m. – 6:30 p.m.
Consumer Protection Agency
(Oficiul pentru Protectia Consumatorilor – Arad)
Address: St. Revolutiei 50
Telephone: (+4) 0257 257.049
E-mail
...
Postal Services
Post offices display a postal horn symbol and the word Posta.
Arad Main Post Office
Address: Str. Caius Iacob 4
Tel: (+4) 0257 232.222
www.posta-romana.ro
Telephoning Arad from Abroad
International Access Code (011 for US) + 4 (country code) +
+ 0257 or 0357 (area code) + six-digit telephone number
Arad Maps
-
Arad City Map (Harta Orasului Arad)
-
Romania Physical Map (Romania - Harta Fizica)
-
Romania Detailed Road Map (Romania - Harta Detaliata)
-
Romania Road Map (Romania - Harta Drumurilor, Sosele)
-
Romania Rail Map (Romania - Harta Cailor Ferate)