Also labeled "the Road to the Sky", "the Road to the Clouds", "the Best Driving Road in the World" and even "A spectacular Monument to Earth-Moving Megalomania" the TransFagarasan climbs, twists and descends right through Moldoveanu and Negoiu - the highest peaks in Fagaras Mountains and in Romania. This is no pass through a gap but a frontal assault, a stark and spectacular reminder of unchecked power stamping itself on an obstreperous landscape.
Also known as the "Transylvanian Alps", the Fagaras Mountains are rich in unique wildlife and scenic hiking and biking trails.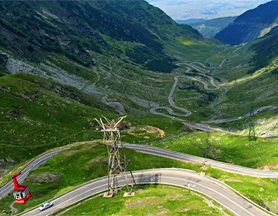 Built for military purposes at the initiative of Romania's last communist leader Nicolae Ceausescu, this dynamite-forged road connects two of Romania's historic provinces Transylvania (the Center) and Walachia (the South) through a series of five tunnels, 27 viaducts and 831 small bridges.
The TransFagarasan ranges in elevation from 1,630 feet at Cartisoara to almost 6,700 feet at Balea Lac. The road is below the tree line until about 5,000 ft. and then it opens up and reveals itself.
No visitor should not get discouraged by the significant elevation difference; the road is a relatively easy climb even for bicyclists weighted down with all necessary equipment.
The Transfagarasan was engineered to be accessible to heavy military vehicles and the gradient is never too steep, hence the many hairpin bends or switchbacks. During off-season and week days, the Transfagarasan is still relatively unperturbed by the motoring masses.
However, this scenic road can get quite crowded during vacation months (July and August) and weekends.
TransFagarasan Facts:
Begins: Curtea de Arges (95 miles NW of Bucharest)
Ends: Cartisoara (30 miles east of Sibiu)
Distance: 71 miles (114 kilometers).
# of tunnels: 5
TransFagarasan tunnels dimensions:
Width (d1): 6 m (19.5 ft.) to 7.2 m (23.5 ft.)
and
Height (d2): 3.9 m (12.8 ft.) to 4.2 m (14 ft.)
Note:
Feedback and Video we have received from a German visitor (www.3WeltReisen.de),
confirms that although a TransFagarasan road sign shows that the height of an underpass is 3.6 m (11.8 ft.)
a 3.9 m (12.8 ft.) high vehicle crossed all TransFagarasan tunnels and underpasses with no problem;
obviously, road sign needs to be updated.
Gateway cities:
Sibiu (30 miles W) and Brasov (65 miles E) of Cartisoara,
Pitesti (23 miles S) and Bucharest (96 miles S) of Curtea de Arges
Open end-to-end: late June through end of October (weather permitting).
Road condition: paved, good.
Highest point: 6.699 ft (2042 m) - Lake Balea
Route time: 3 hours, without stops. A leisurely drive can take all day.
Points of note:
Curtea de Arges Monastery,
Poenari - Vlad the Impaler's fortress, Vidraru Lake and Dam,
Golul Alpin nature reserve, Balea Glacial Lake, Balea waterfall.
Built after plans by French architect Andre Lecomte de Nouy, Curtea de Argeș train terminal is beautiful Neo-Romanian style structure adorned with enameled ceramic and fish scale roof tiles, brought from Italy. A Paul Garnier clock, manufactured in late 1800s, can still be seen on the side of the building facing the rail tracks.
Current road status/ traffic conditions on TransFagarasan
Map: Map of TransFagarasan Route
Video: Transfagarasan video
More Scenic Drives: TransAlpina, TransBucegi