General Information
Fast Facts
Location: Western Romania (County: Timis)
Size: 52 sq. miles (130.5 sq. kilometers)
Elevation: 310 ft. (90 meters)
Population: 319,500
Inhabited since: 200 BC
First documented: 1212 AD
Timisoara - City Highlights
The first record of the city of Timisoara, built on the site of an ancient Roman fortress called Castrum Regium Themes, dates back to 1212.
Over the years, Timisoara, the largest city in western Romania, has been influenced by many cultures. The Romans used it as an important crossroads fortress until the Tatars destroyed it in the 13th century. Conquered by Turkish armies in 1552, Timisoara remained under their protection until 1718 when the region of Banat came under Austrian rule for two centuries. Timisoara later became a vital commercial and manufacturing town. Turks, Austrians, Germans and Serbs all left their mark and their influence can be seen in neighborhoods throughout the city even today.
The charm of this city, settled on the northern bank of the Bega River, lies in its distinct architectural character and vibrant cultural life. Frequently referred to as "Little Vienna," Timisoara is home to year-round musical and theatrical performances, art galleries, museums and a buzzing nightlife. A progressive, cosmopolitan place, Timisoara was the first city in Europe and second in the world after New York, to use electricity to illuminate its public streets.
Timisoara was the first European city to introduce horse-drawn trams (in 1869) and electrical street lighting (in 1889);
Timisoara was built on a swamp; the Metropolitan Cathedral has 5000 oaks supports underneath it;
Johnny Weissmuller, Hollywood's original Tarzan, was born here.
Thanks to its mild climate, Timisoara has lots of public squares and lush green retreats. The city is easy to explore on foot. If you get tired, a tram will be along in a moment; the system is fast, frequent and efficient.
Timisoara abounds with churches of several denominations, a Jewish quarter, an elegant baroque square and a pedestrian-only downtown area. Some of the monuments in the heart of the city afford panoramic views, while the many parks in this "city of flowers" provide an idyllic spot to take a break from sightseeing.
Landmarks
In many respects, it is the abundance of Secessionist architecture that has provided Timisoara with its rather appropriate moniker, "Little Vienna." Secessionism developed in two distinct architectural phases here. Sinuous lines and floral decorations characterized the first phase which lasted until 1908. The second phase, which continued until the First World War, saw simpler, larger buildings with geometrical designs. Secessionism in Romania was an important link between the Byzantine style and later modernist architecture.
Victory Square (Piata Victoriei)
Some of the city's most interesting sites are its elegant baroque buildings, spread around town and particularly along the main square, Piata Victoriei, which stretches from Opera Square (Piata Operei) to Loga Boulevard.
The focal point is the towering Romanian Orthodox Metropolitan Cathedral (Catedrala Ortodoxa Mitropolitana) at the south side of the square. Built between 1936 and 1946, its green and red roof tiles are arranged in a mosaic design. In front of the Cathedral is a memorial to those who lost their lives during the 1989 Revolution which overthrew Communist rule. The Memorial Museum of the 1989 Revolution (Muzeul Revolutiei) offers a full insight into the revolution in Timisoara (see museum details).
Union Square (Piata Unirii)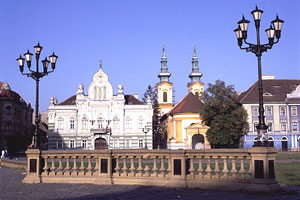 Across the town centre is the picturesque Habsburg-era Piata Unirii, so-named for the imposing sight of the Romano-Catholic and Serbian Orthodox Cathedrals facing each other. Historic pastel-hued buildings line the square. During the 18th century, this was the city's commercial centre and the venue for numerous military processions and religious ceremonies.
Nicolas Lenau College (Liceul Nicolas Lenau)
Located on the north side of the square, was built in 1761 and was home to the earliest theatre in Timisoara.
The baroque Serbian Orthodox Cathedral (Biserica Orthodoxa Sarba), built in 1745-48, and the mint green and white Serbian Bishop's Residence (Vicariatul Ortodox Sarb) with its extravagant decorations are located on the west side of the square. The Cathedral can be visited daily between 7am and 6pm.
The Roman Catholic Cathedral (Catedrala Episcopala Romano-Catolica)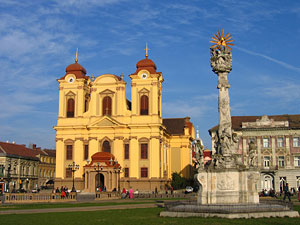 On the east side of the square was built between 1736 and 1754 to the design of Fisher von Erlach and represents a fine example of Viennese baroque style. The main altar painting was completed by Michael Angelo Unterberger, director of the Fine Arts Academy in Vienna.
The impressive 18th century Baroque Palace (Palatul Vechii Prefecturi) dominates the square's south side. Formerly the governor's residence, it now houses the Museum of Fine Arts with works by German, Flemish and Italian artists. See museum details below.
At the northwest corner of Piata Unirii stands the spectacular Scont Bank (Banca de Scont). This typical Hungarian-style art nouveau structure, built in the early 20th century, features an organic shape comprising curved walls studded with turquoise tiles forming patterns drawn from folklore, and extravagant iron gutters and window grills.
From Piata Unirii, walk east along Str. Palanca to the oldest building in Timisoara, now housing the Banat Etnographic Museum (see museum details) within the city's remaining 18th century bastion.
Freedom Square (Piata Libertatii) to Victory Square (Piata Victoriei)
Another remarkable open space in the city is Piata Libertatii which offers a great display of Secessionist architecture. The Banat region was under Turkish rule from 1552 until 1716 when the Austrian-Habsburg Prince Eugene de Savoy took over Timisoara. At this time, a seven-star- shaped bastion and gate-towers were constructed and the marshes surrounding the town were drained by the new Habsburg governor, General Mercy.
Continue along Str. Lucian Blaga to the 14th century Huniade Castle (Castelul Huniade). Built during the rule of Carol Robert, Prince de Anjou, it was completed by Iancu of Hundeoara and redesigned by the Habsburgs in the 18th century.
Residential areas
South and east of the Bega Canal are the Josefin, Elisabetin and Fabric residential districts, true gems of Jugendstil, or art nouveau, architecture, built mainly in the late 19th century. The small residential square of Piata Plevnei, south of the Bega Canal, is bordered by excellent examples of the first phase of Secessionist architecture, such as Gemeinhardt's Peacock House (Casa cu Pauni) built in 1905. Facades are covered with an abundance of typical motifs: peacocks, swans, owls and squirrels together with sinuous vines and foliage. The theme continues on the buildings lining Splaiul Tudor Vladimirescu, following the south bank of the Bega, and to a lesser extent, around nearby Piata Maria and Bulevardul 16 Decembrie 1989.
Secessionist, or Art Nouveau architecture also can be found in the cities of Arad (especially on Strada Closca and Piata Avram Iancu), Oradea (Vulturul Negru and Astoria hotels), Cluj (Odon Lechner National Theatre), Satu Mare and Targu Mures (Palace of Culture).
Jewish Timisoara
Even though Jewish presence in the Banat region dates back to the 2nd century AD, the first written mention of the Jewish community in Timisoara occurred in 1716, when the Turkish army commander surrendered the town to the Austrian Prince Eugeniu of Savoia.
In the old Sephardic cemetery, graves dating to the Turkish occupation may be seen, the oldest belonging to Azriel Assael, a Rabbi and surgeon who died in 1636. A century latter, Rabbi Meir Amigo and four followers from Istanbul were allowed to settle in the city. Following the implementation of citizen rights acts in the Austro-Hungarian Empire, Timisoara's Jewish community flourished, reaching a population of almost 7,000. Six synagogues were built in the city after 1867, the year of the Austro-Hungarian reconciliation. Today, three remain with one still active.
The New Synagogue in Fabric (Sinagoga din Fabric)
Address: Str. Splaiul Coloniei 2
One of the most beautiful buildings in Timisoara, the synagogue in the Fabric district was built in 1899 by Hungarian architect Lipot Baumhorn in a traditional Moorish style. It is currently closed for structural repairs.
Great Synagogue(Sinagoga Cetate)
Address: Str: Resita 55
This Neolog-rite synagogue, built in Oriental style in 1865, resembles the great synagogue in Oran, Algeria. One of the largest synagogues in Europe, it is currently closed for structural repairs.
Orthodox Synagogue
Address: Iosefin district
Built between 1906 and 1910, this Orthodox Synagogue is the only one in service at this moment.
Museums
Banat Museum (Muzeul Banatului)
Address: Piata Huniade 1
Tel: 0256 491.339
Email: muzeul.banatului@yahoo.com
Open: Tue. - Sun. 10 a.m. - 4 p.m.
Admission charge
Occupying a 14th century castle, this museum boasts sizeable historical and natural history sections.
Banat Museum, Ethnographic Section (Muzeul Banatului, Sectia de Etnografie)
Address: Str. Popa Sapca 4
Tel: 0256 491.339
Email: muzeul.banatului@yahoo.com
Open: Tue. - Sun. 10 a.m. - 4 p.m.
Admission charge
Exhibits of textiles, folk costumes, and glass-painted icons are on display.
Museum of the Communist Consumer (Muzeul Consumatorului Comunist)
Address: Str. Arhitect Laszlo Szekely 1
Tel: 0724 592.379
Open:
Mon. - Fri. 10 a.m. – 11 p.m.
Sat. 11 p.m. – 11 p.m.
Sun. 2 p.m. – 11 p.m.
Admission: free, donations are appreciated
Products available in Romanian stores / used in Romanian households
are displayed in a 'Communist Times' typical apartment.
This is a privately owned museum.
More Info
1989 Revolution Memorial Museum(Muzeul Revolutiei)
Address: Str. Emanuil Ungureanu 8 (behind Piata Unirii)
Tel: 0256 294.936
Email: amrtim@lasting.ro
Open: Mon. - Sun. 9 a.m. - 5 p.m.
Free admission
The Memorial Museum exhibits uniforms of Romanian militia and military, written testimonies of witnesses and participants in the Revolution, and personal documents, an audio-visual archive, a library and a collection of newspapers. A video charting the rise and fall of Nicolae and Elena Ceausescu may be shown on request.
Timisoara Art Museum (Muzeul de Arta)
Address: Str. Mercy 2
Tel: 0256 491.339
www.muzeuldeartatm.ro
Open: Tue. - Sun. 10 a.m. - 6 p.m.;
Admission charge
The collection includes works of 15th - 17th century Italian masters and prints by important European artists.
Banat Village Museum (Muzeul Satului Banatean)
Address: Aleea CFR 1
Tel: 0256 225.588
Email: E-mail
www.MuzeulSatuluiBanatean.ro
Open:
Tue. - Sat. 10 a.m. - 6 p.m.
Sun. noon – 8 p.m.
Admission charge
This open-air museum, located three miles from the city centre, exhibits more than 30 traditional peasant houses dating from the 19th century. Wood, stone and clay homes were taken piece by piece and set up in the beautiful surroundings of Padurea Verde (Green Forest). Craftsmen's fairs and folk shows are held here periodically.
Serbian Bishops' Collection (Muzeul Diocezei Ortodoxe Sarbesti)
Address: Piata Unirii 4
Tel: 0256 430.426
Open: Mon. - Sun. 7:30 a.m. - 3:30 p.m.
Admission charge
The collection includes portraits and outstanding 18th century icons.
Nearby Attractions
Recas Vineyards
Where: 12 miles east of Timisoara
Access: car, bus, train
www.RecasWine.ro
Taste white, red and rosé wines, such as Cabernet Sauvignon, Burgund Mare, Merlot, Cadarca, Feteasca Regala or Creata at Recas Wine Cellars (Cramele Recas). A visit at the cellars will give you the opportunity to attend a presentation of the wine making process in the Barrique Hall, and the conservation of bottled wines in the Recas vinoteque - featuring stocks of exceptional vintages.
Satchinez Ornithological Reserve / Satchinez Marshes
Where: 19 miles NW of Timisoara
Access: car, bus
Map / Location
Size: 305 acres
Best time to visit: April through September
210 species of birds, including the little egret (Egretta garzetta), the great white heron (Ardea alba), the yellow heron, the little cormorant (Microcarbo niger) and the black-winged stilt (Himantopus himantopus) can be observed spring, summer and fall.
Day Trips
Arad
Where: 30 miles north of Timisoara
Access: car, bus, train
www.RomaniaTourism.com
Lugoj - Densus - Colti
Where: 37 - 100 miles east of Timisoara
Access: car
Visit the old town centre in Lugoj with its 18th century Orthodox Church of the Assumption,
one of the most representative baroque buildings in Banat.
French writer Jules Verne was inspired by the Colti fortress when he wrote his novel
"The Castle in the Carpathian Mountains" (Castelul din Carpati).
His other two novels whose actions take place in Romania are
"The Danube Pilot" and "The Stuborn Keraban".
Next, cross the Carpathians into Transylvania and stop by at Densus, where you can find one of the oldest Romanian churches. This stone monument was built in the 13th century, and some historians assume it is a re-shaped Roman mausoleum. Build from river rocks, bricks with Roman inscriptions and funerary stones, the Saint Nicholas Church at Densus makes for an interesting visit.
Couple of miles east, climb up to the ruins of the Colti fortress* in Suseni.
The Castle was first mentioned in a written document the 14th century as belonging to the Cindea family. From up here enjoy a spectacular view over the rugged peaks and ridges of the Retezat Mountains.
Corvin Castle - Hunedoara
Castelul Corvinilor
Where: 105 miles east of Timisoara
Access: car, bus, train
Drive over picturesque hills with secluded villages to Hunedoara. During the 14th and 15th centuries, Hunedoara was one of the main iron extraction and processing centres in Transylvania. The swords and spears manufactured here during this period were renowned across Europe. The town is home to the mighty 15th century Corvinilor Castle (Castelul Corvinilor), one of the most important examples of gothic architecture in Central and Eastern Europe.

More information about Corvinilor Castle
The region around Hunedoara was one of the earliest settled parts of Romania. Deep in the mountains above Orastie you will find Neolithic remains and vestiges of the Dacian citadels, including Sarmizegetusa Fortress (UNESCO World Heritage Site), seat of kings Burebista and Decebal. The former Dacian capital was conquered by the Romans in 106 AD. Today you can still admire remnants of the forum and the stone amphitheatre, where gladiator shows were held.
Near Hunedoara, you can take in the scenery of Woodlanders' Country (Tara Padurenilor), a region where people have maintained their traditional dress and folklore.
Retezat National Park
(Parcul National Retezat)
Where: 130 miles east of Timisoara
Access: car, bus
Retezat National Park Info
Set amid one of Romania's most beautiful mountain ranges, Retezat National Park claims some of the highest rocky peaks (such as Retezatu and Peleagu, both more than 8,202 ft. in height) reflected in a string of over 80 clear glacial lakes. A hiker's paradise, Retezat became Romanian's first national park in 1935 and later, a biosphere reserve.
Herculane Thermal Baths
(Baile Herculane)
Where: 100 miles southeast of Timisoara
Access: car, bus, train
Visit one of oldest thermal spas in the world.
Legend says that Hercules cured the wounds inflicted by the Hydra by bathing in the mineral springs of this area.
Take time to relax in the hot spring near the once stunning, now in need of restoration, 19th century centre of the town.
Performing Arts
Symphonic Music
Banat Philharmonic
(Filarmonica de Stat Banatul)
Address: Blvd. C.D. Loga 2
Tel: 0256 495.012
E-mail
www.FilarmonicaBanatul.ro
Opera & Ballet
Romanian Opera House
(Opera Nationala Romana Timisoara)
Address: Str. Marasesti 2
Tel: 0256 201.286
E-mail
www.ort.ro
The construction of the Romanian Opera House, began in 1871 and ended four years later.
It was designed by Viennese architects, Helmer and Fellner who have also helped build concert halls in Budapest, Vienna and Odessa.
The murals in the concert hall are inspired by history and popular Romanian fairytales. Opera in Timisoara was appreciated as far back as the end of the 18th century. Joseph Strauss started out as Musical Director at Timisoara, where he composed and presented the world premiere of Faust's Life and Deeds. Franz Liszt also performed in Timisoara in 1846.
Theatre
National Theatre
(Teatrul National Timisoara)
Address: Str. Marasesti
Tel: 0256 201.288
E-mail
www.TNTimisoara.com

German State Theatre
(Teatrul German de Stat)
Address: Str. Marasesti 2
Tel: 0256 201.291
E-mail
www.TeatrulGerman.ro

Hungarian State Theatre
(Teatrul Maghiar de Stat Csiky Gergely)
Address: Str. Alba Iulia 2
Tel: 0256 134.814
E-mail
Website

Timisoara Puppet Theatre
(Teatrul pentru copii si tineret "Merlin")
Address: Blvd. Tineretii 3
Tel: 0256 493.049
E-mail
www.teatrul-merlin.ro

Festivals and Events
A compilation of Romania's main events is available at
www.RomaniaTourism.com/Festivals-Events
Below is a selection of planned events in Timisoara in 2020:
March 12 - 16
Timișoara
Salsa Dance Festival "Salsa with Attitude"
(Festivalul International de Dans Salsa - Timișoara)
SalsaAddictedFestival.com
March 27 - April 20
Timișoara,
Timișoara Easter Market
(Targul de Pasti - Timișoara)
More Info
Facebook / PasteleLaTimisoara
April 24 - 26
Timisoara - Victoriei Square (Piata Victoriei
Timisoara Flower Show "TimFloralis"
(Festivalul Floral Timisoara)
More Info
TimFloralis - Timișoara
May 1 - 3
Timișoara,
Diskoteka – Retro Music Festival
(Festivalul de Muzica Retro Diskoteka)
Diskoteka.ro
May 14 - 16
Timișoara,
Timișoara Students' Festival
(Festivalul Studentilor din Timișoara)
More Info
May 30 – June 1
Timișoara,
Timișoara Children's Festival
(Festivalul Copiilor - Timișoara)
More Info
June 1 - 7
Timișoara,
Timișoara Arts Festival
(Festivalul Artelor Timisorene)
More Info
FestArte.ro
June 4 - 7
Timișoara,
Music Festival "Bega"
(Festivalul – Concurs National de Muzica 'Bega')
More Info
June 5 - 14
Timișoara,
Short Films Festival "TresCourt"
(Festivalul de Film Scurt 'TresCourt')
TresCourt.com
July 3 - 5
Timisoara,
Timisoara International Jazz Festival "JazzTM"
(Festivalul International de Jazz – Timisoara)
Facebook
JazzTM.ro
July 8 - 12
Timisoara,
Timisoara International Festival of Folklore "Festival of the Hearts"
(Festivalul Inimilor – Timisoara)
Facebook
FestivalulInimilor.ro
July 16 - 19
Timisoara,
Timisoara International Film Festival "Ceau, Cinema"
(Festivalul International de Film 'Ceau, Cinema')
CeauCinema.ro
August 1 - 3
Timișoara,
Timișoara Festival
(Festivalul Annual 'Ziua Timișoarei')
More Info
August 4 - 6
Timișoara,
River Bega 'Boulevard' Festival
(Festivalul 'Bega Bulevard')
More Info
August 28 - 30
Timișoara,
Timișoara Opera and Operetta Festival – part I
(Festivalul de Opera si Opereta - Timișoara)
More InfoORT.ro
September 4 - 6
Timișoara,
Timișoara Opera and Operetta Festival – part II
(Festivalul de Opera si Opereta - Timișoara)
More InfoORT.ro
September 11 - 13
Timisoara,
Timisoara International Music Festival "Plai Festival"
(Festivalul International de Muzica 'Plai')
Facebook
Plai.ro
September 20
Timișoara,
Festival of Timisoara's Ethnic Minorities
(Festivalul Minoritatilor Etnice din Timisoara)
More Info
October 16 - 18
Timișoara,
Timisoara Wine Festival
(Festivalul Vinului - Timisoara)
More Info
October 23 - 25
Timișoara,
Timisoara Street Performers Festival
(Festivalul Cantaretilor Stradali)
More Info
November 28 – January 10
Timișoara,
Timisoara Christmas Market
(Targul de Craciun - Timisoara)
More Info
City Essentials
Transportation
By air
Traian Vuia International Airport (TSR)
Address: Str. Aeroport 2
Tel: 0256 493.639
Email: office@aerotim.ro
Web: www.aerotim.ro
The airport is located six miles from the city centre. Taxis are readily available outside the arrivals area. Bus #26 offers service to the city centre, with stops at Piata Badea Cartan and Hotel Continental.
Airlines with service to Timisoara:
Austrian Airlines– www.aua.com
Direct flights from/to: Vienna
Lufthansa – www.lufthansa.com
Direct flights from/to: Munich
Tarom – www.tarom.ro
Direct flights from/to: Bucharest
WizzAir - www.wizzair.com
Direct flights from/to: France (Paris); Germany (Dortmund); Italy (Bologna, Milan, Rome, Venice);
Spain (Madrid, Barcelona, Valencia); UK (London/Luton)
By train
Timisoara North - main train station Gara Timisoara Nord)
Address: Str. Garii 2 (one mile from downtown)
Tel: 0256 491.696
There are daily trains from/to Budapest (approximate journey time - 5 hours), and Vienna (approximate journey time - 8 ½ hours). Trains to other western European cities run via Budapest.
For the list of international trains with service to/from Romania please visit:
http://www.romaniatourism.com/transportation.html#bytrain
There are daily trains to/from Bucharest, Arad, Brasov, Cluj-Napoca, Iasi, Oradea, Satu Mare, Sibiu, Sighetu Marmatiei, Suceava and several other Romanian cities.
There are daily INTERCITY (Express) trains connecting Timisoara with:
Bucharest (approximate journey time: 7 ½ hours);
Arad (approximate journey time: 45 minutes);
Cluj (approximate journey time: 5 hours);
Oradea (approximate journey time: 2 ½ hours).
To check the latest train schedules for domestic routes please visit the website of the Romanian Railways:
www.cfrcalatori.ro
The site has complete information about domestic train schedules and fares.
Note: For departures from/to Timisoara please select Timisoara Nord.
For departures from/to Bucharest please select Bucuresti Nord.
SNCFR's advance booking office (Agentia de Voiaj SNCFR Timisoara)
Address: Piata Victoria 2
Tel: 0256 491.889
Open: Mon. - Fri. 8:00am - 9:00am; Closed Sat. & Sun.
You can get train schedule information and make reservations up to 24 hours in advance. Tickets for same-day travel can only be purchased at the station.
By bus
Timisoara Bus Station # 1 (Autogara Autotim)
Address: Str. Iuliu Maniu 54
Tel: 0256 493.471
www.autogari.ro/timisoara
Daily domestic bus service from/to: Arad, Baile Herculane, Brasov, Bucuresti, Deva, Drobeta Turnu Severin, Fagaras, Hunedoara, Orastie, Sebes, Sibiu, Suceva, Targu Jiu
By car
The recommended route from Bucharest to Timisoara is:
Bucharest - Pitesti - Ramnicu Valcea - Sibiu - Deva - Lugoj - Timisoara
(A1/E81 - E673 - E70)
The recommended route from Budapest to Timisoara is:
Budapest - Szeged- Nadlac - Arad - Timisoara
(E75 - E68 - E671)
The recommended route from Vienna to Timisoara is:
Vienna - Gyor - Budapest - Szeged- Nadlac - Arad - Timisoara
(A4/E60 - E75 - E68 - E671)
Distance from Timisoara to:
| City | Distance (miles) |
| --- | --- |
| Bucharest | 347 |
| Arad | 30 |
| Belgrade | 102 |
| Brasov | 240 |
| Budapest | 195 |
| Cluj Napoca | 190 |
| Constanta | 457 |
| Iasi | 415 |
| Oradea | 100 |
| Satu Mare | 180 |
| Sibiu | 165 |
| Sighetu Marmatiei | 240 |
| Sighisoara | 200 |
| Sofia | 310 |
| Suceava | 345 |
| Targu Mures | 196 |
| Tulcea | 445 |
| Vienna | 336 |
Public Transportation
Several bus (autobuz), tram (tramvai) and trolleybus (troilebuz) routes connect Timisoara's main areas and tourist attractions.
The public transportation system runs between 4:45am and 11:15pm.
Tickets must be purchased beforehand and validated in the ticket-stamping machine upon boarding.
Tickets are interchangeable for all three forms of transport with the exception of express buses.
Taxi companies
City Taxi - 949
Dacia Taxi - 944
Eco Taxi - 0256 120.120
Getax - 962 or 0256 134.470
Grup Taxi - 946
Radio Taxi - 940
Regal Taxi - 943
Tudo Taxi - 945
Vest Taxi - 953
Car rental

Autonom
Address: Str. Revolutiei 12 & Timisoara Airport
Tel: 0256 270.280 or 0749 033.322
E-mail
www.autonom.com
Avis Car Rental - Timisoara Airport
Address: Str. Aeroport nr. 2, Ghiroda
Tel: 0256 203.234
E-mail
www.avis.ro
Avis Car Rental - Timisoara Centre
Address: Bld. Revolutiei din 1989 nr. 5
Tel: 0723 623.309
E-mail
www.avis.ro
Budget - Timisoara Airport
Address: Timisoara International Airport
Strada Aeroportului nr.1, Giarmata
Tel / Fax: 0256 386.022
E-mail
www.budget.com
City Car - Timisoara Airport
Address: Timisoara International Airport
Tel: 0256 386.090
E-mail
www.citycar.ro
Enterprise – Touring Rent Auto
International Airport Timisoara, Str. Aeroport 2 – Ghiroda
Tel: 0720 111.630
E-mail
www.touringrentauto.ro

EuroCars Romania
Address: Strada Telegrafului D5
Tel: 0727 373.799
E-mail
www.eurocars.ro

Europcar - Timisoara Airport
Address: Timisoara International Airport
Tel: 0256 386.084
E-mail
www.europcar.com.ro
Hertz - Timisoara Airport
Address: Timisoara International Airport
Tel: 0256 220.552
www.hertz.com.ro
KlassWagen
Address: Bd. 16 Decembrie 1989, Timisoara
Tel: 0722 206.879
E-mail
www.rentcartimisoara.com
Maki Car Rental - Timisoara Airport
Address: Timisoara International Airport
E-mail
www.maki-car-rental.com
Promotor Rent a Car
Address: Strada Garii nr 2, Timisoara
Tel: 0734 403.403
Email:
www.auto-rent.ro
Rodna - Timisoara Airport
Address: Timisoara Airport
Tel: 0264 403.419 or 0745 642.624
E-mail
www.rodna-trans.ro
Sixt - Timisoara Airport
Address: Timisoara International Airport
Tel: 021 94.00 (this is valid short phone #)
E-mail
www.sixt.ro
Swiso
Address: Bd. Iuliu Maniu 37
Tel: 0768 541.800
Website
Thrifty Car Rental - Timisoara Airport
Timisoara Airport
Address: Timisoara International Airport, International Arrivals Hall
Str. Aeroport nr.1, Giarmata, TM
Tel: 0740 002000
E-mail
www.thrifty.ro

Accommodations
For a list of available accommodations in Timisoara please click here or check ourAccommodations Guide.
Shopping
Antiques
Andreas Antik
Address: Piata Unirii 2
Tel: 0256 131.746
Antic Davi
Address: Str. Miron Costin 4
Ars Mundi
Address: Str. Vasile Alecsandri 10
Tel: 0256 136.003
Filimonex
Address: Str. Stefan cel Mare 28
Tel: 0256 224.462
Sananticus
Address: Str. Gheorghe Lazar 3
Tel: 0256 133.103
Wella
Address: Str. Eugeniu de Savoia 24
Tel: 0256 202.262
Handicrafts
Folk crafts, such as embroidered clothing and linen, painted or beaded eggs, carpets, pottery, woodcarvings and icons, make interesting gifts and souvenirs. Romanian peasants do magnificent embroidery on cotton, wool and leather. Look for blouses, skirts, exotic coats, rugs, tablecloths and lacework. Icons, new and old, painted on glass or wood are outstanding.
Hermes Tim
Address: Piata Victoriei 4
Galeriile de Arta Populara
Address: Piata Victoriei
Modex
Address: Piata Iancu de Hunedoara 3
Stirex
Address: Str.Vasile Alecsandri 2A (Piata Libertatii)
Tel: 0256 432.353
Tourist Info
Timisoara Tourist Information Centre Centrul de Informare Turistica)
Address: Str. Alba Iulia nr. 2
Phone: (+4) 0256 437.973
E-mail: infoturism@primariatm.ro
www.timisoara-info.ro
Open:
(May - September) - Mon. - Fri. 9 a.m. - 7 p.m.; Sat. 10 a.m.- 4 p.m.; Closed Sun.
(October - April) - Mon. - Fri. 9 a.m. - 6 p.m.; Sat. 10 a.m.- 3 p.m.; Closed Sun.
Weather
Timisoara Weather Forecast
- www.accuweather.com/en/ro/timisoara/...
Postal Service & Telephone
Post offices display a postal horn symbol and the word Posta.
Main Post Office & Telephone Centre
Address: Blvd. Revolutiei 2
Tel: 0256 492.871
Web: www.posta-romana.ro
Telephoning Timisoara from Abroad
International Access Code +40 (country code) + 256 or 356 (area code) + telephone number (six digit number)
Pharmacies & Hospitals
There are several pharmacies (farmacie) open 24 hours a day in the city.
Emergency Clinic Hospital
(Spitalul Clinic Judetean de Urgenta Timisoara)
Address: Blvd. Iosif Bulbuca 10
Tel: 0356 433.111
Genealogy searches
Timisoara / Timis County Archives
(Directia Judeteana Timis a Arhivelor Nationale)
Address: Str. Andrei Mocioni 8, cod postal 400084, Timisoara
Telephone: 0256 402.370
Fax: 0256 402.371
E-mail: salastudiu.timis@arhivelenationale.ro
www.arhivelenationaletimis.ro
Maps
- Timisoara City Map (Harta orasului Timisoara)
- Romania Maps (Harta Romaniei)