Sibiu General Information
Fast Facts
Location: Transylvania - Central Romania
Area: 46.7 sq. miles (121 sq. kilometers)
Elevation: 1,410 ft. (430 meters)
Population: 154,000
Inhabited since: 300 BC
First documented: 1191 AD
City Highlights
Sibiu (Hermannstadt in German) was the largest and wealthiest of the seven walled citadels (Siebenburgen)
built starting in the 12th century by German settlers known as 'Transylvanian Saxons'.
The riches amassed by its guilds paid for the construction of both impressive buildings and the fortifications required to protect them.
Sibiu's Old Town retains the grandeur of its earlier days when rich and powerful guilds dominated regional trade.
Like Sighisoara and Brasov, it has a distinctly Germanic feeling. Sections of the medieval wall still guard the historic area, where narrow streets pass steep-roofed 17th century buildings with gable overhangs before opening into vast, church-dominated squares such as Great Square and Little Square.
Sibiu is a pedestrian-friendly city with two distinct sections: the Upper Town, home to most of Sibiu's historic sights, and the Lower Town, lined with colorful houses on cobblestone streets and bounded by imposing city walls and defense towers overlooking the river Cibin.
In 1797, Samuel von Hahnemann opened in Sibiu the world's first homeopathic laboratory
Sibiu is home to the first hospital in Romania (1292), the first pharmacy (1494)
and the oldest museum in Romania, the Brukenthal Museum, opened in 1817
The first book in the Romanian language was printed in Sibiu in 1544.
Traditionally, the Upper-Town was wealthier and concentrated businessmen and tradesmen; the Lower-Town served as the manufacturing area. Within the limits of Sibiu Old Town are Sibiu's major attractions including the Great Square, Huet Square, the beautiful Passage of Steps (which connects the upper town to the lower town), Goldsmiths' Square, the Smaller Square as well as the Bridge of Lies.
Sibiu's Towers
(Turnurile Sibiului)
For hundreds of years, this walled town in the heart of Transylvania was one of the most powerful and prosperous strongholds in Europe. Surrounded by imposing walls, Sibiu's original fortifications included 39 defensive towers, five bulwarks, four gates and five artillery batteries.
Although the entire network is remarkably well-preserved, the best-maintained section is the southeastern side which has been reinforced several times throughout the centuries since attacks most often came from that direction.
Three 15th century towers have withstood the test of time: Harquebusiers' Tower (Turnul Archebuzierilor), Carpenters' Tower (Turnul Dulgherilor) and Potters' Tower (Turnul Olarilor). The 16-th century The thick Tower (Turnul Gros) was the site of Sibiu's first theatrical performance, staged in 1778.
The Upper Town
(Orașul de Sus)
At the centre of the upper town are three beautiful squares. The Great Square is the site of the Roman-Catholic church and the Brukenthal Palace, where you will find one of Romania's most important art collections. The square is linked to the Little Square by a passage beneath the Council Tower, which is worth visiting for the excellent views over the town. The third square, Huet Square, is dominated by the Evangelical Cathedral.
The Great Square
(Piața Mare)
First mentioned in a written document in 1411 as a grain market, the Great Square – the largest square in the city, has been throughout the centuries a quiet witness to the town's lively merchant activity, assemblies and even public executions. Located in the heart of the old walled city, the square was designated an architectural monument by UNESCO and features some of the most impressive buildings in Sibiu.
Best viewpoint of Sibiu Old Town
For an outstanding panorama of Sibiu climb to the top of the Evangelic Church Tower
(visitors with vertigo are advised against looking down when ascending or descending the stairs).
Admission 5 Lei ($1.25 US).
The Roman-Catholic Church
(Biserica Romano-Catolica)
Address: Piata Mare
The north side of the Great Square is dominated by the Roman-Catholic Church (Biserica Romano-Catolica). This beautiful baroque structure with classical decorations was built between 1726 and 1738. The tower was attached to the nave in 1738 and one year later, a cross was seated on the top. The completely renovated interior is magnificent with gold-laced walls and colorful ceiling frescoes.
Intricate stone carvings cover much of the nave while the side altars and colonnades glisten with pink marble. The fresco behind the altar was painted in 1777 by Anton Steinwald. Inside the church is the stone grave of Otto Ferdinand de Abensberg, commander of Transylvania between 1744-1747. Organ recitals are usually held once a week.
Council Tower
(Turnul Sfatului)
Address: Piața Mare
At the corner with Avram Iancu Street stand the old mayor's residence and the imposing Council Tower (Turnul Sfatului). Built in the 13-th century, this tower was used as entrance gate to the second row of fortified walls built around Sibiu. Throughout the centuries, the Council Tower served as a grain storehouse, a fire watchtower, a temporary prison and even as a museum of botany. The roof, originally built in pyramid form, has undergone various changes, culminating in the addition of four corner turrets in 1826. On the top floor, an observation deck allows a bird's-eye view of the historic town and the Fagaras Mountains beyond.
Brukenthal Palace
(Palatul Brukental)
Address: Piata Mare 4 - 5
Facing west of the square is the stunning Brukenthal Palace (Palatul Brukental), built between 1778-1785 by a Viennese architect in a refined late-baroque style. It is now the home of the Brukenthal Museum (Muzeul Brukenthal), the oldest and one of the finest art museums in the country. The palace was built by Baron Samuel von Brukenthal to serve as his residence and house his collections of Romanian and Western art, 16th – 18th century religious sculptures and icons, stamps and coins, as well as an impressive library. Over the years, the collections have been enriched through acquisitions and donations. (See museum details)
Even though the museum officially opened in 1817, its art galleries welcomed visitors 27 years earlier (1790), three years prior to the opening of the Louvre in Paris - France.
Completing the picture is the fairy-tale Blue House, an 18-th century baroque house bearing the old coat of arms of Sibiu on its facade.
The Little Square
(Piața Mică)
From the Great Square, walk through one of two tunnels under the arches of the Council Tower to arrive at the Little Square. This second fortified square was home to the town's most prestigious master craftsmen, who lived in rows of arcaded houses along the north and east sides. Today, small shops, cafes and businesses line the square.
Huet Square
(Piața Huet)
Huet Square is home to a mix of gothic buildings dominated by the Evangelical Cathedral (Biserica Evangelica). This impressive structure, featuring five pointed towers, was built in 1520 on the site of an old Roman basilica. The simple, stark interior is in total contrast to that of the Catholic Church. A gigantic fresco, painted by Johannes of Rosenau in 1445, covers much of the chancel's north wall. The mural shows the Crucifixion and marks a transition in painting from late-gothic style to renaissance style. On the south side, the choir loft boasts a beautiful fan-vaulted ceiling, home to a baroque organ designed by a German master in 1671. Six thousand pipes were installed in 1914, making it the largest organ in Romania.
Here, you can also find the city's only fully German school, the Samuel von Brukenthal Gymnasium, which exemplifies the city's proud German heritage.
The Lower Town
(Orașul de Jos)
The Lower-Town comprises the area between the river and the hill, and it developed around the earliest fortifications. The streets are long and quite wide for medieval city standards, with small city squares at places. The architecture is rather rustic: typically two-storey houses with tall roofs and gates opening passages to inner courts.
The Bridge of Lies
(Podul Minciunilor)
Several steep streets and stairways lead from the Lower to the Upper Town and,
one of them passes beneath the "Bridge of Lies" - a popular meeting place among the locals.
Built in 1859 by Fredericus Hutte, this was the first cast iron bridge in Romania.
There are several legends concerning the name of the Bridge of Lies in Sibiu.
One involves merchants who were discussing business on the bridge and trying to swindle their clients.
Another is that the bridge will collapse as soon as anyone tells a lie, while on it.
The bridge, a favorite meeting point for young lovers, 'heard' too many passionate but transitory vows.
Despite all the legends, the current name of the bridge is due to a translation error:
The bridge was initially called Liegenbrücke, German for lying bridge (built without supporting pillars),
which sounds very similar to Lügenbrücke, meaning "bridge of lies".
The Stairs Passage
(Pasajul Scarilor)
The 13th century Passage of Steps, an architectural masterpiece with twin staircases and archways, connects the Upper Town to the Lower Town. Built in the 13th century, it is one of the most picturesque places in Sibiu. At one end of the passage stands the city's oldest building which now hosts the oldest restaurant in Romania, The Golden Barrel (Butoiul de Aur).
Goldsmiths' Square
(Piața Aurarilor)
The Goldsmiths' Square, a peaceful and intimate square, is surrounded by charming old houses with medieval windows, doorways and turrets. For many years, it was the main point of passage between the Little Square and the Lower Town, the two connected by a 15th century stairway.
Haller Bastion
(Bastionul Haller)
Address: Str. Spitalelor
Located at the north end of Onofreiu Square (Piata Onofreiu), the bastion is named after Sibiu's 16-th century mayor, Petrus Haller, who had the red-brick tower built in 1551.
Historic Churches
The Orthodox Metropolitan Cathedral
(Catedrala Ortodoxa Mitropolitana Sf. Treime)
Address: Str. Mitropoliei 35
Constructed between 1902–1906 on the site of a former Greek church, it shares a similar style with Saint Sofia Cathedral in Istanbul, Turkey. The interior is dominated by a massive gold chandelier and features neo-Byzantine decorations. This is the second largest Orthodox cathedral in Romania (the biggest one is located in Iasi).
Ursuline Monastery (Manastirea Ursulinelor)
Address: Str. General Gh. Magheru 38
Built in 1474, the site was home to a Dominican Monastery until 1543 when the Lutherans took over. Known under the German name of Klosterkirche, it became a Ursuline Monastery in 1755. The Ursulines changed the gothic interior to baroque style. Outside, the building still features many of its former gothic details, including the portal and the piles. Inside, the church has three altars and beautiful paintings representing various saints and protectors of the church.
Biserica din Groapa
Address: Str. Justitiei 5
This Orthodox Church, whose name translates Church on the Gorge,
was built between 1788 - 1789 and renovated between 1802-1803.
The interior of this small church with a tower in three levels was
beautifully painted by Nicolae Brana in 1960.
Jewish Sibiu
Although documents attest the existence of Jews in Sibiu since the 12th century, the Jewish community of Sibiu was never among the biggest in Romania. In 1940 the town had some 1,300 Jews, three synagogues, three rabbis, two cemeteries and two ritual baths managed by the Sephardic and Orthodox communities. Today, the handful of Jews who remain in Sibiu hold weekly and holiday services at the Great Synagogue.
The Great Synagogue
Address: Str. Constitutiei 19
Built by architect Szalay Ferenc in 1899, with funds collected by Sibiu's small Jewish community, this synagogue boasts a neo-gothic façade. Inside, it has a basilica aspect with three naves mounted by lofts.
Museums
Brukenthal Museum
(Muzeul Brukenthal)
Address: Piața Mare 4 - 5
Telephone: (+4) 0269 217.691
E-mail
Website
Opening Hours:
Wednesday -- Sunday: 9 a.m. – 5 p.m.
Admission Fees
Sibiu is home to Transylvania's finest art museum, the Bruckenthal.
Founded in 1790 by Samuel Brukenthal, the governor of Transylvania, the museum opened to the public in 1817.
Brukenthal is the oldest museum in Romania and one of the first museums to be founded in Europe.
The art collection includes paintings by Rubens, Van Dyck and Teniers, as well as works of German, Austrian and Romanian masters. Additionally, it features a 16th century silverware collection, painted glass icons and 350 rare books, many dating to the days of the first printing press.
ASTRA Open Air Museum
(Muzeul in aer liber ASTRA -Dumbrava Sibiului)
Address: Strada Pădurea Dumbrava 16
(2 miles south of downtown Sibiu)
Telephone: (+4) 0269 242.419
Website
Opening Hours
Admission Fee
Bus # 13 connects Sibiu train station with ASTRA Museum.
ASTRA is the second largest open-air museum in the world (250 acres).
Located in the middle of a dense forest and surrounded by a beautiful lake, ASTRA features more than 300 original buildings as well as watermills, windmills, gigantic fruit and seed presses hydraulic forges and structures representing village architectural styles from many parts of Romania.
The museum illustrates the technological legacy of the Romanian people.
There is a wonderful collection of wooden farmhouses, a cherhana (a traditional collecting and storage point for fish) and sheepfolds, as well as a wooden church and two traditional inns. Guided tours are available. Another option is a visit by horse-drawn carriages (ladies, the driver will kiss your hand in greeting, an old Romanian custom).
Sibiu History Museum
(Muzeul de Istorie)
Address: Str. Mitropoliei 2
Tel: 0269 218.143
Open: Tuesday -- Sunday: 9 a.m. – 5 p.m. (wintertime 10 a.m. – 6 p.m.)
Admission charge
Sibiu History Museum is housed in the Old Town Hall (Primaria Veche), which dates to 1470 and boasts typical Transylvanian gothic civil architecture. Information and objects which illustrate the long and rich history of Sibiu and the region, from Neolithic and Roman times to the present, are presented.
An unique collection of fine silverware is also on display.
The Natural History Museum
(Muzeul de Istorie Naturala)
Address: Str. Cetății 1
Tel: (+4) 0269 213.156
Open: Tue. – Sun. 10 a.m. – 6 p.m.
Admission charge
One of the oldest and richest of its kind in Romania, this museum was founded by the Transylvanian Association of Natural Science (Siebenburgischer Verein für Naturwiessenschaften in German) in 1849. An astronomic observation centre also is located here.
Emil Sigerus Saxon Ethnographic Museum
(Muzeul de Etnographie si Arta Populara Saseasca Emil Sigerus)
Address: Piata Mica 12
Tel: 0269 218.195
Open: Tue. – Sun. 9 a.m. - 6 p.m.
(wintertime 10 a.m. – 5 p.m.);
Admission Charge
Collections of painted furniture, costumes-textiles-embroideries and pottery, initiated by Emil Sigerus, the most important collector of Transylvanian Saxon Folk Art at the end of the 19th century.
The museum also includes the original collections of the Carpathians Transylvanian Museum or MSVK opened in 1895 by the Siebenbugishen Karpathenverein Association.
Museum of Hunting Weapons and Trophies
(Muzeul de Arme si Trofee de Vanatoare)
Address: Str. Scoala de Inot 4
Tel: (+4) 0269 217.873
Open: Tue. – Sun. 9 a.m. – 5 p.m. (wintertime 9 a.m. – 4 p.m.);
Admission charge
Founded in 1966, the museum features a collection of weapons, medals and stuffed animals. Some of the exhibits are over 100 years old, such as the hunting trophies brought after a long safari in Africa by Colonel Spiess, who was a Master of Hunting of the Royal House of Romania.
Franz Binder World Ethnographic Museum
(Muzeul de Etnografie Universala Franz Binder)
Address: Piata Mica 11
Tel: (+4) 0269 218.195
E-mail
Website
Open: Tue. – Sun. 10 a.m. – 6 p.m.
The Franz Binder collections, housed in the "Hermes House" (initially called "The House of the Small Handicraftsmen's Association") built between 1865 and 1867, were established in the 19th century through donations and acquisitions from travelers and collectors. The permanent exhibition, "From the art and culture of the world – the people of the world," displays objects from various parts of the world, including northern Africa and the springs of the Nile, China, Japan, Oceania, Asia Minor, Brazil, Lapland and Australia.
Pharmacy Museum
(Muzeul de Istorie a Farmaciei)
Address: Piata Mica 26
Tel: (+4) 0269 218.191
Open: Tue. – Sun. 10 a.m. – 6 p.m.
Admission charge
Housed in a 16-th century building where the oldest pharmacy in Romania, La Ursul Negru (The Black Bear), operated for over 150 years, this museum showcases some 6,000 pieces of medical equipment from the 16th to the 19th centuries, coming from chemist shops and hospitals. Sibiu had more chemists than any other town in Transylvania. The collections of the museum cover the whole range of medical instruments, from surgical pouches, microscopes, different bowls made of wood, china, glass, bronze mortars, stands with balances and weights in the Viennese style to the oldest piece of the collection, a 1597 bronze mortar used for preparing medicines.
At the front, a reconstructed shop is decked out with wooden Viennese counters and stacks of glass jars creating the atmosphere of an 18-th century "apoteka" (German for "pharmacy").
The Steam Engine Museum
(Muzeul Locomotivelor cu Aburi)
Address: Str. Dorobantilor 22
Tel: (+4) 0269 431.685
Admission charge
Sibiu Steam Engine Museum displays 23 standard gauge steam engines, 10 narrow gauge steam engines, three snowplows and two steam cranes. The steam engines were built between 1885 and 1959 in Romania (at Resita and Malaxa Factories in Resita respectively Bucharest), Germany (Henschel, Borsig, Schwartzkopff) and USA (Baldwin). The museum is located accross the street from Sibiu train station.
Attractions near Sibiu
Sibiu makes an ideal base for the exploration of the nearby countryside and villages which display an interesting mixture of Saxon and Romanian traditions.
Mărginimea Sibiului
How to get to Mărginimea Sibiului: Local trains from Sibiu to Sebes stop at Sibiel (25 minutes), Saliste (35 minutes) and Miercurea Sibiului (1 1/4 hours).
Located at the foothills of the Cindrel Mountains, a half-hour drive from Sibiu, this region is considered one of Transylvania's best-preserved ethnographic areas. Marginimea Sibiului, meaning Borders of Sibiu, encompasses a string of 18 villages*, rich in architecture, history and heritage. Age-old traditions, customs and celebrations, as well as the traditional occupation of sheepherding, have been carefully passed down from generation to generation in the villages of this area.
* The 18 villages are: Boita, Sadu, Raul Sadului, Talmaciu, Talmacel. Rasinari, Poplaca, Gura Raului, Orlat, Fantanele, Sibiel, Vale, Saliste, Gales, Tilisca, Rod, Poiana Sibiului and Jina.
One scene among the Saliste church's frescoes remains covered at all times. It depicts the devil surrounded by naked human bodies, a subject the villagers consider too obscene to be displayed. Tourists, however, can take a look upon request.
Rășinari, dating to 1204, is the oldest, followed by Talmaciu (1318), Orlat (1322) and Saliste (1354). Saliste claims the oldest church, housing beautiful interior frescoes (1674), while Poiana Sibiului's wooden church was built in 1771.
Rășinari
One of the wealthiest villages in the region, Rășinari, is famed for its local carpentry and sheep farming. The village has an interestingEthnography Museum (open Tue. – Sun. 10 a.m. – 5 p.m.) and a painted Orthodox church built in 1752.
The annual Pastoral Album Folklore Festival takes place on the third Sunday of April.
Rășinari is connected to Sibiu by a roughly 4-mile tramline through the Dumbrava Forest.
Trams to Rășinari run every 30 mins. at peak times (7 a.m. – 9 a.m. and 1 p.m. – 3 p.m.) and every hour for the rest of the day.
Sibiel - The Museum of Painted Glass Icons
(Muzeul de Icoane pe Sticla)
Painting on glass has been a tradition for 200 years in these villages.
In 1968, the founder of the museum, priest Zosim Oancea, started to collect 18-th and 19-th century icons richly painted on glass.How to get here: Local trains from Sibiu to Sebes stop at Sibiel (25-minute ride)
Today, the museum exhibits the largest collection of painted glass icons in Europe - more than 700, as well as furniture and ceramics.
Local trains from Sibiu to Sebes stop at Sibiel (25-minute ride)
Cristian Fortified Church
(Biserica Fortificată Cristian)
Where: 5 miles west of Sibiu
Cristian Fortified Church info
Cisnădie
(German: Heltau)
Where: 6 miles south of Sibiu
How to get here: bus or car
Cisnădie was mentioned for the first time in a document from the year 1204 under the name "Rivetel." In the 12th century Saxon colonists settled here and in 1323, the German name Heltau is mentioned. During the centuries, the town flourished, particularly the guilds of sicklesmiths and wool weavers. Weaving remained the traditional occupation of the townspeople until the 20th century, when large textile factories were built. The Textile Museum (Expozitia Muzeala "Istoricul Industriei Textile") has a comprehensive coverage of this local industry. The museum, located at Str. Apararii 2 is open Mon. – Sat. 8 a.m. to 4 p.m.
The most important architectural site is the Cisnadie Fortified Church located in the town centre. A climb to the belfry offers a super view of Cisnadie's red rooftops and courtyards, while in the distance, nestled at the foot of the Cindrel Mountains, you can catch a glimpse of Cisnadiaora.
Cisnădioara
(German: Michelsberg)
Where: 2 miles west of Cisnădie and 8 miles south Sibiu
Cisnădioara is home to a historic Romanesque church dating from 1223 and a citadel, on the top a a high hill, which frequently withstood Tatar attacks. The villagers often took cover in the citadel, which they defended by hurtling down rocks which had been carried into the citadel by aspiring husbands. It was believed that no young man was marriage-worthy until he had carried a heavy rock from the riverbed up the steep track. In the centre of Cisnadioara stands an old baroque church. The local village museum contains an attractive collection of artifacts and tools from Saxon households.
Păltiniș - ski town
Where: 12 miles south west of Sibiu
How to get to Păltiniș: Bus #22 from Sibiu Gara (the railway station) with a stop at Rășinari
Departure times from Sibiu: 7 a.m., 11 a.m., 3:30 p.m. and 7:30 p.m.
Departure times from Paltinis: 9 a.m., 1:30 p.m., 5:30 p.m. Founded in 1894 by the Transylvanian Carpathian Society (S.K.V.), Păltiniș (German: Hohe Rinne) is Romania's ski town located at the highest altitude (4,724 ft. / 1,440 m) . A favorite for ski enthusiasts, Păltiniș, with its beautiful location, fresh air, and numerous hiking opportunities, is also an attraction for summer hikers. Marked trails make it easy to reach the main points on the surrounding mountains. Most of the trails are suitable for mountain biking, as well.
Other attractions near Sibiu include:
The Energy Museum "Sigmund Dachler" in Sadu where in 1896, the first hydropower plant in Romania and the third in Europe was opened
Orlat Fortress (1317)
Săliște Culture Museum in Săliște
The Dacian Fortress near Tilișca
Dobarca Fortified Church (13th century)
Day Trips
Taking the Transfăgărășan Highway (DN7C)
Where: 25 miles southeast of Sibiu
How to get here: car, tour bus
Travel advisory: The TransFagărășan is open - weather permitting - only four months a year (July 1 - or late June - to October 31).
The winding road with long S-curves, steep ramps and descents is a challenge; the average cruise speed is around 25 mph.

25 miles east of Sibiu, DN7C (national road 7C), also known as the Transfăgărășan road, branches off the road to Brasov, heading straight for the towering Făgăraș Mountain range. This two-lane road, the highest paved road in the country (6,673 ft; 2,034 m), connects the two historic regions of Transylvania and Walachia, namely the cities of Sibiu and Pitesti. The road, built across the Fagaras Mountains (part of the southern Carpathians, the highest mountains in Romania), makes for a perfect weekend trip from Sibiu (or even a very long day trip) if you have your own transportation, offering breath-taking views around every one of its many twists and turns.
The Transfăgărășan road was built in the 1970s so that Romanian troops and tanks could cross over the Carpathian Mountains quickly in case of a Soviet-led invasion. The efforts made in its construction were enormous. Built by soldiers in only four and a half years, it required more than 13 million pounds (6 million kilos) of dynamite to blast through the rocks on the north side - that's 625 train wagons.
It has more tunnels and viaducts than any other road in Romania. In the vicinity of the highest point, at Lake Balea (Balea Lac), the road passes through Romania's longest road tunnel (about 2880 ft; 900 m), connecting the north and south valleys. The difference between the two sides is stunning. While on the northern side the landscape is barren and alpine as the road makes its way up an amazing glacial valley, on the southern side the road drops gradually through pleasant green scenery. If you will continue your journey on the south side towards Pitesti, you can make a stop at the beautiful Vidraru Lake & Dam, the (real) Dracula Castle ruins at Poienari and Curtea de Arges Monastery.
Curtea de Arges – Horezu Monastery (UNESCO World Heritage Site) &
Horezu Pottery centre (via Ramnicu Valcea)
Where: 70 miles southeast of Sibiu
How to get here: car
Traveling through the twisting and turning gorges of the Olt River to Curtea de Arges, you can make a stop at the beautiful Cozia Monastery. Once you get to Curtea de Argeș, visit the 14-th century Princely Court and the Princely Church with its lovely interior frescoes. According to tradition, Curtea de Arges was founded in early 14th century by Prince Radu Negru, succeeding Campulung as capital of Walachia, hence its name Curtea (The Court).
Another stunning architectural gem in town is the 16-th century Curtea de Arges Monastery (Manastirea Curtea de Arges), topped with two towers spiraling in opposite directions. Behold the sad legend of Manole* as you take in its beauty. Romania's first two kings and queens are buried here.
* The legend says that Manole, the master builder, had to sacrifice his wife by locking her into the wall to stop the monastery from falling apart.
Fifty miles west of Curtea de Arges, you can visit Horezu Monastery, the largest monastic settlement in Walachia, founded in 1690 by Prince Constantine Brancoveanu. A masterpiece of the "Brancovenesti" style and a UNESCO World Heritage site, Horezu is renowned for the richness of its sculptural detail, the treatment of its religious compositions and its painted decorative works. The monastery houses precious collections of frescoes and icons dating from the end of the 17th century and the beginning of the 18th century.
The nearby village of Horezu is home to one of the largest pottery centres in Romania. Nearly a century ago, local nuns taught the villagers how to make and paint pottery and ever since, people have come from far and wide to get their hands on Horezu's ceramics.
The Fortified Church at Valea Viilor (UNESCO World Heritage Site)
Where: 32 miles north of Sibiu
How to get here: By car
The Fortified Church at Biertan (UNESCO World Heritage Site)
Where: 45 miles northeast of Sibiu
How to get here: car
Biertan more info
Town of Sighișoara (UNESCO World Heritage Site)
Where: 55 miles northeast of Sibiu
How to get here: car, bus
Sighișoara is, arguably, Europețs most beautiful, authentic, medieval citadel, Sighișoara more info
The Fortified Church at Saschiz (UNESCO World Heritage Site)
Where: 65 miles northeast of Sibiu
How to get here: By car
RomaniaTourism.com...Saschiz
Făgăraș Fortress
Where: 45 miles east of Sibiu
How to get to Făgăraș: bus, train, car
Fagaras more info
City of Brașov & Poiana Brașov ski town
Where: 85 miles east of Sibiu
How to get here: Daily bus or train service from Sibiu
Brașov more info
Hărman Fortified Church
Where: 95 miles east of Sibiu
How to get here: car, bus from Brașov
Hărman more info
Prejmer Fortified Church
Where: 100 miles east of Sibiu
How to get here: car, bus from Brașov
Prejmer more info
Bran (Dracula's) Castle
Where: 105 miles northeast of Sibiu
How to get here: car, bus, train to Brașov then bus
Bran Castle more info
Peleș Castle - Sinaia
Where: 110 miles southeast of Sibiu
How to get here: train, bus, car
Peleș castle more info
Câlnic Fortified Church at (UNESCO World Heritage Site)
Where: 30 miles northwest of Sibiu
How to get here: By car
www.RomaniaTourism.com/Castles-Fortresses.html#Calnic
Medieval town of Sebes
Where: 35 miles northwest of Sibiu
How to get here: Daily bus or train service from Sibiu
www.RomaniaTourism.com/Sebes.html
Performing Arts
Symphonic Music
State Philharmonic - Sibiu
Address: Str. Cetatii 3-5
Tel. (+4) 0269 210.264
E-mail
Website
Weekly classical music concerts take place in the newly renovated Thalia Hall, a concert hall dating from 1787.
Theatre
Radu Stanca National Theatre
Address: Bd. C. Coposu 2
Tel: (+4) 0269 210.092
E-mail
Website
One of the leading Romanian theatres, with origins dating back to 1787, it attracts some of the best-known Romanian directors. This theatre has both Romanian-language and German-language sections and presents an average of five shows a week.
Gong Theatre
Address: Str. Alexandru Odobescu 4
Tel: (+4) 0269 211.349
Website
Specializing in puppetry, mime and non-conventional shows for children and teenagers,
Gong theatre offers performances in both Romanian and German.
Festivals & Events
Sibiu Easter Fair (April)
Sibiu Jazz Festival (May)
Sibiu International Theatre Festival (June)
Carl Filtsch International Piano Competition and Festival (July)
National Festival of Folk Traditions (August)
Craftsmen's Fair (August)
Annual Pottery Fair (September)
Sibiu Christmas Market (November - December)
City Essentials
Transportation
Sibiu is easily accessible from Bucharest (Bucuresti):
By plane (45 minutes),
By train (approximately 5 hours and 30 minutes) or
By car - via scenic routes over the Carpathians (approximately 4 hours and 30 minutes).
By air
Sibiu International Airport - SBZ
(Aeroportul Sibiu)
Address: Sos. Alba Iulia 73
Telephone: (+4) 0269 228.347
Website
Sibiu airport is located 3.5 miles west of the city centre.

Bus # 11 (to downtown) stops 300 yards away from airport.
Romanian currency is necessary to purchase tickets onboard.
Map of bus #11 route and stops
(bus line 11 is shown in purple).
Taxi service to downtown also available.
Aproximate trip cost 25 Lei (RON) - approx $6.00.
Airlines with service to Sibiu:
Austrian Airlines
Direct flights from/to: Vienna
Blue Air
Direct flights from/to: Bucharest, Germany, Italy and Spain
Lufthansa
Direct flights from/to: Munich
Tarom
Direct flights from/to: Bucharest, Germany and Switzerland
Wizz Air
Direct flights from/to: Bucharest, Germany, Italy, Spain and the United Kingdom
By train
Sibiu Train Station (Gara Sibiu)
Address: Str. Piata 1 Decembrie 1918 nr.6
Tel: 0269 211.139

For the list of international trains with service to/from Romania please visit
RomaniaTourism International Transportation section
There are four daily trains from Bucharest to Sibiu (two in the morning, two in the evening) and several daily trains between Sibiu and Brasov. Trains to other major cities in Romania connect in Brasov.
For Sighisoara, change trains in Copsa Mica or Medias.
Travel time by train:
Brasov (2 ½ hours)
Bucharest (5 ½ hours)
Cluj (3 ½ hours)
Sighisoara (2 ½ hours)

For train schedules please visit: www.cfrcalatori.ro
SNCFR - Train advance booking office (Agentia de Voiaj SNCFR Sibiu)
Address: Str. Nicolae Balcescu 6
Tel: (+4) 0269 212.085
Open: Mon. - Fri. 7 a.m. - 7:30 p.m.
Train schedule information and 30 days to 24 hours advance reservations.
Tickets for same-day travel can only be purchased at the station.
By bus
Sibiu Bus Stations (Autogari Sibiu) - International & Domestic Bus Service
International Bus Companies serving Sibiu:
Atlasib
Address: Autogara Turnisor
Tel: (+4) 0269 218.125
Daily bus service to Germany, Austria, Sweden, Italy, Spain, France
Double T
Address: Str. Nicolae Balcescu 1-3
Tel: (+4) 0269 217.497
Daily bus service to Germany, Austria, Italy, Switzerland
Eurolines
Address: Blvd. Vasile Milea 13A
Tel: (+4) 0269 212.248
Daily bus service to main cities around Europe
Pletl Agenture
Address: Calea Dumbravii 10
Tel: (+4) 0269 216.143
Daily bus service to Germany
Trans Europa
Address: Str. N. Balcescu 41
Tel: (+4) 0269 211 296
Daily bus service to Germany and Spain
Note: All TransEuropa buses leave Turnisor Bus Terminal A
Amad Touristik
Address: Calea Poplacii 58
Tel: (+4) 0269 212.227
Daily bus service to Italy, France, Spain and Portugal
Note: All Amad buses leave from bus terminal located at Calea Poplacii 56 - 58
Trolleybus # 1: Train station to Piata Unirii
Bus # A5: Train station to Piata Unirii
By car
The fastest route from Bucharest to Sibiu is via A1/E81:
Bucuresti – Pitesti – Ramnicu Valcea – Sibiu
The fastest route from Budapest to Sibiu is on E75 - E68:
Budapest- Szeged - Nadlac - Arad – Deva – Alba Iulia - Sibiu
Distance from Sibiu to:
Bucharest — 170 miles
Arad — 165 miles
Belgrade — 275 miles
Brasov — 85 miles
Budapest — 358 miles
Cluj-Napoca — 98 miles
Constanta — 290 miles
Iasi — 264 miles
Oradea — 165 miles
Prague — 712 miles
Satu Mare — 185 miles
Sighetu Marmatiei — 210 miles
Sighisoara — 54 miles
Suceava — 214 miles
Timisoara — 165 miles
Vienna — 532 miles
Local Transportation
Several bus and trolleybus routes connect Sibiu's main areas and tourist attractions.
The bus and trolley system is operated by the Local Transport Company Tursib.
Bus and trolleybus tickets can be purchased at ticket booths.
Information about schedule and routes are available at the Tourist Information Centre, Sibiu Airport (Arrivals Hall) and several other locations within Sibiu (for a complete list please visit our Tourist Info section).
Rent a Bicycle in Sibiu
(available by advance reservation only).
Real Group
Address: Str. Ostirii 7, Sibiu
Telephone: (+4) 0741 232.015 or 0743 676.404
E-mail
Open: daily from 8 a.m. -- 6 p.m.
Rates:
one Day - 7 Euros,
Weekend (Friday to Sunday) - 19 Euros,
Week - 40 Euros

* Notes
- VAT tax (19%) will be additional.
- Rates include helmet and lock.
- Security Deposit: 30 Euros / bicycle
- Required documentation: valid ID
(passport or identity card or drivers license)
Sibiu Bicycle Itinerary Ideas:
1. Sibiu Old Town ( 2 miles )
Continental Forum Hotel - Great Square (Piata Mare)- Old Townhall (Primaria Veche)- Bruckenthal Museum - Council Tower (Turnul Sfatului)- Little Square (Piata Mica)- Lies' Bridge (Podul Minciunilor) - Arts and Crafts Home (Casa Artelor)- Huet Square (Piata Huet) - Pasajul scarilor

2. Dumbrava Forest - ASTRA Museum ( 5 miles )
Sibiu Old Town - Dumbrava Forest (Padurea Dumbrava) - Sibiu Zoo (Gradina Zoologica)- ASTRA Museum (Muzeul Civilizatiei Transilvane ASTRA)
3. Cisnadie (15 miles)
Sibiu - Cisnadie - Cisnadioara - Sibiu
4. Curmatura Strezii ( 22 miles )
Sibiu - Curmatura Stezii - Sibiu
5. Marginimea Sibiului ( 21 miles )
Sibiu - Rasinari - Gura Raului - Poplaca - Sibiu.
Taxi companies
Taxis are still relatively inexpensive and widely available.
Prices per km are marked on the front passenger door.
Comis – 0269 242.424
Corso - 946
Euro - 946
Galaxy - 943
Inter – 0269 242.323
Negoiu – 0269 444.444
Pronto – 0269 222.222
Pro Taxi - 949
Royal – 0269 214.917
Star - 953
Sibiu Car rental
Autonom
Address: Str. Nicolae Balcescu 1
(Piata Mare)
Tel: (+4) 0269 235.538
E-mail
Website
Enterprise – Touring Rent Auto
Sibiu Airport
Address: Str. Alba Iulia 73
Tel: (+4) 0722 375.392
E-mail
Website
EuroCars Romania
Sibiu Airport
Address: Soseaua Alba Iulia 73
Tel: (+4) 0727 373.799
E-mail
Website
Promotor Car Rental
Address: Piata 1 Decembrie 1918 nr. 6
Tel: (+4) 0743 403.403
E-mail
Website
Sixt
Address: Str. Nicolae Balcescu 17
Tel: (+4) 021 94.00 (this is valid, short, phone #)
E-mail
Website
Swiso:
Sibiu Airport
Address: Soseaua Alba Iulia 73
Tel: (+4) 0786 191.361
E-mail
Website
Accommodations
For a list of available accommodations in Sibiu please click here
Shopping
Nicolae Balcescu Street is the main commercial street where one can find various shops, as well as banks, coffee houses and restaurants
Antiques
Art-Antik
Address: Piata Huet 1
Open: Mon.- Fri.: 10 a.m. – 6 p.m.;
Sat.: 10 a.m. – 1 p.m.
Antik Planet
Address: Str. N. Balcescu 34
Open: Mon.- Fri.: 10 a.m. – 6 p.m.; Sat.: 10 a.m. – 2 p.m.
Galeria Art-VO
Address: Str. Gen. Magheru 10
Open: Mon.- Fri.: 10 a.m. – 6 p.m.; Sat.: 10 a.m. – 1 p.m.
Galeriile Passe Partout
Address: Str. N. Balcescu 3
Open: Mon.- Fri.: 10 a.m. – 7 p.m.; Sat.: 11 a.m. – 7 p.m.; Sun. Noon – 7 p.m
Antic House (Casa Antica)
Address: Piata Mica 27
Open: Mon.- Fri.: 10 a.m. – 6 p.m.; Sat.: 10 a.m. – 2 p.m.
Handicrafts
Folk crafts, such as embroidered clothing and linen, painted or beaded eggs, carpets, pottery, woodcarvings and icons make interesting gifts and souvenirs. Romanian peasants do magnificent embroidery on cotton, wool and leather. Look for blouses, skirts, exotic coats, rugs, tablecloths and lacework. Icons, new and old, painted on glass or wood are outstanding.
Sibiu Souvenir Shop
Address: Str. Telefoanelor 1
Tel: (+4) 0737 805 605
Galeriile de Arta Populara
Address: Piata Mica 3
Tel: (+4) 0269 432.250
Open: Tue. - Sun.: 10 a.m. – 6 p.m. (summer time); Tue. - Sun.: 9 a.m. – 5 p.m. (winter time)
E-mail
Fresh Produce Markets
(Piața)
To discover local, authentic, foods and drinks visit one of Sibiu's fresh produce markets
where farmers from the nearby villages sell fruits and vegetables,
as well as local cheeses and fresh dairy and meat products.

Cibin Market
(Piata Cibin)
Open daily
The largest fruit and vegetable market in Sibiu is located at the NW end of Strada Turnului,
near Podul Cibin (Cibin Bridge).
Rahovei Market (Piața Rahovei)
Open: daily
Location: Strada Rahovei, neat the SE end of Bulevardul Mihai Viteazul.
Vasile Aaron Market (Piața Vasile Aaron)
Open: daily
Location: SE of the Old Town on Str. Semaforului.
Obor Flea Market (Targul Obor)
Open: Tue., Fri. and Sun.
Numerous vendors offer a great range of goods that attract numerous locals and visitors.
Location: northern part of Sibiu at the intersection of Drumul Ocnei and Strada Oborul de Vite.
Local Cuisine
Mome-made Noodle Soup (Supa cu Taitei)
(Pork) Meat Soup with Taragon (Ciorba de Porc cu Tarhon)
Pork sirloin — Sibiu Style (Muschi de porc Sibian)
Shepherd's Cheese Polenta (Bulz Ciobanesc)
Grilled, salt-curred Mutton (Pastrama de Oaie)
Local Beers: Balea, Trei Stejari, Hermannstadt, 1717 Bere Artizanală (craft beer)
Tourist Info
Sibiu Tourist Information Centre
(Centrul de Informare Turistica) - Downtown
Address: Str. Samuel von Brukental nr. 2, Sibiu
Tel: (+4) 0269 208.913
E-mail
Website
Open:
Mon. - Fri.: 9 a.m. - 8 p.m.
Sat. - Sun.: 10 a.m. - 6 p.m.
Sibiu Tourist Information Centre provides maps, brochures
and information on accommodations, restaurants and transportation.
Sibiu Airport Tourist Information Centre
Address: Str. Soseaua Alba Iulia, nr. 73, Sibiu
Tel: (+4) 0269 253.999
E-mail
Website
Sibiu ASTRA Museum Tourist Information Center
Address: Str. Pădurea Dumbrava, nr. 16 - 20, Sibiu
Tel: (+4) 0269 202.451
E-mail
Website
Open: 8 a.m. - 6 p.m., daily
Tourist information centres in other towns in Sibiu County: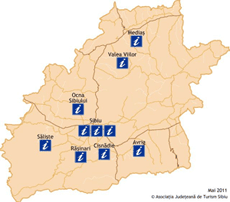 Avrig Tourist Information Center
Address: Str. Avram Iancu, nr. 25, Avrig
Tel: (+4) 0269 523.163
E-mail
Website
Open: Mon. - Fri.: 8 a.m. - 4 p.m.
Biertan Tourist Information Center
Address: Al. Ioan Cuza nr. 8
Tel: (+4) 0269 553.512
E-mail
Website
Cisnadie Tourist Information Center
Address: Str. Cetatii, nr. 1, Cisnadie
Tel: (+4) 0269 561.236
E-mail
Website
Open:
Mon. - Fri.: 9 a.m. - 5 p.m.; Sat: 9 a.m. - 1 p.m.
Medias Tourist Information Center
Address: Piata Corneliu Coposu 3, Medias
Tel: (+4) 0269 803.885
E-mail
Website
Open: Mon. - Fri.: 8 a.m. - 5 p.m.
Ocna Sibiului Tourist Information Center
Address: Str. Mihai Eminescu, nr 1
Tel: (+4) 0735 301.901
E-mail
Website
Open: Mon. - Fri. 8 a.m. - 3 p.m.
Rasinari Tourist Information Center
Address: Str. Sibiului
Tel: (+4) 0269 558.022
E-mail Website
Open: Wed - Fri: 9 a.m. - 6 p.m. Sat: 10 a.m. - 5 p.m. Sun: 10 a.m. - 3 p.m.
Saliste Tourist Information Center
Address: Str. Piata Junilor, nr. 2, Saliste
Tel: (+4) 0269 553.512
E-mail
Website
Open: Mon. - Fri. 8 a.m. - 4:30 p.m.
Valea Viilor Tourist Information Center
Address: Str. Principala, nr. 120, Valea Viilor
Tel: (+4) 0269 515.199
E-mail
Website
Open: Mon. - Fri.: 7:30 a.m. - 1 p.m. Sat. 8 a.m. - 2:30 p.m.
Altana Tourist Information Center
Address: Casa Gerendi, Str. Principală nr. 92,
Tel: (+4) 0742 236.557
E-mail
Open: May through Sept: 9 a.m. - 5 p.m.
Postal services & Telephone
Post offices display a postal horn symbol and the word Posta.
Sibiu Main Post Office
Address: Str. Mitropoliei 14
Tel: (+4) 0269 323.179
Open: Mon. – Fri.: 7 a.m. – 8 p.m. Sat.: 8 a.m. – 1 p.m.
Telephoning Sibiu from Abroad
International Access Code +4 (country code) + 0269 or 0369 (area code) + telephone number (six digit number).
Pharmacies & Hospitals
There are several pharmacies (farmacie) open 24 hours a day in Sibiu.
Emergency Clinic Hospital
(Spitalul Clinic Judetean Sibiu)
Address: Bd.Corneliu Coposu 2-4
Tel: (+4) 0269 215.050
Sibiu County Archives
(Directia Judeteana Sibiu a Arhivelor Nationale)
Address: Str. Arhivelor 3 Sibiu, postal code 550164
Tel: (+4) 0269 208.519
E-mail
Hours
City Hall
(Primaria Municipiului Sibiu)
Address:Str. Samuel Brukenthal 2 / Piata Mica 23
Tel: (+4) 0269 208.800
Email
Website
Bureau of Consumer Protection
(Comisariatul Judetean pentru Protectia Consumatorilor - Sibiu)
Address: Str. Dorului 21
Tel: (+4) 0269 234.458
E-mail
Maps
City Map (Harta orasului Sibiu)
Romania Maps (Harta Romaniei)