General Information
Fast Facts
Location: Southern Romania
County: Dolj
Size: 31.4 sq. miles (81.4 sq. kilometers)
Elevation: 288 ft. (90 meters)
Population: 270,000
First documented: 225 A.D.
City Highlights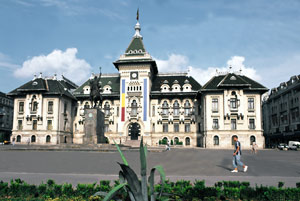 The university town of Craiova, founded on the site of the Dacian stronghold Pelendava (which later became the Roman Castra Nova), prides itself on the strong academic tradition and wealth of important historical figures who passed through here on their journey to fame: Wallachian Prince Mihai Viteazu - who served as the ban (military governor) of Craiova and achieved the first unification of the three Romanian principalities in 1600, the world-famous sculptor Constantin Brancusi - who studied at the Craiova Art School (Scola de Arte si Meserii) between 1894 - 1898 and carved his first sculptures here, and Craiova-born Petrache Poenary (1799- 1875) - inventor of the first cartridge fountain pen.
The majority of train locomotives in Romania originated at the Electroputere workshops in Craiova.

In 1913, the treaty of peace which ended the Balkan War, treaty known in history as The Peace from Craiova, was signed here.

The bans had the right of coining money stamped with their own effigies, hence the name of bani (centimes) in Romanian language.
Landmarks
The city hosts a great number of religious buildings, many of them dating back to medieval times. The Church of Cosuna Monastery for example is the oldest building preserved in Craiova, dating from the 15th century. You can spend a relaxing afternoon visiting the monastery, located only 2.1 miles outside of the city centre. Another religious site, Madona Dudu Church, is renowned for its mural paintings, completed by the famous Romanian painter Gheorghe Tattarescu (1818 – 1894).

For those who want to find out more about the history and the traditions of this region we recommend a visit to the Oltenia Museum, housed in Baniei House (1699), the oldest non-religious building that exists in Craiova and one of the oldest lay buildings in the country.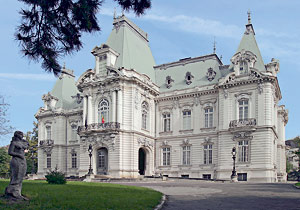 Art lovers should definitely not miss the Art Museum in Craiova, hosted in the Dinu Mihail Palace, built in the early 1900s in neo-classic style by a French architect. The Museum exhibits valuable masterpieces created by famous Romanian painters, among them Craiova-born Theodor Aman (1831 - 1891) and Nicolae Grigorescu (1838 – 1907). One of its main attractions is the section dedicated to Constantin Brancusi, comprising six of his early sculptures.
At the end of the 17th century and the beginning of the 18th century, Craiova's architecture underwent a transformation with the creation of the Brancovenesti style, a combination of Romanian traditional art, Byzantine and Venetian elements. Churches still displaying elements of the Brancovenesti style include: the Saint Ilie Church / Biserica Sfantu Ilie, built in 1720 by Ilie Oteteleseanu and the great tradesmen of the town, the All Saints Church / Biserica Tuturor Sfintilor (1700), the Old Saint Gheorghe Church / Biserica Sfantu Gheorghe Vechi (1730), the Obedeanu Monastery / Manastirea Obedeanu (1747), the Mantuleasa Church / Biserica Mantuleasa (1786), the Saint Nicolas Church / Biserica Sfantul Nicolae (1794).
The Jitianu Monk Monastery, located 4.6 miles south of the city centre, was built under the guidance of Lady Balasa, wife of ruler Constantin Basarab Carnu (1654- 1658), and houses a rich collection of medieval art objects.
For those interested in enjoying a relaxing afternoon outside, the Nicolae Romanescu Park, is a veritable green oasis. The park is one of the valuable monuments of landscape architecture in Romania. The plans for the park, designed by French architect Emile Rendont, were awarded the gold medal at the 1900 World Fair. Through the initiative of Nicolae P. Romanescu, then mayor of Craiova, work on the park began in 1901 and was completed in 1903.

For the ones who want to experience the nature more scientifically, a stop at the Botanical Garden would be the best choice.
Museums
Craiova Art Museum
Address: Str. Calea Unirii 15
(located in the Dinu Mihail Palace)
Telephone: 0251 412.342
www.MuzeuldeArtaCraiova.ro
The sumptuous neobaroque palace that houses the museum was completed in 1896, following the plans of the French architect Paul Gotereau, who also built the CEC building in Bucharest. The main attraction of the museum is
the art gallery dedicated to Romanian-born Constantin Brancusi, exhibiting six of his early sculptures (including variants of his best-known works): The Kiss (1907), Vitellius (1898), Woman Torso (1909), The Vainglory (1905), Boy's Head (1906), Miss Pogany (1902). Brancusi's 'studio' has been recreated in the museum.
Oltenia Region Museum - the Etnographic Section
(Muzeul Olteniei)
Address: Str. Madona Dudu 44
Tel: 0251 411.906
office@muzeulolteniei.ro
www.muzeulolteniei.ro
Hosted in the Bania House (Casa Baniei), which is a major architectural and historical monument of Craiova you can learn anything and everything about the history of the region, starting with the prehistoric times. Great care has been taken in presenting, in full detail, the traditional trades and occupations of peasants in Oltenia, starting with hunting, fishing or gathering and ending with raising cattle, working the fields, harvesting the crops, emphasizing the continuity of the locals. The museum exhibits wooden carvings and ceramics, a large collection of jars, bowls of all kinds, plates, carpets in the style and manner used in Oltenita as well as fascinating folk costumes from Oltenita.
Day Trips
Targu Jiu
Where: 74 miles northwest of Craiova
Access: car, bus, train
www.RomaniaTourism.com/Targu-Jiu.html
A must for all art lovers is a visit to Targu Jiu on the banks of the River Jiu. This former market town is closely associated with Constantin Brancusi, considered by many to be the father of modern sculpture.
While most of his works are on display in prestigious museums throughout the world, his trilogy of public sculptures, The Table of Silence (Masa Tacerii), The Gate of the Kiss (Poarta Sarutului) and The Endless Column (Coloana Infinitului) can be admired at the Constantin Brancusi sculptural complex in downtown Targu Jiu.
Horezu Monastery & Horezu Pottery Centre
Where: 96 miles north of Craiova
Access: car, bus
The Horezu Monastery, the largest monastic settlement in Walachia, was founded in 1690 by Prince Constantine Brancoveanu. A masterpiece of the Brancovenesti style and a UNESCO World Heritage site, Horezu is renowned for the richness of its sculptural detail, the treatment of its religious compositions and its painted decorative works. The monastery houses precious collections of frescoes and icons dating from the end of the 17th century and the beginning of the 18th century. The nearby village of Horezu is home to one of the biggest pottery centres in Romania. Nearly a century ago, local nuns taught the villagers how to make and paint pottery, and ever since, people have come from far and wide to get their hands on Horezu's ceramic.
Curtea de Arges
Where: 98 miles northeast of Craiova
Access: car, train (with connection in Pitesti)
Fifty miles east of Horezu you can visit another stunning architectural gem:
the 16th century Curtea de Arges Monastery (Manastirea Curtea de Arges),
a fine example of Byzantine architectural style, with Moorish arabesques.
Learn about the sad legend of Manole as you take in its beauty. Romania's kings and queens are buried here.
City Essentials
Transportation
By air
Craiova Airport
Address: Str. Calea Bucuresti 325
Telephone: 0251 416.860
www.aeroportcraiova.ro
Nearest airports to Craiova:
Bucharest - Otopeni - Henri Coanda (OTP) - 145 miles East
www.otp-airport.ro
Sibiu (SBZ) - 145 miles North
www.sibiuairport.ro
Timisoara (TMZ) - 211 miles North-West
www.aerotim.ro
By train
Craiova - main train station
(Gara Craiova)
Address: Piața Constantin Brâncuși
The train station is located about half a mile northeast of the city centre.
Bus # 1 runs from the train station to downtown Craiova.
For a list of international trains with service to/from Romania please visit:
RomaniaTourism.com/...ByTrain
There are daily trains with service from Craiova to:
Bucharest (3 hours)
Brasov (6 - 8 hours - via connecting service)
Cluj Napoca (8 - 10 hours - connecting service)
Sibiu (4 - 7 hours)
Sighisoara (8 - 11 hours - connecting service)
Timisoara ( 5 hours)
Targu Jiu(1 1/2 - 3 hours)
To check train and bus schedules for domestic routes please visit our
Domestic Transportation section
Notes:
For departures from /to Bucharest, please select Bucuresti Nord.
For departures from/to Targu Jiu please enter Tirgu Jiu.
Craiova Train ticket office
(Agentia de Voiaj SNCFR Craiova)
Address: Calea Bucureşti 2, bl. M2, parter
Tel: 0725 504.165
Hours:
Mon. – Fri.: 8 a.m. – 8 p.m.
Craiova SNCFR ticket office offers train schedules information and advance ticket sales.
Tickets for same-day travel can only be purchased at the train station.
By car
The fastest route from Bucharest to Craiova is via A1 / E81 – DN 65 / E574: Bucharest – Pitesti – Slatina - Craiova
Travel distances from Craiova to:
| City | Distance (Miles) |
| --- | --- |
| Arad | 243 |
| Bucharest | 145 |
| Brasov | 148 |
| Cluj Napoca | 249 |
| Constanta | 281 |
| Iasi | 331 |
| Oradea | 261 |
| Satu Mare | 341 |
| Sibiu | 145 |
| Suceava | 345 |
| Timisoara | 211 |
By bus
Craiova Bus Stations (Autogara)
Web: www.autogari.ro/Craiova
Daily domestic bus service from/to:
Baile Herculane, Bucuresti,Brasov, Caransebes, Constanta, Drobeta Turnu Severin, Hunedoara, Medias, Sibiu, Timisoara
Public Transportation
The public transportation system in Craiova consists of trolley, bus and tram lines.
It is operated by Regia Autonoma de Transport Craiova (RAT Craiova).
A one-way ticket costs the equivalent of $0.60.
Taxi companies
Taxi Contact – 0251 425.005
Taxi Romnicon – 0251 421.919
Taxi PML – 0251 542.727
Taxi PMI – 0251 590.002
Taxi Favorit - 0251 411.500
Taxi D&D – 0251 406.240
Taxi STG – 0251 430.077
Taxi Continental – 0251 466.633
Taxi Vulturul – 0251 414.155
Car rental
Avis Car Rental Craiova Airport
Address: Calea Bucuresti 325
Tel: 0733 104.472
reservations@avis.ro
www.avis.ro
Promotor Rent a Car
Address: Bd. Decebal 5
Telephone: 0734 403.403
office@auto-rent.ro
www.auto-rent.ro
Accommodation
For a list of available accommodations in Craiova please click here
or check ourAccommodations Guide.
Tourist Information
Genealogy searches
Craiova / Dolj County Archives
(Directia Judeteana Dolj a Arhivelor Nationale)
Address: Str. Libertatii 34
Telephone: 0251 416.661
E-mail
Craiova Post Office
Post offices display a postal horn symbol and the word Posta.
Main Post Office
Address: Str. Unirii 54
Telephone: 0251 523.520
Hours:
Mon. - Fri.: 8 a.m. - 7 p.m.
Sat.: 9 a.m. - 1 p.m.
Telephoning Craiova from Abroad
International Access Code + 4 (country code) +
+ 0251 or 0351 (area code) + six-digit telephone number
Craiova City Hall
(Primăria Municipiului Craiova)
Address: Str. A. I. Cuza 7
Telephone: 0251 984
www.PrimariaCraiova.ro
Dolj County Archives
(Directia Judeteana Dolj a Arhivelor Nationale)
Address: Str. Libertatii 34
Telephone: 0251 416.661
E-mail
Opening Hours
Craiova Consumer Protection Agency
(Oficiul pentru Protectia Consumatorilor – Craiova)
Address: Str. Gh. Chiţu 58
Telephone: 0251 510.400
E-mail
...
Maps
- Craiova - City Map (harta Orasului Craiova)
- Romania Physical Map (Romania - Harta Fizica)
- Romania Detailed Road Map (Romania - Harta Detaliata)
- Romania Road Map (Romania - Harta Drumurilor, Sosele)
- Romania Rail Map (Romania - Harta Cailor Ferate)