Location: Harman, Transylvania – Central Romania
Address: Str. Mihai Viteazul 1, Harman - Brasov county
Nearest large towns: Brasov (5 miles south)
Nearest train station: Brasov, Prejmer
Telephone: 0726 601.933
E-mail
www.HarmanInfo.com
Harman Fortress Video
Harman Fortified Church is one of the 25 UNESCO World Heritage Sites in Romania
Located in the heart of Harman (Honigburg in German, meaning Honey Castle) village, this fortified church dates back to the 13th century when Saxons built the original structure. Strong walls and bulwarks surrounded the church and on its sides, massive towers were added.
The choir was built in a square shape with a vault resembling a cross. It was surrounded by two chapels, indicating the influence of the Cistercian style. This influence can also be observed in the still-standing original round windows with four lobes in the upper part of the church. The fortified church boasts two chapels.
The south chapel has been preserved in its initial state while the north chapel was rebuilt in the 15th century.
The exterior vaults of the chapel are sculptured in stone and have a human face at each end.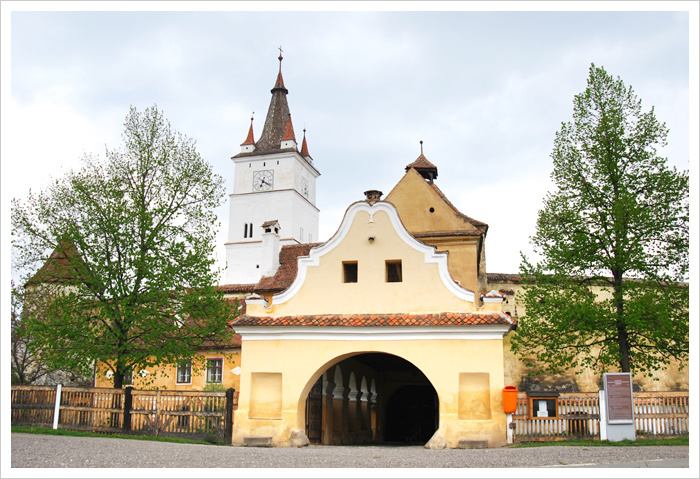 Harman Fortress Visiting Hours (Program de Vizitare Cetatea Harman):

April 1 to October 31
Monday -- Saturday: 9 a.m. - 6 p.m.,
Sunday: 10 a.m. - 6 p.m.

November 1 to March 31
Daily: 10 a.m. - 4 p.m.

Admission charge:
Adults: 10 Lei (approx. $2.50)
Children (6 to 10 y.o.): 5 lei
Note:
Closed to visitors during events hosted during visiting hours.