Bird-watching
Hundreds of species of birds call the Danube Delta home at least from late Spring until mid-Fall. Bird-watchers do not need any equipment (although binoculars help), no license is required, and there are plenty of locations throughout the Danube Delta to watch fowl in their natural habitat. Most bird-watchers are lucky enough to spot Black Pelican colonies. Specialized tour operators will assure the most successful bird-watching trip to the Danube Delta.
Find a tour at: Upcoming-Tours-Romania-Usa.html#Active
Camping
Get close to Romania's natural beauty by spending a few nights camping beside one of its many rivers or one of its magnificent mountains. From late Spring until early Summer nature lovers flock to Romania's camping areas to enjoy an abundance of nearby attractions.
Cycling
With a terrain that ranges from steep and challenging to gentle and relaxing, Romania offers bikers of all skills and levels something to enjoy along its bike trails.
Popular bike trails in Romania, grouped by region: Romania Bicycle Itinerary Ideas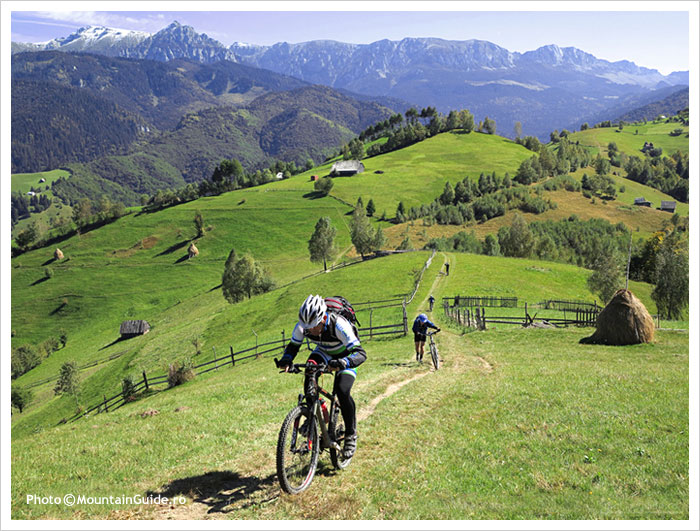 Romania Cycling Tours: Upcoming-Tours-Romania-USA.html#Active
Bike Rental Centers in Romania:

Cristian, 7 miles west of Sibiu: Transylvania Bike
Brasov: Active Travel
Fishing
With more than 160 species of game fish, the Danube Delta is truly a fisherman's paradise. Trophy-size catfish, carp, pike, sturgeon and more thrive in the hundreds of lakes and rivers that dot the land of Romania. Fishing is permitted in most lakes and rivers of Romania, year round, except from April 1 until May 31.
Golf
Best known Golf Courses in Romania are:

Lac de Verde - Breaza
9 hole
Location: Breaza
Nearest airport: Bucharest (68 miles south)

Clubul Diplomatic - Bucharest
Aleea Dr. Mina Minovici 1
6 hole, 100 acres

Pianu de Jos
Location: Pianu de Jos
Nearest city: Alba Iulia
Nearest airports: Sibiu and Cluj.
Hiking
The Carpathian mountain range forms a huge arc in the centre of Romania. In fact, 31% of the country is mountainous. Within this range are innumerable places of natural beauty: mountain peaks, gorges, lakes, forests, caves, mud volcanoes and fossil deposits. It is very easy to find a great hiking trail. Romania has more than 400 parks and nature reservations protecting hundreds of species of flora and fauna. The variety of terrain, from mountainous to gentle, offers something for every hiker regardless of skill or level. Rock-climbing enthusiasts should head for the main rock-climbing gateways: Busteni, Sinaia, Zarnesti and Petrosani.
Romania Hiking Tours: Upcoming-Tours-Romania-USA.html#Active
Horseback Riding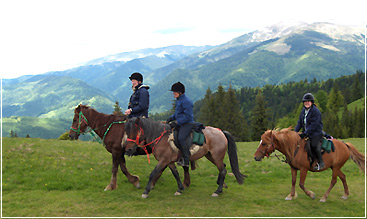 Romania's Carpathian mountains and rural areas offer excellent possibilities for Horseback Riding vacations.
Operators that can arrange horseback riding programs include:
Equus Silvania
Maggie's Ranch
Merlelor
Horse Riding Adventures
Rafting
Most popular rafting rivers in Romania are Aries, Basca, Bistrita, Buzau, Cerna, Crisul Repede, Jiu, and Nera.
For information on rafting tours please contact the following operators:

WhiteWater
Outdoor Experience
Romania Adventure
Transylvania eXtreme Adventures
TeamAdventure
Skiing
A multitude of mountain resorts offer slopes from novice to challenging.
Many of these resorts offer a multitude of other activities including cross-country skiing, snowboarding and tubing.
The highest ski point in Romania is located at 6,600 ft. above the sea level.
Major ski resorts include Poiana Brasov, Sinaia, Predeal, Paltinis and Runcu.
More information about Romania's ski resorts www.ski-in-romania.com.
Find a ski tour at: Upcoming-Tours-Romania-Usa.html#Active
Motorcycling
Romania has numerous scenic drives, best known are perhaps the TransFagarasan, TransAlpina and TransBucegi (over the Carpathian Mountains). Of course you can always design your own driving / motorcycle tour on country roads or along the Danube river.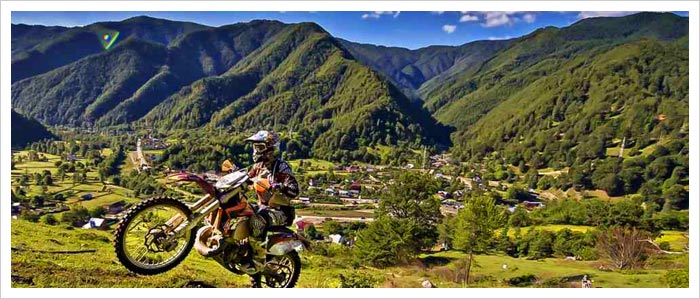 Romania Scenic Drives / Motorcycle Tours:
Upcoming-Tours-Romania-USA.html#ScenicMotorcycle
To rent a motorcycle or to book a motorcycle tour please contact a specialized company such as:
Moto Rentals (B M W motorcycles) - E-mail
Transylvania Live - a tour operator specialized in motorcycle tours
in Romania and neighboring countries (BMW motorcycles) - E-mail
Moto 4 Rent (Kawasaki and Suzuki motorcycles) - E-mail
Bike 2 Rent (Enduro / Touring motorcycles) - E-mail