This section is courtesy of Mr. Peter Farkas a passionate cyclist who has completed almost the whole length of the Danube, by bicycle, in different years and several sections on both sides or back and forward.
Here is feedback that Mr. Farkas has kindly provided, concerning his 2022 visit:
Danube Delta itinerary, starting in Ruse (Bulgaria)
Ruse (Bulgaria) – Zatraveno – Ion Corvin (Romania) – Braila – Tulcea – Chilia Veche
~ boat Chilia Veche to Periprava
Periprava – Sulina - Sf. Gheorghe
~ boat Sf. Gheorghe to Mahmudia
Mahmudia – Constanta – Ion Corvin – Silistra - Calarasi – Oltenita – Giurgiu – Ruse (Bulgaria)
Ruse – Tulcea – Chilia Veche
After 4 days of cycling, I reached Tulcea and spent the night there before starting into the Delta. The next morning I crossed the Danube via a short ferryboat ride to Tudor Vladimirescu. I started early – 7 a.m. in order to reach Chillia Veche before the Navrom Boat leaves from there to Periprava.
The road between Tudor Vladimirescu – Pardina - Chilia Veche (80km) is made of gravel and was in better condition than I expected. The road is very dusty but easy to ride and even with my rather old bike, I did not get any flat tires. I reached Chillia Veche well on time already at 1 p.m. There is no further land-road connection from Chillia Veche to Periprava. Some accommodations is available in Chillia Veche if you get stuck.
The only way to get to Periprava is by boat on the Danube. The Navrom Boat runs on the Chilia Canal between Tulcea-Chilia Veche - Periprava. Offseason, the boat does not operate every day, therefore it is important to consider this when planning the route. It was not easy to find out the approximate departure time of the boat from Chillia Vechia to Periprava either. I asked the Navrom boat staff in Tulca directly and the captain of the Moldova boat could give me precise information and recommended to arrive to Chillia Veche before 4 p.m.
The boat trip takes approximately 90 minutes and costs € 10, including bicycle transport.
There is only limited availability of accommodation in Periprava.
I stayed at private place. My host, Maria operates a small pension and has several rooms. It is a new facility, well maintained and clean. Maria is originally from Transilvania and speaks Hungarian – married to Lipovan, lives more than 20 years in Periprava. I was the only guest that evening and since we could speak in our mother tongue, Hungarian, I could learn a lot about the life in the Delta and in Periprava, which was a unique experience. She also prepared a fantastic dinner – fish – and great breakfast to have energy for the day.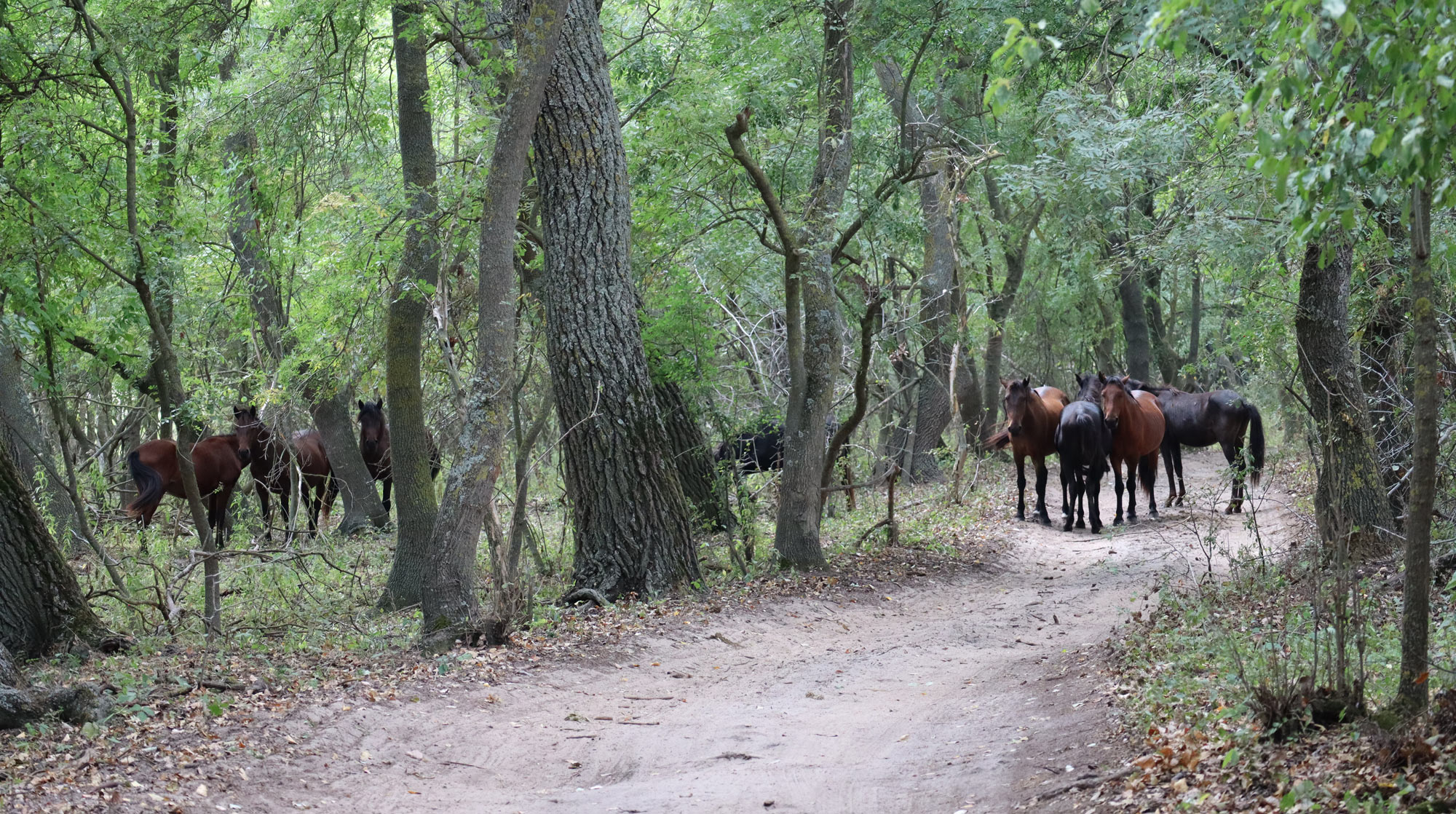 Periprava – C. A. Rosetti - Sulina.
My original plan was to cycle in one day from Periprava via Letea Forest to Sulina and further South to Sft. Gheorge. – approximately 60 km. It seems to be a short distance and an "easy" day trip but everything came different.
My host, Maria warned me that I should avoid cycling on the grass, which is usually easier than in the deep sand. The grass is full of Tribulus terrestris and punctures the tires (therefore also called puncture vine). The path between Periprava and C.A.Rosetti leads via the Letea Forest.
Cycling in the deep sand was not possible. I pushed the bike for almost 7-8 kms until the next village. Wild horses could be seen several times in the forest. The path after Rosetti to Sulina continuous on gravel, covered by large and partially sharp stones and cycling is very slow on that road too. Just before arriving to Sulina I got the first flat tires which completely changed my program for the rest of the day.
I had already 2 punched tubes from previous days and I needed to repair them all before hitting the road to Sfantu Gheorghe. I did not want to risk getting stuck eventually with flat tires on the path Sulina – Sfantu Gheorghe before darkness. I stayed in Sulina and it was a very wise decision because the Sulina - Sfantu path was a real nightmare the next day.
Even though I repaired all my tubes, I tried to buy an additional one in Sulina but none of the shops had the size 28" 35C tube. The two available shops were only selling 26" or MTB tubes/tires. Interestingly enough, they had jumbo-sized repair kits (approximately 50 pcs. patches), which was strange for me because normally this amount is needed in a span of 10 years - but not in the Delta! I understood the next day that the jumbo patching set was very useful.
My recommendation:
Have puncture proof tires, enough spare tubes, an extra tire and enough repair kits with you. In this remote place, you might not find the right stuff.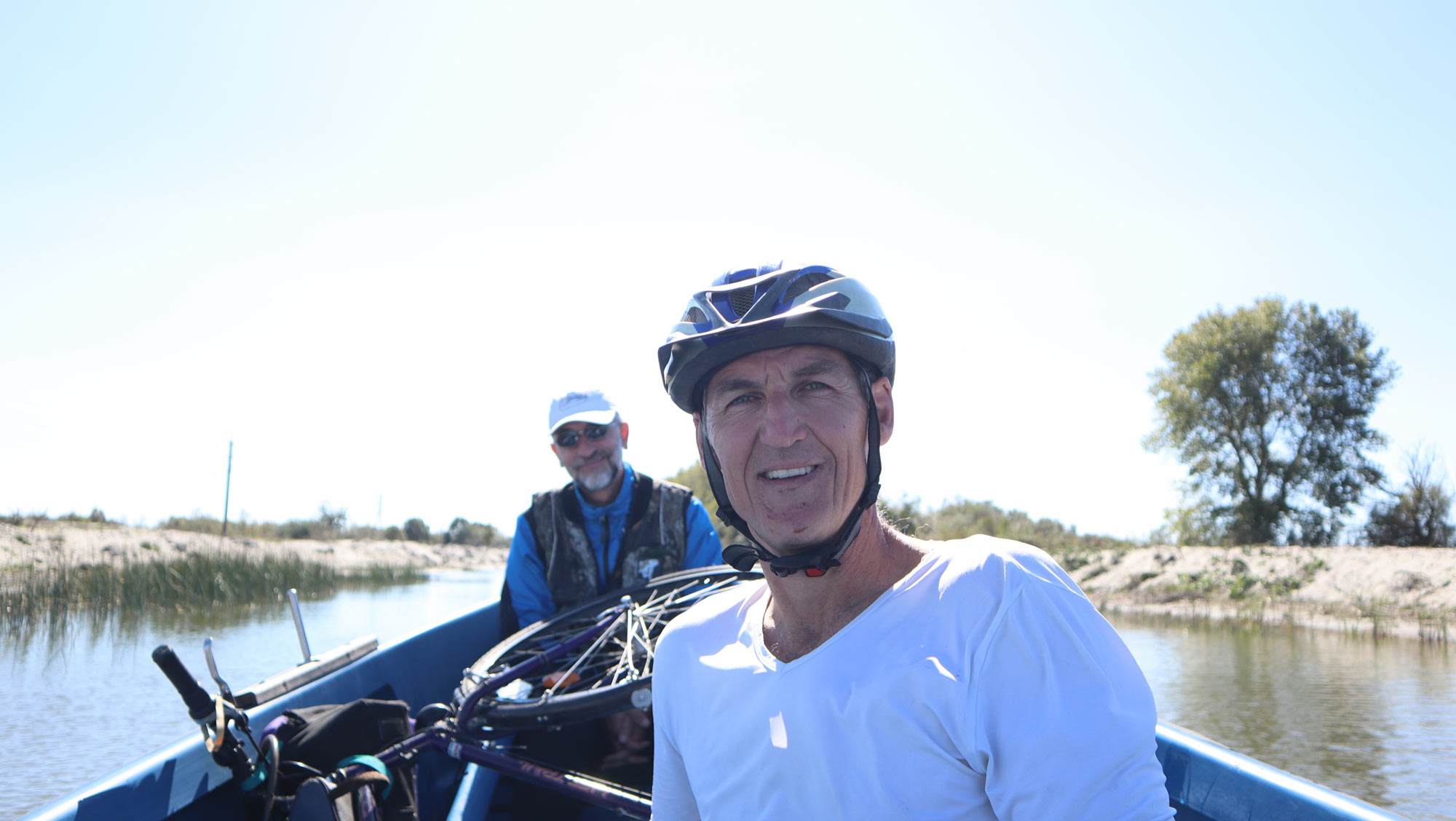 Sulina – Sf. Gheorghe, approximately 30km
It is a short distance but challenging and time consuming, as the path is running parallel to the Black Sea coast between reeds and is covered by hard, sharp stones. You can ride on grass but that means risking to get your tires punched immediately by the puncture vine. My tires were flat 4 times during the short trip and finally I decided not to repair them on that road because it was senseless. I decided to walk the remaining 7-8 kms to Sf. Gheorge when a passing by fishing boat offered me a free ride to Sf. Gheorge directly to the Green Village where I stayed on the Camping Site in a bungalow. Each punched tube had minimum 3 holes and I used at least 10 patches from the jumbo repair kit. Before sundown, I recommend to walk to the near beach where the Danube ends its 2.800 km journey and experience a fantastic sunset.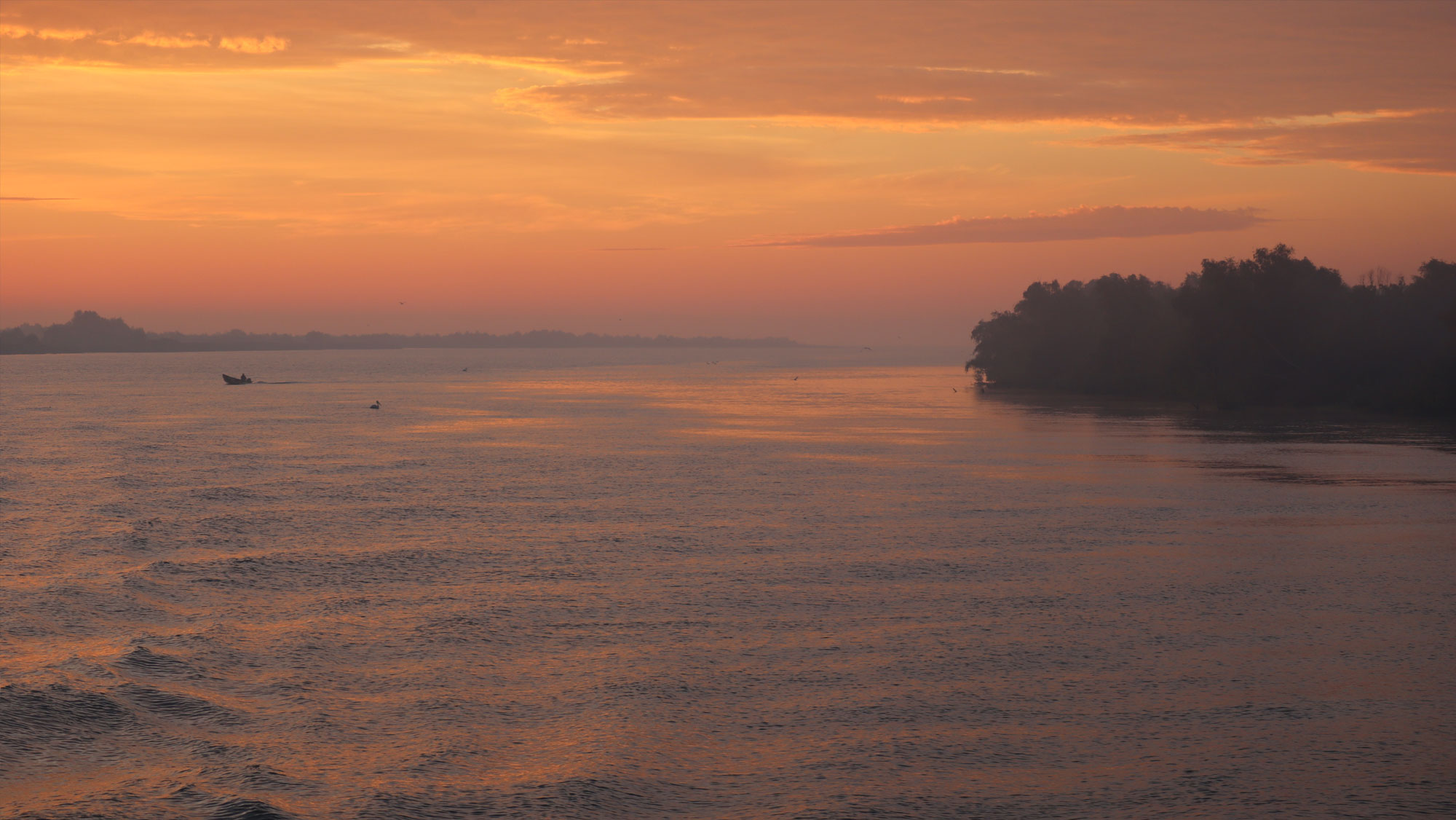 Sf. Gheorge – Corbu (Mamaia)
There is no road to cycle from Sf. Gheorghe to Mahmudia.
I took the Navrom Boat early morning again at 7 a.m. to Mahmudia.
From Mahmudia I cycled via Constanta – Ion Corvin – Silistra – Calarasi - Giurghiu to Ruse and finished the 1.200 km trip in 10 days
Mr. Farkas lives in Budapest, Hungary and can be reached by E-mail: farkas_wolf@yahoo.com
Maps
Romania Map
Danube Delta Map - RomaniaTourism
Danube Delta map - PDF - ARBDD