General Information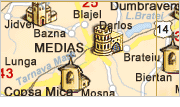 Medias Area Map
Fast Facts
Location: Central Romania
County: Sibiu
Size: 3.5 sq. miles (9.3 sq. kilometers)
Elevation: 935 - 1,007 ft. (285 - 307 meters)
Population: 55,153
First documented: 1267 AD (Villa Medies)
City Highlights
Although evidence of human presence in the area dates back to the middle Neolithic, the city was first mentioned during the Roman occupation as Per Medias (meaning the town at the crossroads). In 1283, after the Saxons settled in Transylvania, the city became Sacerdos de Medias, while in 1389, it was renamed Villa Medies.
During the Middle Ages, Medias, like most other towns in Transylvania, was strongly fortified. Its 33 craft guilds built, maintained and defended the bastions of the walled city against invading forces. The fortified church of St. Margaret represented the core around which the citadel gradually developed. The center of the ancient settlement of Medias has maintained a medieval feel with narrow winding lanes, centuries-old houses and a large pedestrian square surrounded by colorful facades.
Landmarks
Franciscan Church and Monastery (Complexul Arhitectural Franciscan)
Built in gothic style in 1444, this church was later renovated in baroque style and a rococo style altar was added. The annex once served as silversmiths' workshops.
St. Margaret Evangelical Church (Biserica Evanghelica Sfanta Margareta)
Open: Mon. – Sun. 8:00 a.m. – 7:00 p.m.
Admission charge
The fortified St. Margaret Evangelical Church, erected in the 15th century on the ruins of a Roman basilica, dominates the old town. Enclosed by two rows of walls and several defense towers, one of which served as a jail for Prince Vlad Tepes (aka Vlad Dracula) in 1467, the church features three superb gothic altarpieces, a colorful baroque organ and some early 15th century frescoes. The church displays a collection of 14th century bronze artifacts and Oriental carpets brought by the tradesmen
Stephan Ludwig Roth House (Casa Memoriala Stephan Ludwig Roth)
Address: Str. Herman Oberth 10
It was in this house that historian Stephan Ludwig Roth (1796-1849) was born. Roth challenged the 1884 Magyar Diet's decision imposing Hungarian as the official language in Transylvania. As Romanians made up the bulk of the population, Roth claimed that Romanian was justified to be the official language. His progressive ideas led to his assassination in May 11, 1849.
Trumpeters' Tower
In 1450, the Tower of Trumpeters, so-called because guards would search the horizon and sound an alarm by trumpet to warn people against enemy attack or fire, was added to the citadel's defense system. In 1880, a huge clock, showing the phases of the moon, was set up in the tower.
Museums
The County History Museum (Muzeul Municipal)
Address: Str. Mihai Viteazul 46
Tel: 0269 841.299
Open: Tue. – Sun. 9:00 a.m. – 5:00 p.m.; closed Mon.
Admission charge
Nearby Attractions
Explore the surrounding countryside, home to more than a dozen Saxon fortified churches, two of them UNESCO World Heritage Sites.
The Fortified Church at Valea Viilor
Location: 5 miles south of Medias
Access: car
Detailed Information: RomaniaTourism.com/castles-fortresses-romania-valea-viilor-fortified-church.html
Located in the Vineyards Valley, this fortified church was built in 1263 in gothic style and was enlarged and fortified in the 15th and 16th centuries by adding a range of 26-foot tall and 5-feet wide walls. Inside you can also admire some Saxon furniture dating from the 16th century.
The Fortified Church at Mosna
Location: 10 miles south of Medias
Access: car, bus
At Mosna, you can visit an interesting 14th century fortified church built in late gothic style.
The Fortified Church at Biertan
Where: 12 miles east of Medias
Access: car
Detailed Information: RomaniaTourism.com/castles-fortresses-romania-biertan-fortified-church.html
In the nearby countryside, 13th century Biertan, a UNESCO World Heritage town, stands high on a hill, enclosed by walls more than 35 feet high.
The most famous of the fortified churches, Biertan was the seat of theLutheran bishops from 1527 to 1867.
Bazna Spa (Bazna Bai)
Location: 10 miles northwest of Medias
Access: car, bus
www.RomaniaTourism.com/Spas.html#Bazna
The health resort of Bazna, officially recognized for the first time in 1302, offers mineral water springs, rich in mineral mud and a special type of salt known as Bazna Salt.
City Essentials
Transportation
By air
The closest airports are located in:
Sibiu (SBZ) - 35 miles away;
Targu Mures (TGM) - 50 miles away - www.targumuresairport.ro/indexa.htm
Cluj Napoca (CLJ) - 70 miles away - www.airportcluj.ro/en/hpg.html
By train
Medias - main train station (Gara Medias)
Address: Str. Garii
Daily train connections from/to a number of Romanian cities, including Bucharest , Alba Iulia, Arad, Brasov, Cluj Napoca, Oradea, Sibiu, Sighisoara and Timisoara.
To check the latest train schedules for domestic routes, please visit the website of Romanian Railways: www.cfrcalatori.ro
The site has complete information about domestic train schedules and fares.
Note: For departures from/to Bucharest, please select Bucuresti Nord.
By Bus
Medias Bus Station (Autogara Media) - www.autogari.ro/Medias/
Address: Str. Unirii 11
Daily domestic bus service from/to: Alma Vii, Bazna, Targu Mures
Distance from Medias to:
| City | Distance (miles) |
| --- | --- |
| Bucharest | 195 |
| Arad | 200 |
| Alba Iulia | 48 |
| Bistrita | 100 |
| Brasov | 98 |
| Budapest (Hungary) | 330 |
| Constanta | 325 |
| Cluj Napoca | 70 |
| Hunedoara | 98 |
| Iasi | 240 |
| Sebes | 55 |
| Sibiu | 30 |
| Sighetu Marmatiei | 190 |
| Sighisoara | 20 |
| Suceava | 215 |
| Targu Mures | 50 |
| Timisoara | 195 |
| Tulcea | 300 |
| Vienna (Austria) | 480 |
Accommodation
For a list of accommodations in Medias, please check our Accommodations guide.
Tourist Info
Medias Tourist Information Center (Centrul de Informare Turistica Medias)
Address: Piata Corneliu Coposu, nr. 3, Medias
Tel: 0269 803.885
E-mail: info_medias@sibiu-turism.ro
www.mediasturism.ro
Open: Mon. - Fri. 8:00 a.m. - 05:00 p.m.
Postal Service & Telephone
Post offices display a postal horn symbol and the word Posta.
Main Post Office
Address: Str. Ludwig Roth 21
Tel: 0269 841.721
Open: Mon. – Fri. 7:30 a.m. – 7:30 p.m.; Sat. 8:00 a.m. – 1:00 p.m.; Closed Sun.
Telephoning Medias from Abroad
International Access Code + 40 (country code) + 269 or 369 (area code) + telephone number (six digit number)
Medias — Useful Telephone Numbers
Medias Area Code (Prefix Medias) (269) or (369)
Ambulance (Ambulanta) – 961
Police (Politia) – 955
Fire Department (Pompierii) – 981
City Hall (Primaria) – 0269 803.803
Maps
- Regions Map - Historical-Regions-Map.html
- Romania - Detail Map - Romania-Detail-Map.html
- Medias - Area Map - www.RomaniaTourism.com/.../fgh456.html