Sebes General Information
Fast Facts
Location: Central Romania, Alba County
Size: 2.5 sq. miles (6.3 sq. kilometers)
Elevation: 820 ft. (250 meters)
Population: 29.475
First documented: 1245 AD (Sacerdos de Malembach)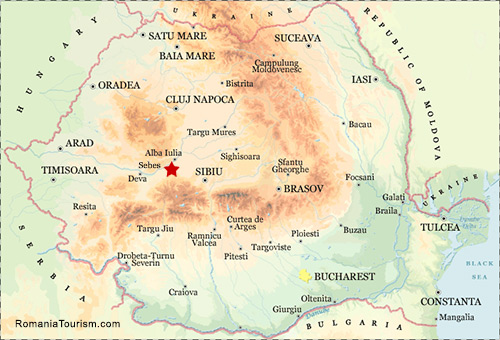 City Highlights 
Originally a Dacian settlement, later incorporated into the Roman Empire, Sebes (Mühlbach in German), was settled by the Saxons in the 12th century. First documented in 1245, Sebes flourished economically and politically during the middle ages, serving as an administrative town for the region for more than five centuries between 1308 and 1876.
The Transylvanian Diet met in Sebes in 1546, 1556, 1598 and 1600. The site of the meetings, the Zapolya House, is now a museum.
The city's name comes from the Hungarian word sebes, meaning 'fast', and refers to the river that flows through the city. The German name Mühlbach stands for 'mill river' and refers to the hydraulic mills that were built along the river.
A renowned craft and trade center, Sebes was home to some 19 guilds – among them the armor-makers, tailors, blacksmiths, furriers, shoemakers, bakers, potters and drapers – which conducted business with the province of Walachia, as well as with central and western European cities. The downtown area of present-day Sebes, lined with colorful high-roofed 18th and 19th century Transylvanian houses, has preserved its medieval feel.
Landmarks
Evangelical Church (Biserica Evanghelica)
Open: Mon. – Sun. 9:00 a.m. – 5:00 p.m.
Admission charge
First built as a Roman Basilica in romanesque style, the church later took on a gothic appearance with renaissance elements. Only the nave has been preserved from of the original church built between 1240 and 1270. Throughout the centuries, gothic elements were added to the structure, such as the richly decorated choir built between 1361 and 1382. The Evangelical Church in Sebes boasts the largest altar of all churches in Transylvania. Richly decorated with paintings and carvings, the polychrome wooden altar was designed between 1518 and 1526, marking the transition from gothic to renaissance style.
The church was repainted in 1752 and again, in 1904. In the late 18th century, an organ made by Master Johannes Hahn of Sibiu was placed below the belfry. In 1893, it was replaced by a new organ made by the brothers Rieger of Jagendorf (Silesia).
St Jacob's chapel, on the north side of the church, was built in gothic style in the 14th century.  Images depicting the lives of St Francis of Assisi and St Nicholas are still visible on the murals.
Tailors' Tower is also known as the Student's Tower. Legend has it that when a Turkish army attacked the town in 1483, a couple of the locals refused to surrender and barricaded themselves in one of the towers of the citadel, namely the Tailors' Tower.  The Turks conquered the tower and burned it down.
The only survivor was a 16-year-old boy, a student at the German school in Sebes. Taken prisoner by the Turks, he managed to escape after 22 years of imprisonment and fled to Rome where, in 1475, he wrote a book in Latin entitled About the Turks' Religion, Manners and Evil Deeds.
The work was signed The Nameless One of Sebes. The book enjoyed tremendous success throughout Europe, being printed in no less than 25 editions until 1600. The 1530 edition was prefaced by Martin Luther himself.
Sebes Fortress (Cetatea Sebesului)
The first written mention of the Sebes Fortress dates back to 1387 when construction began. Damaged by invaders, it was restored in 1571. Stone-block and brick walls with eight towers were added to the original rectangular precinct. The one-mile-long walls with battlements, ramparts and openings (used to pour hot tar over assailants) have been preserved and can be seen even today.  
The Tailors' Tower (Turnul Croitorilor)
The guilds in Sebes built eight towers; only two, namely the Shoemakers' and the Tailors' Towers, though partially ruined, remain standing to this day.

Museums
The Zapolya House / History Museum (Casa Zapolya / Muzeul de Istorie)
Address: Str. Mihai Viteazu 4
Telephone: (258) 735.240
Admission charge
Zapolya House was built in the second half of the 15th century and served as the seat of the Transylvania Diet during the 16th and 17th centuries. Today, the building houses the local History Museum, which displays Romanian and Saxon folk art, medieval weapons, traditional pottery and icons painted on glass and wood. 
Nearby Attractions
Calnic Fortified Church (UNESCO World Heritage Site)
Location: 10 miles southeast of Sebes
Access: car
RomaniaTourism.com/Castles-Fortresses.html#Calnic
Built in 13th century, Calnic Fortified Church is one of the most representative defensive structures in Transylvania. The Siegfried tower, the landmark of the fortress, is five stories high and is endowed with defensive corridors and firing windows. An onsite medieval art museum displays various artifacts.
City Essentials
Transportation
By air
The closest airports are located in:
Sibiu (SBZ) - 40 miles away;
Cluj Napoca (CLJ) - 65 miles away - www.airportcluj.ro/en/hpg.html
Targu Mures (TGM) - 95 miles away -  www.targumuresairport.ro/indexa.htm
By train
Sebes Alba - main train station (Gara Sebes Alba)
Address: Str. Garii
Tel: 952
Daily train connections from/to a number of Romanian cities, including Bucharest, Alba Iulia, Arad, Brasov, Sibiu, Sighisoara, Targu Mures and Timisoara.
To check the latest train schedules for domestic routes, please visit the website of Romanian Railways: www.cfrcalatori.ro
The site has complete information about domestic train schedules and fares.
Note: For departures from/to Bucharest, please select Bucuresti Nord.
SNCFR's advance booking office (Agentia de Voiaj SNCFR Sebes)
Address: Str.Motilor 1
Telephone: (258) 816.678
You can obtain train schedule information and make reservations up to 24 hours in advance here. Tickets for same-day travel can only be purchased at the train station.
By bus
Sebes Bus Station (Autogara Sebes)
Web: www.autogari.ro/localitate.php?loc=Sebes%20(Alba)&lang=UK
Address: Str. Vanatori 24D
Note: Daily domestic bus service from/to a number of Romanian cities, including: Alba Iulia, Arad, Brasov, Bucuresti, Cluj Napoca, Deva, Fagarasi, Sibiu, Timisoara
Distance from Sebes to:
Bucharest — 205 miles
Arad — 140 miles
Alba Iulia — 12 miles
Bistrita — 135 miles
Brasov — 125 miles
Budapest (Hungary) — 310 miles
Cluj Napoca — 65 miles
Hunedoara — 45 miles
Iasi — 290 miles
Medias — 55 miles
Oradea — 135 miles
Satu Mare — 160 miles
Sibiu — 35 miles
Sighetu Marmatiei — 185 miles
Sighisoara — 75 miles
Suceava — 250 miles
Targu Mures — 95 miles
Timisoara — 140 miles
Tulcea — 330 miles
Vienna (Austria) — 460
Tourist info
Postal Service & Telephone
Post offices display a postal horn symbol and the word Posta.
Main Post Office & Telephone Center
Address: Str. Valea Frumoasei 2
Telephone: (258) 732.711
Open: Mon. – Fri. 7:30 a.m. – 7:30 p.m.; Sat. 8:00 a.m. – 1:00 p.m.; Closed Sun.
Telephoning Sebes from Abroad
International Access Code + 40 (country code) + 258 or 358 (area code) + telephone number (six digit number)
Sebes — Useful Telephone Numbers
General emergency phone number: 112
Sebes Area Code (Prefix Sebes) 0258 or 0358
City Hall (Primaria) – 0258 735.565
Maps