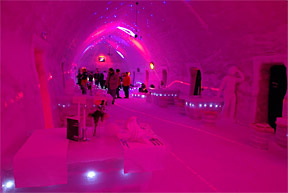 Location: The Carpathian Mountains, among the peaks of Faragas massif.
Altitude: 6,700 feet above sea level.
Access: reachable via cable-car from Balea Cascada.  
Description: The Hotel of Ice, Romania's newest hotel is (re)built every year using four-feet long 'bricks' made from ice from the nearby Balea Lake.   Every year this unique hotel features a new design.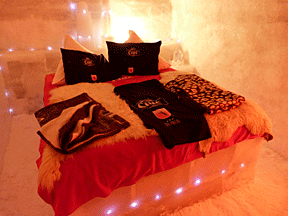 The 2012 / 2013 Hotel of Ice has 12 rooms, an ice-lounge, a bar, and a restaurant. 
Next to the hotel, there is an Ice Church where youngest guests can get baptized, young (age or / and heart) guests can get married and the most experienced guests can celebrate their Silver, Gold or Dimond wedding anniversary! 
All rooms have ice beds with comfortable mattress, covered with bed-sheets and soft furs. Guests will also be provided with a sleeping bag for the night.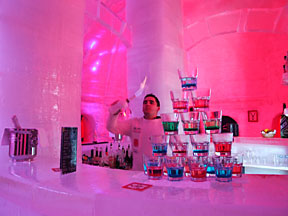 Features & Activities:
Snow-shoeing, ice sculpting, ice skating, sledging and snow mobile.
Delicious meals (breakfast, lunch or dinner) are served on ice tables.
Guests will seat on ice chairs and most cold dishes are served on (even colder) ice plates.
Rates: from $89.00 / night
More information and reservations:
http://hotelofice.ro/