GURA HUMORULUI, ROMANIA — The Bucovina region in the far north of the country, wrote the Romanian scholar Silviu Sanie, is "one of those blessed realms where sacred and secular monuments have enriched the enchanting natural landscape."
During a recent week's stay, I found this description remarkably apt.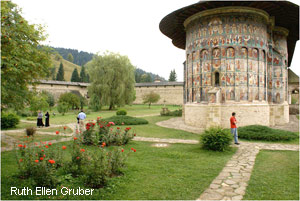 Once the easternmost province of the Austro-Hungarian Empire, Bucovina ("land of beech trees") today straddles the border between Romania and Ukraine: northern Bucovina was annexed by the Soviet Union in 1940 and the region's historic capital, Chernivtsi (Czernowitz in German and Cernauti in Romanian) lies just 30 kilometers, or about 18 miles, north of the frontier.
The southern part, on the Romanian side, is a world of rolling farmland and steep forested hills, where antique villages and peasant culture coexist with new industry and modern construction. Horses and carts (and the occasional herd of cows) share the roads with SUVs, and intricately carved wood and other ornamentation still decorate many village homes and farmsteads.
Exceptional examples of a rich religious heritage form an important part of the mix.
Here are Romania's famous painted monasteries, built in the 15th and 16th centuries when the region, a stronghold of Orthodox Christianity, was threatened by Ottoman invaders.
The vividly colored frescoes on their exterior walls, masterpieces of Byzantine painting, tell the tales of saints and heroes, and portray in epic imagery the cataclysmic struggle between good and evil at the end of days.
The monasteries are among Romania's most celebrated cultural treasures. Listed on Unesco's roster of world heritage sites, they draw large numbers of visitors throughout the year.
Here, too, however, are religious sites far less known and rarely visited that also form important components of the region's deeply rooted spiritual patrimony. These are the centuries-old Jewish cemeteries, whose weathered tombstones bear extraordinary carvings that meld folk motifs and religious iconography into evocative examples of faith expressed through art.
I was in the Bucovina to carry out research on Jewish tombstone art, and spent many hours photographing the richly sculpted tombstones in cemeteries in Radauti, Siret and other towns.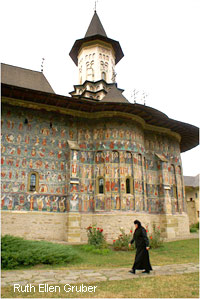 But, traveling by car, I was also able to visit nearly half a dozen of the painted monasteries, all of them located within an easy drive of each other.
Among them was Sucevita, a fortresslike complex in wooded hills that today is home to a monastic community of several dozen black-clad nuns. Protected by turreted defensive walls, it has a central church topped by an elegant steeple and covered with wonderfully bright paintings from 1602-04.
The simple church at Arbore, built in 1503, is on a much smaller scale. Shaded by trees in a secluded garden, it features faded but powerful paintings by the 16th-century artist Dragos Coman.
The most famous single fresco is a splendid Last Judgment that sprawls across the back outer wall of the Voronet Monastery, a few kilometers from the little logging town of Gura Humorului.
Here, in tones of russet, gold and a deep, rich blue, Satan sits astride a scaly two-headed monster, immersed in a river of fire. To one side, St. Peter opens the portal of Paradise to the souls of the righteous, while demons drive naked sinners to their fate. The dead leave their tombs to the sound of shepherds' horns, and land and sea animals of all sorts flock toward the throne of judgment.
The Jewish cemeteries are not as old as the monasteries, but the images carved on their tombstones are to me just as compelling as the vivid frescoes on the monastery walls. On them, hands of God reach down to break the Tree of Life; exquisitely carved animals - lions, deer, snakes, birds, and even imaginary griffins - prance and pose. Women's tombs are often marked by the depiction of candlesticks, as lighting the Sabbath candles is one of their traditional duties. In many cases, the candlesticks are so elaborate that they look like living trees with braided branches.
Bucovina was once home to a large and thriving Jewish community. Today, however, as throughout much of Eastern Europe, only a few dozen Jewish families live there. Most of the cemeteries are neglected, but several are fairly well maintained and easy to visit.
These include cemeteries in Siret, on the border with Ukraine. The Old Jewish Cemetery there is one of the few listed as a national monument. Its richly carved tombstones date back nearly 300 years and are scattered picturesquely on steep terrain. A more recent cemetery nearby includes thousands of tombstones, many of them adorned with Baroque-style carvings so ornate that the sculpted forms seem to leap from the stone.
The Jewish cemetery in Gura Humorului also includes a range of highly original sculpted ornamentation. It is located just outside town, and a few kilometers away from both Voronet and another nearby monastery, Humor.
Though there are many organized tours to the painted monasteries, a car is needed to see the full range of sites. The roads and overall infrastructure in Bucovina have been upgraded significantly since Romania joined the European Union in 2007.
There are several upscale hotels, and numerous pensions and guest houses offer inexpensive rooms. Many have restaurants serving hearty local dishes.
To find out more about The Painted Monasteries of Bucovina, Northern Romania please visit:
RomaniaTourism.com/Painted-Monasteries.html
To find out more about Bucovina please visit: RomaniaTourism.com/Bucovina-Moldova.html
Read more articles about Romania at RomaniaTourism.com/Romania-in-the-Press.html