Who says that death can't have its lighter side? Certainly not Dumitru Pop. For about 30 years now, he's been taking away some of the sting and adding a little zing to the dreaded inevitable.  Behind the Church of the Assumption in this small town of 5,000 (living) souls in northern Romania there's a unique cemetery, known as the Cimitirul Vesel - the Merry Cemetery.   It's called that with good reason Each grave is marked, not with an austere, cold stone, but with a lively, beautifully carved wooden cross, painted in the radiant blue of heaven and decorated with a painting and an original poem that disclose a little something about the life and character of the plot's eternal inhabitant.  Some of the verses are wickedly funny, others are more whimsical. Some are heartbreaking, telling of lives tragically cut short by accidents or illnesses.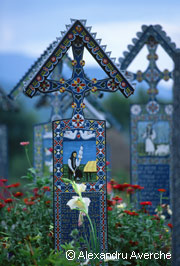 Pop creates each of these little masterpieces, carrying on a tradition begun in the 1930s by his mentor Ion Stan Patras, who carved the crosses until his death in 1977.  When someone in the village dies, the family comes to Pop and asks him to create a cross, which he hand-carves from oak in the small workshop behind his house, just around the corner from the church.  Pop alone decides what the picture will portray and what the verse will say.  The poems aren't irreverent - they don't mock the grave or its tenant - but some of them do seem, well, a touch indiscreet, telling witty stories of infidelities, indiscretions and a fondness for alcohol.  You'd think that some of the relatives might be miffed, but not so, Pop says.  "It's the real life of a person. If he likes to drink, you say that; if he likes to work, you say that ... there's no hiding in a small town," Pop says, adding that no one has ever complained to him.  "The families actually want the true life of the person to be represented on the cross."  The verses are generally written in the first person, and as you read them, you almost get the feeling that you're having a little conversation with the other side.  You certainly sense that, in some small way, you've come to know the person. Take this one, for example
"Here I rest.
Stefan is my name.
As long as I lived, I liked to drink.
When my wife left me,
I drank because I was sad.
Then I drank more
to make me happy.
So, it wasn't so bad
that my wife left me,
Because I got to drink
with my friends.
I drank a lot,
and now, I'm still thirsty.
So you who come
to my resting place,
Leave a little wine here."

Even if you can't read Romanian, the simple paintings on the cross tell unmistakable tales of their own.   There's one where a priest sits looking enviously at a group of men carousing at a nearby table; in another, a teacher works at his desk while casting a furtive glance at a woman sitting across the room.  Many just show scenes from everyday life men working in the fields, women working in the home; or reflect the things the deceased held dear family, friends, animals, booze.  Even Romania's dour Communist rulers wanted in on the fun.  One former party boss's grave shows him sitting at a table holding up the red hammer-and-sickle symbol.  The inscription reads
"As long as I lived, 
I loved the Party
And all my life
I tried to help the people."
Hmmm.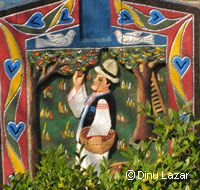 Pop says he creates about 20 to 30 crosses per year - depending on ... well, you know.  In the meantime, he, like most people in rural Romania, does some small-scale farming. He also makes hand-carved furniture and decorative pieces, most of which flaunt his incisive wit. One three-panelled piece begins with a young couple embracing in the first bloom of love. The second panel shows the man drinking while the woman sits alone in a corner.  In the final panel, the man sits, with an empty bottle, looking over his shoulder at his wife in the next room with another man. The cemetery contains about 700 graves and even though it's an extremely popular place - with both the dead and the quick (it's one of Romania's most popular tourist sites) - there's still plenty of room for future occupants, one of whom will be Pop himself.  He's got his plot reserved and is in the process of making sure that the tradition doesn't die off just because he did.  He's training several apprentices to take over.  "But they can't be just anybody," he says.  "They have three jobs to do ... they have to be sculptors, painters and poets, all in one."
Walking through the cemetery as the sun sets, I come upon a memorial to the man who started the whole thing, Ion Stan Patras. The message carved on it says that he began making the crosses because he loved people and he still wanted to have people come and visit him, even after he died. He certainly seems to have accomplished that.  One thing's for sure, I can't remember ever smiling so much in a cemetery.
Read more articles about Romania at www.RomaniaTourism.com/Romania-in-the-Press.html