What comes to your mind when you think of Romania?
Probably something having to do with a certain book, a certain creature of the night, and maybe a castle associated with both.
But Romania is one of the cheapest places to travel in Europe, a great value just east of a few countries that can drain your wallet faster than you can say "euro zone."
Romania is part of the EU, but its currency remains independent, which can be a good thing for us non-euro travelers.
As I learned during my recent visit, however, there's also plenty of beauty to take in while traveling around this country.
I focused on the doors here to depart from the usual shots, though you can see a few drool-worthy shots and a round-up of three cities here: A Taste of Transylvania.
So here I present a few doorways of Romania, mostly in Transylvania, but the last one from Bucharest.
Anyway, it's a beautiful area full of a mixed bag of beautiful architecture.
The two doors below are from a citadel in Sighisoara and a monastery nearby.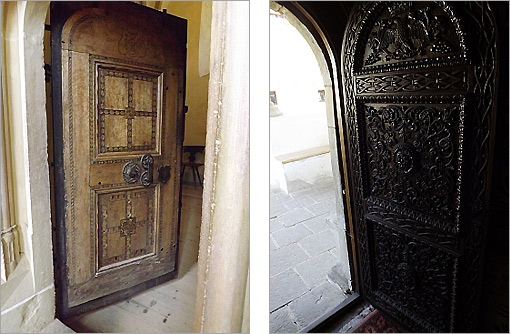 The next shot is from a building off the main square (Casa cu Cariatide) in Sibiu.
The next two are from a different monastery and a former king's palace.
As you can see, the detail work is simply stunning, from a time back when it was considered normal to take six months or a year to do a custom order job right instead of whipping out a thousand identical ones on a factory floor in one day. Time was not precious; quality was. To honor God, the king, or even your own
good fortune, adorning the doorway with work done well was essential.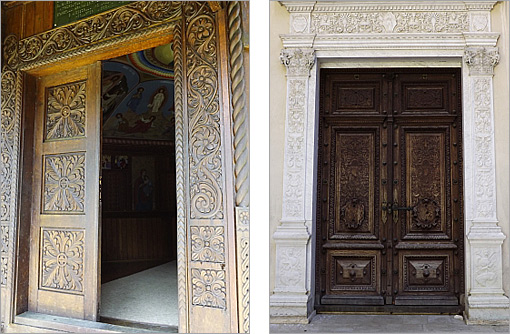 The last door photo is from Bucharest, showing that time moving slowly was not just a rural concept. This is from Stavropoleos Monastery in what's left of the historic part of the city. It was founded in 1724.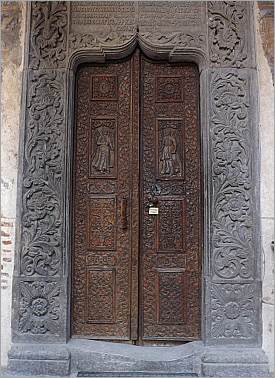 For more information on the country, see RomaniaTourism.com.
Watch for a later feature story in the Perceptive Travel webzine.
Read more articles about Romania at
www.RomaniaTourism.com/Romania-in-the-Press.html