By NICHOLAS WOOD (The New York Times )
The road to Miklosvar seems almost designed to keep visitors away. Anyone hoping to make their way to this village deep in the center of Romania must brave potholes and gravel that pummel the bones of passengers in even the most luxurious of vehicles.
Miklosvar remains a throwback.
The reward for enduring the three- to four-hour trip from Bucharest is a part of Transylvania that appears to have changed little over the last century. Farmhouses, adorned with outsized, ornate wooden gateways, hug cobblestone and dirt roads. In nearby fields, men and women cut hay with scythes. Traffic, for the want of a better word, consists of horses and carts passing by once in a while.
Andrew Testa for New York Times
For most people though, the idea of Transylvania conjures images of Bram Stoker's "Dracula," and by all appearances, Miklosvar seems well qualified as an appropriate backdrop. While Bran Castle, the towering fortress most closely associated with Vlad the Impaler, is 41 miles away, Miklosvar offers a deserted manor cum castle, bats that fly through the unlit streets at night and even a charming count who speaks in faintly accented English.
But these are not the reasons why the said count, the man responsible for bringing most outsiders there, would have you visit.
For the last decade, Count Tibor Kalnoky, a former veterinarian and ornithologist, has been working to turn this village on the eastern edge of Transylvania — the Hungarian-speaking region in central Romania — as well as the surrounding woodland into an environmental retreat and a preserve of the region's architectural heritage.
Descendants of the feudal overlords of the area, whose roots there date back as far as 1252, Count Kalnoky and his family run a company that provides tours and accommodations for up to 20 guests in four farmhouses in Miklosvar. The money raised from Count Kalnoky's Estate, as his company is known, goes toward restoring the humble steep-roofed buildings in the village as well as two of the family's ancestral homes (one in Miklosvar and another nearby).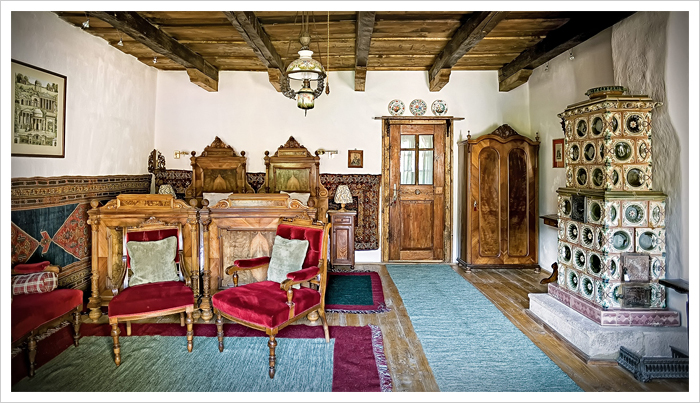 The company is also committed to promoting and protecting the local wildlife. It is lobbying for the woodland behind the village, home to such rare birds as the lesser spotted eagle, black storks and white-backed woodpeckers, to be protected under Romanian and European law.
Guests stay in one of four farmhouses, all of which have been restored over the last decade.
The 19th-century main guesthouse, or Upper House, has two stories and a cellar. Drinks are served in a drawing room with high-backed armchairs and a table covered in embroidered white cloth. At one end of the room stands a fireplace with a band of blue and white tiles that bear the Kalnoky crest. Meals are served in the cellar on a long wooden table in front of an open fire.
Another guesthouse, formerly a serf's dwelling, is up a path. It is a much simpler affair, painted in light blue (the color of houses belonging to serfs or bonded workers) and with wooden gutters that hang from the roof.
The two other guesthouses are a five-minute walk away and face each other across an enclosed yard.
The family's former hunting manor, which combines Renaissance, Baroque and neo-Classical architecture, is the most ambitious restoration project, and lies empty at the northern end of the village in its own park. During Communist times, it was used as the village's main meeting hall and fell into neglect. Now it is open to visitors as the Kalnokys restore the stonework and frescoes on the outside walls.
While many villages in this region share this heritage, what makes Miklosvar different is that it has retained much of its original population. The villagers still make their livings almost exclusively from the land. Visitors can set out to track bears or wolves, visit bat-filled caves, walk through primeval forests and return each evening to the comfort of farmhouses with open fires and antique furniture, and eat rich local dishes like goulash with caraway seeds and sour cream.
Nearby there are numerous castles, former manors and fortified medieval churches to visit as well as crumbling Saxon villages, home to members of Romania's ethnic German minority for 800 years until most emigrated to Germany after the collapse of Communism. The beauty of this area and the Kalnokys' restoration work have attracted interest from both architecture and wildlife enthusiasts, including Prince Charles, who is involved in a similar environmental and restoration program in Viscri, a nearby Saxon village.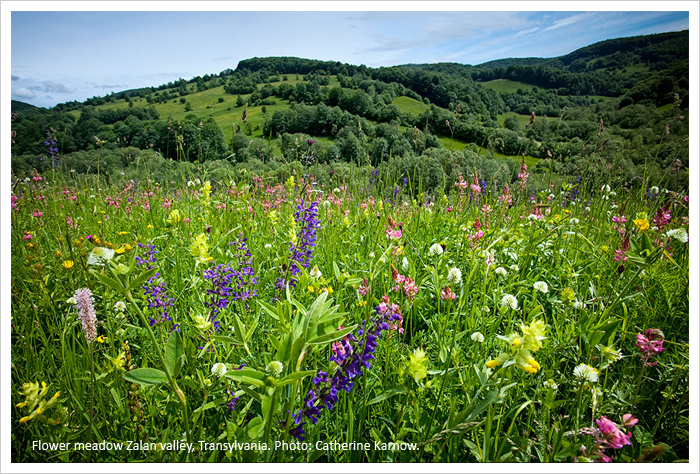 The creation of Miklosvar as a rural retreat began some 19 years ago.  The collapse of the Berlin Wall a year later and a revolution in Romania paved the way for people to reclaim property seized by the state. By 1997, Count Kalnoky had regained Korospatak, the former family home. He then started building up neighboring Miklosvar.
"It's my answer to globalization, if you like," said Count Kalnoky, 39.
"It was as if it was thrown into a deep freeze," he said of the Miklosvar area when he found it, and that's the way he would like to keep it.
In late May, a short trip on top of a hay cart drawn by two horses brought the count and two guests to the woods overlooking the village. Over the next two hours, our guide, Gabor Tompos, led us on foot through thick grass to a burrow dug out by bears for hibernation. The paths were littered with wild orchids. Overhead, we spotted a large eagle's nest in a birch tree.
Back in one of the guesthouses, we sank into armchairs, surrounded by antique oak, walnut and pine furniture, the kinds of items the family says would until recently have either been thrown away or used as firewood. Heavy eiderdown-filled bedcovers, crisp white sheets and traditional wool-filled mattresses would ensure a deep sleep that night.
Just as Miklosvar has remained largely unscathed by modern progress, it has also remained poor. Even while urban areas in Romania experience sharp growth as it prepares to join the European Union in next January, the accompanying wealth eludes many rural areas. And so Kalnoky appears to have given at least some in the village a renewed sense of pride and purpose as foreigners flock there.
But there is an odd feeling, too, of a hint of a return to a feudal order. Villagers refer to the Western-educated veterinarian as "the count" (guests usually call him Tibor). The kitchen staff and housemaids wear traditional dress, and linguistic barriers mean there is little communication between the visitors and the employees or villagers.
Miklos Cserei, who runs a small bar just near the Kalnokys' main farmhouse where the walls were decorated with a fading Cindy Crawford calendar and a poster of J. R. from "Dallas," remembers the apprehension of many villagers when the count won his property back.
"I think the older people were afraid," Mr. Cserei said. "They could still remember stories when people here were peasants who worked for the count." He said that some of those fears subsided when the count gave gift packages to the elderly at Christmas, a tradition he has kept up ever since.
Yet, in some ways, even Count Kalnoky himself sees his family fulfilling the role their ancestors did before them.
"The real value of aristocracy is something I'd like to deepen here," he said. "A sense of responsibility toward the place and people here."
VISITOR INFORMATION
The most direct way to Miklosvar is to fly to Bucharest and drive, or be picked up at the airport by Count Kalnoky's staff.
There are also regular trains between Bucharest and Brasov, where the Kalnoky staff will also meet visitors.
While accommodations are comfortable, be prepared for outdoor living. A raincoat, sweater and outdoor shoes are essential. The castle is open year round, so a winter holiday - in thick snow - is a possibility. (The carts are replaced by sledges, but still pulled by horses.)
There is nowhere else to eat nearby, unless you want to make the 30-minute drive south to Brasov, so it is probably best to opt for the weeklong package offered by Count Kalnoky's Estate (40-742202-586, www.transylvaniancastle.com) which includes tours, activities and full board with wine.
There is plenty to do in the village itself. Depending on the season, visitors can try their hand at a range of activities including milking a cow, plowing fields with a horse, baking bread and even being a blacksmith.
Sighisoara and Brasov, the two main cities in the region, are both rich in medieval and Renaissance architecture. There are also numerous Saxon and Sekler (a Hungarian subculture) villages to explore. Viscri and Saschiz are Unesco World Heritage Sites, each with a fortified church and other medieval structures.
Read more articles about Romania at www.RomaniaTourism.com/Romania-in-the-Press.html