By EVAN RAIL (The New York Times)
Far cheaper than Prague or Budapest, Bucharest offers much of the culture of the neighboring capitals without the crowds. A three-course dinner at one of the city's most revered restaurants costs less than the equivalent of $30, and the best seats at the opera are about $9. Of course, there's more to hear than just fat ladies in Viking helmets. The music scene starts with the great 20th-century composer George Enescu, but it quickly branches out to house D.J.'s like Alien Pimp and rollicking Gypsy bands like Taraf de Haiduks.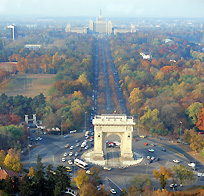 The cityscape is equally vibrant, with Byzantine churches crumbling next to palatial Beaux-Arts town houses and minimalist International-style blocks. Though Bucharest, the capital of Romania, used to be called Micul Paris (Little Paris), the architecture is more varied than the City of Light's, and long boulevards like Victoriei and Dacia offer photo-worthy sights on every corner.
But the gritty tableaus are fading fast, as much of old Bucharest is getting cleaned up. In the 17 years since the fall of Communism, Romania has attracted scores of outside investors, and the money seems to be pouring in faster as the country approaches its scheduled entrance into the European Union in 2007. But for now, it remains a quirky little place, and you can still see the sights without souvenir shops and postcard vendors getting in the way.
WHERE TO STAY
Bucharest's hoteliers clearly have their eyes on business travelers, and many rates are listed in euros (and even dollars), instead of the local currency. The city's freshest beds are at the plush Novotel (Victoriei 37b; 40-21-312-5114; www.novotel.com), a tower with 258 rooms that opened last month. The Ikea-esque modern décor is light and airy.
Nonetheless, the old Athénée Palace Hilton (Episcopiei 1-3; 40-21-303-3777; www.hilton.com) remains the queen of the scene. Built in 1914, the hotel was renovated 10 years ago, preserving many of the original elements, like the opulent ground-floor ballroom. And it's centrally located. Rates vary according to the season.
For local color and slightly lower prices, the nearby Hotel Capitol (Victoriei 29; 40-21-315-8030; www.hotelcapitol.ro) retains the aura of a grand hotel from 1901, at least on the outside.
Far cheaper is the Hostel Miorita (Lipscani 12; 40-21-312-0361; www.hostel-miorita.ro .
WHERE TO EAT
A key to grasping contemporary Romanian culture is fite (FEET-sah), which roughly translates as "flaunting it." The best place to do that is Balthazar (Dumbrava Rosie 2; 40-21-212-1460; www.balthazar.ro), an elegant fusion restaurant where the clientele and waitresses all look as if they'd just returned from St.-Tropez. The chef is equally showy, sending out cosmopolitan dishes like tender Taiwanese dumplings (24 ron, or $8.80, at 2.85 ron to the dollar), sour-spicy Vietnamese soup (16 ron) and an extremely juicy, herb-encrusted pork cutlet (41 ron).
No less flashy is Casa di David Downtown (Lascar Catargiu 56; 40-21-317-4551). The décor suggests an A-list boutique hotel, with an international clientele and menu to match. Main courses include chicken breast with wasabi pepper sauce (29 ron), and Asian beef and arugula salad (27 ron).
Traditional fare also gets the high-gloss treatment at restaurants like Casa Doina (Kiseleff 4; 40-21-222-6717; www.casadoina.ro). Housed in a stately 18th-century villa, the restaurant has a terrific wine list (the 2002 Florenta pinot noir is an amazing value at 36 ron), while memorable classics like spicy lamb "pastrama" (22 ron), possibly an ancestor of pastrami, make a strong case for ranking Romanian cuisine among the best in Eastern Europe.
WHAT TO DO DURING THE DAY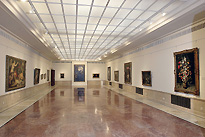 Bucharest is way too vibrant to be called a museum city, but there are plenty of great collections to fill out a stay. Directly across from the Romanian Atheneum is the National Art Museum of Romania (Victoriei 49-53; 40-21-313-3030; art.museum.ro), which has an impressive permanent collection that includes works by El Greco, Rembrandt, Rubens and Sisley, among others, as well as local heroes like Gheorghe Patrascu. Its main draw right now is the photographic exhibition of Romania's greatest sculptor, Constantin Brancusi, which runs through Oct. 15.
For a glimpse of the country's rustic past, the open-air Village Museum (Sos. Kiseleff 28-30; 40-21-222-9106) has dozens of old houses, churches, barns, windmills and other buildings dating back to 1775, set in a park along the shore of Lake Herastrau on the city's north side.
With money flowing into Bucharest faster than the Dambovita River, the cityscape is shifting rapidly. Before it changes completely, check out old Bucharest along Lipscani Street, a garment district with more than six centuries of architecture. But hurry: shiny new cafes are starting to appear. A great guide to the sites is the Lipscani Panoramic Map, published by the Pro Patrimonio foundation (www.propatrimonio.org) with support from the United States Embassy. Of course, it wouldn't be Romania without Dracula, and Lipscani is also home to the ruins of one of his castles: Curtea Veche, or Old Court (Franceza 21-23; 40-21-314-0375), the ruins of a fortress built way back in 1459 by the man otherwise known as Vlad the Impaler.
WHAT TO DO AT NIGHT
Classical music reigns supreme, and the premier venue is still the Romanian Atheneum, a neo-Classical concert hall built in 1888 and home to the George Enescu Philharmonic (Benjamin Franklin 1; 40-21-315-2567; www.bucharest-philharmonic.ro). A few blocks away, the Bucharest National Opera (Mihail Kogalniceanu 70-72; 40-21-314-6980; www.operanb.ro) has a reputation for a strong ensemble cast — no prima donnas here. The opera company offers its premiere of "Manon Lescaut" this month.
If you want cocktails with your performance, go to Deja-Vu (Nicolae Balcescu 25; 40-21-311-2322), a bar that turns drinking into a kind of cabaret. Order their version of a B-52 (Kahlua, Bailey's and triple sec) and the bartender will place a Russian military helmet on your head and bang it with the cocktail shaker until you finish the shot.
Afterward, check out the ultra-sleek lounges where the city's elite come out to play: Bamboo (Ramuri Tei 39; 40-78-829-6766; www.bamboosportingclub.ro) and Embryo (Ion Oteteleseanu 3a; 40-72-737-9023). For a less glamorous but equally hedonistic scene, slip into Club Maxx (Independentei 290; 40-72-264-7337), a giant dance club near the University of Bucharest dorms that features high-energy house music and go-go dancers who soap themselves up in showers.
WHERE TO SHOP
Communism was not known for nurturing high-end fashion, but Braiconf (Victoriei 60-64; 40-21-313-2388) is a rare exception. Founded as a state-run company in 1950, Braiconf today sells rather stylish shirts (119 ron) and slacks in the Ben Sherman mode.
Other surprisingly au courant styles can be found at the Museum of the Romanian Peasant (Sos. Kiseleff 3; www.muzeultaranului.ro), which has a gift shop filled with handicrafts. The embroidered cotton tunics for women (200 ron) could belong in a 2007 spring collection, and urban bachelors will dig the traditional wool-lined vests (680 ron). Other great souvenirs include intricate woven rugs and elaborately painted eggshells.
Far more refined is the trendy boutique Roxana Butnaru, a darling of the Romanian edition of Cosmopolitan. The oh-so-cute shop (George Enescu 21; 40-72-237-7256) behind the Romanian Atheneum carries pink polka-dot dresses (300 ron) and other retro-cool designs.
HOW TO STAY WIRED
Wi-Fi is spreading throughout the city, but at a price. Many hotels charge 15 euros a day, while Vodafone (www.vodafone.ro) has several hot spots around the city and charges $21 for two days of access. To stay under budget, your best bet is an Internet cafe like PC-Net (Victoriei 120; 40-21-315-5186), which charges 3 ron per hour and stays open 24/7.
YES, FREE It's not Warner Brothers, but MediaPro Pictures in the neighboring town of Buftea has played host to cinematic luminaries like Donald Sutherland and Costa-Gavras. Visitors can walk around a bluescreen stage, step into a medieval French village set and see the house where the director Franco Zeffirelli lived. Best of all, tours of the studios are free if arranged in advance (Studioului 1; 40-31-825-1840; www.mediapropictures.com).
YOUR FIRST TIME OR YOUR 10TH
It's impossible to overstate the pomposity of the Palace of Parliament, which still carries its Ceausescu-era name, Casa Poporului (or House of the People). Guides claim that it is the second-largest administrative building after the Pentagon. It is certainly among the world's weightiest, with 1 million cubic meters of marble, 900,000 cubic meters of wood and a crystal chandelier clocking in at five tons. A tour (20 ron) is essential, if only to grasp the building's megalomaniac scale: Ceausescu wanted one of the reception halls to have an open roof so helicopters could land inside.
For more information about Bucharest please visit: www.RomaniaTourism.com/Bucharest.html
Read more articles about Romania at www.RomaniaTourism.com/Romania-in-the-Press.html