By Richard Varr
It might be hard to believe Romanian "moonshine"—often concocted in makeshift, charcoal-stoked backyard distilleries—is in fact the country's national drink. It's called ţuică, a clear and gut-warming potent spirit distilled from plums, one of the country's most bountiful crops.
While the legend of Dracula traipsing mountaintop stone castles still commands this country's mystic fervor, only a few visitors may know the making of ţuică in the months of waning daylight is also a long-held tradition dating to medieval times. And the locals say the best ţuică is found at roadside stands or within rustic villages, often bottled in round-faced, canteen-shaped vessels.
"I spent all of my school vacations with my grandparents at their small Transylvania farm, and many times I helped my grandfather produce his ţuică, which he called jinars," said Simion Alb, director of the Romanian National Tourist Office, North America. "There were two brandy distilleries in my grandfather's village, and they were very busy. Advance reservations were a must.
"There were long nights filled with my grandfather's stories of his childhood, his participation in World War II and his farming plans. However, these were not leisure nights under the stars, as we had to make sure the fire needed to boil the fermented fruit was just right—not too strong and not too low. And I had to stir constantly so the moonshine didn't get burned or its flavor ruined."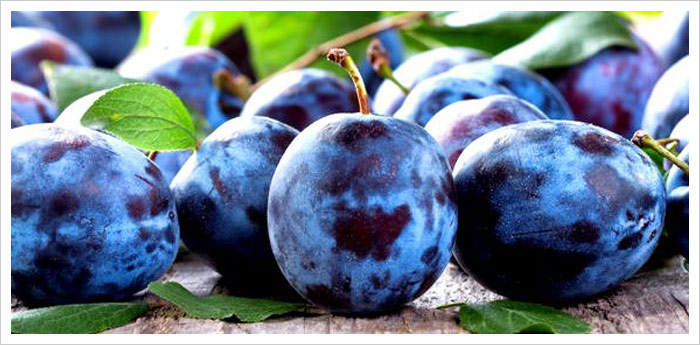 Toasting Milestones
Often the drink of choice when celebrating milestones, Romanians toast with shots of ţuică at weddings, baptisms, births and holidays. They gulp it down at wakes and funerals. "Even a small business deal such as a sale or purchase of livestock was traditionally celebrated with a handshake and a shot of ţuică," Alb said.
Much of Romania's arable land is ideal for fruit crops—apples, pears, cherries, apricots and plums. Despite its small size, Romania is the world's fourth-largest plum producer, on par with plums harvested in the U.S. For centuries, no refrigeration and few preservation techniques helped fuel the tradition of turning the fruit into brandy.
Today, 75 percent of the country's plum crop is used in ţuică production, typically from October to December. Plums ferment with a handful of yeast in large bins for six to eight weeks. The mash is then boiled and distilled into brass kettles with copper tubing, using traditional firewood or charcoal heat sources.
Single distillation yields spiked spirits of about 20 percent to 30 percent alcohol, while ţuică undergoing a second or third distillation process often results in brandy with more of a kick—up to 60 percent. Stronger brands made from plums and possibly other fermented fruit including apples, pears and cherries are called palincă, hornică, jinars and fatatas.
Aged and Served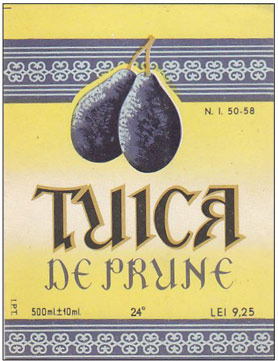 Ţuică is aged in mostly oak barrels or glass vats from a few months up to 10 years. Or it can be served immediately. "The best aging occurs in mulberry wood barrels, as the mulberry does not interfere with the original flavor of ţuică," said Alb. "And in time, it gives the drink a nice yellow color."
The once-distilled ţuică has more flavor and is preferred in southern Romania and along the Black Sea, where culinary tastes include more fish, lean meats and vegetables, according to Alb. The twice-distilled palincă is the choice of Transylvania and the northern part of the country, where more pork and fatty meats grace dinner tables.
When not toasting an occasion, the locals will down a shot or two before eating, often on an empty stomach, heightening its gut-warming kick. They say ţuică stimulates the appetite and helps with digestion. And it's often served hot in wintertime.
"In the countryside, even today, refusing a shot of homemade ţuică is difficult to understand by many hospitable hosts,"
Alb said.
Planning Your Trip
Contact your AAA Travel agent or www.AAA.com/travel for help planning your next vacation.
Mar./Apr. 2017
Richard Varr is a freelance writer based in Houston.