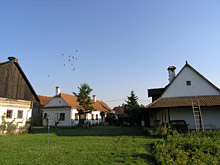 Location:
Miclosoara ( Miklosvar ),  
Covasna county - Transylvania
(15 miles NW of Sfantu Gheorghe and
34 miles NE of Brasov).
Nearest airports: 
Sibiu - 95 miles; 
Targu Mures - 95 Miles;
Bucharest - 140 miles .
Features:
Four traditional cottages with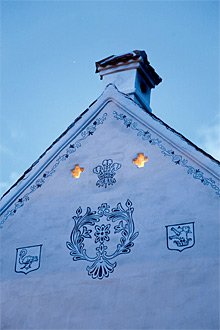 a total 10 rooms, built during early 1800's.
Entering the cottage feels like stepping into a Brothers Grimm fairytale. Stout oak beams underpin the roof and rough plaster lines the walls, while an antique ceramic stove pumps out warmth and shuttered windows peep onto the moonlit courtyard.
'You should be cosy in here,' says Count Kálnoky. 'Don't be alarmed if you hear noises in the night. It's probably just the watchman stoking the fire. And, if not – well, that should help keep out the vampires.' He gestures to the doorway, where a bunch of dried garlic has been nailed into the plaster. (excerpt, Lonely Planet Traveler - Transylvania's Medieval Tradition by Oliver Berry).
The Kalnoky Manor - Transylvania's first heritage accommodation - offers a unique glimpse into the area's past, living history and natural setting.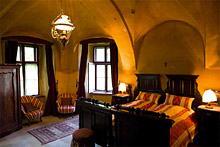 The guesthouses date back to the 1800's, although some of them are much older as indicated by the presence of medieval shooting embrasures.
The buildings have been carefully restored to recreate their original charm and character of Transylvanian rural life.
The owner truly believes that to discover Transylvania and its people one must experience the local sights and way of life, visit its unspoiled villages and impressive fortified churches adorned with exquisite medieval frescoes.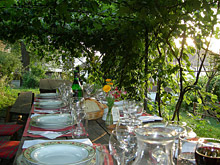 Room Amenities:
The rooms in Kalnoky Manor are beautifully furnished with antique Szekler-style furniture.  
All rooms have two double beds with custom-made, pure wool, mattresses.
To complete the area's atmosphere of peace and tranquility, each room has its own small collection of rare books but no TV or radio set. Each room has an electric kettle and a good selection of teas and coffee.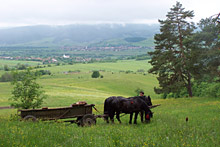 Fully functional wood stoves are used to warm the rooms during the cold season but however, the room temperature is being monitored by a modern heating system.
The bathrooms are luxuriously equipped and decorated. 
Guest Services / Hotel Amenities:
Dining room – colorful decorations and oversized fireplace
Wine cellar – 17th Century exposed oak beams and fireplace.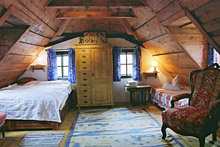 Local wines displayed in wooden racks line the walls.
Banquet facilities
Small-Meetings Room
Parking (complimentary)
Laundry Service
 
Rates:
49 Euros/ day/ guest  ($64.00)
(All taxes and buffet breakfast are included).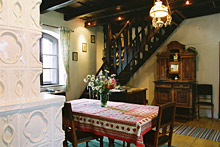 Meals at the Manor:
Lunch: 15 Euros / guest ($19.50)
Dinner: 18 Euros/ guest ($23.50)
(aperitifs and wine are included in
the above prices)
Excursions and activities:
Guided tours to several attractions in the region: Sighisoara, Brasov, Honigberg (Harman),  Tartlau ( Prejmer), Viscri, The Saxon Villages, Bran Castle.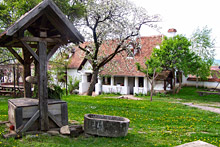 Activities:
bird watching, horse-riding, hiking, bat watching, bear tracking, horse-cart driving and Botany walks (Botanist Dr. John Akeroyd leads small groups to discover the local wild flowers and trees).
More information and reservations:
www.transylvaniancastle.com
k@transylvaniancastle.com