Carpatia Express offers travelers a glimpse into European Railway history!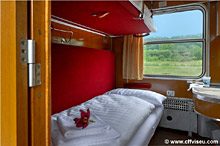 Address:
Strada Cerbului 5
435700 Viseu de Sus, Romania
Location:
Viseu de Sus, Maramures (NW Romania)
(37 miles SE of Sighetu Marmatiei,
105 miles NE of Cluj Napoca).
Nearest international airport:  Cluj Napoca.
Mocanita – the narrow gauge train - leaves from the nearby train station Viseu de Sus.
Timetable & Fares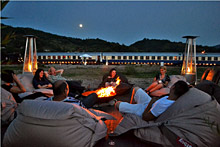 Features:
Two first-class train sleeping cars (wagon-lits), built in 1978 in East-Germany.
Dinning Railcar with 44 seats, fully equipped kitchen.
Total capacity:
20 traditional sleeping compartments, (with side corridor walkway).
Each compartment has two berths.
Last renovation: 2011.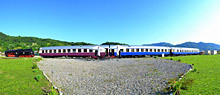 Amenities:
Cold and hot running water (sink) in each compartment, wardrobe closet, toiletry cabinet and luggage storage space. There are two toilets in each car. More toilets and modern showers are available right next to the sleeping cars.
Outdoor seating area
Coffee-Bar
Free Parking
Attractions Nearby: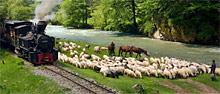 Mocanita – narrow-gauge steam train, Vintage steam locomotive depot, "Elefant" Jewish History Museum, Local artisan workshops in Sacel, Maramures Mountains Natural Park, Mineral Water Springs (Borcut) in Valea Vinului, Sapanta Merry Cemetery ,Maramures villages and World Heritage wooden churches
More information and reservations:
info@cffviseu.com
www.cffviseu.ro/en/index.html
Rails cars & locomotive facts:
Cars:
Sleepers

Year built: 1978 - East-Germany special order for the Czech rail company (ZSSK)
Producer: Vereinigter Schienenfahrzeugbau
Deutsche Demokratische Republik
VEB Waggonbau, Bautzen
Code: WLAB
Serial # 70-40 002 and 70-40 017
Dinning
Year built: 1978 - East-Germany special order
for the Czech rail company (ZSSK)
Producer: Vereinigter Schienenfahrzeugbau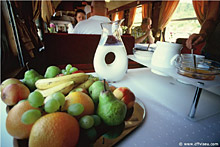 Deutsche Demokratische Republik
VEB Waggonbau, Bautzen
Code: WR Typ Y
Serial #  88-41 025
Locomotive:
Year built: 1951 – Resita,  Romania
Dual motive power:  coal or diesel
Type:  150
Serial #  150.216
Top speed:  55 miles/ hour
Power output:  1,625 PS  (1,602 hp)