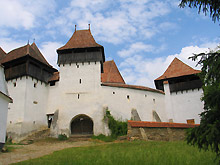 Location:
Viscri, Brasov county – Transylvania
Viscri is home to a 14th Century fortified church, surrounded by double defense walls, - a UNESCO World Heritage Site.
Nearest cities: 
Sighisoara (27 miles NW), 
Brasov (49 miles SE)
Nearest airports: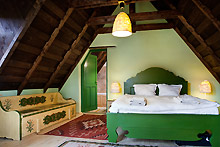 Targu Mures - 60 Miles, Sibiu - 74 miles;
Bucharest - 139 miles.
Features:
Two Saxon homes, with a total 10 rooms, built during mid-1700's. The buildings have been carefully restored in 2011 to recreate the atmosphere of Transylvanian rural life of the 1800s.
Viscri 125 offers a great opportunity to rediscover the serenity of country living while learning about Transylvania's Saxon heritage.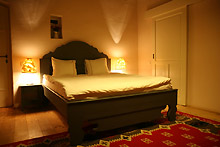 Room Amenities:
The rooms in Viscri 125 are beautifully decorated with Antique Saxon furniture and hand-woven carpets.
All rooms have one queen-size bed and one extra bed (traditional 'sächsisch' bed) and well as modern bathrooms with shower or bathtub.
There is free Wi-Fi Internet connection in each room.
Hotel Amenities:
The original barn has been transformed into an impressive
open space that blends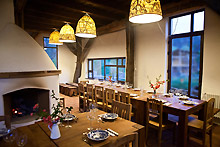 its original wooden structure with modern elements to create a warm and comfortable space.
A charming restaurant, its well-equipped kitchen and large function space are all under the barn's roof. The restaurant also has a generous deck facing the backyard and the vegetable garden.
Other amenities include a 'Garden Lounge' with hammocks and lounge chairs and a playground for children.
Guest Services:
Small-Meetings Room,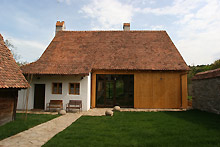 Parking (complimentary),
Laundry Service.
Rates:
from $65.00 / day/ guest
(All taxes and buffet breakfast are included).
Excursions and activities:
Guided tours to several attractions in the region: Saxon Villages, Sighisoara, Brasov.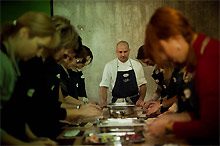 Activities:
Trekking, truffle hunting, cycling, shepherding, hay-stacking, culinary workshops: Saxon cooking with Gerda – the local cook, gourmet cooking with chef Daniel Wendorf, Transylvanian bread baking, arts & crafts workshops (clay molding, photography, Christmas and Halloween decorations).
A third Saxon house, Viscri 68 (with two bedrooms, two baths and kitchen), located next to the fortified church and surrounded by orchards, is available for families or small groups.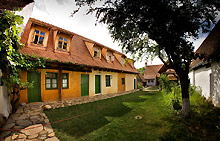 More information and reservations:
www.viscri125.ro
contact@viscri125.ro
Telephone: 0723  579.489 
or  0741  411.490