Location: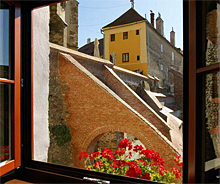 Refined atmosphere and genuine hospitality are defining this small but charming guesthouse ideally situated in the very heart of Sibiu, in Huet Square.
Sibiu's most lively areas: the Great Square and the Little Square are just steps away.
Huet guesthouse is located in a 14th century building, the only in town that offers access from both the 'upper town' and the 'lower town'.
The ground floor of the building - located in the lower town - is home to "Butoiul de Aur" (The Golden Barrel), one of the oldest taverns in Sibiu.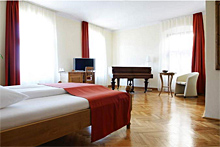 The 4th floor of the building (looking from the lower town) is the ground floor in the upper town and it hosts The House of Travelling Craftsmen.
Number of Rooms: 4
Huet-Residence offers four large rooms - one double, one twin and two deluxe doubles - simply but tastefully decorated.
Room Features:
Private bathroom with shower, hair-dryer, cable TV, Free Wireless Internet.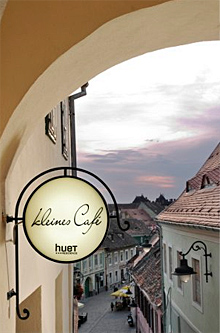 Hotel Amenities:
The Kleines Cafe - offers Nespresso coffee, alcoholic and non-alcoholic cocktails, refreshments as well numerous varieties of local and international wines.
Guest Services:
The hotel's friendly staff helps with information about events, attractions, restaurants, day trips, city tours, transportation and car rental.
Rates:
from $51.00/room/day - Double Room;
(rates include VAT and local taxes)
The Views:
Rooms are overlooking the Stairs Passage, The Tower Passage or The Lower Town.
Nearby attractions: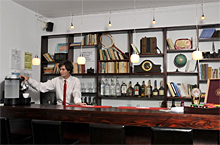 The Evangelical Cathedral , The Huet Square, Brukenthal Museum, History Museum,The Council Tower, Liars' Bridge, The Little Square, The Great Square,The Orthodox Cathedral.
ASTRA National Museum (5 miles S), Cisnădioara Fortified Church (8 miles S SW), Ocna Sibiului medical spa (11 miles N NW), Paltinis ski town (19 miles NW), The Transfăgărășan scenic road over the Carpathian Mountains (35 miles E).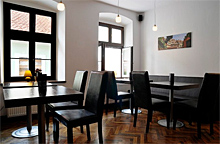 Hotel Website:
www.huet-residence.ro
Reservations:
office@huet-residence.ro
Telephone:
+ 40 0727 999.111
Address: Piata Huet 3, Sibiu - Romania