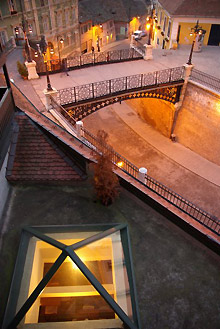 Location:
The Small Square
Old Town Sibiu – Transylvania
History:
Casa Luxemburg was built at the beginning of the 15th Century and seats on the first fortifications of Sibiu ("Villa Hermani"). Two older Saxon houses, one facing the Small Square and the other the Huet Square were combined to form a larger building.  A third floor was added in early 1800s. 
In the nineteenth century the building was bought by Johann Georg Schaser, an Evangelical priest and until 2004 the house was known as the Casa Rosie (Red House) or Casa Schaser. Between 1999 and 2003, the building was restored with funds offered by Romania's Ministry of Culture and the Bureau for National Monuments of the Great Duchy of Luxembourg.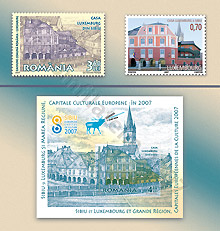 On March 30, 2004 the newly restored building was inaugurated in the presence of their Royal Majesties, the Duke Henri and Duchess Maria Tereza of Luxembourg.
Casa Luxemburg features an interesting mix of well-balanced Classical, Baroque and Rococo architecture.  Original elements that have been restored include the Gothic wooden door, the impressive wooden staircase, and the second floor's wooden ceiling bearing the Taylors' Guild Seal (1597).  Beautiful stucco floral motifs adorn Casa Luxemburg's colorful façade.
In 2007 the Romanian Postal Service issued a stamp sheet featuring Casa Luxemburg.
Number of Rooms: seven
Casa Luxemburg offers seven large and simply decorated rooms: four doubles, one single, one triple and one suite.
Room Features:
Private bathroom with bathtub or shower,
hair dryer, free Internet, cable TV, mini-bar,
coffee/ tea maker.
HotelAmenities:
Breakfast room, restaurant, bar,
art exhibit space.
Guest Services:
Tourist information, guided tours, car rental,
bicycle rental, Souvenir shop.
Rates:
from $57.00/room/day - single room; (rates include buffet breakfast and all taxes).

The View:
Rooms are overlooking the Liars' Bridge, the Evangelic Cathedral or the Council Tower.
Nearby attractions:
The Great Square, Brukenthal Museum, History Museum, The Council Tower, Evangelical Cathedral, Liars' Bridge, The Orthodox Cathedral, ASTRA National Museum (5 miles S), Cisnadioara Fortified Church (8 miles S SW), Ocna Sibiului medical spa (11 miles N NW), Paltinis ski town (19 miles NW), The Transfăgăraşan scenic road over the Carpathian Mountains (35 miles E).
More information: www.casaluxemburg.ro
Reservations: www.casaluxemburg.ro...

Address: Piata Mica 16, Sibiu - Romania