Spend a day or more in a traditional Danube Delta village!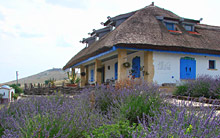 Location:
Enisala, Danube Delta
Nearest city: Tulcea (north - 27 miles),
Constanta (south – 61 miles)
Nearest international airport:
Bucharest (east - 170 miles)
Safari Danube Delta – Enisala Village is the perfect gateway to the Danube Delta - a World Heritage nature reserve, the third most biologically diverse area in the world.
Year built:
1995, local architectural style. Traditional, green, building materials such as wood, chalk and clay have been used.
Rooms:
Two traditional cottages - Casa Lavanda and Casa Atticum, with a total 16 rooms (4 single, 10 double and 2 suites).
The cottages are located on a hillside near lake Razim,
in a serene rural area in eastern Romania.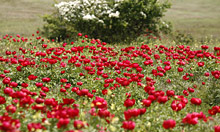 Rooms are decorated with traditional furniture and offer all modern amenities including wireless Internet, air-conditioning, safe-deposit.
Views:
Babadag and Razim lakes and Enisala Fortress.
Best room:
Riva apartment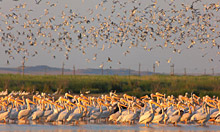 Amenities:
restaurant, bar, Ottoman Lounge, 'Byzantine' Wine Cellar, function rooms, art gallery, flower garden, two lake-view / wildlife watching terraces.
Most of the ingredients used in the restaurant come from the hotel's own vegetable garden and flow farm.
Rates:
55 euro / guest / night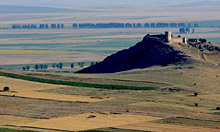 ($69.00 / guest / night).
(Rates include breakfast,
lunch and dinner and all taxes)
Nearby attractions:
Enisala Fortress (XIIth Century), Topalu Art Gallery, Enisala Peasant Museum, Celic Dere Monastery, Cocos Monastery (XVIIth Century)
Activities:
bird watching, biking, photo-safari,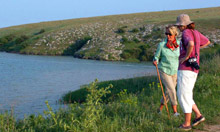 nature-walks, archaeology tours, hiking in the Macin Mountains, fishing, boating.
More information and reservations:
safari.ro
safari@safari.ro