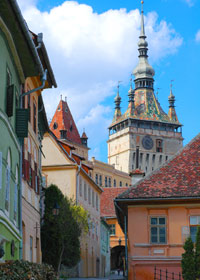 Location: Sighisoara citadel (Transylvania)
Year built: early 1600's
Year opened as a hotel: 2008
Number of rooms: 7
Room features: Wireless Internet, air-conditioning, safe-deposit, mini-bar.
Hotel amenities: restaurant, bar, 24-hour room service, beauty-center & SPA
Rates: starting from $130.00 / room / night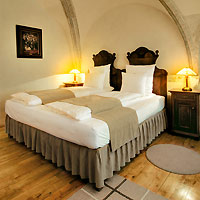 Best room: Antonia
The Fronius Hotel adds five-star amenities to five hundred years of history. Each room has original, authentic Transylvanian furniture.
The gothic arched ceilings are adorned with sculpted stone and here and there - with restored murals.
The doors` locks are the original - 500 year old.
The bathrooms are modern, but the contrast with the original style of the rooms is rather slight.
Views: Some rooms are overlooking the 14th Century Clock Tower.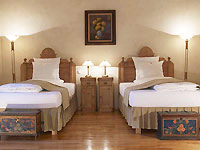 Raves: The bar - located in the old cellar - features of the only two groundwater wells still in function in the entire citadel.
Address:
Strada Scolii 13
545400 Sighisoara
Telephone: 0265 779.173
www.fronius-residence.ro