Location:
Copsa Mare, Sibiu county - Transylvania
(1 mile east of Biertan Fortified Church – a UNESCO World Heritage Site; 18 miles SW of Sighisoara and 52 miles NE of Sibiu).
Nearest airports:
Targu Mures - 48 Miles;
Sibiu - 52 miles;
Cluj Napoca - 94 miles;
Bucharest - 185 miles .
Features:
Three traditional cottages, built during late 1700's, with a total of eight rooms.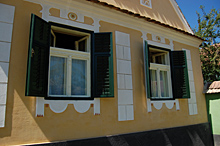 The recent history of Copsa Mare Guesthouses started in 2005 when the Bassetti family discovered the beautiful village of Copsa Mare and decided to carefully restore a few old Saxon residences.
All houses have been restored according to the traditional architecture, decorated with local furniture and provided with the comfort of modernlifestyle. They feature the typical curved tile roof and nicely decorated facades painted in pastel colors. Their architecture and layout follows the local rules on the use of the land that hasn't changed since the middle ages.
The Yellow House has two independent suites with their own living room and veranda with direct access to the garden. It is also the building in which the reception, the dining room and the 'public' facilities are located.  Guests can enjoy breakfast, lunch and dinner in the beautifully decorated dining room.
The White House is located near to the Orthodox Church and it has two double and two twin rooms. A beautiful living room with a fire place, a fully equipped kitchen and private garden complete the amenities available to guests.
The Red House - perfect for a family of four - is located in the vicinity of thefortified (Lutheran) church and it offers views of the church's tower.  Amenities include two large bedrooms, a kitchen, a dining room and a big veranda with direct access to the garden.
Room Amenities:
The rooms in Copsa Mare Guesthouses have private bathrooms and are beautifully furnished with traditional Saxon furniture.
Guest Services / Hotel Amenities: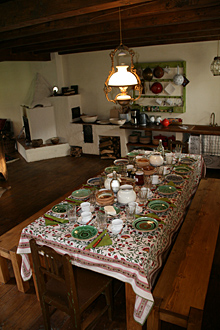 Parking (complimentary), Dining room with fireplace and beautiful views of the hills.
Excursions:
Sighisoara, Medias, Sibiu, Brasov,
Saxon Villages in the area,
Targu Mures, Turda Salt Mine, Alba Iulia
Activities:
Visit to the local Orthodox Church - glass icons collection, horse cart riding, trekking, cycling, picnic, tea in the forest, truffle hunt with cooking classes, visit to local food producers (bread, fruit preserves, cheese), visits to local artisans, hiking in the beautiful Breate Sighisoara Nature Reserve (century-old oak forests).
Rates:
from $65.00 / person/ night (plus taxes)
Four-course lunch or dinner $19.50 / person (beverages not included)
More information:
Guesthouse Website:  www.copsamare.ro
Reservations:
Email:
copsamare@gmail.com
Telephone: + 40  746  046.200